Watch 'I'll Take That Bet' — Episode 139: NBA on ESPN, End of Season Awards, Playoff Props
Episode 139 of our sports betting show "I'll Take That Bet" is live, betting on the tonight's ESPN NBA games, sorting out who will take home some hardware come season's end, hitting on division and conference champions, and so much more!
Watch the full episode on ESPN+ here.
If you missed the last episode, here's the gist of the show: Two analysts — in today's case, Matt Moore and Evan Abrams  — draft their favorite picks of the day from a board of 10 bets. These are real wagers you can make across the gambling universe.
Here's Wednesday's board: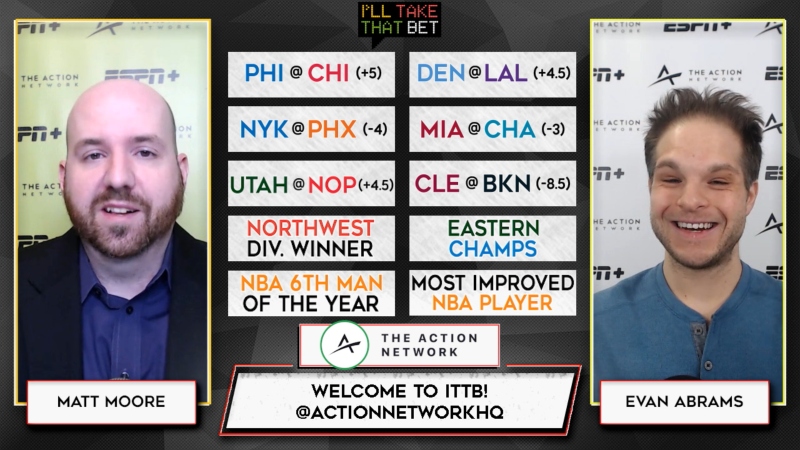 Here's how the picks played out in the show. You'll want to stick around to the end to hear Evan and Matt's takes on which team will win the NBA Draft Lottery. You can watch the full episode exclusively on ESPN+.
PICK NO. 1 (EVAN): Los Angeles Clippers guard Lou Williams to win NBA 6th Man of the Year Award (+125)
PICK NO. 2 (MATT): Boston Celtics to win the NBA Eastern Conference (+325)
PICK NO. 3 (EVAN): Toronto Raptors forward Pascal Siakam to win NBA Most Improved Player Award (-334)
PICK NO. 4 (MATT): Chicago Bulls (+5) over Philadelphia 76ers (-110)
PICK NO. 5 (EVAN): Over 225 between the Cleveland Cavaliers and Brooklyn Nets (-110)
PICK NO. 6 (MATT): Los Angeles Lakers (+4.5) over Denver Nuggets (-110)
PICK NO. 7 (EVAN): Phoenix Suns moneyline over New York Knicks (-165)
PICK NO. 8 (MATT): Utah Jazz (-4.5) over New Orleans Pelicans (-110)
PICK NO. 9 (EVAN): Portland Trailblazers to win the NBA Northwest Division (+600)
PICK NO. 10 (MATT): Miami Heat (+3) over Charlotte Hornets (-110)