Watch 'I'll Take That Bet' — Episode 148: March Madness Day #1 Preview
Episode 148 of our sports betting show "I'll Take That Bet" is live, breaking down games from the first full day of March Madness, including Yale-LSU, Seton Hall-Wofford, Baylor-Syracuse, and so much more!
Watch the full episode on ESPN+ here.
If you missed the last episode, here's the gist of the show: Two analysts — in today's case, Matt Moore and Chris Raybon — draft their favorite picks of the day from a board of 10 bets. These are real wagers you can make across the gambling universe.
Here's Wednesday's board: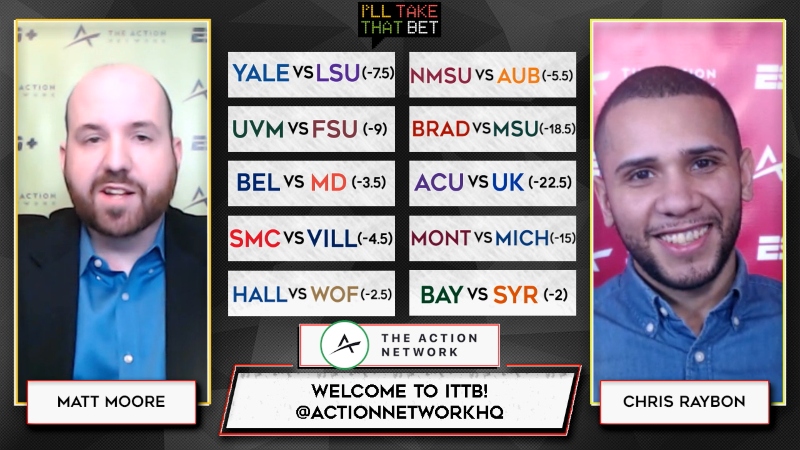 Here's how the picks played out in the show. You can watch the full episode exclusively on ESPN+.
PICK NO. 1 (CHRIS): #2-seed Michigan State Spartans (-18.5) over #15-seed Bradley Braves (-110)
PICK NO. 2 (MATT): #7-seed Wofford Terriers (-2.5) over #10-seed Seton Hall Pirates (-110)
PICK NO. 3 (CHRIS): #9-seed Baylor Bears (+2) over #8-seed Syracuse Orange (-110)
PICK NO. 4 (MATT): Under 146.5 points between #12-seed New Mexico State Aggies and #5-seed Auburn Tigers (-110)
PICK NO. 5 (CHRIS): #15-seed Abilene Christian Wildcats (+22.5) over #2-seed Kentucky Wildcats (-110)
PICK NO. 6 (MATT): #11-seed Belmont Bruins moneyline over #6-seed Maryland Terrapins (+145)
PICK NO. 7 (CHRIS): #14-seed Yale Bulldogs (+7.5) over #3-seed Louisiana State Tigers (-110)
PICK NO. 8 (MATT): #13-seed Vermont Catamounts (+9) over #4-seed Florida State Seminoles (-110)
PICK NO. 9 (CHRIS): #15-seed Montana Grizzlies (+15) over #2-seed Michigan Wolverines (-110)
PICK NO. 10 (MATT): #11-seed Saint Mary's Gaels (+4.5) over #6 Villanova Wildcats (-110)