Watch 'I'll Take That Bet' — Episode 159: Final Four, NBA Wednesday, Lakers Title Odds
Episode 159 of our sports betting show "I'll Take That Bet" is live, breaking down the sides and totals for Saturday night's Final Four, walking you through the final days of the NBA Regular Season, talking Lakers title odds, and so much more!
Watch the full episode on ESPN+ here.
If you missed the last episode, here's the gist of the show: Two analysts — in today's case, Blackjack Fletcher and Rob Perez — draft their favorite picks of the day from a board of 10 bets. These are real wagers you can make across the gambling universe.
Here's Wednesday's board: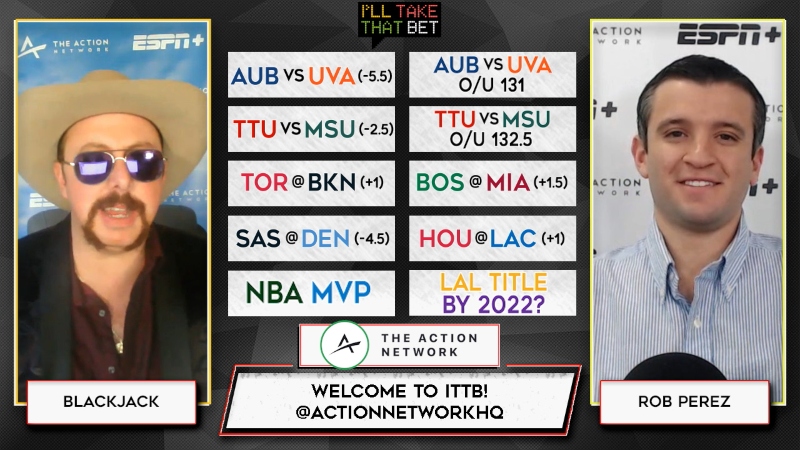 Here's how the picks played out in the show. You can watch the full episode exclusively on ESPN+.
PICK NO. 1 (ROB): Milwaukee Bucks forward Giannis Antetokounmpo to be named NBA Most Valuable Player (-300)
PICK NO. 2 (BLACKJACK): #1-seed Virginia Cavaliers (-5.5) over #5-seed Auburn Tigers (-110)
PICK NO. 3 (ROB): Brooklyn Nets (+1) over Toronto Raptors (-110)
PICK NO. 4 (BLACKJACK): Over 131 between Auburn Tigers and Virginia Cavaliers (-110)
PICK NO. 5 (ROB): Boston Celtics (-1.5) over Miami Heat (-110)
PICK NO. 6 (BLACKJACK): Under 132.5 between Texas Tech Red Raiders and Michigan State Spartans (-110)
PICK NO. 7 (ROB): Los Angeles Lakers will not win an NBA Championship before 2022 (-600)
PICK NO. 8 (BLACKJACK): #3-seed Texas Tech Red Raiders (+2.5) over #2-seed Michigan State Spartans (-110)

PICK NO. 9 (ROB): San Antonio Spurs (+4.5) over Denver Nuggets (-110)
PICK NO. 10 (BLACKJACK): Los Angeles Clippers (+1) over Houston Rockets (-110)
How would you rate this article?