Watch 'I'll Take That Bet' — Episode 60: Thursday Night Football, MLB Playoffs, 2019 Academy Awards
Episode 60 of our sports betting show "I'll Take That Bet" is live, discussing Thursday Night Football, talking MLB League Championship Series, taking an early look at the 2019 Academy Awards, and so much more!
Watch the full episode on ESPN+ here.
If you missed the last episode, here's the gist of the show: Two analysts — in Wednesday's case, BlackJack Fletcher and Paul Lo Duca — draft their favorite picks of the day from a board of 10 bets, plus a bonus bet. These are real wagers you can make across the gambling universe.
Here's Wednesday's board: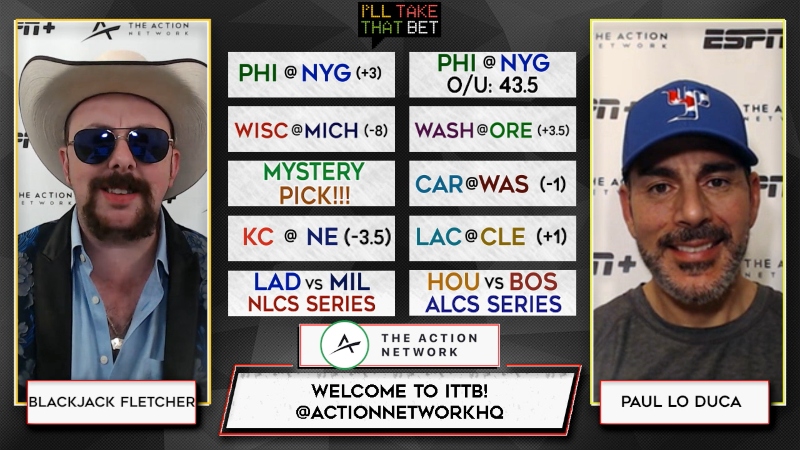 Here's how the picks played out in the show. You can watch the full episode exclusively on ESPN+. You'll want to stick around to the end for BlackJack and Paul's bonus bet on the World Series.
PICK NO. 1 (PAUL): Los Angeles Dodgers to win the National League Championship Series (-140)
PICK NO. 2 (BLACKJACK): Boston Red Sox to win the American League Championship Series (+100)
PICK NO. 3 (PAUL): New England Patriots (-3.5) over Kansas City Chiefs (-110)
PICK NO. 4 (BLACKJACK): Philadelphia (-3) over New York Giants (-110)
PICK NO. 5 (PAUL): Over 43.5 between Philadelphia Eagles and New York Giants (-110)
PICK NO. 6 (BLACKJACK): Oregon Ducks (+3.5) over Washington Huskies (-110)
PICK NO. 7 (PAUL): Cleveland Browns (+1) over Los Angeles Chargers (-110)
PICK NO. 8 (BLACKJACK): Michigan Wolverines (-8) over Wisconsin Badgers (-110)
PICK NO. 9 (PAUL): USC Trojans (-7) over Colorado Buffaloes (-110)
PICK NO. 10 (BLACKJACK): Washington Redskins (-1) over Carolina Panthers (-110)