Watch 'I'll Take That Bet' — Episode 62: NFL Week 6, Sunday Night Football, Undefeated Teams
Episode 62 of our sports betting show "I'll Take That Bet" is live, discussing the Week 6 NFL slate, including Sunday Night Football, an undefeated team prop, and so much more!
Watch the full episode on ESPN+ here.
If you missed the last episode, here's the gist of the show: Two analysts — in today's case, Blackjack Fletcher and Chris Raybon — draft their favorite picks of the day from a board of 10 bets, plus a bonus bet. These are real wagers you can make across the gambling universe.
Here's Friday's board: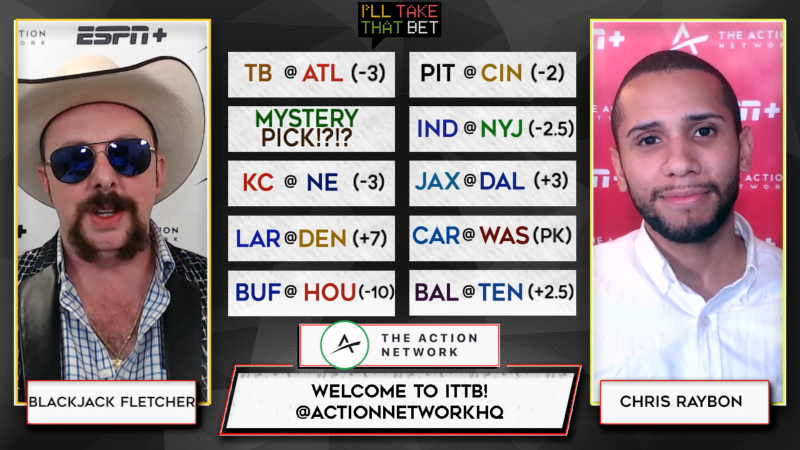 Here's how the picks played out in the show. You can watch the full episode exclusively on ESPN+. You'll want to stick around to the end for Blackjack and Raybon's survivor pool lock of the week.
PICK NO. 1 (CHRIS): Atlanta Falcons (-3) over Tampa Bay Buccaneers (-110)
PICK NO. 2 (BLACKJACK): New England Patriots (-3) over Kansas City Chiefs (-110)
PICK NO. 3 (CHRIS): Pittsburgh Steelers (+2) over Cincinnati Bengals (-110)
PICK NO. 4 (BLACKJACK): Indianapolis Colts (+2.5) over New York Jets (-110)
PICK NO. 5 (CHRIS): Los Angeles Rams (-7) over Denver Broncos (-110)
PICK NO. 6 (BLACKJACK): YES there will be a undefeated NFL team this season (+700)
PICK NO. 7 (CHRIS): Jacksonville Jaguars (-3) over Dallas Cowboys (-110)
PICK NO. 8 (BLACKJACK): Buffalo Bills (+10) over Houston Texans (-110)
PICK NO. 9 (CHRIS): Carolina Panthers (PK) over Washington Redskins (-110)
PICK NO. 10 (BLACKJACK): Tennessee Titans (+2.5) over Baltimore Ravens (-110)