Watch 'I'll Take That Bet' — Episode 64: NBA Season Preview Show, Lakers Win Total, MVP Odds
Episode 64 of our sports betting show "I'll Take That Bet" is live, previewing the NBA season opening games, talking Lakers win total, MVP odds, so much more!
Watch the full episode on ESPN+ here.
If you missed the last episode, here's the gist of the show: Two analysts — in today's case, Matt Moore and Rob Perez — draft their favorite picks of the day from a board of 10 bets, plus a bonus bet. These are real wagers you can make across the gambling universe.
Here's Tuesday's board: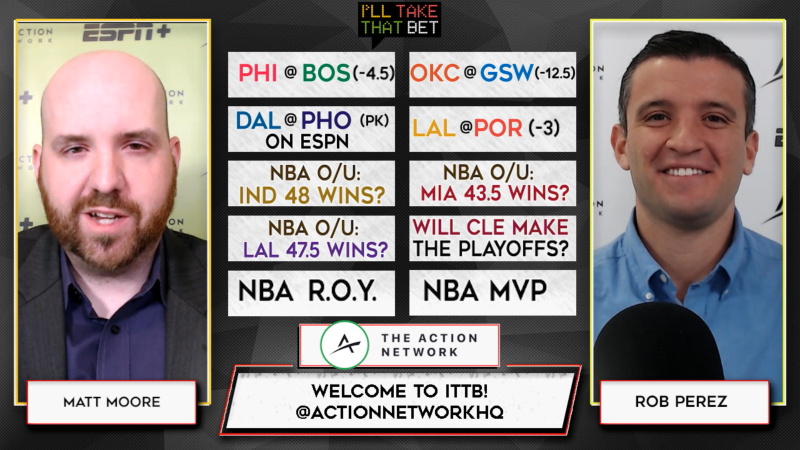 Here's how the picks played out in the show. You can watch the full episode exclusively on ESPN+. You'll want to stick around to the end for Matt and Rob's bonus bet on if the Lakers will win a title during LeBron's contract.
PICK NO. 1 (ROB): Cleveland Cavaliers Miss Playoffs (-450)
PICK NO. 2 (MATT): Milwaukee Bucks Forward Giannis Antetokounmpo to win MVP (+450)
PICK NO. 3 (ROB): Indiana Pacers Over 48 Wins in the 2018/19 season (-110)
PICK NO. 4 (MATT): Boston Celtics (-4.5) over Philadelphia 76ers (-110)
PICK NO. 5 (ROB): Memphis Grizzlies Forward Jaren Jackson Jr. to win Rookie of the Year (+1400)
PICK NO. 6 (MATT): Los Angeles Lakers (+3) over Portland Trail Blazers (-110)
PICK NO. 7 (ROB): Los Angeles Lakers Under 47.5 Wins in the 2018/19 season (-110)
PICK NO. 8 (MATT): Miami Heat Under 43.5 Wins in the 2018/19 season (-110)
PICK NO. 9 (ROB): Dallas Mavericks (PK) over Phoenix Suns (-110)
PICK NO. 10 (MATT): Golden State Warriors (-12.5) over Oklahoma City Thunder (-110)