Watch 'I'll Take That Bet' — Episode 72: Thursday Night Football, Wednesday Night NBA, Breeders' Cup
Episode 72 of our sports betting show "I'll Take That Bet" is live, previewing Thursday Night Football, the NBA Wednesday night slate, the Breeders' Cup, and so much more!
Watch the full episode on ESPN+ here.
If you missed the last episode, here's the gist of the show: Two analysts — in today's case, Matt Moore and Blackjack Fletcher — draft their favorite picks of the day from a board of 10 bets, plus a bonus bet. These are real wagers you can make across the gambling universe.
Here's Wednesday's board: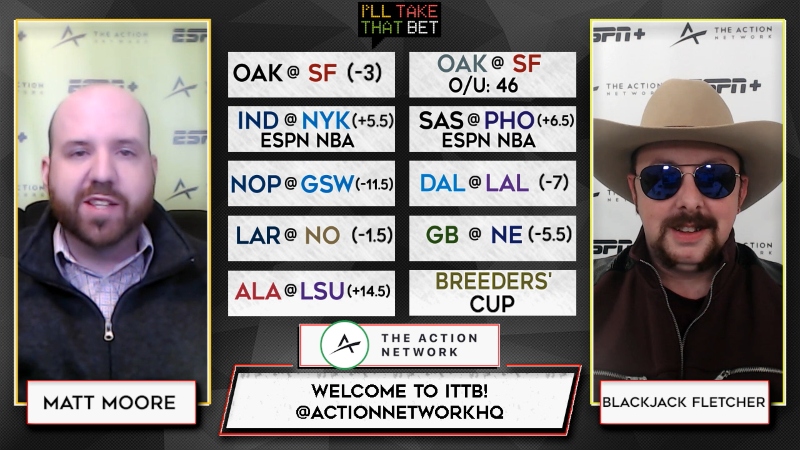 Here's how the picks played out in the show. You can watch the full episode exclusively on ESPN+. You'll want to stick around to the end for Blackjack's Breeders' Cup superfecta.
PICK NO. 1 (BLACKJACK): Louisiana State Tigers (+14.5) over Alabama Crimson Tide (-110)
PICK NO. 2 (MATT): Dallas Mavericks (+7) over Los Angeles Lakers (-110)
PICK NO. 3 (BLACKJACK): Oakland Raiders (+3) over San Francisco 49ers (-110)
PICK NO. 4 (MATT): Indiana Pacers (-5.5) over New York Knicks (-110)
PICK NO. 5 (BLACKJACK): Los Angeles Rams (+1.5) over New Orleans Saints (-110)
PICK NO. 6 (MATT): San Antonio Spurs (-6.5) over Phoenix Suns (-110)
PICK NO. 7 (BLACKJACK): Green Bay Packers (+5.5) over New England Patriots (-110)
PICK NO. 8 (MATT): Golden State Warriors (-11.5) over New Orleans Pelicans (-110)
PICK NO. 9 (BLACKJACK): Catholic Boy to win the Breeders' Cup (+800)
PICK NO. 10 (MATT): Over 46 between Oakland Raiders and San Francisco 49ers (-110)