Watch 'I'll Take That Bet' — Episode 75: Monday Night Football, Champions Classic, College Football Week 11
Episode 75 of our sports betting show "I'll Take That Bet" is live, previewing Monday Night Football, the Champions Classic college basketball games, the College Football Week 11 slate, and so much more!
Watch the full episode on ESPN+ here.
If you missed the last episode, here's the gist of the show: Two analysts — in today's case, Blackjack Fletcher and Geoff Schwartz– draft their favorite picks of the day from a board of 10 bets, plus a bonus bet. These are real wagers you can make across the gambling universe.
Here's Monday's board: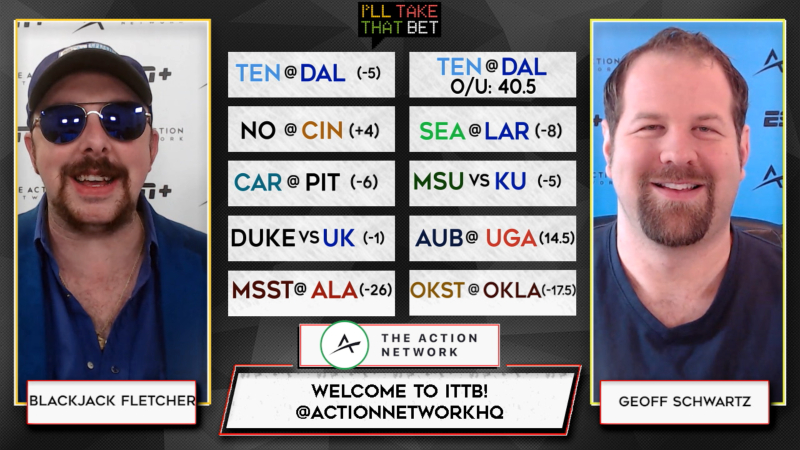 Here's how the picks played out in the show. You can watch the full episode exclusively on ESPN+. You'll want to stick around to the end to see the guys' side action on how many receiving yards Amari Cooper will accrue tonight.
PICK NO. 1 (GEOFF): Under 40.5 between Tennessee Titans and Dallas Cowboys (-110)
PICK NO. 2 (BLACKJACK): Tennessee Titans (+5) over Dallas Cowboys (-110)
PICK NO. 3 (GEOFF): Carolina Panthers (+4.5) over Pittsburgh Steelers (-110)
PICK NO. 4 (BLACKJACK): Kansas Jayhawks (-5) over Michigan State Spartans (-110)
PICK NO. 5 (GEOFF): Georgia Bulldogs (-14.5) over Auburn Tigers (-110)
PICK NO. 6 (BLACKJACK): New Orleans Saints (-5) over Cincinnati Bengals (-110)
PICK NO. 7 (GEOFF): Seattle Seahawks (+10) over Los Angeles Rams (-110)
PICK NO. 8 (BLACKJACK): Alabama Crimson Tide (-26) over Mississippi State Bulldogs (-110)
PICK NO. 9 (GEOFF): Duke Blue Devils (+1) over Kentucky Wildcats (-110)
PICK NO. 10 (BLACKJACK): Oklahoma State Cowboys (+17.5) over Oklahoma Sooners (-110)