Watch 'I'll Take That Bet' — Episode 82: NFL Week 11 and NBA Friday Night
Episode 82 of our sports betting show "I'll Take That Bet" is live, previewing NFL Week 11 and NBA Friday night, featuring the Toronto Raptors and Boston Celtics.
Watch the full episode on ESPN+ here.
If you missed the last episode, here's the gist of the show: Two analysts — in today's case, Chris Raybon and Matt Moore — draft their favorite picks of the day from a board of 10 bets, plus a bonus bet. These are real wagers you can make across the gambling universe.
Here's Friday's board: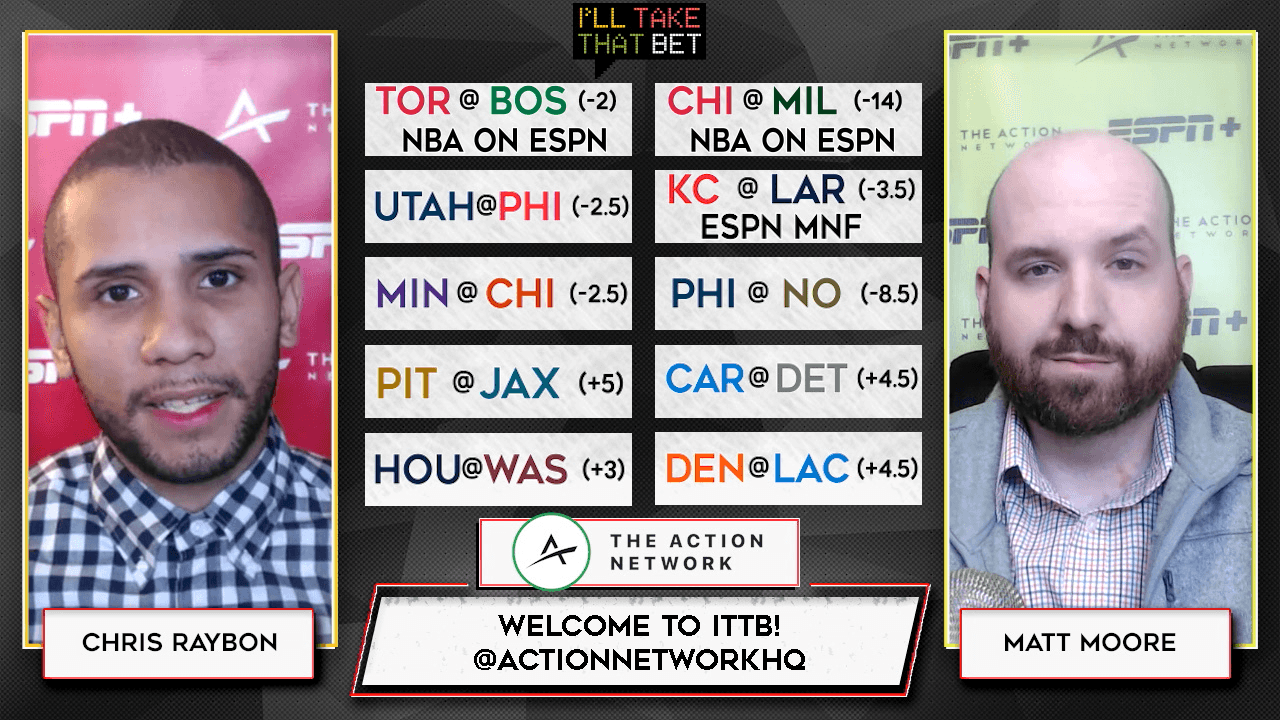 Here's how the picks played out in the show. You can watch the full episode exclusively on ESPN+. You'll want to stick around to the end to see Chris and Matt's side action on where Le'Veon Bell will play in next season.
PICK NO. 1 (MOORE): Toronto Raptors (+2) over Boston Celtics (-110)
PICK NO. 2 (RAYBON): Houston Texans (-3) over Washington Redskins (-110)
PICK NO. 3 (MOORE): Kansas City Chiefs (+3.5) over Los Angeles Rams (-110)
PICK NO. 4 (RAYBON): Pittsburgh Steelers and Jacksonville Jaguars Under 47 (-110)
PICK NO. 5 (MOORE): Philadelphia 76ers (-2.5) over Utah Jazz (-110)
PICK NO. 6 (RAYBON): Minnesota Vikings (+2.5) over Chicago Bears (-110)
PICK NO. 7 (MOORE): Los Angeles Chargers (-7) over Denver Broncos (-110)
PICK NO. 8 (RAYBON): Philadelphia Eagles and New Orleans Saints Over 56 (-110)
PICK NO. 9 (MOORE): Chicago Bulls and Milwaukee Bucks Over 224.5 (-110)
PICK NO. 10 (RAYBON): Carolina Panthers and Detroit Lions Under 49.5 (-110)