Premier League Week 25 Betting Preview and Picks
After a weekend of FA Cup action across England, the Premier League returns midweek and is highlighted by a juicy Tottenham/Manchester United matchup on Wednesday night. Last week, both value plays cashed as Leicester City (-115) beat Watford, and West Brom (+0.5) drew with Everton 1-1 to go up +31.21 units on the season. After analyzing the line movement and betting market, we've picked out three value plays for Week 25.
Here's a look at the most recent results, season trends, biggest payouts and title odds along with value plays and market analysis for Week 25.
Week 24 Results:
Home 5 of 10 (+8.15 units)
Away 2 of 10 (-6.82 units)
Draw 3 of 10 (+0.08 units)
Another week, another struggle for road teams. Last week Liverpool was -326 on the moneyline but lost straight up at Swansea 1-0. The only visiting teams to be victorious were Chelsea and Manchester United, both big favorites.
Season Results:
Home 106 of 240 (-5.81 units)
Away 69 of 240 (-41.76 units)
Draw 65 of 240 (+21.46 units)
Blindly tailing every draw has earned more than +21 units this season, while tailing every road team is -41.76 units.
Season's Biggest Payouts:
Burnley (+1125) at Chelsea in Week 1
Swansea (+1078) vs. Liverpool in Week 24
Huddersfield (+875) vs. Man Utd in Week 9
Crystal Palace (+695) vs. Chelsea in Week 8
Tottenham/Swansea Draw (+695) in Week 5
West Ham (+655) vs. Chelsea in Week 16
It had been awhile since we saw a big payout in the Premier League but last week Swansea (+1078) held on to beat Liverpool 1-0. It's the second-biggest upset of the season so far, behind only Burnley (+1125) over Chelsea 3-2 in the opener.
Title Odds via 5Dimes:
Manchester City -5000 (65 points)
Manchester United +5000 (53 points)
Chelsea +10000 (50 points)
Liverpool +15000 (47 points)
Tottenham +25000 (45 points)
Arsenal +75000 (42 points)
League leaders Manchester City are back to their winning ways after losing to Liverpool, and are 12 points clear of Manchester United at the top of the table. This week they've got an easy matchup on paper against West Brom (Wednesday, 3 p.m. ET) and are -630 on the moneyline to win– should be an easy victory for the Citizens, right?

Well, they may get the victory but I would not feel comfortable at all laying -630 odds either straight-up or in a parlay. West Brom will really pack it in defensively (something that most clubs do against Man City) and they've only lost 3-2 and 2-1 in their most recent head-to-head matchups. I also like what I've seen from West Brom over the last month and think they can keep this match within a couple of goals. At the time of publication, West Brom were available at +2.5 goals (-130) and hardly getting any spread support by the public, but that's the side I'm on.
Another match I've been steered toward is West Ham vs. Crystal Palace (Tuesday, 2:45 p.m. ET), primarily due to the huge line swing, injuries, and public betting. It's been more than a month since West Ham have played a poor match in the EPL, yet they've increased significantly from +139 to +198 since opening at Pinnacle. They recently lost Diafra Sakho to transfer and have tons of injury doubts including Michail Antonio, Andy Carroll, Marko Arnautovic, Andre Ayew, and Mark Noble to name a few. On the other side of things, Crystal Palace are coming off an embarrassing 4-1 performance at Arsenal in which they were down 4-0 within the first 25 minutes. Both teams appear to be trending in the wrong direction but more than 70% of public bets across three different offshore sportsbooks have taken West Ham to win. It's even incredible to see that more bettors are taking the draw than Crystal Palace to win– so why has the line gone the other way toward Crystal Palace? Clearly it was due to the number of injuries for West Ham along with sharp money pouncing on Crystal Palace at +243 which brought the odds all the way down to +161. A line move that large is pretty rare, and with the public all over West Ham you can wait to see if odds tick back up, but I'm on Crystal Palace +170 for this matchup.
Before getting to the last value play, let's delve into the marquee matchup of the week: Tottenham vs. Manchester United (Wednesday, 3 p.m. ET). As of Monday afternoon, Manchester United (+240) were getting the majority of public support with nearly 50% of moneyline tickets, while less than 25% of bets have come in on Tottenham and 25% on the Draw. So far all the line movement has been toward Manchester United so they're a bit of a trendy underdog, but I'm not convinced on taking Tottenham at this point. I also think Manchester United have some momentum and confidence with newly acquired Alexis Sanchez in the squad, so I'm laying off this game completely.
As for the final play of the week, I'm looking at the Newcastle/Burnley match (Wednesday, 2:45. p.m. ET) and the Draw at +220 odds for value. This match is set up perfectly in the sweet spot for draw bettors:
1) Close moneylines for Home/Away/Draw (+120/+305/+220)
2) Low total (2 goals)
3) Juice on the Under (-117)
4) Public heavy on one side (Newcastle 70%)
Historically if you look at Premier League draws with close moneylines (+190 to +220) and low totals (2), it's been incredibly successful. Here's a look at the results using our Bet Labs database: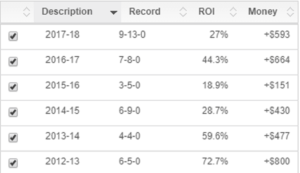 This system has been profitable year-to-year and has done great so far this season. I also love the fact that the public is loading up on Newcastle at home, who desperately need points to stay out of the relegation zone. I believe many bettors will get sucked into taking Newcastle, but the value here is on the draw at +220 odds.
Most Lopsided Moneyline Tickets Around the Market
70% on Newcastle (+110)
64% on West Ham (+198)
50% on Manchester United (+240)
Biggest Line Moves Since Opening
Crystal Palace (+243 to +161) at West Ham
Leicester City (+209 to +163) at Everton
Manchester United (+270 to +240) at Tottenham
Value Plays (29-30 season record, +31.21 units, 53% ROI)
West Brom +2.5 (-130) at Manchester City
Crystal Palace (+170) at West Ham
Newcastle/Burnley Draw (+220)
As always, you can track all the latest Premier League line moves, betting percentages, market data and more with a Sports Insights Pro membership.