How to Watch Your World Cup Bets at Work (Without Getting Caught)
Credit:
Tim Groothuis/Witters Sport via USA TODAY Sports
The Highlights
There's a good chance that the World Cup will be the most gambled on sporting event of all-time.
Given the time difference between the U.S. and Russia, most of the matches will take place during work.
That won't stop people from sweating their Action.
---
Before joining The Action Network, I worked at Major League Baseball as a Minor League reporter (both literally and figuratively). After my first day wrapped up, I met a friend at a dime-a-dozen bar in Manhattan to watch some games.
"Do you think anybody at your new job bets?"
Before taking the gig at MLB, I was working at an international television network called Fight Sports and tending bar at a dive under a railroad station on Long Island.  We spoke openly about gambling at both of those jobs. At the bar, I had a regular client who we called Tuscaloosa Steve. He was born on Long Island and went to college in Rhode Island.
Steve, who managed a restaurant at a country club and had an Alabama license-plate frame, gambled on everything and was a regular button-puncher on the bar's Joker Poker machines. But he had one steadfast rule that he never broke.
"If Alabama is giving less than two scores, I'm takin' em."
Going from that environment — where we'd lock the doors at 4 a.m. so the poker crew could go from playing video poker to real poker — to working for the company that made examples out of Pete Rose and "Shoeless" Joe Jackson was a change of pace and I completely underestimated it.
Walking Off
I worked nights at MLB. I wasn't allowed to leave until basically every Minor League Baseball game ended.
That meant there was a lot of downtime on nights when I finished my work early. We also had a lot of TVs and the in-house feed for all 30 MLB teams and every NHL team. Basically, if there was a game on, we had it. And I most likely had action on it.
At first, I was nervous about getting found out. I placed bets only on my phone, and in my two years of working there, I never connected my phone to the WiFi. This way Rob Manfred was none the wiser.
The wins were honestly the easy part. Enjoying them was hard I remember my celebration for Khris Davis' walk-off homer against the Indians last July. The A's were big underdogs against Corey Kluber, and in the bottom of the ninth, Davis took Bryan Shaw deep. It didn't look like it was going to get out but it did. I wanted to go nuts.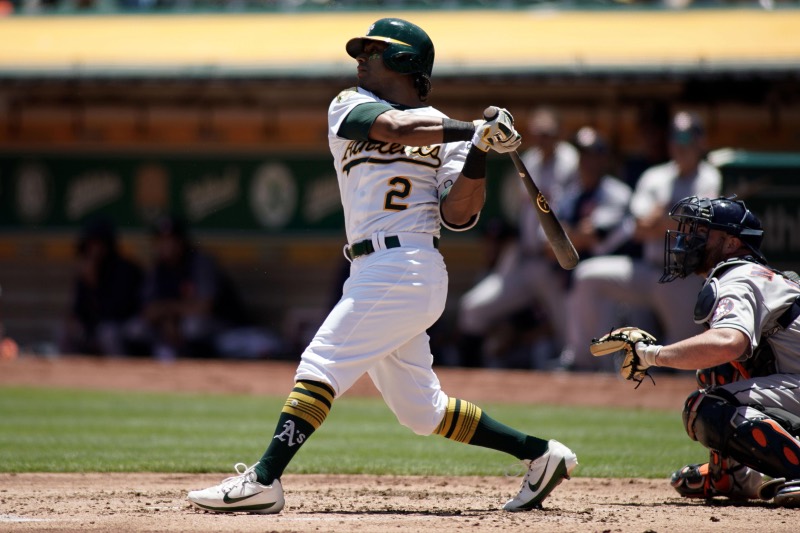 Pictured: Khris Davis. Stan Szeto-USA TODAY Sports
But that's not how things work, so I opted for something much more subtle.
"Wow, Khris Davis just walked off the Indians," to the room.
Crickets.
I probably should have stopped there. But I followed it up.
"I love Khris Davis."
Nobody batted an eyelash.
I was buzzing. 
World Cup
We've all been there, sitting with your headphones on, looking like you just want to be left to your work. On one of your monitors is your Outlook or maybe some spreadsheet that looks inconspicuous to passersby. On your second monitor is the stream of the Chicago Sky at the Indiana Fever. You've got a few windows open on top of the feed just in case, but the commentators are in your ear.
That's living.
This is all to say I'm an expert on hiding my betting emotions in public, which will come in handy over the next month with the World Cup in full swing. This is likely to be the most-watched — and gambled on — sporting spectacle of all time, and it'll be played in broad daylight state-side.
Here are five tips on how you can sweat your World Cup bets while at work (and not get caught):
1. Find the stream. We live in a time where you can watch literally any sporting event around the globe thanks to the Internet. Know how you're going to watch the game before arriving at work.
2. Find an ally, but not too many. Most likely, you're going to have a fellow degenerate at work. If you don't know any other punters in the office, drop some hints. "How about Jersey legalizing gambling just in time for the first match?" Someone will bite. Not only does sharing information help you grow as a bettor, but having someone to talk to during a game will help keep you on even keel.
3. Know what you're getting into. Betting on sports is a roller coaster ride. There will be highs and lows and you'll need to be able to handle both of them without showing your hand. This means you should think about how you'll celebrate big wins and bad beats.
4. Schedule ahead. Gambling holidays like the U.S. Open and the World Cup are scheduled far in advance. If you schedule a big meeting during the England-Germany match, that's on you.
5. Know who you work for. Every boss is different. Some are lenient and understand that allowing their employees a little freedom to pay mind to non-work events (sports, the Royal Wedding, etc.) can pay off in other ways. Other bosses find that to be a foreign concept. Get a feel for who you work for and act accordingly.
It should go without saying, but use your noodle before watching the World Cup or WNBA League Pass on your computer during work hours. 
How would you rate this article?