World Cup Future Bets to Buy and Sell: Will Argentina Bounce Back?
Credit:
Credit: Winslow Townson-USA TODAY Sports. Pictured: Lionel Messi
The Highlights
Croatia, whose betting odds to win the World Cup are +1200, have the lineup flexibility to make it through a tricky path to the finals. 
Argentina sit at +1400. There's not a speck of evidence to suggest they'll piece together a cohesive enough attack to be true contenders.
Brazil (+340) were slightly underwhelming, but they turned it on late and there's reason to think they can be even better.
---
The knockout stages are upon us. As always, there were some gigantic surprises in the group stage (auf Wiedersehen Germany), but most of the top teams in the tournament are on to the knockout stages. As we head toward the Round of 16, here are the teams whose fortunes are looking up, as well as the teams who are likely to see their rides cut short.
Argentina | Belgium | Brazil | Croatia | England | France | Portugal | Russia | Switzerland
Buy
Croatia +1250
Croatia have yet to be tested in the tournament, and that's saying something considering they were in a group with Argentina (we'll get to the problems of Lionel Messi & Co. a little later on). Croatia are stacked with an immensely talented and flexible midfield and a versatile attacking line. They've been able to tailor their approach to their opponent by starting three different lineups, using a combination of Luka Modric, Ivan Rakitic, Mateo Kovacic and Marcelo Brozovic.
Similarly, their frontline, while not boasting quite as many world-class players, can present a ton of different looks. To wit: They can play a classic lineup with a striker and two wingers (Mario Mandzukic flanked by Ivan Perisic and Ante Rebic), or a group that includes Andrej Kramaric playing as a second striker/narrow winger, or even a lineup with Kramaric up top alone, playing as a facilitator in a heavily possession-oriented system.
It's not just that Croatia can throw out a lot of different looks, it's that in three matches in the group stage they broke all of those looks out and were able to execute them with aplomb. They scored seven goals and were unbothered by three very different types of opponents.
Download The Action Network App to track World Cup odds and all of your bets.
In their opener against Nigeria, the Vatreni handled a team that wanted to defend with discipline and counterattack with speed by playing a lot of smart, safe passes. They happily kept the ball and killed off the game after taking the lead on a 32nd-minute Nigeria own goal off of a set piece. Croatia completed 383 passes to Nigeria's 309 and added an insurance goal on a late penalty.
Argentina tried to press them off the park, and Croatia happily defended and counterattacked, using their midfield passers to slice Argentina open. They  completed only 278 passes to Argentina's 397 but outshot them 14 to 10 on their way to a comfortable 3-0 victory.
Then against Iceland, in a game they didn't need to win, Croatia returned to a hyper possession-based style, completing 447 passes to Iceland's 226 and winning 2-1 on a 90th-minute Perisic goal.
The flexibility in possession will serve Croatia well, because their path to the finals is a tricky one. They shouldn't overlook Denmark, a conservative team with a superstar playmaker in Christian Eriksen, but Croatia will clearly look to dominate play in that match.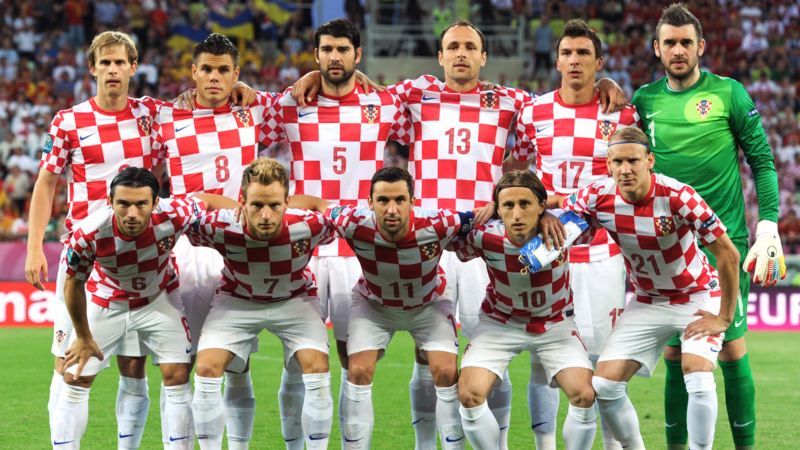 Credit: Jollof Sports. Pictured: Croatian National Team
---
If the bracket holds, Croatia will have a quarterfinal matchup against Spain. It's less clear how that match would play out. Croatia are one of the few teams on the planet that has a midfield to potentially match up against Spain's all-star passers, but at the same time, the Spanish backline showed flashes against both Portugal and Iran of being vulnerable to fast, well-constructed counterattacks. Croatia could opt to defend and counter as they did against Argentina (while recognizing they'll face a larger attacking threat than they did against the South American side).
The fact that Croatia have more than one way to approach that match is a subtle advantage for the underdogs. It makes it harder for Spain to game plan for them. And, if Croatia were to stage a quarterfinal upset, they'd likely face a relatively soft semifinal opponent.
Other Buys
England +775: Yes, they have to play Colombia in the Round of 16. But Colombia may very well be without star James Rodriguez, who was subbed off in the first half against Senegal and has been struggling with injuries all tournament. After that, the bracket opens up with an easy quarterfinal match against likely the worst team of the last eight, the winner of Sweden and Switzerland.
France +900: They're boring, which is frustrating because they have so much exciting talent. They also keep winning and are playing the exact same style they used to reach the finals of Euro 2016.
---
Sell
Argentina +1475
Argentina have been terrible in this tournament. The last-second goal from Marcos Rojo to save their tournament against Nigeria overshadows just how disappointing they've been.
Argentina failed to find a consistent style across three group-stage games. They vacillated from half-hearted pressing against Iceland, to the full on manic press that manager Jorge Sampaoli prefers against Croatia, to the old tried and true get-the ball-to-Messi tactics in their third match against Nigeria. None of it has worked particularly well.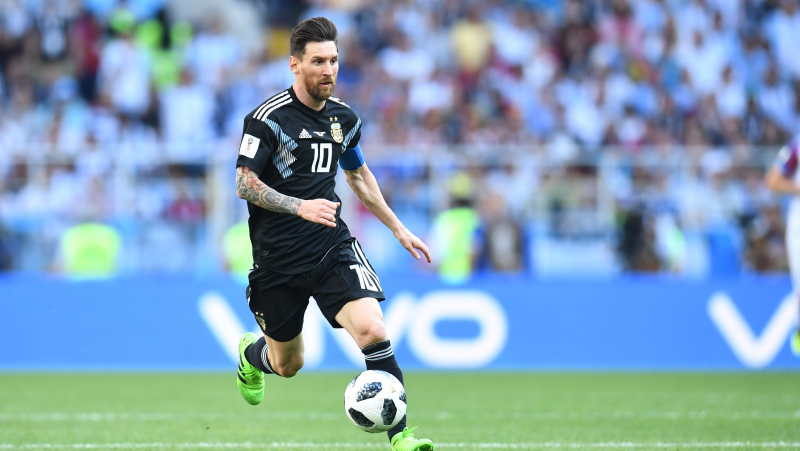 Credit: USA TODAY Sports. Pictured: Lionel Messi
---
Ultimately, the approach against Nigeria seems to be the one Argentina will keep using. Amid rumors of a player revolt, Argentina returned to a system that relied on veterans such as Angel Di Maria and Gonzalo Higuain alongside Messi. The system also kept the 34-year-old Javier Mascherano in midfield, albeit alongside the talented passer Ever Banega, who made his first start of the tournament. It's a setup that excludes superstar Paulo Dybala of Juventus, who didn't make it on the field against Nigeria despite Argentina's desperate need for a goal, and PSG's young midfielder Giovani Lo Celso, who has yet to play a minute in the tournament.
The problem is that despite the familiarity of the tactics and personnel, this lineup didn't perform well against Nigeria. Argentina dominated the ball, completing 471 passes to Nigeria's 186, but they were actually outshot 9-8. In fact, no matter how they play, and despite the fact they have the best all-around attacking player on the planet in Messi, Argentina have been terrible at producing attacking opportunities.
They've scored three total goals. Their lone goal against Iceland came on a 40-yard speculative effort from center back Rojo that striker Sergio Aguero collected in the box and smashed home. They were shut out by Croatia. Argentina did have one great goal against Nigeria, a throughball from Banega to Messi, who took a miracle touch and slotted it home. The other was the last-second Rojo volley with his weaker foot. It's slim pickings.
There's not a speck of evidence to suggest that Argentina will somehow figure out how to build a cohesive attack. That's a major problem since the team they are facing in the Round of 16, France, has been defensively strong. Even if Argentina should somehow beat one of the tournament favorites, they'd face either Portugal or Uruguay in the quarterfinals, two more strong, conservative, defensively oriented sides. Ultimately, the task is so daunting, and the load on Messi's shoulders is so huge, it's difficult to see how even he could carry them through.
Other Sells
Russia +6750: They looked impressive in two matches against weak opponents and inept the minute they met an actually talented international side in Uruguay. Sure, they seem like they can run for days and are still going fresh and strong in the last 10 minutes, but they also aren't very good.
Belgium +675: After they get Japan in the Round of 16, their likely path is Brazil in the quarterfinals, France in the semifinals and Spain in the finals. Yikes.
---
Hold
Brazil +340
The pre-tournament favorites remain the favorites. They were slightly underwhelming in the group stage, drawing, 1-1, against Switzerland, and needing two injury-time goals to get by Costa Rica, 2-0, before comfortably closing out Serbia, 2-0, in their final match. But, while Argentina's struggles are indicative of the fact that they aren't very good, Brazil's struggles are just the struggles of a team that got off to a slow start before moving through the gears.
Switzerland are legitimately a strong defensive team, so it's fair to cut Brazil a little slack, especially since it was Neymar's first competitive game in more than three months. The Swiss midfield decided to kick Neymar every time he had the ball, fouling him 10 times and generally frustrating the Brazilian attack (although Brazil still managed to generate 21 shots).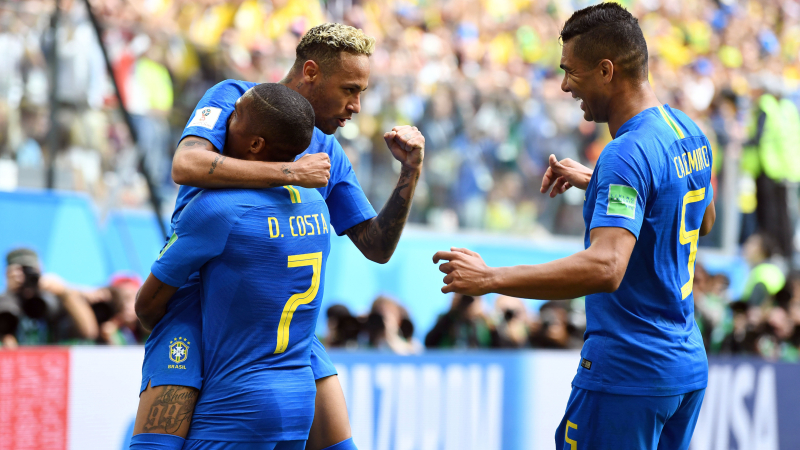 Credit: USA TODAY Sports. Pictured: Brazil forward Neymar (10), midfielder Casemiro (5) and forward Douglas Costa (7).
---
Importantly, though, Brazil's defense was extremely formidable. They gave up only six total shots. And while Brazil struggled somewhat in the first half against Costa Rica, by the second half they looked dominant, and it took a minor miracle for the small CONCACAF side to hold on as long as they did.
Brazil outshot Costa Rica 15-0 — yes, that's zero, as in none, zip, zilch — in the second half. The only reason the game was ever in doubt? Keylor Navas had seven saves and put in his usual superhuman performance.
Brazil then comfortably controlled the game against Serbia, outshooting them 14-10 and out-passing them 543-351. When Serbia turned up the pressure early in the second half, chasing the game and pouring men forward, Brazil responded by scoring a second goal from a set piece and putting the game away.
The one serious concern for Brazil is the possible injury to Marcelo. The leftback is suffering through back problems, and his contributions to the attack can't be overstated. Not only is he able to make overlapping runs down the left side, but he's an incredibly strong passer whose ability to step into midfield and operate as a creator gives Brazil a lot of tactical flexibility.
His backup, Filipe Luis, is a strong attacking fullback, but a more traditional one. He can get up and down and attack with the ball at his feet, but is less comfortable as a creative passer. Marcelo's presence is part of what allows Brazil to occasionally play three defensive midfielders at the same time and still maintain balance. As the tournament goes on and Brazil play tougher competition, they may have to make difficult tactical choices if Marcelo can't go.
Aside from that, there's reason to believe Brazil can get even better. Neymar has scored only one goal, and starting center forward Gabriel Jesus has yet to get on the scoreboard. Brazil's scoring has largely come from midfielders, both Coutinho and Paulinho, charging forward. If the team's attacking superstars get going, look out.
That version of Brazil, where the swashbuckling forwards combine with the hard-charging midfielders to start pouring on the goals, would be a prohibitive favorite to win the World Cup. But the current version, a defensively strong side that gets attacking contributions from midfield and strangles opponents, should be one of the favorites, even if its attackers don't step up as the tournament progresses.
Other Holds
Portugal +2400: They're in a tough half of the draw, and a path of Uruguay followed by France and Brazil before the finals is tough. But this is the same team that won the Euros two years ago by basically shutting down France for 110 minutes. They're built to play ugly. They're good at playing ugly. And they have Cristiano Ronaldo.
Switzerland +4250: They're a legitimately good defensive team that can strangle somewhat better opponents. They're not as talented as they need to be, but sometimes in knockout tournaments when things get tight, just defending well and hoping for mistakes is enough to stage an upset or two.
How would you rate this article?