The Ultimate Super Bowl 53 Betting Guide: Can You Trust the Rams to Pull the Upset?
Credit:
USA Today Sports. Pictured: Tom Brady, Jared Goff
Spread: Patriots -2.5
Over/Under: 56
Time: 6:30 p.m. ET
Channel: CBS
Betting Market
Rams Money (Finally) Shows Up
When the Patriots moved from pick'em to -2.5 shortly after opening behind more than 80% of spread bets and dollars, nobody thought it would hold up.
It did for a very long time, but Sunday action on the Rams has finally moved betting percentages and the spread (see live betting data).
Reverse line movement on the Rams on Sunday morning moved the line to NE -2 at a handful of books, and since then, others have followed suit.
The Patriots' betting percentages have also dropped a great deal. On Saturday night, they were getting 75% of bets and 71% of dollars. As of 4:45 p.m. ET Sunday, those are down to 68% and 66%, respectively.
Though the spread was at a standstill for a long time, the over/under has seen steady line movement over the past two weeks. It's shifted from 58.5 to 55.5, slowly ticking down by a half point since opening. — Mark Gallant
Betting market trends
Sixteen different Super Bowls have seen the point spread move a point and a half or more between the opening and closing lines.
The team that saw the point spread move in their direction are 14-2 SU and 12-4 ATS in Super Bowl history. — Evan Abrams
Over the Pats' past seven Super Bowl appearances, they are 2-0 against the spread when they receive 60% or more of the bets and 0-5 ATS when they receive 59% or fewer, per our Bet Labs data. — Evan Abrams
The Pats are on pace to be just be the 10th team since 2003 to close with 70% or more of bets in a playoff game. The previous nine teams went 6-3 straight-up and ATS. — John Ewing
The Patriots-Rams over/under opened 58.5 and has been bet down to 56.5. Since 2003, it has been profitable to bet the under when the line decreases in the NFL playoffs. — John Ewing
The Action Network Spread
Our proprietary power ratings, powered by Sean Koerner's projections, make the spread for this game Rams -0.2.
Super Bowl 53 Trends
Brady and the Pats
This is Tom Brady's ninth Super Bowl. The GOAT is 5-3 straight up and 3-5 against the spread (ATS) in the championship game. Brady's five ATS losses ties him with the Denver Broncos for the most losses against the spread in Super Bowl history. — John Ewing
The other side of this? Brady is currently tied with three other quarterbacks for the most point spread covers in Super Bowl history entering Super Bowl 53:
Joe Montana (Super Bowls 16, 19, 24)
Roger Staubach (Super Bowls 6, 10, 12)
Terry Bradshaw (Super Bowls 9, 13, 14)
Tom Brady (Super Bowls 36, 49, 51) 

—

Evan Abrams
All eight of Brady's Super Bowl's have been decided by one possession (eight points or less). — Evan Abrams
In Brady's eight Super Bowls, the underdog in the game is 6-2 against the spread. — Evan Abrams
We know Brady is the older, more experienced quarterback in Super Bowl 53, but if there is one betting stat which magnifies that, it's this: In his career, Brady has covered the spread in 20 postseason games. Jared Goff has covered the spread in 18 games in total in his career. — Evan Abrams
Biggest Mismatch When Patriots Have the Ball
Patriots backs and tight ends vs. Mark Barron in coverage
Especially after the Patriots ran up 331 yards and eight touchdowns on the ground in two postseason games, some would argue their biggest edge against the Rams lies in the run game, as the Rams defense finished the regular season ranked 28th in Football Outsiders' rushing DVOA and dead last in yards per carry allowed (5.1).
Others would point to the Patriots' keen ability to dictate matchups and create mismatches before the snap as their biggest advantage against a pass defense featuring cornerback Marcus Peters, who, according to Pro Football Focus has allowed a passer rating of 112.0 this season and can almost always be found lining up at right cornerback.
But both of those purported edges cast the sample-size net a little too wide. As maligned as the Rams' run defense was during the regular season, it's fresh off a two-game stretch where it offed two of the NFL's best running games, holding the Cowboys to 22 carries for 50 yards (2.29 yards per carry) in the Divisional Round and limiting the Saints to 21 carries for 48 yards (2.27) in the NFC Championship.
Meanwhile, Peters has been far more effective with Talib on the field, allowing a passer rating of just 75.7 in the 10 games Talib has played compared to 141.4 in the eight games Talib has missed.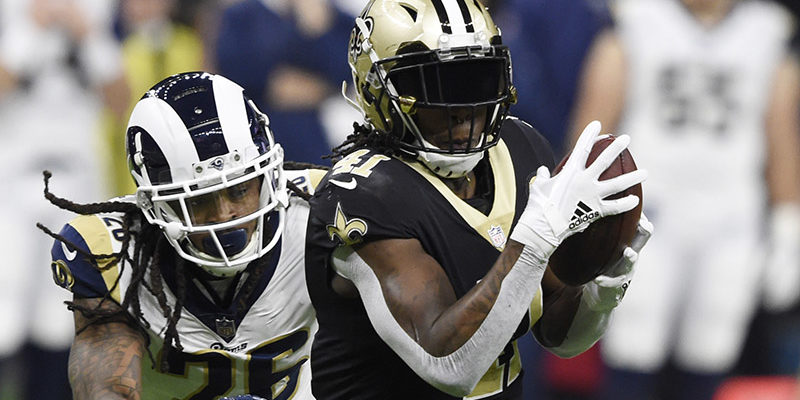 With Talib's presence allowing Peters to stay on one side and play to his strengths as an off-coverage route jumper, the Rams have arguably no major weaknesses in a secondary that also features slot corner Nickell Robey-Coleman and safeties Lamarcus Joyner and John Johnson III.
Opposing passers are better off zeroing in on Los Angeles' linebackers, Cory Littleton and Mark Barron. But while Littleton has allowed a team-high 62 receptions on 81 targets, per PFF, he's also broken up nine passes and intercepted three more.
Barron hasn't been nearly as successful. His PFF coverage grade is just 51.5, a team low among Rams defenders who have spent at least five snaps in coverage this season.
As a former safety who is listed at 6-foot-2, 230 pounds and was known for his athleticism coming out of Alabama in 2012, Barron should be better in coverage than he is, but a nagging Achilles injury sustained late last season could still be hampering him, and there's a reason he's not still a safety in the first place.
The 29-year-old inside 'backer has been targeted 14 times through two postseason contests, a significant jump from the 3.1 targets per game he saw during the regular season.
Barron has given up 10 catches for 109 yards on those looks, with running backs and tight ends accounting for all but one of the catches. Rob Gronkowski, James White, and Rex Burkhead give Brady a plethora of options capable of exploiting Barron's deficiencies. — Chris Raybon
Our Experts' Favorite Game Props, Part 1
Rams Field Goals Over 1.5
Under head coach Sean McVay, the Rams have attempted an NFL-high 84 field goals over the past two seasons (excluding playoffs), and kicker Greg Zuerlein has connected on an elite 91.2% of his field-goal attempts in that time (including postseason).
In his 13 games this season, Legatron has made two field goals in every game but one. He's had at least two attempts in every contest.
I like Zuerlein so much that I've bet on him to win Super Bowl MVP at +12500.
For more, see my writeup on the Rams field goal prop. I'd bet over 1.5 all the way to -200. — Matthew Freedman
Will either team score 3 straight times? Yes -220
According to our Bet Labs database, there have been 175 NFL playoff games since the 2003-04 season. A team has scored at least three straight times in 114 (65.1%) of those games.
Teams are more likely to score three straight times in high total games. In playoff games with over/unders of 50 or more points, this prop has gone 22-10, and in games with over/unders of 55 or more points, a team has scored three straight times in 10 of 11 games.
The total for Super Bowl 53 is 56.5 points. — John Ewing
Will there be a score in the final 3:30 of the 4th quarter? Yes -170
With yes/no odds of -170/+150, this looked like an attempt to bait bettors into thinking that "yes" was the valuable choice, when it actually wasn't.
I was fully expecting to find value on "no" when I started researching.
But after digging through the box scores of the past 52 Super Bowls, I couldn't have been more wrong.
There has been a score in the final 3:30 of the 4th in 32 of the 52 Super Bowls in history, a 61.5% rate that equates perfectly to a -160 line, which is right where this prop stands. The only problem is it doesn't factor in recent trends.
Fifteen of the 20 games without a late score came in the first 27 Super Bowls. That means since then, this prop has gone 20-5 (80% win rate).
Now, I'm not saying this has an 80% chance to cash on Sunday, but with odds of -170, we only need a 63% probability to profit, so I'm comfortable laying the juice, especially with such a high total for a Super Bowl. — Danny Donahue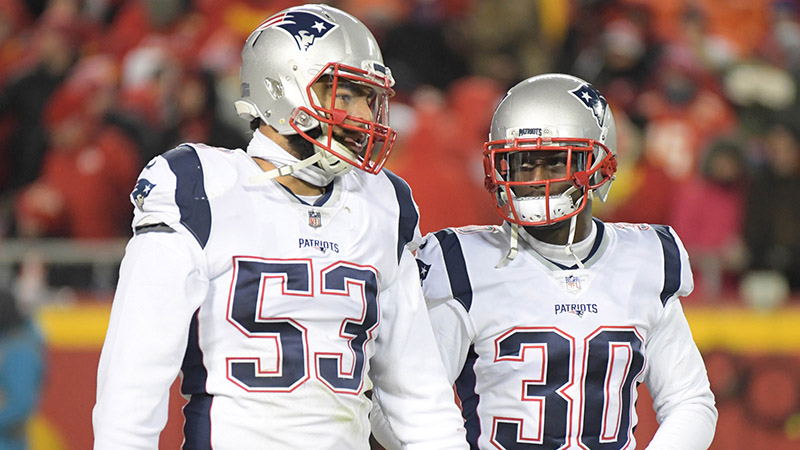 Biggest Mismatch When Rams Have the Ball
Rams run blocking vs. Patriots defense
Per Football Outsiders, the Rams have the No. 1 ranked rush offense in the NFL. It all starts with their offensive line, which ranks No. 1 in Adjusted Line Yards, which is a regression-based metric that measures how much an offensive line impacts a team's running game.
The Rams not only rank second in the NFL in stuff percentage (only the Saints have been stopped fewer times at or behind the line of scrimmage), they lead the NFL in runs between 5 and 10 yards.
It all starts with their two tackles, Andrew Whitworth and Rod Havenstein, who have started all 18 games this year.
Per PFF, they rank third and fourth overall among all tackles (min. 250 snaps). And guess who ranks No. 1 and 2 in run-blocking among tackles? Yup, you guessed it: Whitworth and Havenstein.
Oh, and the Rams' guards aren't too shabby, either. Rodger Saffold and Austin Blythe have also started all 18 games this year — and each rank in the top 10 in run blocking among all guards (min. 250 snaps), per PFF.
You can talk about Jared Goff or Todd Gurley or Brandin Cooks, but don't forget about this O-line. It's a big reason why the Rams are so effective in play action.
The Patriots ranked 19th in the NFL in rush defense. They were routinely torched away from Foxboro — and against BAD rush offenses. If we revisit those two stats the Rams ranked No. 1 and No. 2 in, the Patriots defensive line ranks 24th in Adjusted Line Yards and 23rd in stuff rate.
Los Angeles should break plenty of runs and have no issues converting on third-and-short situations right up the middle against a Pats run defense that is weak in that area (27th against the run up middle/guard, where the Rams rank first).
I'm not sure who is going to get the carries for the Rams — Gurley or C.J. Anderson — but I'm confident they will have success running the ball. — Stuckey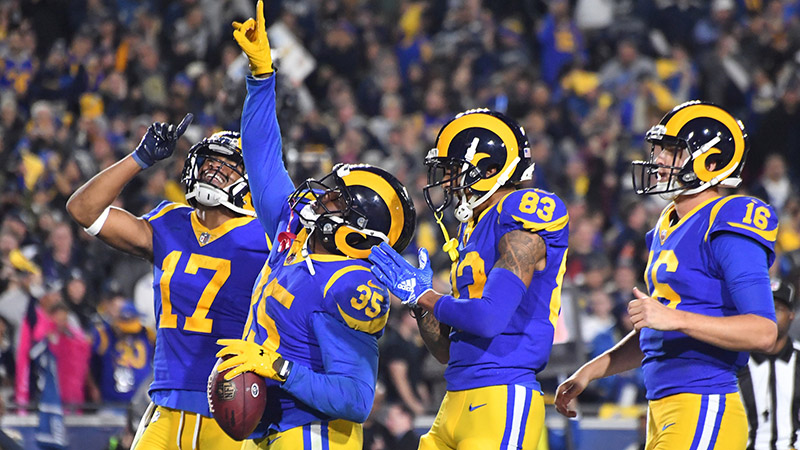 Who Has the Quarterback Advantage?
Patriots
It's borderline disrespectful to even compare Tom Brady to Jared Goff. Brady is going for ring No. 6, which would give him two pieces of hardware for each year Goff has been in the league.
Brady is the smartest quarterback in the league, while Goff still rushes to the line of scrimmage so that Sean McVay can read the defense and communicate audibles to Goff before headset communication cuts off with 15 seconds to go in the play clock.
Nevertheless, we're just one year removed from a Super Bowl that saw Brady lose to Nick Foles in a game which Brady threw for 505 yards and three touchdowns.
For Goff to play well enough for his team to win (or even cover), he must protect the football.
The third-year quarterback has fumbled in each of his past eight games and 11 of 18 games overall this season, with three multi-fumble games.
After seeing the Patriots shut down Tyreek Hill and Travis Kelce last week, as well as hold in check other elite duos like Adam Thielen-Stefon Diggs and Antonio Brown-JuJu Smith-Schuster, Goff may also need to succeed without the full use  of his supporting cast, something he's struggled with at times this season.
Despite a couple of four-touchdown games without Cooper Kupp, Goff's play has suffered overall without his trusty slot receiver.
The Rams' pass success rate falls from 54% in games with Kupp to 48% in games without Kupp, according to data from sharpfootballstats.com, and Goff's passer rating without Kupp falls both under pressure (77.7 vs. 46.8) and when using playaction (124.9 vs. 99.3), per Pro Football Focus.
Even though Brady's sixth-place finish in ESPN's Total QBR was his lowest since finishing 11th in 2013 (63.1), Brady's 85.6 postseason mark is by far the best of any quarterback in the playoffs, and is 22.8 points higher than Goff's.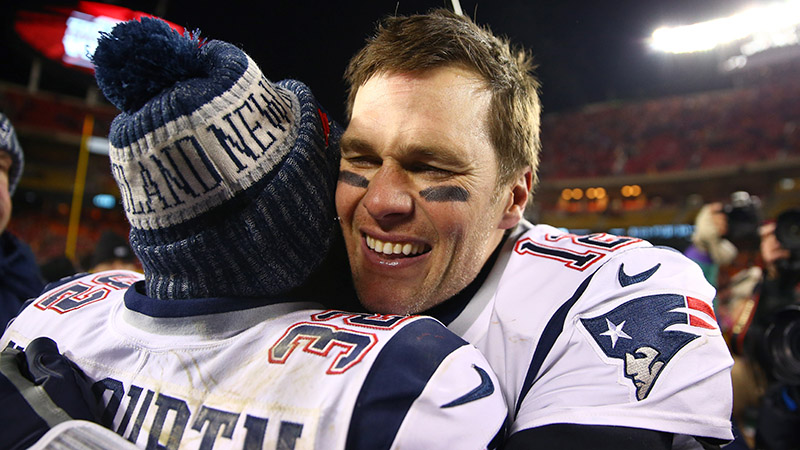 Brady has been helped by a ball-controlling run game that has rattled off 371 yards and eight touchdowns this postseason. He's also been mostly kept clean, getting pressured on only 14-of-90 postseason dropbacks (15.6%), according to PFF.
The biggest concern for Brady is the potential of the Rams generating interior pressure, which knocks Brady's passer rating down 55.6 points compared to pressure off the edge.
Translation: The biggest concern for Brady is Aaron Donald, who led the league with 106 total pressures during the regular season, per PFF. Donald was also first in sacks (21) and third in quarterback hits (20).
If the Rams can't stop the run and get interior pressure, then Brady will likely walk away with ring No. 6. — Chris Raybon
Our Experts' Favorite Game Props, Part 2
Rams win first quarter/Patriots win in full time +630, Rams win first quarter by 1-6 points +490, first score Rams field goal +466
I was going to go with "Winning team will not be served fast food in the White House -420" but … ya know, they also hold your money beyond Sunday on that one, so we'll take something more conventional.
Let's play these instead.
New England is notoriously a slow-starting team in the Super Bowl. In the Patriots' five wins, they haven't scored a single point in the first quarter. Last year, they finally got off the schneid in a first quarter and kicked a field goal, trailing 9-3 to Philly after one.
Given the almost impossible-to-explain penchant for very slow starts, and it's consistency through the years, let's play New England to win the game in this fashion, rather than as a 2.5-point favorite.
If the Rams win the first quarter narrowly, your live-betting/hedging options open up into a world of possibilities.
Los Angeles has had plenty of time to review the Patriots film from the Chargers and Chiefs game, where New England got the ball first and methodically drove down the field to open the game.
The Rams also have a defense of playmakers better suited to stopping that strategy, so I don't think you'll see a repeat of that type of success for New England in the first quarter.
This isn't Kansas City's defense.
As a general concept, I really think these teams are, at best (for New England), even on a neutral field, so the idea that all the Rams props are priced higher than the Patriots for these types of markets makes them that much more appealing. The Patriots are not in reality more likely to do any of these things than the Rams are. — Ken Barkley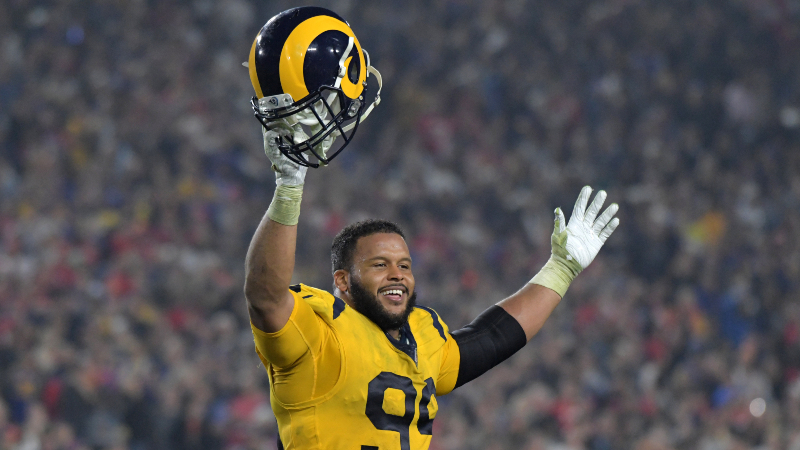 Both teams have lead in fourth quarter or overtime (+280)
Time for a bit of a longshot try here. At many different books, they offer a lead change in the fourth quarter, but this prop adds in overtime, which has been a common theme lately.
I'm not here to sell you on the fact that overtime is likely, but the fact that it's only happened once in 52 tries is misleading. Twenty of the 109 playoff games over the past decade have gone to overtime, good for a 18.3% rate — a 6% increase from the regular season.
There has been a fourth-quarter or overtime lead change in five of Tom Brady's eight Super Bowl appearances, including his past three trips to the Big Game. I think there is some value in this number. — Evan Abrams
Who Has the Coaching Advantage?
Patriots
Bill Belichick had a Super Bowl ring with the Patriots before Sean McVay even had a high-school graduation ring, but we're more likely to witness Roger Goodell give a press conference 100% devoid of bulls–t before we ever witness the game pass Belichick by.
With longtime offensive coordinator Josh McDaniels still in tow after spurning the Colts and a quarterback in Brady whose knowledge of the game could run laps around many current head coaches, the offense would be in good hands even without Belichick around.
His greatest contributions arguably come on the defensive side these days.
Belichick is one of the foremost adapters of pattern-matching, a man-zone coverage hybrid that enables his defense to adjust on the fly to a wider array of route combinations.
Then again, Belichick is the foremost adapter of most any edge you can think of in this league, from concepts as simple as creating opponent-specific gameplans (this wasn't always a thing, and still isn't for some teams), to ones as clever as using your best cornerback to take the opponent's No. 2 receiver out of the game while double-teaming their No. 1 option.
The latter is a tactic Belichick effectively used to limit Tyreek Hill and Travis Kelce to a combined four catches in the AFC title game. He may use it again this week to contain Brandin Cooks and Robert Woods by doubling Cooks and sticking Stephon Gilmore on Woods.
McVay, of course, puts his stamp on the game on offense. His sharp play designs helped the Rams double their previous season's point-per-game output in his first season and turn Jared Goff from a Jeff Fisher-ruined bust as a rookie to a potentially Super Bowl-winning quarterback in Year 3.
McVay has always been good about not leaving too many tendencies on tape despite operating predominantly out of '11' (1 RB/1 TE/3 WR) personnel, but lately he's begun mixing it up formationally, as well, using '12' ( 1 RB/2 TE/2 WR) on 25% of plays over the past four games.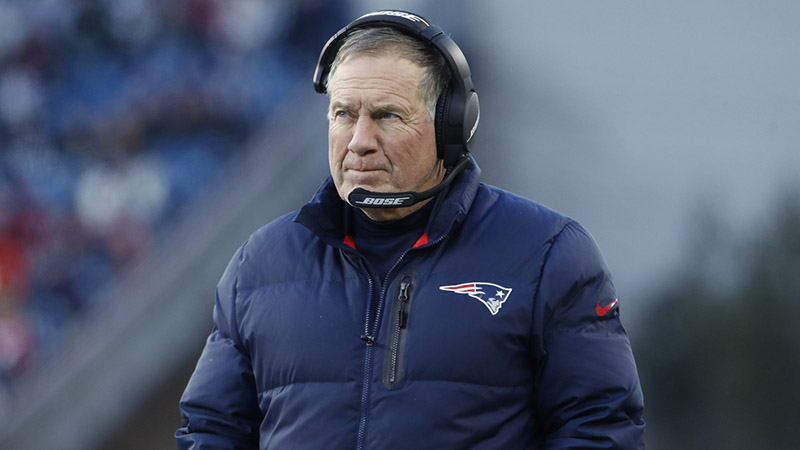 Against a Patriots team that is much stronger in the secondary than at linebacker and likes to keep five or six defensive backs on the field as a result, I wouldn't be surprised to see McVay continue to employ two-tight end looks. Coupled with the league's best run-blocking offensive line, heavy personnel groupings could discourage the Patriots from taking their linebackers off the field.
But McVay is nowhere as close to as good of an in-game coach as Belichick. According to EdjSports, McVay is responsible for two of the five worst play calls this season in terms of win probability lost.
The second-year head coach also isn't as aggressive as he should be on fourth-and-short (obligatory mention of his head-scratching decision to kick a field goal on fourth-and-goal from the 1 late in the NFC Championship Game), and his timeout management isn't always the best, either. And of course there's the matter of McVay needing a get-back coach.
Still, the Rams are on the short list of teams whose coaching staff isn't completely blown out of the water by New England's.
That's thanks not only to McVay but also to the staff he's assembled, most notably defensive coordinator Wade Phillips, who I like to call the 'King Midas of Defenses,' for the drastic improvements his units have made in Year 1 in pretty much every stop of his career.
A game featuring coaches as good Belichick, McDaniels, McVay and Phillips getting two weeks to prepare could very well end up in a stalemate and simply put the onus on players to execute.
But Belichick probably has a little extra motivation after last year's 41-33 Super Bowl loss to Philadelphia in which he came under scrutiny for benching starting cornerback Malcolm Butler, and then watched his team get picked apart by Nick Foles for 373 yards and three touchdowns, even falling for the "Philly Special," a trick play that resulted in a touchdown reception for Foles. — Chris Raybon
Our Experts' Favorite Player Props
C.J. Anderson under 49.5 rushing yards (-125)
The under on Anderson's rushing prop hit against the Saints thanks to a negative run and him finishing with 44 yards on the ground. I'll go back to the well again, sweating the under the whole game in hopes that Anderson doesn't receive 16 carries again.
Instead, I'll be buying into Sean McVay's coach-speak that Todd Gurley will "be a big part of this game."
Anderson is presently projected for 41.3 rushing yards in the FantasyLabs prop tool, making this line a nice value. —- Justin Bailey
James Develin under 3.5 rush + rec yards
One of the best things about the Super Bowl is we get a player prop on everyone, even James Develin.
Develin is the Patriots fullback, who trolls the fantasy community with a vulture one-yard touchdown run from time to time.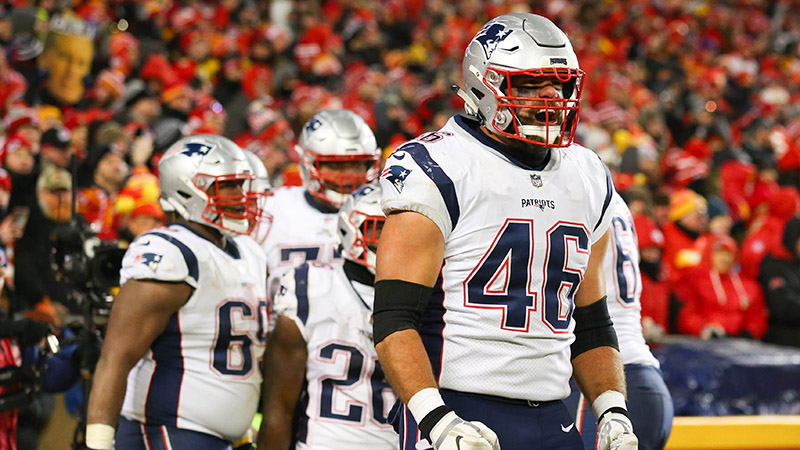 I do think this line is very generous: The under has hit 67% of the time this year and Develin covering the 3.5 would likely require him to get at least two touches.
Rex Burkhead being at full strength further diminishes the chances of Bill Belichick drawing up two or more plays for Develin.  — Sean Koerner
Who Has The Special Teams Edge?
Kickers: Push
Greg Zuerlein has a bigger leg than Stephen Gostkowski at this point in their careers, but both are very reliable kickers. I should note that Zuerlein has a foot injury, but it's not expected to be serious.
Zuerlein 27-31 (87.1%) 35-36 XPs (97.2%)
Gostkowski: 27-32 (84.4%) 49/50 XPs (98%)
Punting: Rams
The Rams ranked fifth in net punting average during the regular season at 43.9 yards, while the Pats ranked a subpar 17th at only 41.1.
Now, the Rams did struggle somewhat in punt coverage, allowing 8.7 yards per return (19th in NFL) — but the Pats were even worse at 10.2 yards per return (26th).
Rams punter Johnny Hekker is also significantly better at pinning teams. His 48.8% inside-20 percentage and 4.65% touchback percentage clearly trumps Allen's numbers (32.81% and 7.81%).
And in the return game, LA averaged 10.2 yards per return (10th in the NFL) thanks to JoJo Natson, who actually ranked sixth overall in punt return average among qualifiers at 10.8
And while Edelman is solid in the return game, he doesn't have the same level of explosiveness of some of the elite returners. The Pats averaged just 7.7 yards per punt return in the regular season, which again ranked in the bottom half of the league.
The Rams finished with a +4.4 net punting differential this year to the Pats' +3.1, which speaks to their edge in all three phases of the punt game: the punter, the returner and the coverage unit.
LA clearly wins this battle.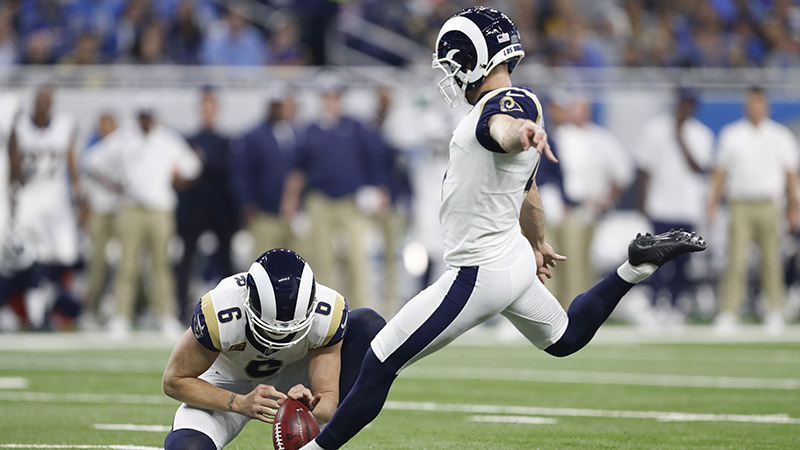 Kickoffs: Patriots
New England will feature one of the NFL's most explosive kick returners in Cordarrelle Patterson, who ranked No. 3 among qualified returners during the regular season.
He can break one at any time to flip a game, which we have seen happen a few times in Super Bowl history.
The Rams will hope to contain Patterson with a kicking team that ranked sixth in touchback percentage 71.96% and 12th in coverage (22.7)
The Pats kick unit struggled much more in both of those categories, ranking 25th in touchback percentage (53.76%) and 26th in yards per return (24.6).
However, the Rams' kick return unit has been stuck in the mud all season, ranking 22nd in average (21.4 yards). Part of that ineffectiveness can be attributed to Pharoh Cooper, who is now an Arizona Cardinal. However, the Rams generally won't kill you on kick returns and prefer to take touchbacks (they've only returned one kick in two playoff games).
I expect Belichick to not give them that option and use strategically placed kicks to try to exploit this weakness and force the Rams to start inside their own 20 after kickoffs.
For that reason, I give the slight edge to New England.
Overall: Push
The Pats have the 16th-best special teams unit per Football Outsiders (DVOA), while the Rams rank 17th. And even if you look at the weighted differential, which gives recent performance more of a boost, their respective ranks are 16th and 18th.
New England's average rating stems from a few uncharacteristic flaws this year: field goal misses, kick coverage, punt coverage.
However, you have to trust Gostkowski's leg in this spot, and the Rams have struggled in the kick return game and should take plenty of touchbacks.
The Rams should have a slight edge in the punting game, but not enough to swing this game one way or the other. And I think New England can make up for that potential field-position disadvantage with strategically placed non-touchback kickoffs, which you've seen from them in the past.
Overall, these are two evenly matched special teams units with two ultimately reliable kickers, which is the most critical piece of this phase. — Stuckey
Which Team is Healthier?
New England Patriots
Both teams are exceptionally healthy at this point in the season. Todd Gurley is (allegedly) healthy, and C.J. Anderson was taken off the injury report after dealing with an illness last week.
Presently, the Rams are only dealing with injuries to kicker Greg Zuerlein (left foot) and backup cornerback Blake Countess (foot). Zuerlein is expected to play, as the injury is to his non-kicking foot.
The only Patriots injury to speak of is defensive tackle Malcolm Brown (calf), who is uncertain for Sunday after opening the week with a limited practice. — Ian Hartitz
More Trends
A Live Dog?
The Rams are averaging 32.4 points per game this season (including the playoffs), making them the 17th team to make it to the Super Bowl averaging at least 30 points per game. The previous 16 teams in this spot went 6-10 straight-up and 5-10-1 against the spread in the big game.
Los Angeles will be the sixth team in this spot to be listed as the underdog in the Super Bowl. The previous five went 1-4 SU and ATS. — Evan Abrams
Underdogs are 11-10 straight up and 17-4 ATS over the last two seasons, covering the spread by 5.7 points per game. — Evan Abrams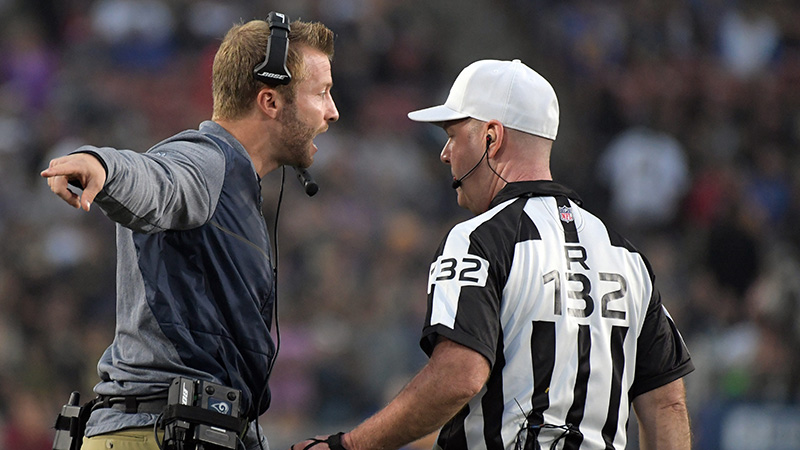 The Zebras
John Parry will be officiating Super Bowl 53. Parry has been a head official in the NFL since the beginning of the 2007 season and has officiated seven total Rams games, including the Rams-Cowboys NFC Divisional Round game this season.
The Rams are 7-0 straight up and against the spread in those games, covering the spread by 9.6 points per contest. — Evan Abrams
Line Dancing
This is just the third Super Bowl to open as a pick 'em. Neither of the previous two closed as a pick, however.
2011: Super Bowl 45: Packers (-3) over Steelers, 31-25
1982: Super Bowl 16: 49ers (+1) over Bengals, 26-21 — Evan Abrams
Almost half of the Super Bowls (25 of 52) have closed with a point spread of 6 points or fewer. No favorite in this spot has won the game AND failed to cover the spread. — Evan Abrams
DFS Edge
Keep Buying Sony?
Sony Michel is on an absurd playoff run, averaging 26.5 rush attempts, 121 rushing yards and 2.5 rushing touchdowns per game.
It wouldn't be surprising to see the Patriots and their third-ranked offensive line in Adjusted Line Yards attack the Rams on the ground, where they seemingly struggled this year, ranking 28th in rush DVOA.
But Michel could be a worthy tournament fade because if game script gets out of hand, James White and Rex Burkhead look more likely than Michel to get work. (The rookie has just 12 targets this year, including the playoffs.) — Justin Bailey
The Case for Each Side
All odds used below are as of Friday morning.
Patriots -140
The Rams have had a great season, and for the first half of the year, they were considered the most complete team in the NFL.
Then they lost to the Saints, Aqib Talib got injured, they lost Cooper Kupp for the season and they began to struggle — both straight up and against the spread.
Still, they have a dynamic offense, a quality defense and a great coaching staff.
Having said all that, New England is better than Los Angeles at the most important position on the field — quarterback.
Tom Brady has been playing with a major chip on his shoulder since the loss in Pittsburgh, the "too old, too slow" underdog mantra has been prevalent in New England, and it's working.
This team is highly motivated and it shows.
I don't think the Patriots are losing back-to-back Super Bowls. I think Bill Belichick will make Jared Goff beat him, and in that matchup, I will take Tom Brady every single time. — BlackJack Fletcher
Rams +3 or Rams ML
The Rams have all the ingredients to beat the Patriots outright: good coaching, the ability to get interior pressure and get off the field on third down on defense, and the ability to run efficiently and protect Goff on offense.
The Patriots certainly have advantages, as well, but in my opinion, those advantages don't offset the Rams' to the degree that the current line implies — I think this game is more or less a toss-up.
If I was only able to get +2.5 rather than +3, I would consider the moneyline instead; NFL games land on 3 nearly twice as much as 1 and 2 combined, and while only one Super Bowls has been decided by fewer than 3 points, six have been decided by exactly 3. — Chris Raybon
The Case for Each Side of the Over/Under
Over 56
Over is the new Under in the NFL.
While the AFC Championship took an entire half to find any offensive rhythm, this game should be hot from the start. The advanced metrics show that each team has an offensive advantage over the opposing defense.
The Patriots rank in the top 10 in percentage of first downs coming on first or second down, average third-down distance, third-down success rate, blitz-down sack rate and rushing marginal efficiency.
Meanwhile, Los Angeles ranks in the bottom 10 in each of those stats on defense.
The Rams sit in the top 10 in big-play rate, third-down success rate, 21 to 30-yard line success rate, marginal efficiency, marginal explosiveness, field position and standard downs explosiveness.
Conversely, the Pats rank 20th or worse in each of those stats. Each offense has multiple advantages and should be able to move the ball.  I expect enough points to go Over 56. — Collin Wilson
Under 56
I like the under as something of a gut play. Both of these teams can score: The Rams and Patriots respectively finished the regular season with top-four marks in points per game (32.9 and 27.3).
But 56 points is such a high over/under, and this year the Rams and Pats have respectively underperformed their high expectations from a game-total perspective (8-9-1 and 7-11-0).
Specifically, the Pats have held opponents to 0.32 points below their implied totals. And the Rams have been more impressive: In their 10 games with cornerback Aqib Talib, they have held opponents to 2.43 points below their implied totals. With Talib, Rams games are 6-3-1 to the under.
I won't feel good about this bet until the game is over, but I do think the line should be closer to 54.0 or 54.5.
One last note: It's probably wise to hold out on betting this as long as possible. The line is likely to go up as the general public starts betting the game more. — Matthew Freedman
How would you rate this article?