It's almost that glorious time of the year again when those of us in the United States stay up all night long sweating out break points while getting tired of the same "Visit Melbourne" commercial that ESPN loves to overplay for two weeks. In this particular Australian Open betting guide, we will look at the tournament from a futures perspective.
Make sure you check back over the weekend for quarter-by-quarter analysis. Also, fellow Action Network expert Stuckey and I will have you covered for daily ATP and WTA action throughout the tournament. May the break points all go your way!
Tournament Overview
Dates: Jan. 15 – 28
Level: Grand Slam
Surface: Hard (Plexicushion)
Prize Money: $55 million (AUD)
Draw Size: 128
Defending Champion: Roger Federer
With Roger Federer chasing his 20th major title, Rafa Nadal wrestling a potentially nagging knee injury, and the returns of former Australian Open Champions Novak Djokovic and Stan Wawrinka (as well as the absence of Andy Murray) — there will be no shortage of theatrical subplots at the season's first Grand Slam in Melbourne.
For the past decade, the "Big Five" (Federer, Nadal, Djokovic, Murray, Wawrinka ) have dominated play at the Australian Open, collectively claiming each of the last 10 titles. Djokovic has won six himself (2016, 2015, 2013, 2012, 2011, 2008). Defending champ Federer has won a pair (2017, 2010), and Rafa and Wawrinka have each won the Aussie once (2009 and 2014, respectively). But with a seemingly growing number of question marks surrounding these top players this year, it's as good of a time as ever for some player outside of the "Big Five (minus Murray)" to break through.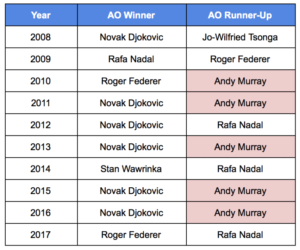 Who's In
[1]Rafa Nadal (knee)
[8]Stan Wawrinka (knee)
[14] Novak Djokovic (elbow)
[23] Milos Raonic (calf)
Who's Out
[19] Andy Murray (back)
[24] Kei Nishikori (wrist)
Conditions
The Australian Open is widely considered among the fastest-playing hard court tournaments on tour. Anyone who witnessed Roger Federer's mastery of the conditions last year en route to his fifth Australian Open can attest to the quickness of the surface. According to 2017 CPI (court pace index) data, centre court in Rod Laver Arena plays like a "medium-fast" court. The two other show courts — Margaret Court and Hisense Arenas — interestingly enough, fall into the medium range.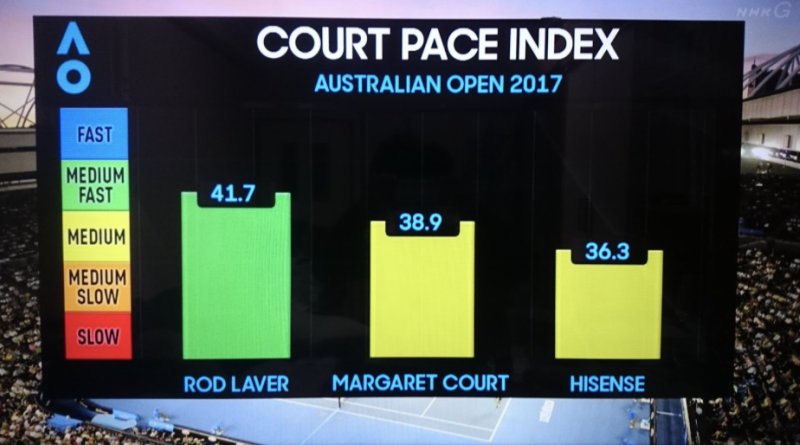 However, if you ask certain players, conditions in Melbourne tend to play exceedingly fast — especially on the outer courts. Analyst Brad Gilbert claims the outer courts play up to 25-30% faster than the bigger courts. Take Court 8, for instance, which Americans Jack Sock and John Isner described as the fastest they've ever played on. Be mindful of this when capping the first few rounds of the tournament when the outer courts are utilized more frequently. Players with bigger serves should receive a boost from the surface speed early in the tournament.
The weather has dominated the narrative here in the past, as they play the tournament in the middle of summer in Melbourne. The Australian Open even has an extreme heat policy, which has caused many controversies in the past. Keep an eye on the weather throughout the tournament, as fitness becomes a major capping variable when the temperatures reach triple digits. Although, fortunately for players, it looks as if we may get pretty mild conditions this year.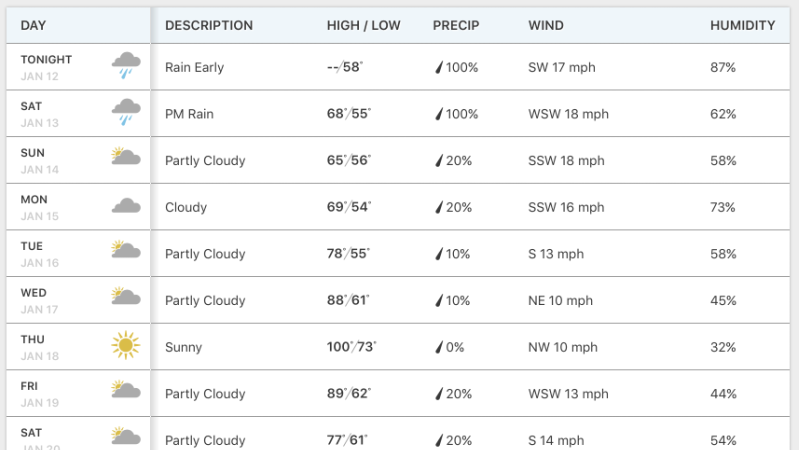 Betting Outlook

The way I see it, two distinct packs of players are vying for contention at this year's Australian Open. The "old" regime — consisting of Roger Federer, Rafa Nadal, Novak Djokovic and Stan Wawrinka — and the "new" wave of top players in Grigor Dimitrov, Sascha Zverev, Nick Kyrgios and Domi Thiem.
Get the EDGE
Unlock The Action EDGE
Unlock this article + all the EDGE benefits
Get the EDGE
Already an EDGE member? Sign In
model helps you find edges when betting moneylines and over/unders for the full game