Saturday ATP Betting Preview: Can Kyrgios Stay Hot at Queen's Club?
Credit:
Susan Mullane-USA TODAY Sports. Pictured: Nick Kyrgios
The Highlights
Semifinals matches begin at Halle and Queen's Club Saturday.
The first best bet of the day is between Roberto Bautista Agut (+100) and Borna Coric (125) in Halle. 
The second best bet of the day is between Marin Cilic (-145) and Nick Kyrigos (+115) in London.


---
We've got semifinal action Saturday from two tournaments, in Halle (Germany) and London, on what looks to be an entertaining morning of tennis.
In Halle, play begins at 5:30 a.m. ET with the Swiss maestro Roger Federer taking on American Denis Kudla. Federer has had a somewhat shaky tournament, surprisingly, dropping a set to Benoit Paire on Thursday and almost losing a set to Matty Ebden on Friday.
He should rebound with ease in Saturday's semifinal match against a player like Denis Kudla (with all due respect). Kudla's a decent grass courter, but style-wise, I don't think his game has enough flair to really bother Federer.
Over at the Queen's Club Championships in London, I expect Novak Djokovic (he's looked great this week) to advance if he brings his A-game. However, if Jeremy Chardy keeps serving the way he has for the past three weeks, we could see a tiebreak or two. That would certainly imply significant value with the Frenchman at +560.
Now, let's get into tomorrow's two bets to watch.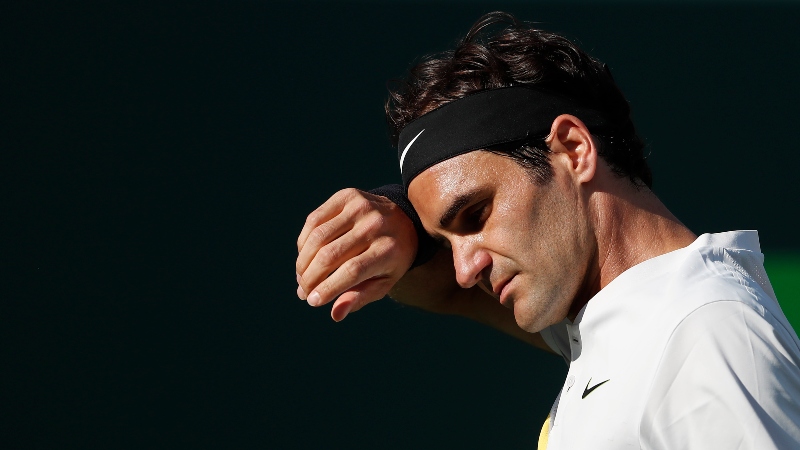 Geoff Burke-USA TODAY Sports. Pictured: Roger Federer.
---
Roberto Bautista Agut (+100) vs. Borna Coric (-125) 
Where: Halle, Germany
When: Not before 8 a.m. ET
H2H: Bautista Agut leads 4-2
The second match from Halle should be a great one, featuring Roberto Bautista Agut and Borna Coric. Agut came through his quarterfinal match against Karen Khachanov impressively, rallying back from a break down in the third set to punch his ticket to the semis. The same could also be said of Coric, though, who took out Andreas Seppi comprehensively in straight sets.
It's a tough one to pick, but this one should come down to whoever raises his level higher on match day. Coric's peak level is probably a little higher than that of RBA, but the Spaniard is one of the most consistent players on tour and is less likely to break down than Coric.
But, for me, this bet comes down to a matter of value with Bautista Agut. Throughout their careers, it's impossible to ignore that RBA is the better grass court player of the two. In fact, before this tournament, Coric's body of work on grass was pretty poor (2-7 record; 71.7% holds/15.6% breaks).
Granted, Coric has really taken his game to the next level this year — and I don't think those statistics are all that accurate a reflection of who we'll see tomorrow. I still don't think he's worthy of being a buck and a quarter favorite over RBA — who's 24-10 in his career on the grass with much better hold/break numbers (82.9%/22.6%, respectively).
The Pick: Bautista Agut (+100)
---
Marin Cilic (-154) vs. Nick Kyrgios (+120)
Where: London, UK
When: 8 a.m. ET
H2H: 1-1
I've been so impressed by Kyrgios this week. The young Aussie has employed a bit of controlled chaos, going for tweeners and fun shots in moderation, but playing all of the big points with the utmost of focus.
What has impressed me most about Kyrgios this week, however, has been his backhand down the line. Obviously, Nick has been serving incredibly as well, but when matches come down to big moments, whether in a tiebreak or a tight spot in a game, Nick has relied on his backhand. It's a shot I could see hurting Cilic on Saturday.
When the two met back in 2016 at Marseille, it was my first real introduction to how good Kyrgios' backhand is. He doesn't rocket the ball with an immense amount of pace, but he uses his short backswing to create tight angles and move his opponent all over the court. Against a player like Cilic, with a ton of power behind the baseline, Kyrgios can neutralize the Croat's big strokes by keeping him moving side to side.
Ultimately, I see this match coming down to either tiebreaks or a few critical points. And, in the end, I just think Kyrgios has more weapons in his bag of tricks that can hurt Cilic. The Croat is much more one-dimensional than Kyrgios, who can do damage with power and finesse. Additionally, I give the serving edge to Kyrgios — he pumped an incredible 32 aces in two sets against Feli Lopez in his last match. That's RIDICULOUS.
All in all, Kyrgios is feeling good about his game, and when he's feeling good about his game, so am I. At an underdog price, I'll happily be siding with Kyrgios in this one.
Come on, Nick.
The Pick: Kyrgios (+120)