2019 ATP French Open Final Betting Preview: Can Dominic Thiem Snap Rafael Nadal's Streak?
Credit:
Susan Mullane-USA TODAY Sports. Pictured: Rafael Nadal during the 2019 French Open at Roland Garros.
ATP French Open singles wrap on Sunday morning with the finals getting underway at 9 a.m. ET.
Daniel Scotti breaks down who he likes between Rafael Nadal and Dominic Thiem.
2019 ATP French Open Final
Matchup: Rafael Nadal vs. Dominic Thiem
Line: Nadal -440 | O/U: 15.5
Time: 9 a.m. ET on NBC
After needing over 24 hours to complete the second men's semifinal match at Roland Garros, we finally have our championship matchup settled in Paris — and it's none other than the King of Clay, Rafael Nadal, and perhaps the Prince of Clay, Dominic Thiem, which is the final I expected from before the tournament.
The Matchup
Rafa comes into this one on his typical French Open form, dropping just one set en route to the final — and most likely, as he's known to do, he has saved his best for last on Chatrier Sunday. Thiem, on the other hand, enters this match with a bit of an up and down (or should I say down and up) performance in Paris.
After dropping a set in his first three matches (and coming close to dropping a second against Tommy Paul), Thiem responded in the second week dispatching two on-form versions of Gael Monfils and Karen Khachanov in straight sets. Things came to a head for Thiem in the semifinals — when he took out World No. 1 Novak Djokovic for a second time in three years at Roland Garros — and ended any prospect of another "Nole Slam" happening this season.
But, for me, the result (or match, itself) was not as impressive as it was for those people who only saw the scoreline.
I felt Thiem played a little passive at times in the match for me, and, as it turned out, it was during these spells in the match that Djokovic was able to pull the momentum in his favor.
All day, I've been replaying that point in the beginning of the fifth set, down break point at 30-40, when Thiem pulled out a bad drop shot from behind the baseline. Unfortunately for Djokovic (and luckily for Thiem) he was too shocked to take advantage of the poor shot.
I've watched Thiem closely on the clay for the past five years, and I truly can't remember another time when Thiem has looked to bail out of a baseline rally — let alone in the fifth set of a Grand Slam semifinal … down break point!
I wasn't sure what to make of that shot, exactly, but in my mind it showed a lack of confidence by Thiem. He has one of the biggest, most bruising, baseline games on Tour — gifted with the ability to hit winners on anyone, even Djokovic, arguably the best defender alive. If Thiem expects to have a chance Sunday against Nadal, he better have belief in his shotmaking.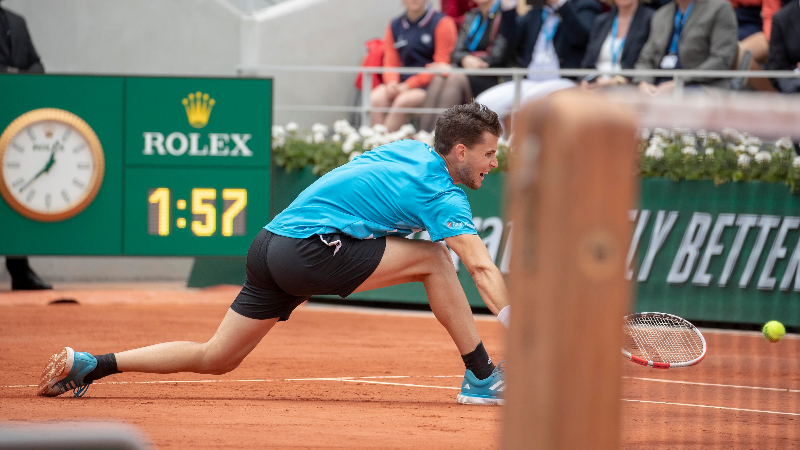 And I just noticed a few, subtle, aspects of his gameplan against Djokovic which tell me he's not 100% feeling himself right now; at least not to a degree required to challenge Rafa (and his 11-0 record in Roland Garros finals) on Chatrier. I also noticed Thiem going to the backhand slice more than I'm used to seeing from him on slow clay courts, against Djokovic.
Ever since hiring Nicolas Massu this season, the Austrian has employed the slice much more than in years past on hard courts (think back to the Indian Wells run last March), but, at the same time, I'm not sure it's the best tactic for beating Nadal.
Thiem must go for lines as early and often as possible in rallies, and not look to get into many physical exchanges with Nadal.
Rafa's fresher. Rafa's more experienced.
And Rafa has a keen knack for finding ways to survive long, grueling, points. For Thiem to win this match, he's going to have to go for the jugular and hit winners — even if that means a higher tally of unforced errors.
Against Djokovic (and this wasn't the case against Khachanov or Monfils), Thiem's groundstrokes simply didn't look as heavy as they've looked in the past. It looked like Domi was hitting his forehand with a lot more shape and topspin, rather than pace and aggression.
Of course, a large reason for this could have something to do with the extremely windy conditions the Austrian (and Djokovic) were forced to endure over the course of their two-day match. With wicked winds, Thiem might have just been looking for more control over his strokes; more margin.
That said, for me to contemplate backing Thiem in any capacity ahead of the final, I would've wanted to see more of the ball-bludgeoning Thiem we've seen take down Rafa in the past.
And I'm not sure I saw that. I actually thought the level throughout the semifinal match against Djokovic was pretty poor, all around, frankly. It was not particularly a match that left me inspired about Thiem's chances.
Bets to Watch
From a betting perspective, there aren't many "value" options available. Personally, I expected the line to be more in the -700 to -1000 range about Rafa — but Nadal opened around -350.
So I suppose, all things considered, there is some value in backing the Spaniard … even at such a rich price. At the moment, I'm expecting one way traffic — along the lines of straight sets for Nadal, but I'm not overly confident in a 3-0 win for Nadal to bet it.
While Thiem's won two of the last three matches between the pair on clay, that lone win for Nadal was also in a RG final — and Nadal won it comprehensively. Same vibe for me ahead of this year's installment. I like Rafa once again.
My suggestion is to include the moneyline, at anywhere from -400 to -500 (where the line currently sits), in some type of parlay. Thiem's getting closer; but I'm afraid I still don't believe it's Thiem's time. Maybe next year.
I expect Rafa to hoist his 12th Coupe des Mousquetaires — and inch a little bit closer to Roger with Grand Slam title number 18.
How would you rate this article?