US Open ATP Betting Preview: Quarterfinal Tuesday in Flushing Meadows
Credit:
Geoff Burke-USA TODAY Sports. Pictured: Juan Martin del Potro
Bettors only have two ATP matches to focus on for Tuesday's U.S. Open quarterfinals, starting at 1:30 p.m. ET with John Isner (+280) and Juan Martin del Potro (-311).
In the second men's match, Rafael Nadal (-345) and Dominic Thiem (+310) will meet for the 11th time, but the first on a hard court.
As I write this, the Swiss Maestro, Roger Federer, is entrenched in the business portion of the third set after splitting the first two with Aussie journeyman John Millman.
It's hard to even try and comprehend the tournament implications of Federer losing this match. Instead, I think it's best to shift gears to Quarterfinal Tuesday in Flushing Meadows. Let's examine the two big matches on tap on the ATP side.
---
>> Sign up for The Action Network's daily newsletter to get the smartest conversation delivered into your inbox each morning.
---
Juan Martin del Potro (-311) vs. John Isner (+280)
H2H: Del Potro leads 7-4 (6-3 on hard courts)
Time: 1:30 p.m. ET
We've got our next installment of the Big John-Delpo chronicles, this time at the U.S. Open. We last saw these two go at it a few months back at the French Open, where del Potro came away victorious in straight sets, without needing a tiebreak.
Prior to that, Isner had won the last two, but, still, Delpo tends to have John's number (and owns the H2H 7-4).
Nevertheless, I expect John to compete in this match. If there's any shot on tour that's going to penetrate del Potro's forehand, even intermittently, it's Isner's forehand. If there's any aspect of his game that has contributed the most to the 33-year-old's recent success, it's his commitment to crack his improved forehand.
Still, I trust Delpo to hold his nerve, and, more importantly, his serve, against Isner. I see the majority of sets coming down to scoreboard pressure. Someone sprinkles in a double fault or perhaps a few loose unforced errors, and suddenly it's 0-30, 15-40, and a guy cracks. If that's the case, I want to be backing del Potro.
And that's high praise, because I rate Isner's clutchness highly.
With center court on Ashe playing slow, del Potro -3.5 games looks like the best bet. I mean, Isner played five sets with Milos Raonic and those two didn't sniff one breaker, so I'm not overly put off by the prospect of endless tiebreaks (and a potentially fatal 7-6, 7-6, 7-6 victory). Del Potro can get to Isner's serve at least once a set.
Fatigue could also become an issue for Inser. While del Potro has won all 12 sets he has played this tournament, Isner has played two matches that went five sets. In total, the American has played five more sets.
Delpo's got the Tower Boys from Tandil in his box, chanting on every point — like Maradona is making a darting run into the box. That energy should help him avoid the lull of playing a generally rhythmless match against Isner. And despite this being a "home" Slam for Isner, this crowd will undoubtedly be divided.
All things considered, I have del Potro in three or four sets, but his price too rich for my blood. I'd either throw Delpo into a moneyline parlay or bet him -3.5 games.
---
Rafael Nadal (-345) vs. Dominic Thiem (+310)
H2H: Nadal leads 7-3 (all on clay)
Time: 8:15 p.m. ET
I'm expecting a good one here. While Rafa and Domi have a rather extensive history against each other on the dirt, they've surprisingly never met on a hard court.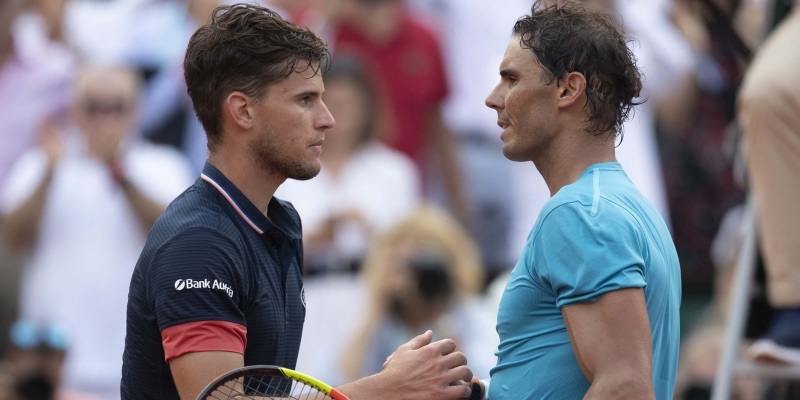 The conditions on Ashe should actually help Thiem more than the defending champion — especially on serve.
Although Thiem really isn't known for his serve, he can dial it up with the best of them to get some free points. Nadal, on the other hand, will have to work very hard to protect his service games — and won't get as much help on his sliced lefty serve from the surface as he would on grass.
Although I see a lot of neutral points, Thiem has the propensity to find a few more free points than Nadal, which could be key at tight spots in the match.
It will be interesting to see how Thiem fares from the baseline against Nadal on a hard court. Generally, Thiem struggles on quicker surfaces against guys who can inject pace and hit flat, because it takes time away from the Austrian. However, Nadal hits with a lot of shape, which should give Thiem time to go for more on his shots.
At this point in his career, Thiem knows he will have to be the aggressor, and away from the clay, where Nadal is nearly invincible in a best-of-five, I think Thiem can inflict more damage offensively.
While I do think there's some value with the moneyline, I prefer Thiem +2.5 sets. Nadal will still pick on Thiem's backhand, which Thiem doesn't defend well enough. I also expect Nadal to come out playing attack-oriented tennis.
I could see both men enjoying hot stretches throughout the match, but it's hard to fade Nadal against a player he's never dropped a set to in three Grand Slam matchups. However, those three did come at Roland Garros, and I think Thiem can at least get a set in these conditions.
---
Tuesday ATP Hitters
Juan Martin del Potro -3.5 games (-140)
Dominic Thiem +2.5 sets (-171)
How would you rate this article?