2018 WTA US Open Betting Preview: Handicapping Wozniacki's Wide-Open Quarter
Credit:
Geoff Burke-USA TODAY Sports. Pictured: Caroline Wozniacki at the 2016 US Open
Caroline Wozniacki (+500) and Petra Kvitova (+225) are the betting favorites to win this US Open quarter, but both are dealing with injuries.
This absolutely loaded section of the draw also features two of the hottest players on tour and a number of talented young guns.
Plus, nobody will want to face an in-form Genie Bouchard, who made the fourth-round here in 2014 and 2015.
If you recall from our first quarter preview, Halep's quarter contains three former US Open champions. Well, that's not the case in Caroline Wozniacki's quarter, as nobody in this quadrant has ever won the US Open — although Wozniacki did make the 2014 final (lost to Serena).
However, despite the lack of US Open pedigree, this section is loaded with landmines and ripe for a lesser known name to make a deep run — especially since the top-two seeds have injury questions.
The two hottest players on the WTA Tour (Kiki Bertens and Aryna Sabalenka) have winnable draws and could continue making noise. There's also a section of three young talents in Belinda Bencic, Daria Kasatkina and Naomi Osaka.
Let's dive deeper into this gauntlet of a quarter to help with your futures and first-round betting preparation. We'll start with a form check of the seeds and finish with some first-round action.
Seed Form Check
(2018 summer hard court record)
#2 Caroline Wozniacki (0-2) — Her two losses came against Bertens and Sabalenka so that's not concerning, but her fitness is worrying. Wozniacki retired after one set against Bertens with a knee injury — and had a taped left thigh throughout the summer. I doubt she is 100% fit, which will make it difficult for the Dane to make a run at her most successful Grand Slam.
#5 Petra Kvitova (6-3) — She retired after one set on Thursday with an apparent shoulder injury. I normally wouldn't be concerned, but Kvitova has only retired once in her career. She followed that retirement up with an upset loss in the second-round of the 2016 Australian Open. If fit, she can win the tourney. If not, she won't last long in this brutal quarter.
#11 Daria Kasatkina (1-2) — Since making the finals in Dubai and Indian Wells during a breakout winter, Kasatkina has somewhat struggled — primarily due to her second serve (or lack thereof). Opponents have killed her second serve this summer, winning an astonishing 68% of points. If you're looking for positive spin, the Russian made the quarterfinals at the French Open and Wimbledon..
#13 Kiki Bertens (9-1) — Considered a clay court specialist just a few months ago before her spectacular summer streak. She went 22-6 on clay in 2017, but 7-19 on all other surfaces. Well, something apparently clicked this year between her and coach Raemon Sluiter.
Bertens made the quarterfinals at Wimbledon and won the premier event in Cincinnati. She's beat six top-20 players on hard courts this summer. If Kiki can maintain her immaculate defensive level, she will continue to wear down opponents in New York.
#20 Naomi Osaka (1-3) — After winning Indian Wells in the winter, Osaka was listed at 25-1 to win the US Open; that number has since risen to 66-1 after a disappointing summer. I haven't heard anything, but I suspect she's dealing with some sort of ankle/foot issue. Her movement is not sound, and it is leading to too many shots into the net.
#21 Mihaela Buzarnescu (6-1) — Buzarnescu was enjoying a career year and picked up her first WTA title (San Jose) during a stellar summer. — but then suffered a sprained ankle during a nasty fall in Montreal in early August. She's apparently going to try to play, but it's impossible to predict how the ankle will hold up in her first action since Montreal.
#26 Aryna Sabalenka (11-3) — Arguably the hottest player on tour, Sabalenka has had an insane summer. She's the only player to play in all four weeks leading up to the Open. Since losing to No. 264 Maria Sanchez in the qualifiers of San Jose on July 30, Sabalenka defeated four top-10 players and is now the 12th favorite for the US Open.
She did play eight three set matches over that stretch, so fatigue is a concern, but she didn't look tired at all in the New Haven final on Saturday. Her game and emotion should thrive in New York.
#28 Anett Kontaveit (4-3) — Kontaveit couldn't back up her impressive clay court season, but I still believe in the young Estonian. Two of her summer losses came to Kvitova and Bertens. She's 8-6 this year versus top-20 players, so she has the confidence against the game's best.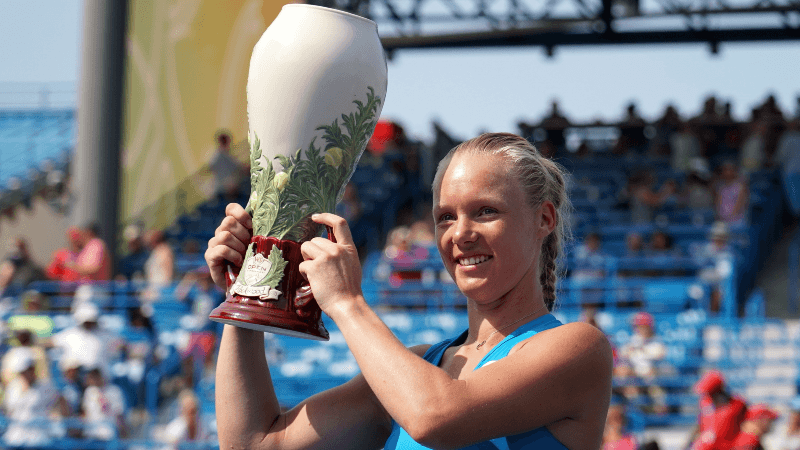 Key H2H Records
(hard court record)
Kvitova 5-4 (1-1) vs. Wickmayer (1st-round)
Wozniacki 7-5 (2-4) vs. Stosur (1st-round)
Kasatkina 2-1 (0-0) vs. Bencic (2nd-round)
Kontaveit 2-1 (0-0) vs. Wozniacki (3rd-round)
Wozniacki 3-2 (3-1) vs. Bertens (4th-round)
Moneyline Parlay Potential
Kasatkina (-265) vs Timea Babos (+220)
Kontaveit (-235) vs Katerina Siniakova (+195)
Sabalenka (-335) vs Danielle Collins (+275)
Kasatkina's superior defense should force a reeling Babos into countless errors. In regards to Siniakova, she's just 1-3 since Wimbledon and the one win came at an ITF clay event.
There's always a little worry of championship hangover after someone like Sabalenka wins her first career title, but she gets two days of rest with zero travel concern. Plus, Collins is in poor form and can't keep up with Sabalenka's pace.
Upset Alert
Kiki Bertens (-430) vs Kristyna Pliskova (+345)
Kristyna's game has been off this year, but this line is a wild overreaction to Kiki's recent run. If this match took place five weeks ago, Bertens would've been priced closer to a -200 favorite.
---
>> Sign up for The Action Network's daily newsletter to get the smartest conversation delivered into your inbox each morning.
---
Futures Value
I think we will see chaos in this quarter, especially if Wozniacki plays at less than 100% health. (If the Dane looks fit on Tuesday against Sam Stosur, she might warrant an adjusted future, which most books offer throughout the tournament.)
The two names I keyed on though are Sabalenka (+850) and Eugenie Bouchard (+4000). I just can't pass on the form of Sabalenka, who continues to overwhelm opponents with her power, while hitting multiple winners setup by her extreme top spin forehand. She does have a potential third-round clash with Kvitova, but the Czech has a potential shoulder injury.
I never thought I'd back Bouchard again, but she's finally shown some form this summer., highlighted by absolute domination in qualifiers. Plus, Genie has made the round of 16 twice here (and a Wimbledon final) so you know she can win on the big stage.
Her draw is also perfect. I still don't fully trust the first two seeds she would see in Bertens and Buzarnescu. If Bouchard can get out of her section and gain confidence, the crowds will get behind her and who knows what could happen from there?
Also of note, she's a -2150 favorite in her first round match versus Harmony Tan, which has to be one of the largest first-round moneylines for a qualifier at a major.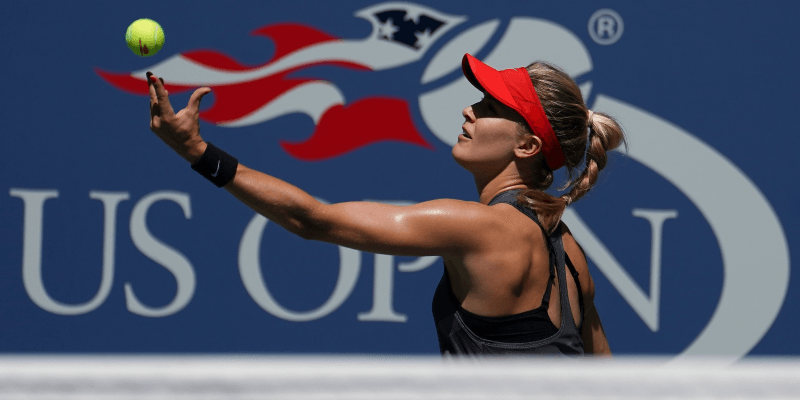 First-Round Best Bets
Marketa Vondrousova -135
Belinda Bencic -120
Yanina Wickmayer +515 (.5 unit)
Bencic excels in New York — where she's made at least the third round in all three appearances. She's struggled at times this summer, but flashed a little form in beating Camila Giorgi last week. Bencic has more talent and can rely on her past New York experiences to get by Aliaksandra Sasnovich.
Vondrousova meets the injured Mihaela Buzarnescu in the first round.  Buzarnescu actually opened as a -125 favorite but that line has completely flipped. I just can't trust Buzarnescu with a sprained ankle. Vondrousova has had a poor summer, but the 19-years-old is one of the more heralded young talents in the game.
Wickmayer at +515 is just too high a price to pass up. She's 4-5 against Kvitova in her career, including a three set win at the US Open in 2009. Wickmayer has advanced out of the first round in NYC six of ten times so the stage will not be too big for her. Yes, she has some form issues. But Kvitova can lose to anyone on any given day and has injury concerns considering she retired after one set on Friday in New Haven.
How would you rate this article?