Thursday's Lead: MLB Longshots, Raptors and Kawhi, and Betting on Big Blue
Credit:
Jennifer Buchanan-USA TODAY Sports. Tampa Bay Rays starting pitcher Chris Archer (22).
Sign up for The Action Network's daily newsletter to have trending articles delivered into your inbox each morning.
The Tampa Bay Rays are two games above .500, 18 games behind the Red Sox in the AL East and 8.5 games behind the Mariners for the second-wild card spot. Heck, they don't even use starting pitchers half the time. That doesn't scare Michael Leboff, though. Instead, he sees value in their massive 750-1 World Series payout. It should be noted that Leboff's pretty pale, so he might have gotten confused when the boss man told him to "catch some rays" last week…
Speaking of Longshots…
Evan Abrams makes a case for embracing your Aaron Rodgers and tossing some Hail Marys on these five MLB teams…
Favorites' Favorite Day
MLB favorites win around 56%-57% of the time, but there's one spot on the calendar where that number jumps 10%. Mark Gallant gallantly dives into the data to figure out why the day after the All-Star Break is worse for dogs than a front yard filled with 1,000 mailmen…
Back 2 The Futures
We're not done, yet. No, no, no. Stuckey is the proud holder of a Mariners World Series future from the preseason, and has two more teams that he's buying low on now…
---
Much to Kawhi Leonard's dismay, the Spurs traded him North of the border to the Raptors in a deal that included DeMar DeRozan heading to San Antonio. The trade certainly improved Toronto's title odds (by 3x, to be exact), but Matt Moore isn't sold on the historically shaky Raptors…
The Rich Get Richer
You know the real winner of the Leonard trade? Golden State, duh.
---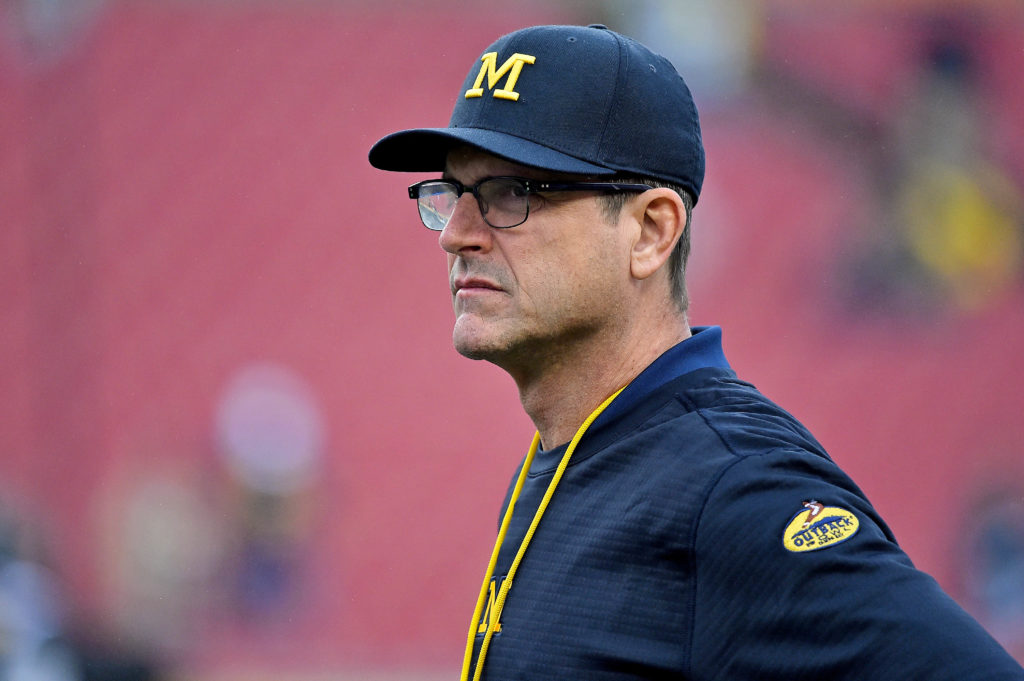 Jasen Vinlove-USA TODAY Sports. Pictured: Michigan Wolverines head coach Jim Harbaugh
Michigan fans aren't gonna love what Collin Wilson has to say about their squad. Playing a tough schedule without an offensive coordinator (might want to get one of those, Jim) leaves Wilson doubting the Wolverines will reach the Big Ten Championship…
Stick to Basketball?
The Hoosiers aren't exactly known for their football prowess, and barring a Gene Hackman appearance on Indiana's sideline, this probably isn't the year they turn it around…
Stick to… Lacrosse?
Maryland isn't exactly gunning for Alabama, either. Despite the Terps having some explosive QBs, Wilson forces himself to look past a personal soft spot when capping the Terrapins' season…
---
ACTION ITEMS
Lo Duca: There are divisional races up the wazoo on tap, and our very own big leaguer is eyeing bets in the AL East and NL West…
Fantasy Stock Market: You know what they say: buy low, sell high. Matt LaMarca has 10 players who are set to peak like Cuba Gooding after Jerry Maguire…
Scandalous: Will sports betting legalization come with a slew of collegiate point-shaving scandals? The Pittsburgh Post-Gazette examines the issue…