South Dakota Sports Betting Measure 2020 Voter Guide
Credit:
Education Images/Universal Images Group via Getty Images: Pictured: South Dakota, Pierre, State Capitol.
Sports betting could become legal in South Dakota if voters approve a constitutional amendment this fall.
If a majority of voters approve Amendment B, sports betting would be legal in the city of Deadwood as well as the state's Native American gaming facilities. The prospects for the amendment's passage — and a larger question about the future of statewide mobile gaming — are still uncertain.
Here's everything else South Dakota voters need to know about sports betting on this fall's ballot.
[Sports Betting Legalization Map]
What is the South Dakota Constitutional Amendment B?
South Dakota's constitution restricts gambling but authorizes the state legislature to allow certain types of games in Deadwood, a small, historic gaming town in the western part of the state. The current list includes roulette, keno, craps, some types of card games and slot machines. "Amendment B" would expand this list to include wagering on sports.
Additionally, federal law mandates that any gaming option approved by the legislature is also allowed at any on-reservation tribal casino if the tribes choose to offer the game and reach an agreement with the state to do so.
This means that if a majority of voters approve Amendment B, the roughly 20 Deadwood commercial gaming entities and the state's nine Native American casinos would be eligible to take sports bets at their facilities.
When Would Sports Betting Begin?
If approved, legal sports betting likely wouldn't begin until sometime in second half of 2021.
The 2020 ballot measure simply amends the state constitution; lawmakers would still need to pass legislation that authorizes, regulates and taxes sports betting. State officials would then need to promulgate rules and license operators, a process that could take six or more months after a sports betting bill is passed into law.
Crucially, lawmakers would also have to determine how or if online sports betting would operate.
The constitutional amendment would only allow wagering in Deadwood (and, because of federal statutes, federally recognized tribes), but it doesn't clarify the fate of online wagering. Sports betting backers are hoping that statewide mobile sports betting can be allowed if the wagering originates on computer servers in Deadwood.
How that argument plays in the legislature will be a major question next year if voters approve sports betting in 2020.
Gambling outside Deadwood remains controversial in South Dakota, one of the nation's most politically and culturally conservative states. Gambling skeptics in the overwhelmingly Republican state legislature may be amenable to another gaming form in a city where legal gambling already exists. Legal wagering anywhere within states lines could be a far more difficult political challenge.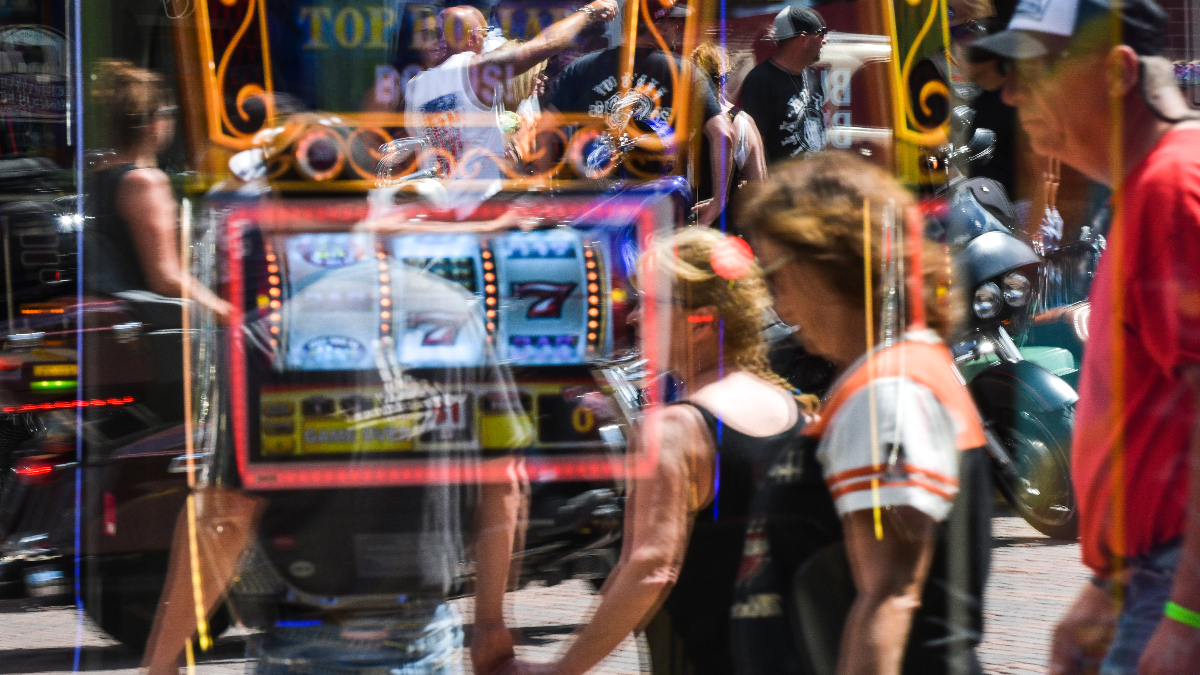 Online wagering makes up as much as 90% of betting handle in mature markets such as New Jersey and Pennsylvania, meaning supporters would be inclined to push for statewide mobile betting, especially in a state as vast and sparsely populated as South Dakota.
Still, even if backers gain the political support for statewide mobile wagering, the legality of online betting will likely be a legal target of opponents in the courts.
If the amendment passes, bettors could have more than 20 retail sportsbooks to choose from in Deadwood alone, assuming lawmakers and regulators permit each casino an individual license, plus up to nine more sports betting options at tribal gaming centers throughout the state.
An online license for each gaming facility would give South Dakota as many as 30 statewide mobile options, one of the highest totals in the country. It's also possible a successful amendment could still mean zero legal online sportsbooks in South Dakota.
Will South Dakota Approve Sports Betting?
The fate of South Dakota sports betting is hard to handicap.
Though amendment backers are outwardly positive, there has been little publicly available polling. With the nation's fifth-smallest population, there has been minimal nationwide attention paid to South Dakota's ballot measure, especially with online wagering far from a certainty even if the measure does pass.
Leading sportsbook operators such as DraftKings, FanDuel, Penn National and Caesars have combined for several million dollars of contributions for similar ballot measures in Maryland and Louisiana. In South Dakota, they've contributed $0.
Politicians in the deeply Republican state are also divided.
GOP state Sen. Bob Ewing, who sponsored the resolution that placed the measure on the 2020 ballot, championed sports betting as a chance to keep up with other states that allow wagering, including neighboring Iowa and Montana. Writing for a ballot question pamphlet published by the secretary of state's office, Ewing wrote the amendment will generate new tax revenues for Deadwood and the rest of the state.
In that same pamphlet, Speaker of the House Steve Haugaard, a fellow Republican, decried sports betting as a "stumbling block" that will fuel gambling addiction.
Industry analysis groups project South Dakotans, as with residents of the other 49 states, are already gambling on sports illegally through unlicensed bookmakers or unregulated offshore sites. The chance to wager legally could bolster "yes" voters, but the anti-gambling sentiment from state political leaders underscores the challenges retail (and possibly online) sports betting expansion faces.
Voters approved expanded gaming options at Deadwood casinos by a 56.7% to 43.3% margin in 2014, but it remains to be seen if they will support sports betting in 2020.
How would you rate this article?
This site contains commercial content. We may be compensated for the links provided on this page. The content on this page is for informational purposes only. Action Network makes no representation or warranty as to the accuracy of the information given or the outcome of any game or event.