Franklin: Confessions of a Kentuckian Who's Terrible at Betting on Horses
Credit:
Peter Casey-USA TODAY Sports. Pictured: Patrons place bets before the 141st Kentucky Oaks at Churchill Downs.
If you're from the state of Kentucky, you're all too familiar with the annual spectacle that comes with the Derby each year.
Unfortunately, that doesn't guarantee you'll have any better luck betting on horse racing.
I have a secret that I've never written or said out loud, not to my closest friends or family members or even myself.
It is something that has plagued me for years, like a disease crawling beneath my skin, hidden from everyone around me, and I have kept it buried deep inside for far too long.
As I have grown older, I have realized that it is OK to be imperfect, to accept the way I am built. We all have our strengths and our weaknesses — every single one of us — and no weakness is something to be ashamed of.
If we hide our flaws, or if we run from them, or pretend they're not a part of us, we aren't being true to ourselves and what makes each of us unique. Once we accept those flaws and recognize our imperfections, they will no longer hold us down.
And I will no longer let one of my most embarrassing imperfections hold me down. Today I stand tall with the courage to slay the demon that has haunted me for most of my adult life, to wear it proudly across my chest for all to see because it is me. Today I tell the world.
My name is Drew. I am a lifelong Kentuckian, living in the Horse Capital of the World. And I am bad at betting on horse racing.
Maybe one of the worst ever, honestly. I really, really suck at it.
For years I lived a lie, going back to my first Keeneland weekend as a young student full of ambition at the University of Kentucky. It was the fall meet, one of only four weekends of live racing at Keeneland in the fall, when we piled into the back of a pickup truck and headed down Versailles Road toward the most beautiful race track in America.
I was too young to drink, but drunker than hell once I walked in. I had about a hundred dollars of my hard-earned Finish Line stockroom money, and I was ready to take the track for every single penny it had.
Hours later, I left with empty pockets, a sunburn and an eagerness to come back and do it all again the next weekend. So I did.
For four Saturdays in the fall and four more in the spring, all throughout college, I went out to Keeneland to strike gold and I can't remember cashing a ticket big enough to buy a bowl of burgoo. I pretended to be decent at it if anyone asked, but that was far from the truth.
Now I'm several years removed from college, I've been to Keeneland as many times as anyone who isn't a jockey (even worked there one meet, that's a story), and I've put enough money into the place they should name the paddock after me.
Not once can I remember walking out of there with more money than I walked in with. Most times I am lucky to have anything at all when it is time to go, but I keep going back for more as often as I can.
The Kentucky Derby is no different.
This year will be my 10th straight trip to Churchill Downs on the first Saturday in May, and if I cash a ticket after the Run For The Roses, it will be a first. I'm riding a winless streak the 2017 Cleveland Browns can laugh at. At this point I am just wasting the tiny paper they print my bets on.
So there it is, my confession. I am tired of pretending I am something I am not. You'd think a pretty successful sports gambler, living in Lexington with several contacts in the horse racing world, would at least be decent at playing the ponies.
Nope. I am completely worthless.
I can read the daily racing program until my eyes bleed and I won't do any better than the first-timer who puts five bucks on a horse because it has the same name as the street they grew up on or because it is wearing their favorite number.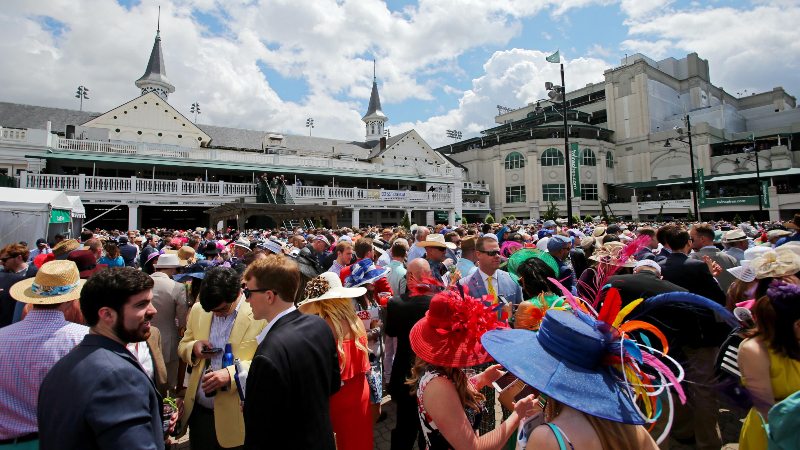 I'm in it more for the parties anyway, especially at the Derby. The track can beat me down all day long, but it can never take away the C-list celebrity sightings around town once the sun goes down (The A-listers are in town too; they just have a different color wristband than me at parties).
The nightlife is where I shine each Derby weekend. It is the reason I keep going back for more. Once you get that first glimpse of three of the four Boyz II Men singing "Motownphilly" on stage at the Barnstable Brown Party, or you bump into a glossy-eyed Wes Welker in line for the men's room at 2 a.m. at Fillies and Stallions, the gambling losses are an afterthought.
Handicapping hacks like me can still win Derby weekend if I stop reaching for something I can't grab, and this year I finally accept that I will never take a dollar from the Churchill Downs vault.
This lifelong Kentuckian, living in the Horse Capital of the World, ready for another Kentucky Derby weekend, sucks at betting on horse racing. Man, it feels good to put that out there.
Now that you know my secret, trust me when I say put all of your money on Tacitus to win the Derby. Lock of the year. All in.
I'm due!
How would you rate this article?