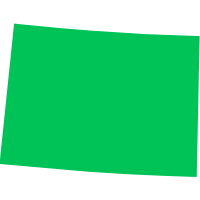 Colorado Sports Betting
Can you bet online? Yes
Can you bet in person? Yes
Colorado became the 18th state to accept legal sports wagers on May 1, 2020. Its laws allow for full mobile betting, and it figures to be one of the most competitive markets for sportsbooks and one of the most consumer-friendly for bettors. DraftKings, FanDuel, BetRivers and BetMGM were the first to market on May 1, and several others big names -- including SuperBook USA, Circa Sports and PointsBet, which is establishing a Western headquarters in Denver -- have committed to launching operations in Colorado. All of this comes after a referendum vote in November 2019 narrowly passed in Colorado (50.7% to 49.3%), propelling the state forward to capitalize on the sports betting boom. Sportsbooks will be subject to a 10% tax rate and a low $54,000 operating fee in 2020.
On Wednesday, November 6, 2019, Colorado became the 19th state to legalize sports betting. The measure, which asked the public to approve a sports gambling tax to support the state's water initiatives, passed 50.7% to 49.3%, a much tighter margin than anticipated.
Sportsbooks officially started accepting bets in Colorado on May 1, 2020, with DraftKings, FanDuel, BetMGM and BetRivers leading the way.
The best news for Coloradans: The state will become just the sixth so far to offer full mobile betting, which has accounted for more than 80% of the sports betting handle in New Jersey, the most successful state to launch in this new era of legal wagering.
Operators are jumping at the bit to get in on the action, as it's already been reported that PointsBet, SuperBook USA and Circa — the latter two of which have only had presences in Nevada thus far — are expanding into Colorado, as well.
Sports betting will also be legal at Colorado's physical casinos in Central City, Black Hawk and Cripple Creek; the latter two are close to big cities in Denver and Colorado Springs, respectively.
Colorado casinos pulled in $842.1 million in 2018, a record for the state. Colorado's sports betting operators will be taxed at a 10% rate on their net proceeds.
Can I Bet on Sports Online in Colorado?
Yes, you will be able to bet on sports online in Colorado, and there will be no shortage of options for bettors come May, although it might take a few of the sportsbooks some time to get up and running.
The state already has 29 physical casinos in Central City, Black Hawk and Cripple Creek; some are likely to enter the market. Some online operators will partner with retail casinos, which are listed below.
The current list of sportsbooks planning to offer online and mobile betting in Colorado include the following operators:
Colorado Sports Betting Apps
Circa
SuperBook
Wynn
BetAmerica
Smarkets
Betfred
theScore Bet
Colorado Sports Betting Timeline
Colorado legalized sports betting in November 2019, and the state officially launched on May 1, 2020. Not all online and mobile books will be ready to offer bets in the first of the month, and not all physical casinos will have sportsbooks attached.
Colorado's General Assembly had already passed House Bill 1327 back in May 2019, which provided that sports betting would be legal in the mountain towns of Black Hawk, Central City and Cripple Creek.
Many physical casinos are currently closed due the coronavirus outbreak, and there's no current timetable on when they will re-open.
Who Regulates Legal Sports Betting in Colorado?
The Colorado Limited Gaming Control and the Colorado Division of Gaming will regulate and oversee legal sports betting within the state.
For more information, visit the official state website for legal betting.
How Old Do I Have to Be to Bet on Sports in Colorado?
In order to place a legal sports wager in Colorado you must be 21 years of age.
What Colorado Sports Betting Rules Should I Know?
Bettors in Colorado can bet on all professional and college sports; however, they cannot bet on high school sports. Not all prop bets will be allowed, nor will certain e-sports.
The Colorado regulators — Colorado Limited Gaming Control and the Colorado Division of Gaming — will have authority on what bets and props are allowed in the state. Operators will be allowed to apply with regulators to add certain bet types.
Other Frequently Asked Questions on Colorado Sports Betting
When will sports betting be legal in Colorado?
Colorado sports betting was approved in November 2019, and operators were allowed to start taking legal bets on May 1, 2020.
Is it legal to bet on college sports in Colorado?
Yes, Colorado regulators have approved operators to offer bets on professional and college sports. One stipulation: The state does not currently allow bettors to wager on prop bets in college games; you're only permitted to bet on the game's outcome.
Betting on high school sports will not be allowed.
Can I place a bet online in Colorado?
Yes, Colorado has fully approved online and mobile betting, which will launch May 2020. Bettors will be able to deposit funds into sports betting websites and apps and place bets if they're within state limits.
Do I need to be a Colorado resident to be able to bet on sports online?
No, you do not need to be a Colorado resident to be permitted to bet on sports in the state. You simply need to be within the state's borders. Each sportsbook's mobile app will detect your location, and as long as you're in Colorado, you'll be allowed to open an account and place bets.
Can I bet on my phone in Colorado?
Yes, several operators, including DraftKings, FanDuel, PointsBet, BetMGM and BetRivers have mobile apps that bettors will be able to use to wager. If previous states are any indication, the vast majority of bets in Colorado will be placed online, given the ease of signing up for and betting from an account remotely.
Can I gamble at 18 in Colorado?
No, the legal age to bet on sports in Colorado is 21.
Where can you gamble in Colorado?
Bettors in Colorado will be able to bet anywhere within state limits if they use operators with online and mobile app functionality. Physical casinos in Black Hawk, Central City and Cripple Creek will also likely open sportsbooks where bettors can wager in person if you'd prefer to do so.
Is Bovada legal in Colorado?
Offshore books like Bovada are not legal in Colorado. Operators that have been approved to offer bets in the state include DraftKings, FanDuel, PointsBet, BetMGM, BetRivers, Circa, SuperBook, Wynn, BetAmerica, Smarkets, Betfred and theScore Bet, along with physical casinos with sportsbooks.
Where Else Is Sports Betting Legal?
Since the U.S. Supreme Court overturned the federal ban on sports betting in May 2018, multiple states have launched robust mobile betting operations. To get a complete rundown on where legal betting stands in your state, check out our complete guide here, but the other states competing with Colorado for mobile betting are New Jersey, Pennsylvania, Indiana and West Virginia.
---
Colorado Sports Betting Tips
Sports Betting for Beginners
How much should you be betting? Where should you be betting? How do you find the best odds for a given game? Every sport and bet type comes with different nuances. Our 11 sports betting tips for beginners can help you get started.
Sports Betting Glossary
Sports betting comes with its own language and terminology — favorites and underdogs, spreads and moneylines, over/unders and props, juice and vig and so much more. It can all be a bit overwhelming and intimidating if you're new to sports betting, so be sure to consult our sports betting glossary for detailed definitions on all the main terms. Don't worry: online sportsbooks will also define these terms within the product to help make everything easier for you to understand.
Sports Betting Mistakes to Avoid
Sports betting isn't easy, so it's important to stay disciplined and not overextend yourself. There will always be ups and downs, but if you stay true to our nine mistakes to avoid, your sports betting experience will be a much more enjoyable one.
How to Place a Bet in Person at a Colorado Sportsbook
Never been to a sportsbook in person? You don't know what you've been missing out on! It can be a thrilling experience, especially on an NFL Sunday, college football Saturday and during March Madness. The best sportsbooks have wall-to-wall TVs, offer up free drink tickets and make it easy to place bets both online and at the counter.
Speaking of placing bets at the counter … that's a whole different art form. Check out our tips for placing a bet in person at a sportsbook.
---
Colorado Sports Betting Locations [May 2020]
Colorado has online and mobile betting, which means bettors will be able to make wagers anywhere within state lines. Bettors will also be able to make bets in person at physical casinos that either partner or open up their own sportsbooks.
Online and mobile sportsbooks will use geolocation technology on phones and computers to verify that bettors are within Colorado state limits.
See below for a list of physical casinos in Colorado that may offer sports betting themselves or partner with an existing betting operator.
Casinos in Black Hawk, Colorado
Ameristar Casino Black Hawk
Address: 111 Richman St, Black Hawk, CO 80422
Phone: (720) 946-4000
Gilpin Casino
Address: 111 Main St, Black Hawk, CO 80422
Phone: (303) 582-1133
Golden Gates Casino
Address: 300 Main St, Black Hawk, CO 80422
Phone: (303) 582-5600
Golden Gulch Casino
Address: 300 Main St, Black Hawk, CO 80422
Phone: (303) 582-5600
Isle Casino Black Hawk
Address: 401 Main St, Black Hawk, CO 80422
Phone: (800) 843-4753
Lady Luck Casino
Address: 340 Main St, Black Hawk, CO 80422
Phone: (775) 786-5700
The Lodge Casino
Address: 240 Main St, Black Hawk, CO 80422
Phone: (303) 582-1771
Mardi Gras Casino
Address: 300 Main St, Black Hawk, CO 80422
Phone: (303) 582-5600
Monarch Casino
Address: 488 Main St, Black Hawk, CO 80422
Phone: (303) 582-1000
Saratoga Casino Black Hawk
Address: 101 Main St, Black Hawk, CO 80422
Phone: (303) 582-6100
Sasquatch Casino
Address: 125 Gregory St, Black Hawk, CO 80422
Phone: (720) 880-1616
The Wild Card Saloon
Address: 120 Main St, Black Hawk, CO 80422
Phone: (303) 582-3412
Z Casino
Address: 101 Gregory St, Black Hawk, CO 80422
Phone: (303) 271-2500
Casinos in Central City, Colorado
Johnny Z's Casino
Address: 132 Lawrence St, Central City, CO 80427
Phone: (303) 582-5623
Grand Z Casino Hotel
Address: 321 Gregory St, Central City, CO 80427
Phone: (303) 582-0800
Century Casino & Hotel
Address: 102 Main St, Central City, CO 80427
Phone: (303) 582-5050
Dostal Alley Casino
Address: 116 Main St, Central City, CO 80427
Phone: (303) 582-1610
Easy Street Casino
Address: 120 Main St, Central City, CO 80427
Phone: (303) 582-5914
Famous Bonanza Casino
Address: 107 Main St, Central City, CO 80427
Phone: (303) 582-5914
Casinos in Cripple Creek, Colorado
Bronco BIlly's Casino
Address: 233 E Bennett Ave, Cripple Creek, CO 80813
Phone: (719) 689-2142
Century Casino & Hotel
Address: 200 E Bennett Ave, Cripple Creek, CO 80813
Phone: (719) 689-0333
Christmas Casino and inn
Address: 279 E Bennett Ave, Cripple Creek, CO 80813
Phone: (719) 689-2142
Colorado Grande Casino
Address: 300 E Bennett Ave, Cripple Creek, CO 80813
Phone: (719) 689-3517
Johnny Nolon's Casino
Address: 301 E Bennett Ave, Cripple Creek, CO 80813
Phone: (719) 689-2080
McGills Hotel and Casino
Address: 232 Bennett Ave, Cripple Creek, CO 80813
Phone: (719) 689-2446
Midnight Rose Hotel and Casino
Address: 256 E Bennett Ave, Cripple Creek, CO 80813
Phone: (719) 689-0303
The Brass Ass
Address: 264 Bennett Ave, Cripple Creek, CO 80813
Phone: (719) 689-2104
Double Eagle Hotel & Casino
Address: 442 E Bennett Ave, Cripple Creek, CO 80813
Phone: (719) 689-5000
Wildwood Casino
Address: 119 N Fifth St, Cripple Creek, CO 80813
Phone: (719) 244-9700