 PointsBet Casino Bonus Code
PointsBet Online Casino Bonus Codes September 2022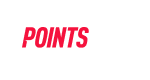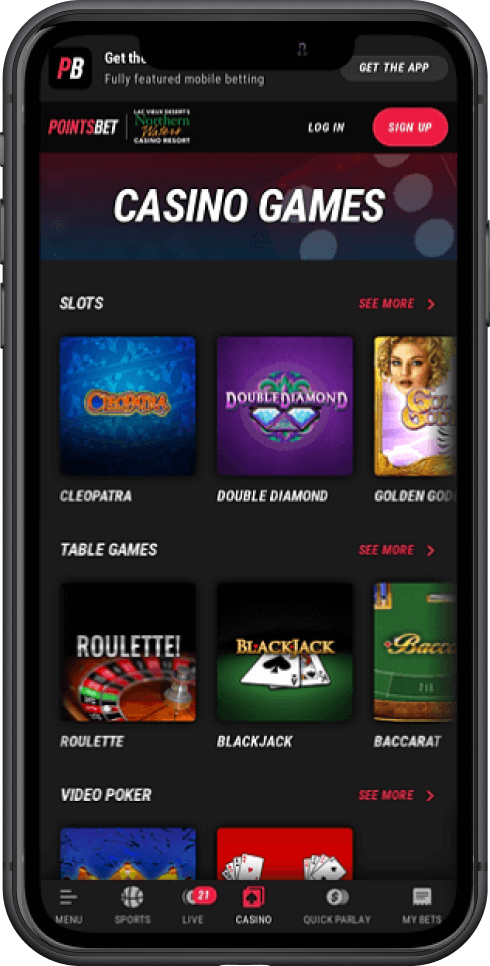 No promotions available. Try selecting a different location.
PointsBet Bonus Code & Registration Process





PointsBet Casino Key Takeaways for September 2022
| | |
| --- | --- |
| PointsBet Promo Codes: | Coming Soon |
| PointsBet Available Legal States: | NJ, MI |
| PointsBet Casino Games Offered: | Blackjack, Roulette, Slots, and More |
A successful 2017 sportsbook launch in Australia put PointsBet on the map of the online gaming industry. PointsBet used that positive brand awareness to move into the American sports betting market in 2019.
Now, PointsBet is venturing out to conquer the online casino market. The aim is to expand their audience beyond just sports enthusiasts to iGamers, gathering everyone in a single platform. The brand's reputation as a trusted, innovative sportsbook undoubtedly has folks excited as PointsBet further expands into casinos. It has the backing of Penn National, a prominent player in gaming and online gambling, which will help PointsBet enter the casino market.
Innovation is something PointsBet believes in, as it has several unique features that no other competitor has. Although offering a smaller selection of games than its competitors, a quality website, app, and customer service earn PointsBet a decent overall score as a place for players to get their gaming fix conveniently in the same app. Read on for more details about this exciting new operator.
PointsBet Casino Bonus Code & Promo Offers





As of November 2021, PointsBet Casino doesn't offer bonuses or promo codes in its now-live states of Michigan and New Jersey. While not having bonus codes is a bit surprising for an online gambling site, there's still a solid welcome bonus to be had. The good news for new bettors is a deposit match in free bets up to $250. If you're looking for great value from PointsBet Sportsbook, check out our review for PointsBet Bonus Code. PointsBet offers plenty of ongoing and special promotions for its sportsbook product; we're confident that it will announce the same for its casino in due time. With competitors like BetMGM Online Casino or Golden Nugget Online Casino offering deposit (or reload) bonuses, expect to see the same offered by PointsBet Casino, too.
PointsBet Sportsbook is well known for its unique and frequent sportsbook promotions to entice existing bettors to try new types of wagers and win money. These change throughout the sports calendar, so it's beneficial for players to pay close attention to its website and email newsletters to take advantage of the latest promos — both with the sportsbook and Casino. The website also lists current promos, in which players can activate a promo by opting in via the promotions page.
We'll update this page with current PointsBet casino bonus codes as soon as they are offered.
How to Sign Up at PointsBet Casino
Step 1: Navigate to PointsBet through one of our links.
Step 2: Hit the Sign-Up button in the top right-hand corner of the PointsBet Casino website.
Step 3: Populate your account information (address, phone number) and verify your identity (social security number)
Step 4: Create a user ID and password
Step 5: Agree to terms and conditions by clicking the checkboxes
Step 6: Click the 'Sign Up' button
Then finally, you can get gaming.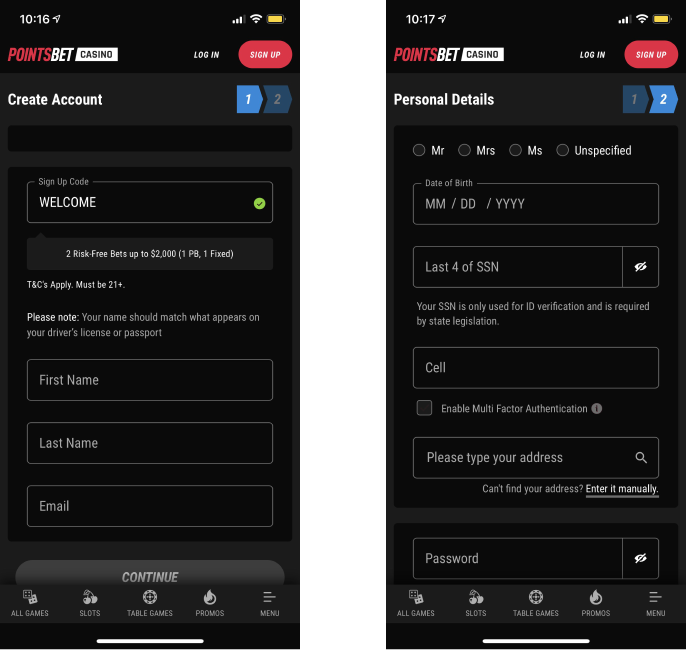 PointsBet sign-up process
PointsBet
Bonuses in Legal Online Casino States
Users in Michigan, New Jersey, Pennsylvania, and West Virginia can register and play at the PointsBet casino right now.
However, the brand already operates its popular online and retail sportsbook in those states and four more: Colorado, Illinois, Indiana, and Iowa. It also holds casino licenses in Pennsylvania and West Virginia. In all, PointsBet has market access in some shape or form in 14 U.S. states, which bodes well for the future expansion of its casino business.
Players that wish to play on the move will be glad to hear that the PointsBet app performs well in this scenario. All that is needed is an internet connection located within a legal state's borders — there are no separate apps. The app is available for both iOS and Android mobile devices and is free to download. Essential functions all work seamlessly on the app: playing games, depositing/withdrawing cash, claiming promos/bonus codes, and viewing account settings.
Pointsbet Casino App Screenshots Pointsbet Slots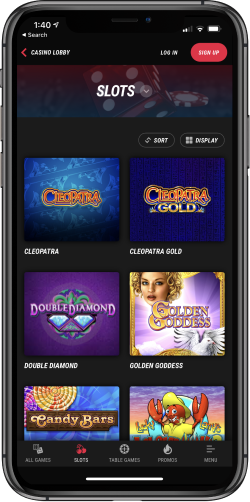 Table Games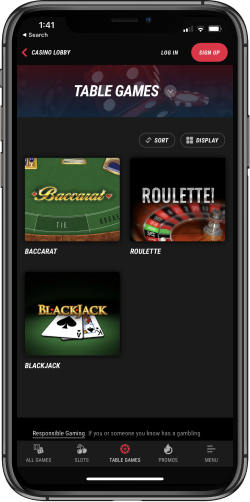 Video Poker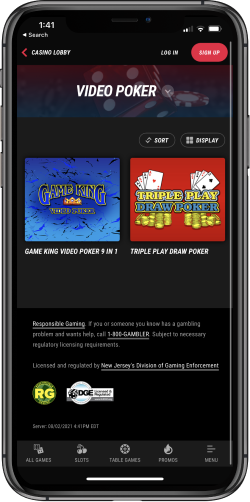 Roulette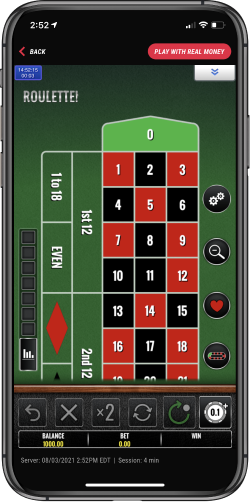 Cleopatra Slots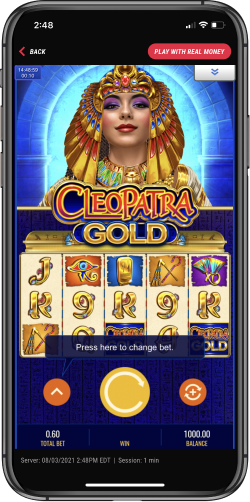 PointsBet Casino Mobile App & Website Experience
PointsBet Casino Mobile App & Web





PointsBet Casino in the Apple App Store & Google Play Store
The PointsBet app is so new. There are very few available reviews on Google Play Store or the Apple App Store. We'll revisit and provide insights from customer feedback as soon as that data is available.
Online casinos must operate quickly, intuitively, and consistently. For the most part, PointsBet performs well when used on a desktop or laptop computer. Visually, it ranks at the top of the market among online casinos, and the overall navigation is smartly designed, making it easy for players to find their way around the platform. But how does it stand up to speed testing?
Web Experience: Hurry up, PointsBet!
Category: Web Experience
Comparison: PointsBet vs. DraftKings
Measured: Core Web Vitals, PageSpeed, First Input Delay
Both PointsBet and DraftKings had poor mobile web PageSpeed scores (16 and 8) — so at the very least, we recommend using Desktop if you use a web version. With Desktop, DraftKings had a more robust but lackluster score: a 44 vs. a 33 by PointsBet. Most importantly for gamers, however, is the input delay metric and both sites tied there. At the very least, responsiveness to input isn't an issue for these casinos on the Desktop web. Because mobile users can download the apps, we're considering Desktop web performance more critical. DraftKings wins this round.
So we know how PointsBet Casino performs speed-wise. But usability and ease-of-navigation are essential factors as well. We compared William Hill, a London-based bookmaker and a casino games competitor. How does PointsBet Casino fair?
Gaming Navigation: PointsBet Needs More to Navigate Between
Category: Live Game Navigation
Comparison: PointsBet vs. William Hill
Measured: Usability of Menus, Click Depth
Both William Hill and PointsBet have gratifying mobile navigation experiences, with functions smooth and precise. Players will enjoy how easy most games are to follow, even on a smartphone or other device with a smaller screen. However, PointsBet's offering breadth is limited —William Hill has more to offer and surfaces that gaming content well. William Hill wins by providing more choices to customers.
Choice of Game Display
An excellent element of the PointsBet Casino app navigation is that it lets you choose how to view games — in a list or a grid. If the grid is selected, two-game tile columns are shown. This is fewer than other online casinos, which ends up being a positive. The design ends up being less overwhelming.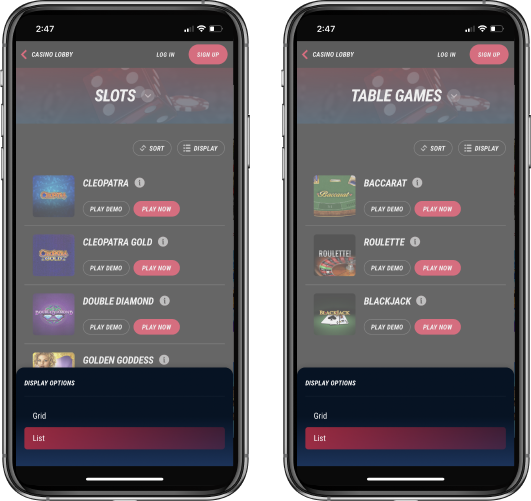 Customer Service Support: PointsBet Supports Customers Well
Category: Customer Service Support
Comparison: PointsBet vs. DraftKings
Measured: Time to Response, Human availability vs. Bots
Speedy help is always appreciated, and that's precisely what PointsBet Casino delivered. The live chat will introduce a bot to start, with an option to request a real person. When asked, a person arrives shortly to answer whatever questions players may have. Good enough for a good score from us. We had a more challenging time getting help at DraftKings.
PointsBet Customer Support Chat
The PointsBet casino chat self-identifies as a bot and will refer you to an actual human employee.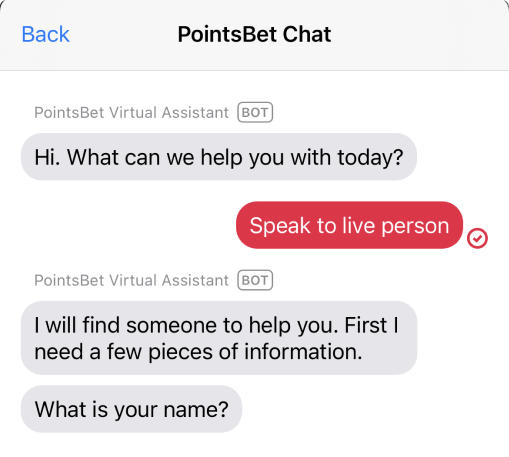 PointsBet Online Casino Game Selection

A partnership with Evolution Gaming, a major supplier in the online casino space, powering the online Casino is undoubtedly a plus for PointsBet. The lobby is full of classic and modern games from another top because it simulates, like NetEnt and Bally. PointsBet organizes its games well via a grid or list view on its website and app, making it easy for users to browse the entire portfolio in alphabetical order or by date added. Also, the PointBet Casino allows players to demo most games, meaning they can play a game with free or fake money first before putting down real cash.
Table Games at PointsBet Casino
At PointsBet Casino, the classic table games are all covered:
Roulette.

Roulette has a max table bet of $2,500. Each bet type has a different max. The higher the payout (odds), the smaller the max. For example, 35 to 1 (straight up) translates to a $125 cap.

Blackjack.

Classic format.

Blackjack had a max bet of $5,000.

Baccarat.

Baccarat didn't seem to have a max bet, but we also didn't know how to play this game. We would appreciate additional tips or demos!
Table games are a huge draw both at regular in-person casinos, as well on online casinos like PointsBet. Players familiar and new to these table games should have an easy time adjusting to playing online — whether that's on the PointsBet website or on the casino app.
Live Dealer Availability: PointsBet Needs Live Gaming Action
Category: Live Dealer Availability
Comparison: PointsBet vs. Golden Nugget
Measured: Count of Live Games, Hours Live Games are Available, Live Dealer Game Diversity
PointsBet lacks live dealer games, which is a notable offering gap. Players enjoy this style because it simulates an authentic casino experience and feels like the game is fairer with a human involved rather than a random number generator. Golden Nugget has a 24-hour offering and many gaming options, so it wins this category by a landslide.
Virtual Blackjack at PointsBet Casino

High-End Max Bets. There is a max bet of $5,000 for the high rollers out there. The smooth Turbo play function was also enjoyable.
Lack of Options. As a new casino, more variations are still a ways away.
Live Blackjack at PointsBet Casino
No Live Blackjack Offering. PointsBet's casino app currently has no Live Blackjack. This is a prominent missing feature we hope is added to complete their online casino experience.
READ MORE: The 5 Best Legal Online Blackjack Sites
Live Game Diversity: PointsBet Should Expand its Gaming Library
Category: Live Game Diversity
Comparison: PointsBet vs. BetMGM
Measured: Count of Unique Game Names
Unfortunately, there are no live games offered by the PointsBet Casino — for now. BetMGM wins by default. Overall, the "starter" launch inventory of PointsBet isn't in the same league as other online casino players.
Slot Games PointsBet Casino
The best part of PointsBet Casino's slots is the colorful selection: choose from pop culture-related titles from movies, music, and more.
There are currently 12 slot options available, which is not very many, but the one thing we have picked up on is that it does seem less overwhelming than other casinos that offer two or three hundred. We are confident this catalog of online slots will grow over time.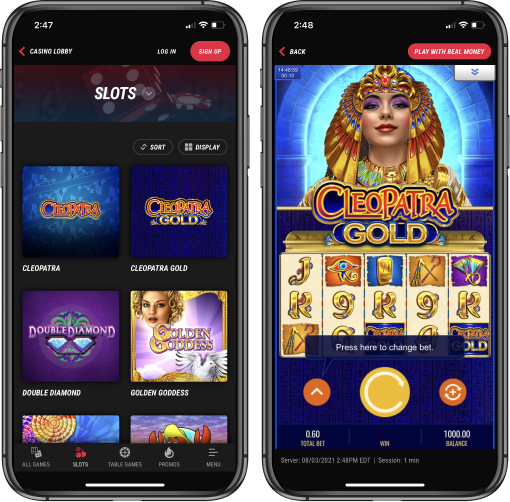 Our PointsBet Slot Takeaways:

Moderation has its benefits. Players certainly won't be overwhelmed when choosing a slot to spin, so there is something to be said for that.
Players may get bored too fast. There are only 12 slot options available, compared to more than 300 by some competitors.
READ MORE: The Most Popular Legal Online Slot Games
Game Winners: PointsBet Makes Winning Clear!
Category: Game Winners
Comparison: PointsBet vs. BetMGM
Measured: Clarity on outcome messaging across game types, available information about recent winners
PointsBet Casino lets players know the rules of a game before it is played and the outcome of a given game. A pop-up screen will share info like odds, payouts, scoring wager options, minimum/maximum bets, and more. When a game concludes, the winner is obvious! This straightforward messaging provides a great user experience. Unfortunately, neither Casino makes information readily available about jackpot and winners to date otherwise.
PointsBet Casino Pay Tables
Clear tables lay our scoring and values to help players know the inner workings and upside of the game they're playing.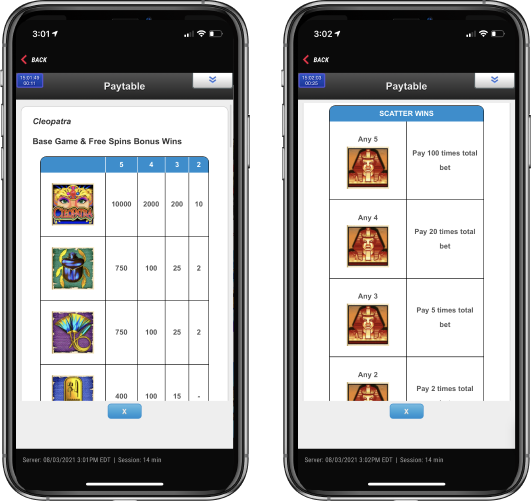 PointsBet Casino Roulette
Roulette offers explicitly European, American, and French variations to suit players' preferences. With no minimum bet requirements, bettors can get in the game at whatever level of stakes they please. A max table bet is $2,500, although each type of bet has its max limit. Generally, the higher the payout/odds, the smaller the max is. For example, we found a 35 to 1 straight-up bet maxed at $125.
READ MORE: How to Play Online Roulette
New & Exclusive Casino Games at PointsBet
PointsBet Casino is new, and the games are new to the app, but they are pretty industry standard (nothing new on the market). Also, nothing exclusive.
Exclusive Game Offerings: Up the Exclusive Games, PointsBet!
Category: Game Winners
Comparison: PointsBet vs. BetMGM
Measured: Count of Game Names Exclusive to Casino
In these early stages of launch, PointsBet does not have any games exclusive to its brand. It is backed by such an experienced operator like Penn National gives hope that this Casino could invest in its unique titles down the line. For now, though, there is no competition. BetMGM wins by default.
PointsBet Casino's Most Popular Games
Blackjack takes the top spot for sure as Casino Hold 'em and Mississippi Stud titles are always a go-to for players, followed closely by Jacks or Better, a poker fan favorite.

In terms of slots, Da Vinci Diamonds by IGT is known by frequent players and offers up to 5,000x a bet if things go your way. Rainbow Riches is a newer five-reel slot with 20 pay lines and a return-to-player rate of 95%, plus three bonus features to compound winnings.
Free Casino Games Available at PointsBet
Those with less gambling experience will surely be excited to know that PointsBet offers free games. Beginner or amateur players can test their mettle in these low-stakes games before having to risk any real cash — click the Demo button next to any game and start building confidence.
PointsBet Casino's Banking, Payouts, and Rewards





All of the standard banking options are available at PointsBet, so no need to worry. Visit the cashier via the website or app and choose your preferred method.
Deposits: Secure; minimum of $10 required
ACH transfer

PayNearMe

Visa/Mastercard
READ MORE: The Top Debit Card Online Casinos
Withdrawals: Processed within 48 hours for verified accounts
Visa/Mastercard

ACH transfer

Online banking
READ MORE: Which Online Casinos Have Instant Withdrawals?

PointsBet Online Casino Bonus Review Summary
PointsBet Online Casino Bonus Overall Score

Action Network's PointsBet Online Casino Summary

As a top sportsbook brand, PointsBet is all-in on making a successful transition into the online casino space, but it's still early days. Here's our assessment so far on the PointsBet Casino's offering:

Solid Tech & Business Backing. With a solid tech stack and business infrastructure already in place, PointsBet Casino has established a reasonable foundation. The casino app is smooth and sleek, like the PointsBet Sportsbook.
Savvy Partnerships. Strategic marketing and business partnerships such as NBC Sports and Penn National poise PointsBet Casino for an aggressive growth trajectory to provide players an increasingly entertaining gaming product.
Inventory is a Little Light. The breadth of slots and games PointsBet Casino currently offers is far behind any of the major players.
Missing Key Live Experiences. Limited slots are one thing but lacking the whole category of live game offerings is another.

All in all, PointsBet is a reasonable online casino experience, but you'll need to supplement with other casinos for the time being if you want live gaming experiences or more options.
PointsBet Online Casino Bonus News
Pointsbet Casino Mobile App FAQ
What is PointsBet Online Casino?
Where can I play PointsBet Online Casino?
Is it legal to bet and play casino games on PointsBet Online Casino?
Does PointsBet have an online casino?
Does PointsBet have an app for their online casino?
Can I play with PointsBet Casino even if I do not live in the offered states?
Does PointsBet Online Casino offer live dealers?
How can I play PointsBet Casino?
Do I need to use Geolocation Technology while playing?
How can I deposit money into my account on PointsBet?
How can I withdraw my winnings?
Are there promotions on PointsBet Online Casino?
Are PointsBet Online Casino Games Fair?
Is my credit/debit card information safe if I use it for online gambling?
Do I have to be a resident of one of the states where PointsBet Online Casino is offered?