Caesars Sportsbook Promo Code
Caesars Bonus Offers & Mobile App Review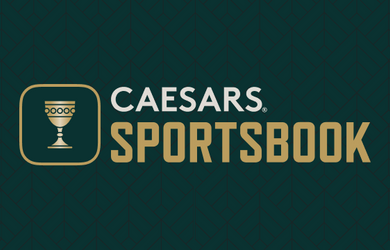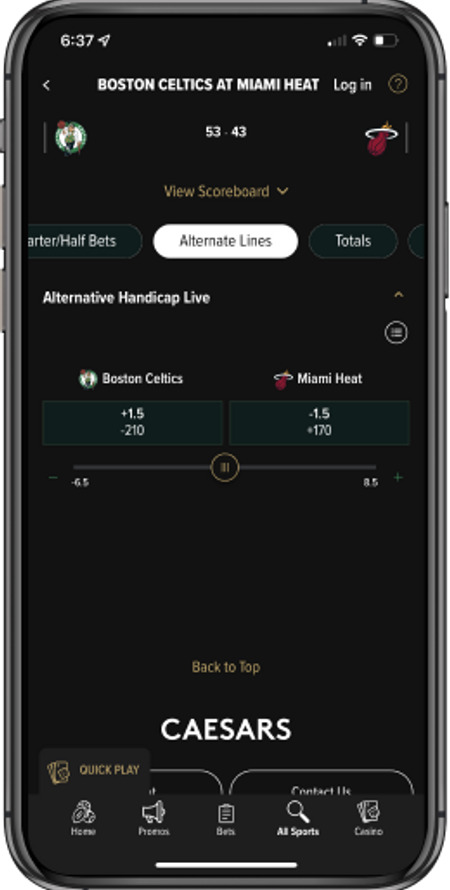 Caesars is a fast-growing sportsbook brand with generous deposit offers and legendary reward programs. They have a presence in twelve states with legal sports betting, including Arizona, Illinois, Michigan, and New York.
The Caesars app is intuitive, and odds pricing is fair and the most competitive for the NFL, MLB, and College Football. Caesars coverage offerings include trendy bet types, like same-game parlays, live betting, and odds boosts, making Caesars a no-brainer addition to your lineup of sportsbooks.
Use Caesars sportsbook promo code ACTION15 and get up to a $1,500 risk-free bet, with additional boosts and offers over time.
Caesars Sportsbook Details
There are currently no available promotions
The Best Caesars Promo Code for This Week & Key Takeaways
Sports fans new to Caesars can claim the current sign-up offer of a $1,500 risk-free first bet using code ACTION15.
| | |
| --- | --- |
| Caesars Promo Code | |
| Caesars Deposit Bonus and Bet Credits | $1,500 Risk-Free First Bet |
| Terms & Conditions | New users only. A minimum deposit of $50 to qualify for free bet credits. The bet must settle within 30 days. If you lose your first bet, up to $1,500 of wagered value is paid in bet credits that expire within 14 days. |
| Sports Offered | NFL, NBA, MLB, NHL, Soccer, Tennis, Boxing, UFC/MMA, NASCAR, Golf, College Football, and College Basketball |
| Caesars Legal States | AZ, CO, IL, IN, IA, LA, MI, NJ, NY, TN, VA, WV |
| Promo Last Verified | June 28, 2022 |
Additional Caesars Promos This Week
Lucky Game 7 (available for NBA and NHL)
No opt-in required

Place a standard, straight, pregame, full game, money line wager of at least $100 on Qualifying Game 7 matchups throughout the NHL or NBA playoffs

Receive a $50 Free Bet if there are seven (7) or more goals scored in a Qualifying Game (NHL) or if you win your wager AND any player's point total in your selected teams starting lineup ends in a 7 (7/17/27/37 points) (NBA)
Multisport Bonus
No opt-in required

On 6/8, Place a straight, standard, pregame wager of at least $25 on NBA with minimum odds of -150

Receive a $10 Free Bet to be used only on MLB
7th Inning Winnings
No opt-in required

Place a straight, pregame, full game, money line wager of at least $50 on the New York Yankees vs. Minnesota Twins (6/9)

Receive a $25 Free Bet for every run your selected team scores in the 7th inning
Caesars Sportsbook Promo Codes & Bonuses





Caesars is the largest retail sportsbook in America and one of the most established casinos globally. Hands down, lucrative bonus offers and the extensive rewards program are primary reasons to bet with Caesars.
Caesars Sportsbook Deposit Code & Sign Up Details
New users can claim the current promotion of a $1,500 risk-free first bet, given in a free bet, using code ACTION15. Here are the details on how to claim your bet credits, general requirements, and timelines to be aware of:
In the sign-up flow, use code ACTION15 to opt-in.
To qualify for the free bet credits, the minimum initial deposit is $50, but Caesars will match you up to $1,500.
Promotion value applies to your first real money bet, up to a maximum value of $1,500. If your bet loses, Caesars will credit you with free bets worth what you wagered within two days after the wager settles.
Your wager must settle within 30 days of account registration to qualify.

The Free Bet credit must be used within

14 days

o

f receipt or it will expire.

Offer valid for June 2022
Maximize ROI on Your Caesars Sign-Up Credits
Here are a few resources for maximizing return on your free bets:
Sportsbook Bonus Type Glossary. What do free bet credits, free money, and risk-free bets even mean? We've broken down the bonus types, common "gotchas" like rollover clauses and credit expirations.
"Bonus Maximization" Strategy. Should you bet underdogs or futures when you use a bonus bet? Walk through the math of bet types to understand how and where to uncover the upside.
Try our popular betting odds calculator or our easy-to-use parlay calculator to be confident in the accuracy of your calculations.
How to Sign Up & Claim the Sportsbook Bonus
There are a few straightforward steps to claim the welcome bonus at Caesars. It took us under three minutes to complete the sign-up flow.
Step 1. Click here to visit Caesars' website and press "Bet Now" to enter the Account Registration flow.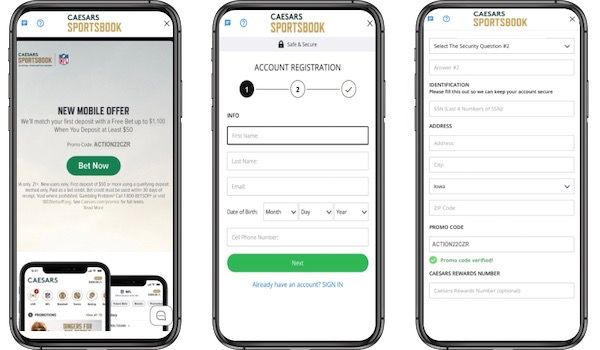 Caesars onboarding is efficient on mobile and desktop
Step 2. Enter your details to create a new account:
Select your state
Name
Email
Date of Birth (must be 21+ years old)
Phone Number
Create a Secure Password
Set Security Questions & Answers
Last four digits of your SSN
Home Address
Enter Promo Code ACTION15
Step 3. Agree to the Terms & Conditions and submit. Caesars will verify your account details. Now your account has been created.
Step 4. Make a deposit of at least $20 with funding options, including PayPal, Visa, and your bank.
Step 5. You're ready to place a bet! The app will show many game odds grids and props. Here, you can pick the spread, moneyline, or total by clicking on the cell of the bet type.
Step 6. Clicking the bet cell will prompt the bet slip to take over a partial screen. The bet you selected will be listed in the bet slip, but it is up to you to add the wagering amount. A numeric keyboard default makes this easy and smooth. When you've added your desired bets, press "Bet Now" to place your bet!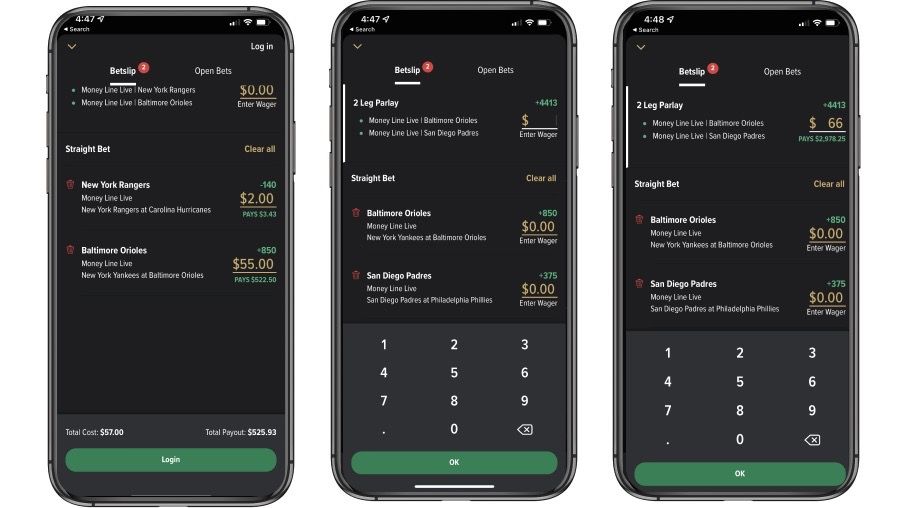 The Caesars Betslip makes it easy to convert a straight bet to a parlay
Step 7. Wait for results. If your bet loses, you'll see your account balance increase an equivalent amount to your first bet thanks to the bonus offer. This is visible in the upper right-hand corner of the app. Please make use of the bonus within two weeks, or it will expire.
Odds Boosts & Super Odds Boost Promos
Another area Caesars excels on the surface with promotional value is with its "Odds Boosts." These are essentially odds that have been adjusted to offer more upside to you for a limited amount of time. Caesars can offer more than 100 boosts on some days.
The problem is that most of them are not always good bets and can be found elsewhere at better prices. For example, on March 29, Caesars listed a boost of Clippers to beat the Jazz and Ivica Zubac over 14.5 points at +500. The same game parlay on FanDuel with those same two bets paid +730.
Instead, focus on Caesars' Super Boosts, which are often +EV bets worth blindly betting when they're available. A Super Boost example: Caesars offered Bills to beat the Patriots, and Josh Allen over 199.5 passing yards boosted from -110 to +125. The probability of that was +104, giving it a 9% edge.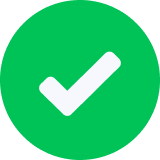 Action Insider Tip: For most basic boosts, FanDuel offers better value. If you've found a "Super Boost," it's worth a bet with Caesars. Learn how to calculate odds boost value here.
Rewards & Loyalty Program
Another notable financial aspect of Caesars is that the promotional value doesn't disappear after signing up and isn't limited to the sportsbook. Caesars Sportsbook integrates into the national loyalty program that rewards users for their play online and at more than 50 physical destinations. In short, the more customers bet, the more they earn through Caesars Rewards.
They promote the loyalty program like a credit card, encouraging leveling up and progress by highlighting the benefits or perks that kick in the following tiers of the program.

Loyalty Program Tiers in the Mobile App
The Caesars Sportsbook loyalty program revolves around Tier Credits (T.C.s) and Reward Credits (R.C.s). Customers earn T.C.s and R.C.s simultaneously when they bet on sports or play, dine, shop, and stay at Caesars destinations. As bettors earn Reward Credits, they also earn Tier Credits at the same rate to move up through six levels in the VIP program that unlock additional perks, like comped resort and casino stays.
Refer-a-Friend Bonus
Caesars offers a $100 free bet credit for friends you refer that join and qualify.
Share your unique personal registration link with friends
If they sign up and deposit $50, you'll get a $100 free bet
$100 bets are credited every Wednesday
You can claim this offering 10x
Users can navigate to the App "Promo" tab, find the Refer-a-Friend-Promotion, and click the "Refer here to sign up" to generate their unique link.
Caesars Mobile App Screenshots

Odds Boosts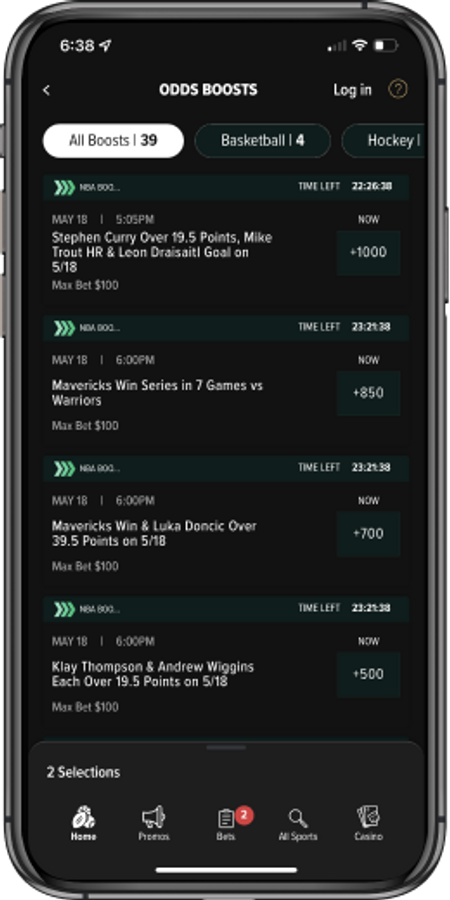 Current Promotions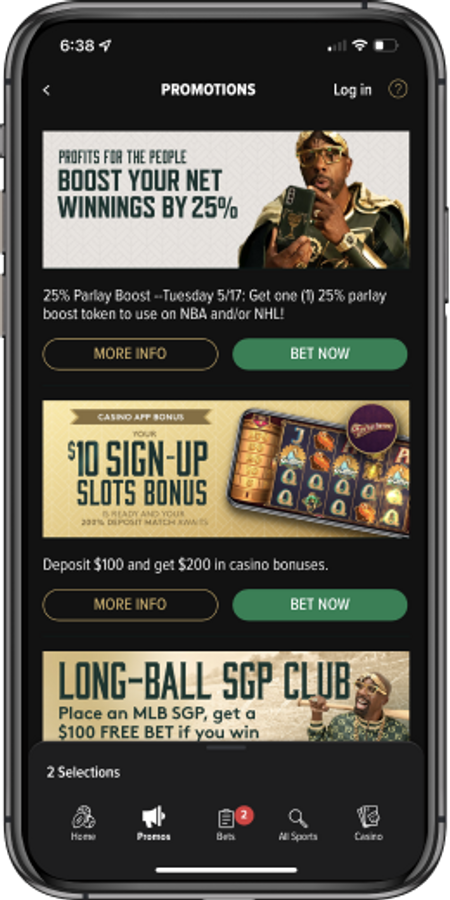 Betslip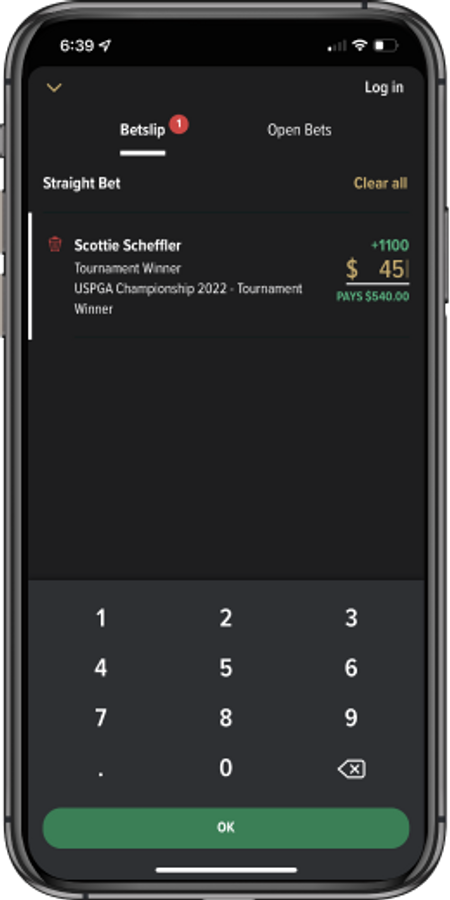 NBA Futures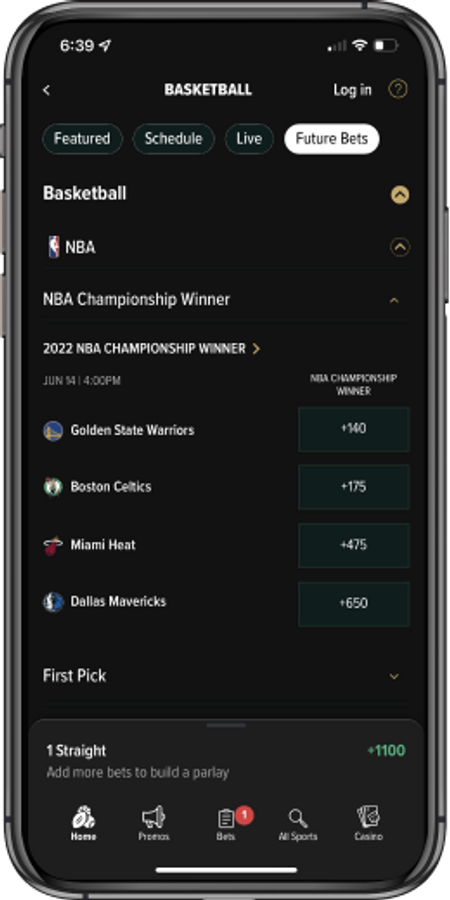 Player Props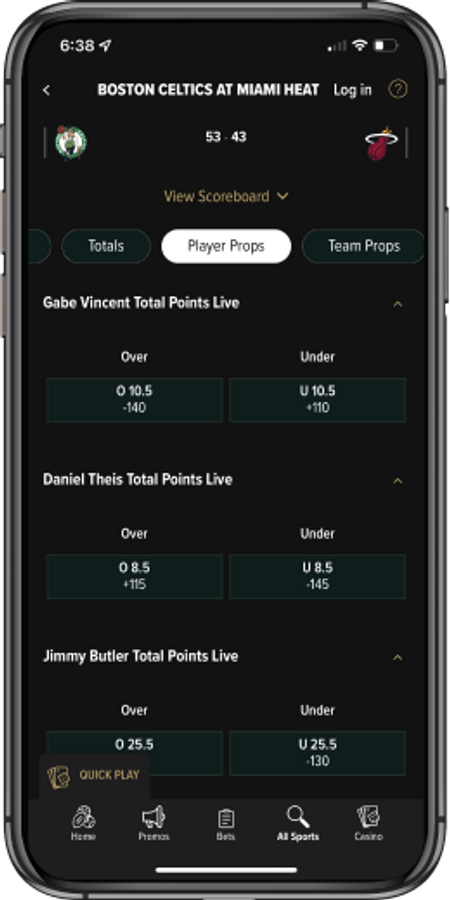 Sport Navigation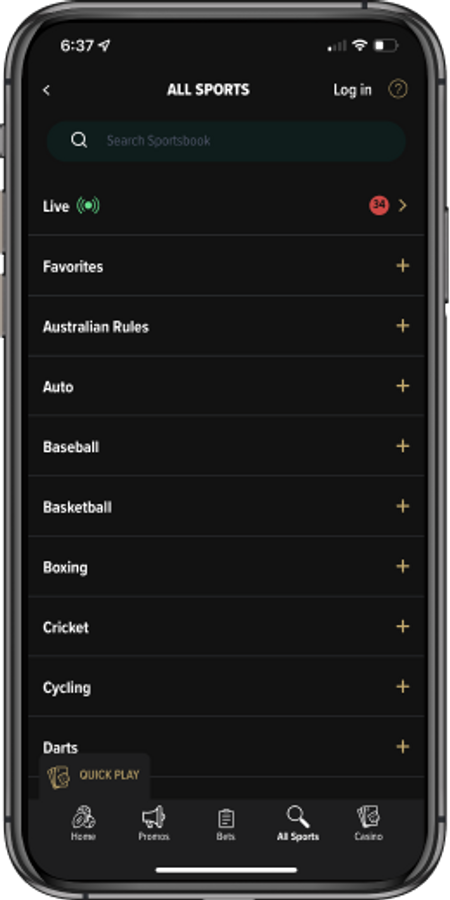 Alternate Lines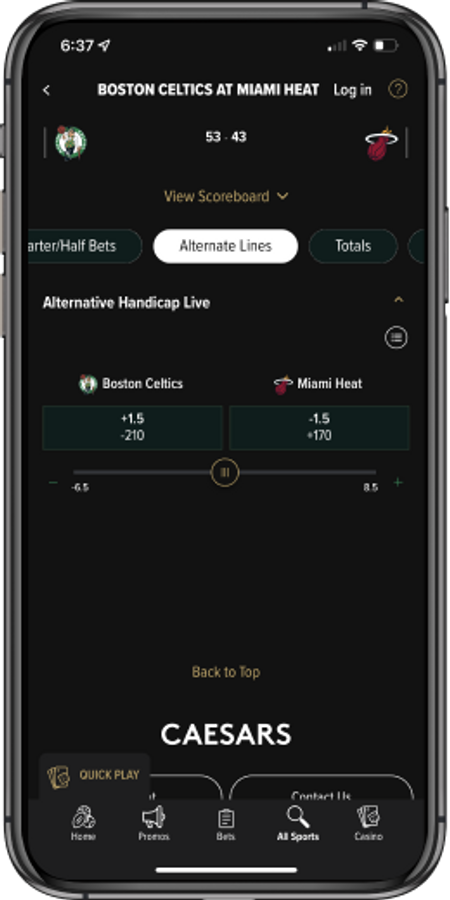 Live Betting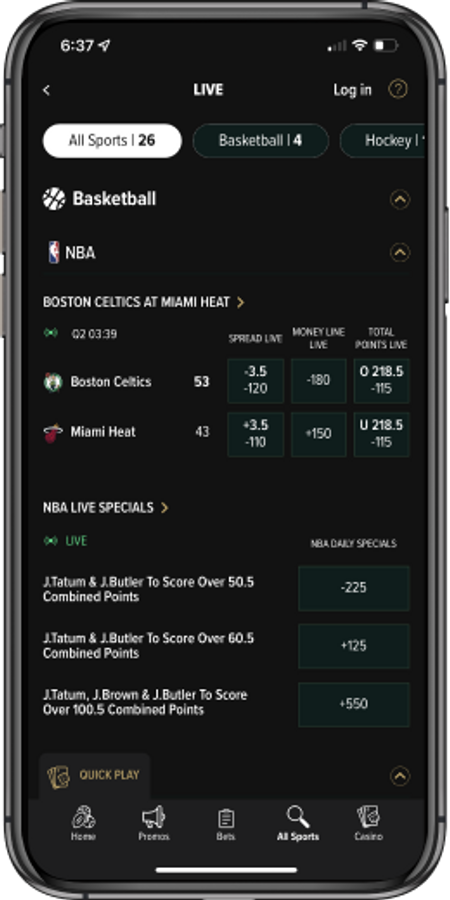 Caesars Mobile App & Website




Caesars overhauled its app and website in mid-2021 after completing its acquisition of William Hill. Since then, they've invested in integrating and updating their online betting product. So far, the results are notable for user experience.
Meet the Sportsbook Review Team
Action Network evaluated Caesars through in-house testing, data analysis, and input from our experienced handicappers:
The Vegas Refund
The Vegas Refund is an experienced bettor with 5.2K total bets in the Action App and 82.1K app followers (June 2022). Favorable pick records include NFL and NCAAF.
Steve Petrella
Steve Petrella is a lead Action Editor with an affinity for NHL and College Football Betting. He is also the author of much of the educational content on Action Network.
Mobile App Highlights:
Pricing: Caesars has the best odds pricing for NFL, MLB, and College Football.
App Experience Pros: The bet slip is user-friendly, Super Odds Boosts are generous, and options with Same Game Parlays (SGP) are unparalleled.
Sportsbook Cons: Streamlining work needed on the Navigation, speed isn't the fastest, and the app is less data-dense than the competition.
How Does Caesars Mobile App Compare to Other Sportsbooks?
We took a look at some key categories that make or break an excellent sportsbook app:
Logging in to the Mobile App: Great
How easy is it to sign in?
Time is of the essence with any mobile sportsbook–sometimes, you just need to log in and place a bet quickly. Fortunately, the app offers a Face ID login capability that works consistently, eliminating the extra step of entering a pin or password. Users need to hold their phone in a portrait orientation, then glance at it, and they're authenticated.
bet365 and theScore also do this successfully. However, DraftKings and FanDuel had a fail rate (i.e., requiring the extra login steps of a pin or password) up to 50% of the time in our testing. If we're live betting, that's serious friction.

Log in Takeaway: Caesars makes app access easy with Face ID, and so does bet365 and theScore.
Navigation: Average
How straightforward is finding and browsing betting markets?
Four visible tabs are at the top of each sport's "Home": Featured, Schedule, Live, and Future Bets. It's hard to predict where bets will be discoverable in Caesars with these categories. For example, there's nothing in the golf schedule, but it has a populated Featured tab, including a tournament winner. It's confusing depending on the sport, especially the more unique ones like golf or racing.
There are more straightforward approaches competitors take--navigation is an area where DraftKings excels because of its two-tiered scroll. There's a props tab for each game, then a sub-menu with different types of props. They show information in a hierarchical format rather than overwhelming users with an endless list of bet options all at once.
A general fallback to find bets is an in-app bet search, and Caesars offers this feature. The functionality will generally return what you're looking for as long as the name of that team or player is in the market, but it doesn't cover everything. So if you wanted to search "Texas Rangers," you can find their win total, but not their World Series odds. You can't search specific markets – searching "powerplay" to find powerplay point props won't return any results.
On Apps like DraftKings and FanDuel, we don't tend to use the search function because it's easier to navigate in the first place.
Navigation Takeaway: Navigation is average, and the search function is only OK for Caesars. DraftKings and FanDuel excel here from an information organization standpoint.
Sportsbook App Speed: Good
How quickly does the mobile app update and respond to input?
It's brief, but there is a notable half-second blank or loading screen as you navigate between tabs. Want light-speed response time? DraftKings, FanDuel, and PointsBet appear to pre-load screens in the background, giving a smoother user experience.
Speed Takeaway: Competitors race past Caesars. Try PointsBet for a faster wagering experience.
Game Data Density: Needs Improvement
How many games can you view odds for at once?
When you're looking for quick betting action, data density is everything. App design choices like font size and white space impacting layout mean more or less information is at the fingertips of a bettor at any given moment.
We tested using an iPhone 12 Pro to determine game density rankings in the mobile view on iOS. Here's what we found:
FanDuel - 4.5 Games
Tied BetMGM & DraftKings - 4 Games
Tied PointsBet & Caesars 3 Games
If you're looking for a more compact, data-dense experience, FanDuel excels. Here's a visual comparison:
Game Display Comparison Across Sportsbooks
| | | | | |
| --- | --- | --- | --- | --- |
| | | | | |
| 3 Games | 4.5 Games | 4 Games | ~4 Games | 3 Games |
| | | | | |
Density Takeaway: Other options are more data-dense than Caesars, like FanDuel or BetMGM
Bet Slip Experience: Excellent
How intuitive and seamless is the bet slip experience?
Bet slips are a defining feature in a sportsbook because they facilitate the main objective of a sports betting app--placing bets. Fortunately, Caesars nailed the bet slip: clean, responsive, and unique because it shows current open bets.
Points are easy to buy, whereas most books don't let you

Lays straight bets and parlays out separately -- so it is easy to digest information

The bet slip does not take over the entire screen, which makes it easier to navigate in and out

The teaser toggle is an easy access option

A larger font size means it is easy to read bet details
Overall, the Caesars' bet slip is world-class. The only feature they're outdone in is ease-to-buy points– for this, FoxBET shines. PointsBet has a cool-looking bet slip, but there were two things we didn't like: the auto-populate feature and a user has to click "start parlay" if they want to place multiple bets simultaneously.
Bet slip Takeaway: Caesars mobile app bet slip is top of the line, but FoxBET has a convenient slip for buying points.
Mobile Sportsbook App Usability Comparison Summary
| | | |
| --- | --- | --- |
| Sportsbook Feature Evaluated | Caesars Standing | Best In Category |
| Ease of Logging in | Great | Caesars, bet365, theScore |
| Navigation | Average | DraftKings, FanDuel |
| Speed | Good | PointsBet, FanDuel, DraftKings |
| Game Density | Needs Improvement | FanDuel, BetMGM, DraftKings |
| Bet slip | Excellent | Caesars, FoxBET |
To analyze how the big brand sportsbooks size up pricing-wise, jump ahead.
Customer Feedback on Mobile App
We know It's important to have a broader sample size when evaluating a mobile application. In addition to our experts' input, we distilled what's available in the Apple App Store and Google Play to find the advantages and challenges the betting population found below.
Reviews in the Apple App Store
#20 in Sports - 4.6/5 Stars - 29.6K Ratings (June 2022) - Download at Apple App Store
| | |
| --- | --- |
| iOS User Positives | iOS User Negatives |
| A whole new look: It's taken a bit of time, but the new Caesars Sportsbook seems to have worked out some early kinks and glitches since the William Hill rebrand. | Customer support: iOS users shared a universal frustration with their customer service for live chat and phone experiences. |
| Bet slips: Easy to navigate with a great design that includes good cash-out values. | Complicated Promos: Some users say the promotions are misleading and confusing. |
| Favorable odds: Users of multiple sportsbooks have been pleased to see odds on Caesars. | Continued glitches: The app has improved, but users still see freezing and glitching issues while using Caesars during peak hours. |
Reviews in the Google Play/Android Store
4.3/5 - 11.6k Ratings (June 2022) - Download at Google Play
| | |
| --- | --- |
| Android User Positives | Android User Negatives |
| Promos: Users love the unique promotions that make extra betting fun. Favorable odds and lots of betting options keeps them coming back for more. | Customer support: Live chat queues seem to stall at every turn, while emailing the support doesn't do much either. |
| User experience: Android users are fans of the app's interface, which is easy to use and follow. | Geolocation services: Android users report more location issues on Caesars than on iOS. |
| Caesar Rewards Program: Generous rewards are a plus for iOS and Android users. | Slow Withdrawal Processing: A few users had withdrawals take more than a week to hit their bank account. |
Web Experience
The old browser version of Caesars was not their best. The basics were there, including live betting, but it didn't have anything that stood out to attract new bettors. New website features include:
New and improved Odds Boost page
Promotions have a perfect layout for the customer to easily choose what's best for you. While browsing at sports games, the top promotions are featured in a banner ad across the top of the screen.
All sports are easy to find, listed both on the top of the screen and on the left side. Overall, it looks like a sportsbook that wants new customers to use it, which is a significant improvement over the previous version.
| | |
| --- | --- |
| | |
| Desktop Experience | Mobile Web |
The only unusual element of the web experience is being hosted on the WilliamHill.com domain. All branding is Caesars, but that hasn't changed yet. It won't impact bettors, but the inconsistency could surprise you if the acquisition details were unknown.
One difference between the platforms is that the mobile app defaults to a dark mode layout. Web has a traditional, lighter aesthetic.
Funding & Withdrawals





Signing up for a new account won't take you more than a few minutes. Each sportsbook and state is different due to company policies or state-by-state regulation and betting legislation that have different rules. In general, Caesars has standard deposit and withdrawal options in line with the rest of the industry.
Deposit & Payout Options
Flexibility is the game's name when it comes to an enjoyable deposit experience. Caesars makes it easy whether you typically deal in cash, prefer to use credit cards, or utilize an online wallet like PayPal that shields your banking info from third parties like online operators.
Caesars has every payout and deposit option in the book, including:
Credit or Debit Card: Visa, Mastercard, and Discover.
eCheck: Customers can select eCheck by VIP Preferred to send money instantly from their bank account to their Caesars account.
Online banking: Online banking allows customers to choose an amount to deposit and then authorize the transaction by logging in to their bank account using their existing online banking credentials.
PayPal: PayPal is an e-wallet that customers can use to send money and receive withdrawals while protecting their private information. Some bettors may find PayPal especially useful for keeping their betting bankrolls separate from their other money.
Play+ Prepaid Card: Customers can sign up for a virtual Play+ card and fund it immediately with a credit card, debit card, or eCheck. Additionally, customers receive a physical prepaid card in the mail they can use to withdraw cash at ATMs or make purchases anywhere Discover is accepted.
Skrill: Skrill is an e-wallet like PayPal that customers can use to make deposits, receive withdrawals and make purchases online
PayNearMe: Bettors can select PayNearMe to make cash deposits at their local 7-Eleven, Family Dollar, or CVS.
Cash at the Casino: In some states, customers can visit a retail Caesars-branded sportsbook or casino in-person to fund their accounts with cash.
Minimum Deposit Amount
There is a $20 minimum for digital deposits made to the account.
Maximum Deposit Amount
The maximum deposit to your account depends on the source of your deposit.
Fastest Withdrawal Method
The fastest withdrawal times at Caesars are PayPal and the Prepaid Play+ Card.
Caesars vs. Other Sportsbooks




While sign-up offers, promos, and user experience are crucial factors in selecting a sportsbook, the most sophisticated bettors are often worried about the price. We can compare books in this regard in a couple of ways:
Juice: The "juice" or "vig" is the tax a sportsbook charges for a bet. The standard odds for a spread bet is -110, which means you have to pay $110 to win $10. That extra $10 is the tax.
Hold: Like the juice, the hold is defined as the percentage a sportsbook keeps for every dollar wagered. It's a better metric to measure for moneylines, for example.
In states where betting is online and not regulated by the state lottery, most sportsbooks have standard juice amounts like the juice on spread bets for the NFL. There's often no major difference between them: Getting -110 on both sides is commonplace for both the spread and the over/under.
By Sport Pricing Comparison
As part of being a savvy sports bettor, line shopping across books is a valuable process to engage in. We've made some of these comparisons for you to help illustrate the value of line shopping, and the best sportsbook for different bet types and sports, on average.
Sportsbook Pricing Analysis parameters:
Data collected from 1/1/2021-4/1/2022

Used closing odds (the odds 30 minutes before game-time) in calculations

Each data point is the average book-edge for the month

Each # is represented as a percent of the book's edge
The book with the lowest average book edge is considered to have the best price.
Best Pricing: Sportsbook Edge Averages by Sport (All Markets)
| | | | | | |
| --- | --- | --- | --- | --- | --- |
| | | | | | |
| NFL | 4.43 | 4.58 | 4.85 | 4.57 | 5.19 |
| NBA | 5.47 | 4.55 | 4.74 | 5.76 | 6.19 |
| MLB | 3.86 | 4.48 | 4.72 | 4.83 | 5.32 |
| NCAAF | 4.56 | 4.75 | 4.88 | 5.19 | 5.81 |
| NCAAB | 4.54 | 4.68 | 4.70 | 5.29 | 6.11 |
| Total | 4.71 | 4.66 | 4.74 | 5.18 | 5.87 |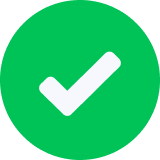 Sportsbook Pricing Summary Comparison:
Caesars had the best pricing for NFL, MLB, and NCAAF
BetMGM excelled with NBA pricing, whereas Caesars was the most expensive
FanDuel priced in bettors' favor with College Basketball, while Caesars was middle of the pack
How much does "Sportsbook Pricing" matter?
These pricing differences are most apparent when the moneylines get bigger. For example:
| | | |
| --- | --- | --- |
| | | |
| Bills | -205 | -200 |
| Dolphins | +175 | +160 |
Even though Caesars has a slightly worse price on the Bills, it has a much better price on the Dolphins, and overall there's less vig on this market than at FanDuel. Caesars averaged about 4.1% vig on those moneyline markets over the entire season, while most other major U.S. books were between 4.8% and 5.2%. Over hundreds of bets that will add up to a significant cost.
Caesars doesn't have the best price available on every single bet type – few books do unless they're catering to sharp bettors like Circa Sports – but there are some other markets where you'll notice strong pricing from Caesars. They often have the best lines on UFC finishing method props – like Colby Covington to win by decision or Kamaru Usman to win by TKO or K.O., for example.
If you like diving into more niche markets, note that you'll pay a higher price than some other places.
To learn more about the benefits of line shopping your odds, here's an overview from Action Network's Matt Mitchell. He's a seasoned bettor and oversees the flagship Action Network Podcast.
Betting & Sports Market Coverage





Caesars won't blow you away with the number of markets they list, but they're consistent with the ones that most bettors would be interested in. They have a more expansive live betting product than some other books, likely because of their veteran status in the industry they've been around for a while. They originated in Europe, where in-game betting is more common than in the U.S. currently. All in all, you likely won't be disappointed with what you can bet on.
Sports Markets Offered
In general, Caesars isn't going to open markets — AKA be the first book in the world to list odds for an event — but that only matters for a small percentage of bettors. They are competitive in their offerings for sports, and they stand out as one of the better books for live betting. You'll be able to bet on:
Football (NFL, NCAA, CFL, Arena)
Baseball (MLB, NCAA, World Baseball Classic)
Motor Sports (NASCAR, Indy Racing League, F1)
Basketball (NBA, NCAA, WNBA, NBA Summer League)
Fighting (Boxing, UFC, Bellator)
Hockey (NHL, NCAA, World Championships)
Golf (PGA, European Tour, Champions Tour, LPGA, Celebrity Invitational)
Olympics (Hockey, Basketball, Soccer, Golf, Track and Field Events, Curling, Tennis)
Soccer (English Premier League, Spanish La Liga, Italian Serie A, French Ligue 1, German Bundesliga, MLS, Mexican Liga MX)
International Tournaments (UEFA Champions League, UEFA Europa League, English FA Cup, Spanish Copa Del Rey, Coppa Italia, German DFB Pokal, French Coupe de Ligue, Concacaf Champions League, Copa Liberatores, FIFA World Cup)
Tennis (ATP, WTA)

In addition to pregame bets, Caesars also offers live wagering on many of the sports listed. There are tons of other bet types within each sport, from prop bets, alternate lines on spreads, in-game opportunities, and more.
Caesars Sportsbook Bet Types Available
Caesars is pretty standard for most major U.S. books. They offer the major markets like spreads and totals for NFL games while also listing various game and player props and other niche markets.
You'll find all of the popular, standard bets you can get at any sportsbook, including:
App Screenshot
Bet Type & Example

Spread betting is a bet on the margin of victory (the # of points won) in a game. This is a screenshot of a spread bet, located in the "Popular" bet type tab.

Memphis Grizzlies -2 over the Timberwolves in a Point Spread at Caesars

Moneyline betting is when you pick the outright winner of a game or event. In this case, Grizzlies or Timberwolves.

Memphis Grizzlies are the favorite at -135 to the underdog Timberwolves at +115

Totals, also known as an over/under, are bets on the number of points both teams will combine to score in a game.

Pick either "Over" or "Under" 237.5 for the upcoming Grizzlies vs. Timberwolves match up

Half Bets

or Quarter bets let a bettor treat the first and second half as separate matches. Downloading our app can help you do this with ease.

Moneyline, Spread, and Total bets are shown for just the 1st quarter of the Grizzlies/Timberwolves game under the "Quarter/Halfbets" tab

Short for a proposition, Prop bets wager that is not directly tied to the final score or outcome.

Player props for individual Grizzlies players to double-double are shown under the "Player Props" tab, with Yes/No choices

Futures bets are a bet on an event that will be decided in the future (e.g., end-of-season results).

Caesars lists the LA Dodgers at +475 and the Toronto Blue Jays at +800 for the World Series in 2022 MLB Futures
These are the standard bet types offered, but the options don't stop there.
Featured Bet Type: Same Game Parlay (SGP) Coverage
A Same Game or Single Game Parlay is a parlay that consists of connected bets with outcomes to be determined in one match. These parlays allow bettors to link together multiple markets/props from the same game with the hope of high return.
Same game parlays are a stand-out feature at Caesars. This is particularly clear for the NFL. While most books offer receiving, rushing, and passing yards, Caesars has all kinds of player props and allows users to build in different types, including:
Longest pass/catch

Total interceptions

Completions

Pass attempts

Rush attempts

Passing T.D.'s

Kicker player props

Defensive player o/u's (tackles) - not seen anywhere else
For the NFL, their same game parlays included almost every player prop available. Many sportsbooks don't have props like rushing attempts, pass attempts, and receptions for the same game parlays.
Competitors didn't have the same robust offering or options: BetMGM has a highly limited offering of SGPs, particularly for the NBA. FoxBET doesn't offer true SGPs– only pre-made parlays rather than a build-your-own functionality.
Same Game Parlay Takeaway: Look no further - Caesars is highly competitive with Same Game Parlays
Caesars Odds Coverage
MLB Game Odds: Oakland Athletics vs. New York Yankees
Below is a selection of odds for the upcoming MLB game: Updated June 28, 2022 - Odds Provided by Caesars Sportsbook - Subject to Change
Caesars Futures Odds
Here are the MLB World Series futures odds offered by Caesars Sportsbook: Updated June 28, 2022 - Subject to Change
| | |
| --- | --- |
| 2021/2022 MLB Team | Caesars Sportsbook Futures Odds |
| New York Yankees | +430 |
| Los Angeles Dodgers | +450 |
| Houston Astros | +650 |
| New York Mets | +700 |
| Atlanta Braves | +1200 |
| Toronto Blue Jays | +1200 |
| San Diego Padres | +1300 |
Additional Information and Benefits About Caesars
States Where Caesars Sportsbook is Legal
Caesars has expanded its online and physical footprint as additional states legalize sports betting. Many locations are possible rewards program destinations for loyal customers.
State
Partner / Retail Location
Details
Arizona
Arizona Diamondbacks / Chase Field, Harrah's Ak-Chin
A full-service physical sportsbook will be

located at the former Game 7 Grill space outside of Chase Field, and a full-service sportsbook casino destination

Colorado

Lady Luck Casino or Isles Casino, Blackhawk

Two casinos with luxury hotels attached

Harrah's Joliet and Metropolis Hotels and Grand Victoria Casino Elgin

Two hotels and a casino with a full-service sportsbook
Indiana
Caesars Southern Indiana Casino
A Casino with an emphasis on table games, full-service sportsbook
Iowa
Harrah's and Horseshoe Council Bluffs, Isle Casino Hotel Bettendorf
Full-service sportsbook available
Louisiana
Horseshoe Casino, Bossier City, Lousiana Downs
Sports betting kiosks & full-service sportsbooks
Michigan

Turtle Creek Casino and Leelanau Sands Casino & Lodge

Sports betting kiosks & full-service sportsbooks, Lodge
New Jersey
Caesars Atlantic City, Harrah's Resort
Sports betting kiosks & full-service sportsbooks, Hotel
New York
Point Place Casino, Turning Stone Resort Casino, Yellow Brick Road Casino & Sports Book
Full-Service Sportsbooks & Kiosks
Tennessee
None
N/A
Virginia
None
N/A
West Virginia

Mountaineer Casino, Racetrack & Resort, New Cumberland

Full-service sportsbook & Kiosks
Recent Caesars Launches
Caesars Sportsbook NY June 2022
In January, Caesars launched in New York to much fanfare and excitement, but their technology and customer service support struggled to keep up with the influx of NY bettors. They've resolved most issues and are back up and running with ACTION15 as the deposit offer code with a $1,500 risk-free first bet.
For more: New York online sports betting
Canada - Live
Caesars Sportsbook is an excellent bet to be among those aiming to get licensed in the Canadian sports betting market. Users can bet remotely on their smartphones, tablets, and computers using the sportsbook's app or website.
Caesars already has a casino in Windsor, Ontario — Caesars Windsor Hotel & Casino — so adding an online sportsbook would make sense. With legalized single-game sports betting, Ontario will be the province that Caesars targets.
Canada Launch Date: April 4, 2022
Caesars Spending Controls
Most legal sportsbooks and online casinos have self-imposed limiting controls, and Caesars is no different. These are effective ways to stop yourself from betting too much if it becomes a problem or being proactive about setting healthy limits. We recommend configuring whatever setup helps you maintain responsible boundaries and educate yourself. The controls include:
Deposit and spend limits: Limit your deposits and wagers by day, week, or month of the year.
Daily time limit: You can set the maximum amount of time you want to allow yourself to be logged into your account.
Cool-off period: Prevent yourself from depositing or placing bets for a set time while still accessing the app.
How to Reach Caesars Customer Service
There are several ways to have your issues resolved and questions answered by Caesar's CS team, including:
Live chat: widget available on website and app from 8 a.m.-midnight EST daily
Email: Support@Caesars.com
Telephone: 1-800-986-9248 from 8 a.m.-midnight EST daily
Caesars Commitment to Responsible Gambling
The Caesars website has a Responsible Gambling page dedicated to educating players about the pitfalls of problem gambling. Learn about setting limits, self-suspension, self-exclusion, and even closing an account. There is also info for preventing underage gambling, tips for parents, and more. The brand offers a player support feature where those in need of help can email or live chat with a Caesars employee. The company directs players to the Player Support Team for 24/7 telephone assistance at 1-800-986-9248 and the 1-800-GAMBLER hotline.
Caesars FAQs
What is the best Caesars offer for new users?
New customers can use Caesars code ACTION15 to qualify for a risk-free first bet up to $1,500 (Available in AZ, CO, IA, IL, IN, LA, MI, NJ, NY, TN, VA, AND WV).
What is the minimum bet amount at Caesars?
You can make bets on Caesars starting at $0.10, which is an accessible threshold for beginning bettors to get started.
Do I have to be in a legal state to bet at Caesars?
Yes, sports betting is regulated by each individual state, which means if you have a Caesars account in New York, for example, you'll have to be within New York state lines to make a wager. Caesars uses geolocation technology to verify bettors' locations.
Do I have to be in a legal state to withdraw funds at Caesars?
No, you can withdraw funds from your account anywhere. Let's say you live in New York City but spent the weekend in New Jersey and made a few bets. If you forgot to withdraw your funds before going back to NYC, you can still do so; you just can't bet in the mobile New York sportsbook until you've returned home.
Why does Caesars need my social security number?
Because Caesars is a legal book regulated by state governments, they have to verify the identification of new users. That's the only way your information will be used, and you can be confident your identity is safe. New users only have to provide the last four digits of their SSN.
Does Caesars offer live betting?
Yes, live betting is available for bettors in across all markets.