2023 College Football Playoff Winner Odds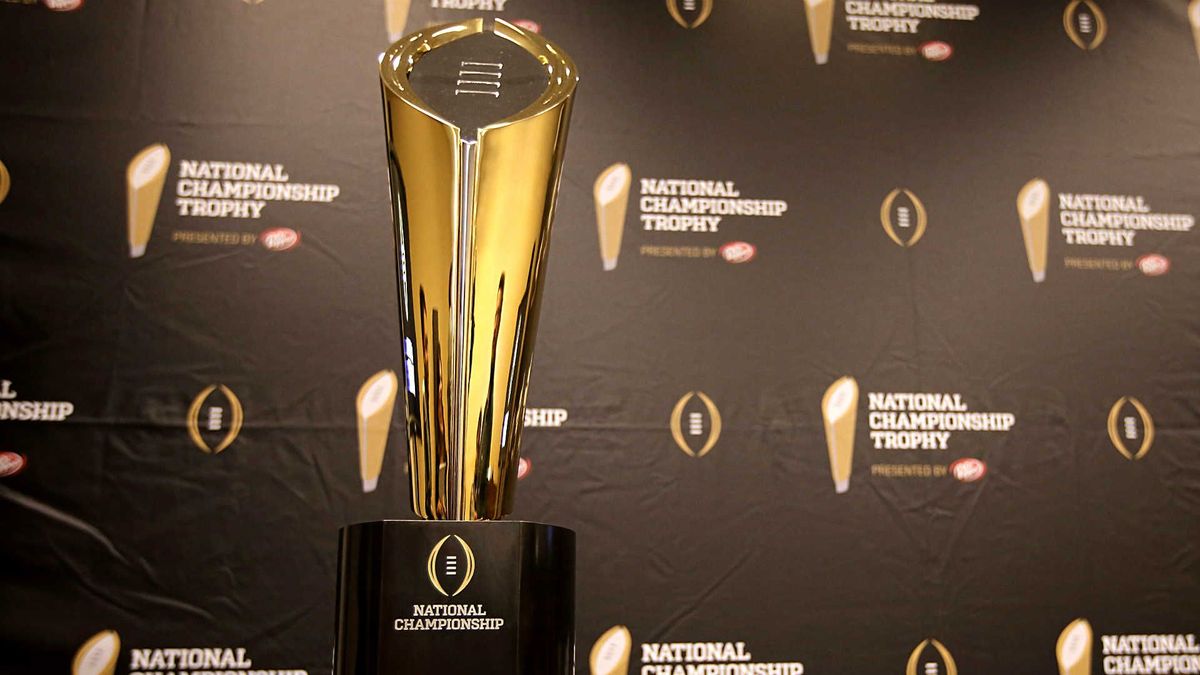 College football is dominated by the teams at the top, and sportsbooks aren't expecting the 2022 season or 2023 College Football Playoff to be any different.
There's been little movement throughout the summer as we approach Week 0, which kicks off in about three weeks.
Alabama is favored at FanDuel, priced at +180 ($10 wins $18). The Tide are shorter than +200 at almost every sportsbook, and as low as +150.
Ohio State missed the College Football Playoff in 2021 after losing to Michigan in the final game of the regular season, but returns quarterback C.J. Stroud and a number of weapons around him. The Buckeyes are a deserving favorite to win the Big Ten and the second betting choice to win the national title at +300. Caesars had an outlier price of +375 in July, but that's been shortened to +325, still the best in the market (among sportsbooks in 5+ states).
Georgia, despite losing so many key defensive pieces from its national title-winning team last season, is the third betting choice at +350 ($10 wins $35). Caesars does have UGA at +425, the best in the market. Clemson is next at +800, priced lower than normal after a down season in 2021.
The next pair of teams is interesting -- USC at +2000 ($10 wins $200) with new coach Lincoln Riley and quarterback Caleb Williams in from Oklahoma, and Texas A&M, which has recruited better than nearly everyone under Jimbo Fisher but hasn't won double-digit games since 2012, at +2500 ($10 wins $250).
Finally, among teams with a fighting chance, you have the second tier -- Oklahoma, Michigan, Notre Dame, Texas and Utah, all between +5000 and +8000. The Longhorns have taken some action in recent weeks, making a small move to +8000 at FanDuel and as low as +5000 at PointsBet.
Odds via FanDuel and updated in real-time.
Who Are the National Title Favorites?
According to the betting market, there are only four teams with a greater than 5% chance to win the national title. And that shouldn't be a surprise -- Alabama has won five of the last 11 national titles and has missed the College Football Playoff just once.
1. Alabama (+180)
The Tide had a bit of a disappointing 2021 season by their standards, losing to Texas A&M in the regular season and Georgia in the national title game. They did win the SEC Championship Game in a rout of the Bulldogs.
In 2022, they'll bring back Heisman winner Bryce Young, lots of key pieces on defense and while they lose some key skill position players, it's Alabama. Nick Saban always reloads quickly.
2. Ohio State (+300)
For the first time since 2016, a team other than Ohio State won the Big Ten East in 2021. The Michigan Wolverines upset the Buckeyes in the final game of the regular season to propel them to their first conference title and College Football Playoff appearance.
The Buckeyes will be back, though. Heisman runner-up C.J. Stroud will be under center and Jaxson Smith-Njiba -- the guy who went for 15 catches, 347 yards and three touchdowns in that epic Rose Bowl against Utah -- will star at wideout.
3. Georgia (+350)
Georgia lost a lot of its best defensive players -- five Bulldogs went in the first round of the NFL Draft alone -- but has recruited at an elite level and will be right back in the fold. The SEC East is Georgia's for the taking, and the new-look defense will be tested by Oregon in the opening week.
4. Clemson (+800)
This is the longest preseason price we've seen on Clemson since 2017, when the Tigers eventually lose to Alabama in the College Football Playoff semifinals.
The 2021 season was a disaster for Clemson on offense, as D.J. Uiagalelei averaged just 6.0 yards per attempt with a 9/10 TD/INT ratio.
But if you look at the end result, the 10-3 season wasn't bad by team's most standards. Clemson lost 10-3 to national champion Georgia to open the season, in double overtime to N.C. State, and by 10 points at ACC champion Pitt. The Tigers closed the year with wins over Wake Forest, South Carolina and Iowa State, finishing 14th in the AP Poll.
5. USC (+2000)
It wouldn't be a surprise to see USC as the most-bet national title future on the board. The allure of everything that made the program great 15-20 years ago, plus coach Lincoln Riley and quarterback Caleb Williams leading a new-look offense in a weak conference, will make them an attractive punt at +4000.
6. Texas A&M (+2500)
The Aggies recruited the top class in the nation in 2022 and haven't ranked outside the top 10 since 2019. Still, they haven't won double-digit games since 2012 with Johnny Manziel at quarterback and will have to get through Alabama (and plenty of others) in the SEC West. A&M plays in Tuscaloosa in early October.
Compare National Title Prices
Looking for the best CFB title prices at legal sportsbooks?
NCAAF National Championship FAQs
Can I bet on who will win the college football national championship?
Where can I bet on the national title winner?
How do college football odds work?
Who won the 2021-22 College Football Playoff?
Which team has won the most National Championships?