Side Action: Risking Life, Limb and $100 to Get Into Better Shape
The Action Network's Mark Gallant and Danny Donahue are challenging each other to athletic bets in order to get their lives back on the right track.
Gallant will need to dunk a basketball, while Donahue will need to run one mile in under five minutes.
Ladies and gentleman, prepare yourselves for what will be known as "The Bet" for the rest of time.
I've had this idea for some time now … mostly because I've been too lazy to do it on my own without any other motivating factors.
The Action Network's Danny Donahue and I will be betting each other to see whether or not we can accomplish specific athletic achievements. I shall be attempting to dunk a basketball, while "The Don" will be attempting to run one mile in under five minutes.
We are the first two people in history to make athletic-based bets against each other. Well, maybe not, but I think it's an excellent way to get in shape and put yourself to the test. I urge anyone else who's listlessly dragging through their mid-20s, or any age, to do the same.
It's similar to my business idea of a gym/weight loss establishment that forces you to sign a contract that sentences you to jail time if you don't accomplish your fitness or weight loss goal. It can't miss. Would you bet on yourself? I would, and I am.
Here are the details:
Rules
Completion Date: Thanksgiving
Stakes: $100 (you can pretend it's $100K) per head
A competitor may be given a deadline extension if they sustain an injury deemed serious enough by a panel of independent arbiters
"Marky" Mark Gallant
DOB: 10/12/1992
Ipswich, Mass. – Bryant University
5'10.5″, 150 lbs
Goal: Dunk a basketball on a regulation hoop
Starting point: Barely dunking on 9'7″
I've always wanted to dunk. It's a dream many a young boy have, though much like becoming an astronaut, it's a dream many never achieve.
I've come close to achieving that dream in the past, but have failed up to this point. Failed. Miserably failed.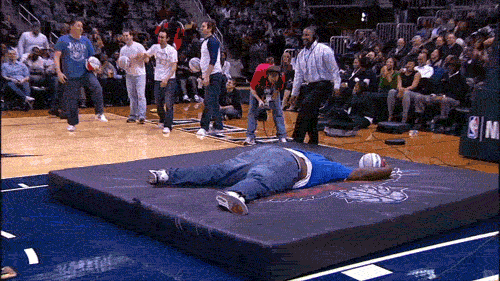 When asked by passersby if I can dunk, I've always answered with an excuse and a caveat.
"Well … I can't palm a basketball, but I can dunk anything I can fit in my hand."
Not good enough. Nobody goes around boasting that they can dunk a soccer ball or volleyball. That's why I will be dunking a basketball in the near future. This is not a matter of "if" in my mind, but a matter of "when."
I spoke with YouTuber Andy Nicholson — Over the Hill Dunker — a few months back. Andy thinks I can do it and likes the idea of using "The Bet" as motivation. I urge you to watch Andy's documentary even if you have no interest in dunking whatsoever, as it serves as a good motivational tool for anything.
I think I can dunk, but it doesn't appear like an easy feat. Not only will I need to significantly increase my lower body strength via fun exercises that everybody loves such as the squat, deadlift and Romanian deadlift, but I'll need to practice dunking. Like, a lot.
Gaining approximately five to six inches on my vertical will be challenging enough, but dunking is an entirely additional skill on top of that. Getting the right footwork, speed and technique down can be challenging.
It's not really a big deal if you can jump 50″ like Jordan Kilganon, but for a sub six-footer who needs stick-um to palm a ball, every element of the jump will need to go right.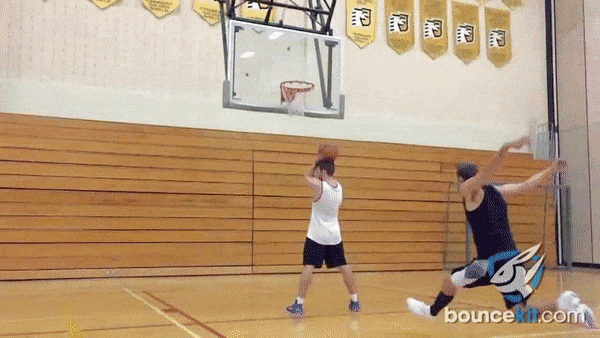 Let's be honest, though. This isn't really even about dunking, it's about something much more grandiose. Can I set my eyes on something and get it done? Something that will take a strict training and potentially dietary regimen for several weeks?
The outcome of this bet may decide my whole future. Will I get the job done and prove to myself that I can be successful at anything I set out to do? Or, will I fail and subsequently spiral into a crippling depression … curled up in the fetal position in my mom's basement.
There's money on the line, but it never was about the money (side note, best game ever). In fact, I'll certainly end up spending more money in my pursuit than I stand to win, but whatever.
Danny "The Don" Donahue
DOB: 6/5/1995
Belmont, Mass. – The George Washington University
6'1″, 170 lbs
Goal: Run one mile in less than five minutes
Starting point: 6:14
Danny: Mark asked me to give a little update as to my status entering "The Bet." This is pretty close:
I pretty much have one hurt knee at all times and put most of my weight on the other when I run which only makes the "good" knee start to hurt once the bad knee is back to normal.
It's a vicious cycle but I've heard that recovery makes muscles stronger so in my head I'll be applying that thinking to knees too. I think that's what all the great ones do.
I honestly have put about 10 minutes of research into this so far. Basically I think this is going to come down to whether my inability to run properly will impact my ability to run really fast. Some would say the two are very closely correlated. As I write this I'm starting to convince myself that they are. We won't know until we try.
In all seriousness, if I was a third party betting this and there was an option for neither one of us completing our goals I'd probably ride that train. I just think a 6'1″, 170-pound person should be a little more likely to run a sub-5 than whatever Mark is dunking a basketball.
Closing Thoughts
Mark: I'm winning this bet. I'll need to snap my leg like Kevin Ware to not reach my goal. Danny, on the other hand, clearly has the confidence of … someone with no confidence.
Already full of excuses, he may just want to amputate both legs and opt for blades instead. His debilitating injuries may have delayed the start of "The Bet" for months and months, but we're both in it for the long haul now.
I may need Wesley Snipes to toss me a behind-the-back, no-look, one-handed oop in order to dunk …
… but unlike accomplished Hollywood actor Woody Harrelson, I will be dunking on a 10-foot hoop, not 9.5. And yes, that is my head photoshopped on his body in the featured image.
I'm thinking about getting his shoes from the movie as a symbolic tribute, too. Stay tuned.
How would you rate this article?