2021 Fantasy Draft Strategy: Your Guide To Drafting From the No. 1 Pick To Late Rounds
Credit:
Getty Images. Pictured: Derrick Henry, George Kittle, Davante Adams
Preparing for your next fantasy football draft? Award-winning ranker Chris Raybon walks you through his 2021 strategy.
Find his top 14 tips to optimizing your draft for this season, from the No. 1 pick all the way through to the late rounds.
Chris Raybon walks you through the 14 core strategies he's using in 2021 fantasy drafts. Become a PRO subscriber to access his real-time rankings and create custom cheat sheets based on his season-long projections with our 2021 Fantasy Draft Kit.
---
2021 Fantasy Draft Strategy
1. Employ Hero RB Strategy With A Top-Four Pick
If I have a top-four pick, I usually end up going with the Hero RB approach and fading my RB2 slot until the Rounds 6-7 turn. This allows me to secure either Darren Waller or George Kittle plus a top-10 wide receiver like D.K. Metcalf, Justin Jefferson or A.J. Brown (or two of the latter WRs).
Speaking of…
2. Christian McCaffrey At No. 1 — Dalvin Cook, Derrick Henry or Alvin Kamara At No. 2 Based On Format
McCaffrey, Cook, Henry and Kamara are locked in as the top four picks of any draft.
You can't really go wrong with either of Cook, Henry, or Kamara in any format with the No. 2 pick — it's a toss-up to the point that format actually becomes the deciding factor for me.
I have Henry as my projected RB2 in standard, Cook as the RB2 in half-PPR and Kamara as the RB2 in full-PPR based on the following projections:
Henry: 325/1,528/13.5 rushing; 23/163/1.0 receiving; 255.9 standard; 267.4 half-PPR; 279.0 PPR
Cook: 294/1,323/14 rushing; 43/326/0.9 receiving; 254.3 standard; 275.8 half-PPR; 297.3 PPR
Kamara: 193/849/8 rushing; 82/682/2.4 receiving; 215.7 standard; 256.7 half-PPR; 297.6 full-PPR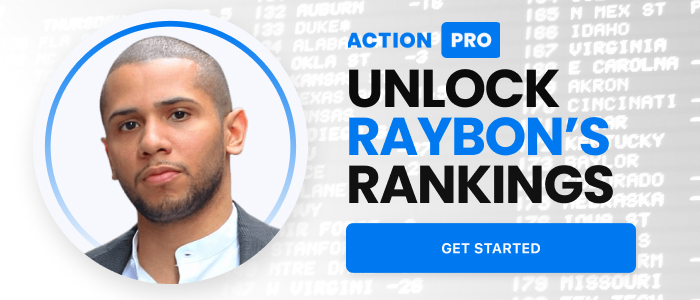 3. Davante Adams Over Ezekiel Elliott At No. 5 In Half + Full PPR
In half- and full-PPR formats, I believe Adams is the pick at No. 5 over the consensus RB5, Ezekiel Elliott. It all comes down to floor: When Aaron Rodgers missed seven games in 2017, Adams amazingly was just as productive with Brett Hundley.
Adams with Rodgers For 7 games In 2017: 4.7/56.7/0.86 on 8.0 targets; 10.8 standard; 13.2 half-PPR; 15.5 PPR
Adams without Rodgers For 7 Games In 2017: 5.9/69.9/0.57 on 8.9 targets; 10.4 standard; 13.3 half-PPR; 16.3 PPR
Meanwhile, Elliott's production was as invisible as his cereal bowl in a post-Dak Prescott world (amid a plethora of offensive line injuries to boot):
Elliott with Prescott For 5 Games In 2020: 17.8/72.8/1.0 rushing, 4.8/34.6/0.2 receiving, 18.3 standard, 20.7 half-PPR, 23.1 full-PPR
Elliott without Prescott For 10 Games In 2020: 15.5/61.5/0.1 rushing, 2.8/16.5/0.1 receiving, 9.0 Std, 10.8 half-PPR, 11.8 full-PPR
That said, Elliott's season should be viewed as an outlier: Prescott is unlikely to miss 11 games again (the median missed games for a QB is 0-1), and the offensive line enters the year ranked sixth by PFF after finishing last year 27th.
4. Go RB-RB Late In Round 1
If I'm picking late in Round 1, I usually go with the classic RB-RB start.
Since 2014, the median overall ADP for a RB that finished in the PPR top-10 is Pick 19 — that means half of all RBs that go on to finish top-10 are off the board before the end of Round 2.
Since you don't have a slam-dunk top-five RB to lean on drafting from these positions, but it's still a little too early to draft Darren Waller or George Kittle, it makes sense to double up from the group of Aaron Jones, Austin Ekeler, Nick Chubb, Jonathan Taylor, Joe Mixon, Najee Harris and Antonio Gibson.
5. Increase Risk As Draft Progresses
The guy I never get is Saquon Barkley. He's got the upside of a first-round pick, but the risk of a frozen-pond RB. Not only does he have availability concerns, but he's also got legitimate efficiency concerns given the Giants project to have the NFL's worst offensive line.
Barkley has played 15 games since the start of 2019, and a full one-third of them have ended with fewer than 30 rushing yards and zero touchdowns. There's no real incentive to take this kind of risk in Rounds 1-2.
6. Hammer WR In Rounds 3-5
Rounds 3-5 are the key WR rounds for me.
Since 14-15 RBs and 2-3 TEs usually go in the top-25, you're pretty much guaranteed to get a top-12 WR or WR1-caliber player in Round 3. If you take your WR1 in Round 3, WR2 in Round 4 and WR3 in Round 5, you can build a very formidable top three WRs.
Here are some recent WR trios I've drafted using this approach:
Justin Jefferson 3.1, Julio Jones 4.12, Tee Higgins 5.1
Terry McLaurin 3.4, Chris Godwin 4.9, Adam Thielen 5.4
A.J.Brown 3.4, Tee Higgins 4.9, Odell Beckham 5.4
Robert Woods 3.8, Julio Jones 4.5, Diontae Johnson 5.8
Mike Evans 3.12, Tyler Lockett 4.1, Odell Beckham 5.11
I never go into a draft with a rigid positional plan about which players I'm going to pick when, but based on how tiers break out, it's rare that I don't come away with three WRs by the end of Round 5. If I don't, it's almost always because I started RB-RB-TE rather than RB-RB-RB.
The highest-scoring RBs tend to outscore the top WRs and TEs, and the RB position misses twice as many games as the other positions, so it's natural to want to stock up by drafting your third RB by Round 5. The issue is, by stockpiling RBs, you're essentially trading away WR1 upside for RB2 upside.
Since 2014, the median overall ADP for a RB that finished top-10 is Pick 19. That means despite busts like Christian McCaffrey and Saquon Barkley last season, half of all RBs that go on to finish top-10 are off the board before the end of Round 2. By Round 3 (Pick 36), 70% of eventual top-10 RBs are gone, and of those that remain, more can be found from Round 8-on (16%) than in Rounds 4-7 combined (14%).
Since 2014, 49% of top-10 WR finishers had an overall ADP between Pick 20 and Pick 84, while only 7% of them could be had from Pick 85-on — less than half that of top-10 RBs (16%).
7. Target Waller & Kittle Instead of Paying the Kelce Premium
Travis Kelce is a player I'm not getting a lot of.
As I explained in our Stud TE roundtable, taking a TE1 in Round 1 leaves zero margin for error because the top RBs and WRs tend to outscore the top TEs.
If you get another 2020 Kelce season, great. But if you get a season more like his 2019 TE1 finish, you aren't getting a true edge at a mid-first round ADP. And since Kelce usually goes in the early-to-mid first round these days, I'd rather bypass him for a RB or top WR knowing that I have a pretty good shot of scooping Darren Waller in Round 2 or George Kittle in Round 3.
8. Target Hockenson If You Miss Out On A Top 3 TE
In Round 6, the player I target most is T.J. Hockenson, who represents the end of the last worthwhile tier of TEs.
With Jared Goff at quarterback, the ball is going underneath, and the Lions have a low win total that could mean a lot of time spent in comeback mode. Goff briefly made Tyler Higbee into a fantasy monster, and Hockenson is a better player. And on a bad Lions team, he should rack up catches and yards.
If I picked near the end of the first round, it means I probably didn't come away with Waller or Kittle, so Hockenson is a guy I target aggressively early in Round 6 (or at the end of Round 5 if I see enough WRs on the board to make it back to me).
9. Don't Even Think About QB Until Round 6, Then Target Hurts Unless A Stud Falls 
Of the 35 top-five QBs since 2014, only nine had an ADP in the top 60 overall picks. And of the 27 QBs drafted in the top 60 picks since 2014, only nine (33%) finished QB5 or better. Another one-third of those passers finished QB6-11, while the final third finished 12th or worse.
In other words: Spending a premium pick on a QB gives you zero edge.
The median ADP of a top-five QB over that span is 84.5, meaning half of all top-five QBs can be found in Round 8 or later. Just last season, Patrick Mahomes was drafted at pick No. 19 and finished a solid QB6.
But here were the ADPs of the five QBs who finished ahead of Mahomes:
QB1 Josh Allen: 102nd
QB2 Kyler Murray: 63rd
QB3 Aaron Rodgers: 94th
QB4 Deshaun Watson: 69th
QB5 Russell Wilson: 62nd
This season, you still have to pay a premium for Mahomes, Allen, Murray, and Lamar Jackson. But depending on the platform, Dak Prescott, Russell Wilson and Aaron Rodgers can often be had in Rounds 6-8 — drafting one of those guys if they fall is my version of early-round QB, but my top target is still Jalen Hurts, who gives you a similar range of outcomes to Murray and Jackson at a fraction of the cost.
10. Target Unproven Players with Proven Upside
Rookie RBs and Year 2 WRs are two of the best bets in fantasy to outkick their ADP.
One of the reasons I'm confident in prioritizing a stud TE and my WR1/2 over RB2 in the early rounds is because I can fill my RB2 slot with the likes of rookie RBs like Travis Etienne, Javonte Williams, Michael Carter or Trey Sermon. All of these rookies are talented backs who will have roles immediately, and barring disaster, their roles will only increase as the season wears on. Given the type of roster that strategy allows you to build and the lowered stakes at their ADPs, there's a lot of upside and little downside with these players.
Some of the Year 2 leap WR candidates are obvious and being priced as such — see: Brandon Aiyuk, Tee Higgins, Chase Claypool, etc. — but targeting some of the cheaper, less-obvious Year 2 WR breakouts is a nice way to differentiate between the glut of WRs available in the WR4-6 range in the middle rounds.
Laviska Shenault, Henry Ruggs and Gabriel Davis are my favorite targets. Michael Pittman Jr. is on that list, too, provided that the Colts won't be without Wentz for extended time. Shenault, Ruggs and Pittman each have a realistic shot at being their team's No. 1 WR, while Davis could finish top-two in air yards for one of the league's most potent, pass-heavy offenses.
11. Late-Round QB Strategy: Rushing Upside or Bust
I almost never miss out on a QB I want, even with my strategy of fading the position for the first 5-7 rounds.
Hurts is almost always there for the taking if I want him in Round 9 or 10, because nine other managers already have their QB. But if I do miss out on QB, I'm going for rushing upside at all costs, because being a top fantasy QB these days means you're either Aaron Rodgers, Tom Brady or you can run.
If I have enough bench slots, I'll draft Trey Lance or Justin Fields and try to get by streaming QB until they take over the starting job. If roster space is more at a premium, I target Joe Burrow or Daniel Jones.
In super-deep leagues, I go after Tyrod Taylor, who faces the Jags at home in Week 1 if he enters the season as the Texans' starter as anticipated.
12. Late-Round RB Strategy: Target Underpriced Workloads
Volume is king at RB, and based on recent camp developments, there's still a few guys going way later than their projected volume suggests they should:
Phillip Lindsay, Texans: Reportedly going to take over as the lead back in Houston for David Johnson, who will be relegated to third-down duties.
Malcolm Brown, Dolphins: Started over Myles Gaskin in the preseason and was also surprisingly active for the Rams last season before Cam Akers took over.
Boston Scott, Eagles: Reportedly challenging Miles Sanders.
13. Late-Round WR Strategy: Target Bad Team WR1s
One of the reasons I love hammering WR in the middle rounds is because once you get to Round 7 or so, WRs will be tough to predict. I love guys like Michael Gallup and Mike Williams as best ball picks who will score points in bunches, but I'm also not banking on them being consistent, every-week starters.
A lot of solid WR3s in good passing games go before potential WR1s in poor passing games, and I'll gladly take the discount in hopes of finding an every-week starter:
Corey Davis, Jets: Good bet to lead the Jets in air yards, even if Jamison Crowder and Elijah Moore challenge for the lead in targets.
Amon-Ra St. Brown, Lions: Rookie fourth-rounder who should lead Lions wide receivers in targets.
Jakobi Meyers, Patriots: Four-plus catches in 9-of-11 games to close out the year.
Marquez Callaway, Saints: Should be the team's most productive WR until Michael Thomas gets back.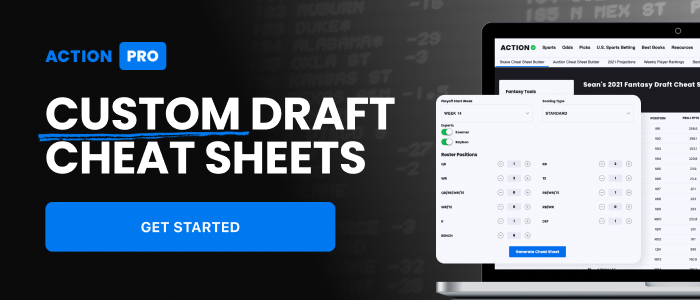 14. Late-Round TE Strategy: Wait
Missing out on a stud TE and Hockenson is demoralizing because the position becomes a crapshoot after that.
Logan Thomas is the only other guy I consider taking at ADP, because at least he should be on the field for 90% of the routes. But the best thing to do is wait … there's no guarantee someone like Noah Fant is going to be more consistent in a crowded Denver passing corps than someone like Evan Engram, who was fifth in targets at the position last season.
No TE is worth taking at ADP after Hockenson, in my opinion.
My favorite target is Irv Smith Jr., who could be in line for a Year 3 breakout. If I can't get him, I usually buy low on Engram or Zach Ertz, who are one year removed from being considered top-five options and could both end up near the league lead in routes run at the position.
How would you rate this article?