Sobel's Under-the-Radar FedEx Cup Title Bets: Are Rory and Tiger Worth Wagers?
Credit:
Brad Penner-USA TODAY Sports. Pictured: Rory McIlroy
Dustin Johnson has 6-1 betting odds to win the FedEx Cup Title, making him the betting favorite.
Tiger Woods (12-1) and Rory McIlroy (16-1) both have a chance to win the competition.
Good longshot bets are Patrick Cantlay (40-1), Tony Finau (40-1) and Hideki Matsuyama (50-1).
When Tiger Woods won the initial FedEx Cup title in 2007, he was clearly the best player on the PGA Tour that season.
Woods won five times before the playoffs, skipped the first postseason event, then finished T-2 at the second and won the final two to claim a trophy that was never really in much doubt.
It doesn't always work that way.
In fact, more than a decade after the FedEx Cup was introduced, Tiger's performance remains more of an outlier than the norm.
In the 10 years since Woods' inaugural win, only four times has the eventual PGA Tour Player of the Year also triumphed in the season-ending race for that $10 million prize.
There was Woods again, in 2009; Jim Furyk the next year; Jordan Spieth in 2015; and Justin Thomas last year.
What does that tell us? More often than not, it isn't the best player that season who takes the PGA Tour's weightiest bounty but the one who gets hot at the right time of year.
Therein lies a dirty little truth of the FedEx Cup: It's less a season-long marathon than a late-summer sprint to crown a champion.
Critics will insist this is an inherent design flaw in the system, that a player who vanquishes his peers for 11 months can fall short while one who resides in relative anonymity can steal away the title.
Those on board will maintain that the format simply mimics playoffs in other sports, where the best team isn't always the one left spraying champagne in the locker room at season's end.
As this year's edition of the playoffs is set to begin at the Northern Trust, we can all agree that it would take a Herculean effort from another player to unseat Brooks Koepka as the Player of the Year.
Granted, he owns just two wins this year, but both of them were major championships.
We have to go back to 1980 to find the last time a multiple-major champion didn't also claim Player of the Year honors, when Tom Watson's seven wins included a major and bested Jack Nicklaus' two-major year without another victory.
Despite Koepka's frontrunner status at +1000, he's hardly the favorite to similarly claim the FedEx Cup title. In fact, with just one non-major victory to go along with his three majors, it would be somewhat surprising to see Koepka start peeling off playoff wins en route to pulling off double duty.
And so, we should start searching elsewhere when trying to handicap the field and predict the player who might be left holding the FedEx Cup trophy on Sept. 23 at East Lake Country Club.
Here are five potential contenders at varying levels of under-the-radar status entering the first playoff event.
All odds via the Westgate Las Vegas SuperBook (as of Aug. 20)
Rory McIlroy
Odds: 16-1
First things first: McIlroy is not playing this week, instead opting to spend time finding his game or finding himself, or some combination of the two.
Save for a blistering back nine at Bay Hill that led to the Arnold Palmer Invitational, it's been an uncommonly frustrating season for Rory.
There are times when he looks like the best player in the world, only to quickly unravel; there are other times when he seems downright mediocre, then steps on the gas pedal and posts a strong weekend result.
By failing to enter the opener, McIlroy is likely to be overlooked as a potential contender for the title he won just two years ago.
But there's some precedent here: Eight years ago, Furyk overslept before the pro-am of the first playoff event, was disqualified from the tournament, then finished T-37 and T-15 the next two weeks, before winning at East Lake and taking home two trophies.
The points have since been tweaked to keep a player with such backloaded results from claiming the eventual title, but McIlroy can still benefit from the week off.
At a time of year when most players are running on fumes, Rory's fuel tank will presumably be full for the final three events, as he chases a happy ending to what's been another lost season in the major championship department.
That motivation should be enough to make him a FedEx contender.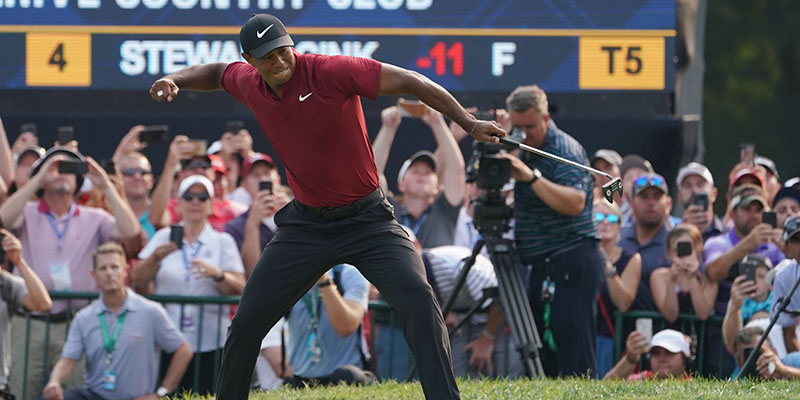 Tiger Woods
Odds: 12-1
I know what you're probably thinking: Wait a minute … Tiger … the guy who just finished second at the year's final major … is somehow under the radar … when he's hitting the ball like this?
I'll allow that Woods is not exactly an underdog over the next month, but I'll counter with this notion: If I only told you that a player who hadn't won a single tournament in more than five years was a smart pick to suddenly claim a few and take the FedEx Cup, wouldn't that sound like an outlandish proposition? Well, that's exactly what faces Woods in these impending events.
He's obviously playing well enough to win and his game seems to be peaking while others are slowing down.
Woods owns the experience of having claimed those two FedEx titles in the past, but more importantly, TPC Boston and Aronimink, the two middle venues, are a few of his favorites.
If you're wondering how, in its last year as a four-event series that still bleeds into the beginning of football season, the FedEx Cup playoffs can steal some of the spotlight from gridirons around the country, look no further than a torrid stretch from Tiger.
Xander Schauffele
Odds: 60-1
Last year, the PGA Tour's X-factor won the Tour Championship as a rookie, but still couldn't catch runner-up Thomas as the overall FedEx Cup winner.
One year later, he's still being overlooked.
(Really, ask your favorite diehard golf fan who won last year's finale at East Lake and they're likely hem and haw for a minute without coming up with Schauffele's name.)
He's fresh off a strong showing at the PGA Championship that included a pair of 67s in the middle two rounds and he owns a year more experience than he did when topped that 30-man field.
Perhaps more importantly, there's a good chance he's currently on the outside looking in for one of the four Ryder Cup captain's picks and needs a few solid showings in the first few events to give Furyk serious thought about selecting him.
Schauffele enters the playoffs at 28th on the points list, which means he's all but guaranteed to play in the first three events, but is hardly a lock to defend his title.
That's a lot of ammunition for him while stalking his way down narrative street.
Tony Finau and Patrick Cantlay
Odds: 40-1
I'm offering a two-for-one special here on a pair of players who continue to play really well, while "only" earning the spoils of a few fattened-up bank accounts.
If you're looking to fade anyone outside the top-10 and target a pair of longer shots, Finau and Cantlay will begin the playoffs at 12th and 14th, respectively, on the points list, meaning they'll each have an excellent chance of making the trip to East Lake.
Finau's pursuit of his first title since an opposite-field win in Puerto Rico two years ago has garnered plenty of attention.
He finished top-10 in each of the year's first three majors, proving himself as a big-game hunter. Having played in the season finale last year should also offer a sense of comfort should he reach that event, which could be key for a serious title run.
Cantlay owns a victory this season, but it came nine months ago in Las Vegas. In the time since, he owns five top-10s and has been trending in the right direction, with results of 27-6-12-15 in his last four starts. Like Finau, he'll also have a comfort level around East Lake after competing there last year.
We've been waiting all year for a true breakthrough performance from these two guys. Maybe we weren't wrong, maybe we just needed to wait a bit longer.
Hideki Matsuyama
Odds: 50-1
Here's my favorite longshot of them all entering the playoffs.
Matsuyama is obviously a world-class player, a guy who's been second in the world and owns a ton of ball-striking talent.
He's only 76th on the points list right now, though, meaning he's got plenty of work to do just to reach the top-60 for the BMW Championship, let alone win the entire thing.
It's been done before. Four years ago, Billy Horschel was 69th in points after the regular season, then parlayed a hot late-summer stretch into a Fed Ex Cup title.
Matsuyama owns that type of firepower, too. Two years ago, he finished fifth at the Tour Championship, then went on a streak of 1-2-1-1-1-2 in his next half-dozen starts, showing he has the stuff to power an end-of-year rally.
He's also trending just a bit right now, having finished T-11 at last week's Wyndham Championship after a pair of top-40s in the WGC-Bridgestone Invitational and PGA Championship.
He's nowhere near anyone's radar to win this title, but if you're searching for the ultimate darkhorse, he could pay huge dividends a month from now.
How would you rate this article?