Sobel's Northern Trust Round 3 Matchup Bets: Rory Is Ready to Go Low
Credit:
Mark Konezny-USA TODAY Sports. Pictured: Rory McIlroy
Dustin Johnson has a one-shot lead over Jordan Spieth entering Round 3 of the 2019 Northern Trust.
Jason Sobel analyzes three matchup bets for Saturday's action at Liberty National: Dustin Johnson vs. Jordan Spieth, Patrick Reed vs. Jon Rahm and Rory McIlroy vs. Louis Oosthuizen
JERSEY CITY, N.J. — Plenty of big names litter the Northern Trust leaderboard, so let's get right to my three favorite head-to-head matchups for Saturday's third round, including three of those big names, all of whom are in contention.
All odds as of Friday evening
---
Dustin Johnson (-165) over Jordan Spieth
1:55 p.m. ET
This was going to be it. This was going to be the day I suggested we all stop fading Spieth on the weekend. This was going to be the day that the law of averages bit back, the day everything changed.
And then he got paired up with Johnson.
I still think Spieth will perform much better this Saturday than the 77 he posted last Saturday, but DJ is firing on another level right now.
He is currently leading the field in strokes gained off the tee, third in strokes gained on approach shots and leads by a stroke after a second-round 67 — and yet, he walked off the course frustrated on Friday afternoon.
Johnson insisted he's hitting good putts right now, but they're just not dropping for him. The stats back him up — at least the part about them failing to drop — as he made just three putts of more than 6 feet on Friday.
"I feel like I'm seeing the lines good," he said. "I'm hitting the putts right where I want to. Just the ball is not going in the hole. There's not anything I can really do about that."
I think Spieth (finally) has an under-par round in him on the weekend, but I also think DJ can go really low if — or should I say when — those putts start dropping. Don't be surprised if he leads by 3-4 strokes entering the final round.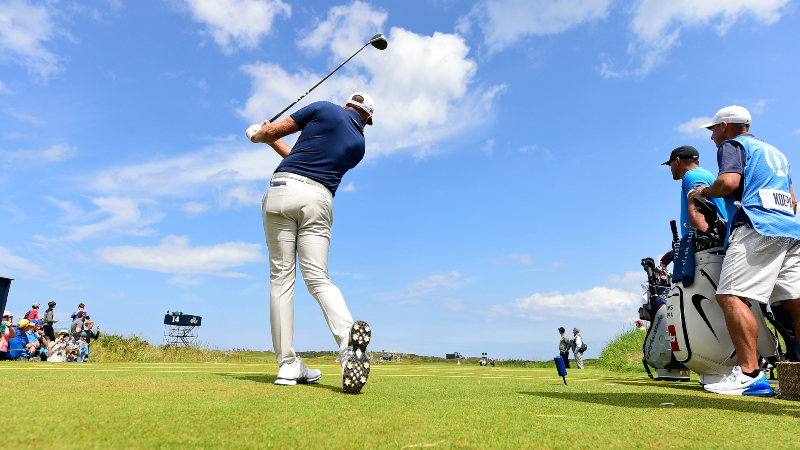 Patrick Reed (+135) over Jon Rahm
1:35 p.m. ET
Poor Reed. No, wait — poor us. Literally.
In my Friday matchup piece, I recommended taking Reed in a head-to-head over Louis Oosthuizen. Well, all Captain America did was post a bogey-free 5-under 66. Nice win, right? Uh, not exactly.
Oosthuizen shot 65 to nip him by a stroke, but I'm going back to Reed again in this one, especially after what I heard from Rahm after the round.
"My swing did not feel good at all, but somehow I just managed to keep the ball in play," Rahm explained. "That's all I can say. … Hopefully [Saturday] I can keep hitting it okay off the tee and maybe polish my iron game a little bit. I'm rolling it good and the rest of the game feels good, so hopefully it gets a little better."
I don't know about you guys, but I don't like betting players who continually use the word "hopefully" in regard to their next round.
You can tell that Rahm doesn't quite feel like he has his best stuff this week. He's been keeping it together with duct tape, but at some point that tape is going to fall off.
Rory McIlroy (-185) over Louis Oosthuizen
1:15 p.m. ET
If at first you lose to Louis, try, try again.
OK, so I don't really want to poke the bear two days in a row, but this is less an Oosty fade than a Rory bet.
By now, you've seen the story: On the 14th hole Friday, McIlroy thought he was removing a loose impediment from behind his ball in the bunker, only to find he'd touched the sand. He called a rules official, was finally given a two-stroke penalty, then had a longer conversation about it after the round and the penalty was nullified.
Long story short, he went from being five strokes back to only three — and he must be feeling like he has new life entering the weekend.
Rory's final-round struggles have been well documented this year, but his third-round performances have been money, as his 68.38 scoring average ranks second on the PGA Tour this season.
I expect him to post a number that's a stroke or two lower than that average on Saturday.
How would you rate this article?