Early 2019 U.S. Open Betting, DFS Values: Rickie Fowler, Webb Simpson, More
Credit:
Photo credit: USAToday Sports. Pictured: Rickie Fowler and Webb Simpson
Many people betting the 2019 U.S. Open will lean heavily on name recognition to make their picks.
Bryan Mears uses DFS salaries, implied odds to win and proprietary data to find value on this year's U.S. Open field.
There are a lot of correlations in the betting and DFS golf world. For one, odds to win a major are often tied to not just skill, but also public popularity and history at that specific course or event.
That's the reason for someone like Phil Mickelson (27-1) having higher odds to win the 2019 U.S. Open than, say, Tommy Fleetwood (28-1), who is a much superior golfer right now.
That's notable within the DFS world because DraftKings and FanDuel salaries are really tied to a player's odds to win — which, again, is subject to narratives and popularity rather than, you know, actual golfing ability.
In fact, there's a 0.87 correlation (0 is no correlation, 1 is perfect correlation) between DraftKings salary and odds to win this year, which is incredibly significant: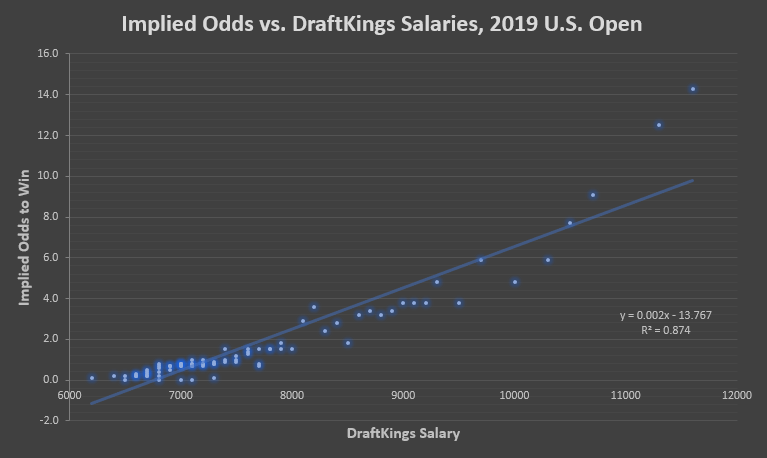 That means there's some significant value to be found in both the betting and DFS markets using a metric like our Long-Term Adjusted Round Score, which I believe is the best catch-all stat in the golf community. In general, a player with a lower LT Adj Rd Score is the superior golfer than one with a higher one.
For reference, there's a lower 0.72 correlation between DraftKings salary and LT Adj Rd Score, which means in that difference there's value. Additionally, there's a 0.55 correlation between odds to win the U.S. Open this year and LT Adj Rd Score. Again: sweet, sweet value.
Using all that data and running some regressions, we can predict based on a player's LT Adj Rd Score — again, the best proxy for talent — what each golfer's odds to win and DraftKings salaries should be. Let's start with betting odds to win.
Best Betting Values for the 2019 U.S. Open
As I wrote about here last year, the best betting values in majors are in the mid-tier. The reason is because the distribution of odds from the favorite to the mid-tier and from the mid-tier to the longshots don't shift from tournament to tournament — but the talent of the players certainly do.
Using the regression spelled out above — using Long-Term Adjusted Round Score to predict odds to win — here are the 10 most undervalued golfers entering the U.S. Open tournament next week.
Webb Simpson: 66-1 actual odds, 15/1 predicted odds, 4.8% difference
Justin Thomas: 20-1 actual odds, 10.5/1 predicted odds, 3.8% difference
Rickie Fowler: 25-1 actual odds, 13/1 predicted odds, 3.4% difference
Tommy Fleetwood: 28-1 actual odds, 14/1 predicted odds, 3.4% difference
Tony Finau: 35-1 actual odds, 16/1 predicted odds, 3.0% difference
Jason Day: 25-1 actual odds, 14/1 predicted odds, 3.0% difference
Gary Woodland: 66-1 actual odds, 22/1 predicted odds, 2.9% difference
Marc Leishman: 66-1 actual odds, 22/1 predicted odds, 2.9% difference
Hideki Matsuyama: 30-1 actual odds, 16/1 predicted odds, 2.6% difference
Ian Poulter: 110-1 actual odds, 28/1 predicted odds, 2.6% difference
I think this exercise is best used as a starting point to spot potential value based on long-term skill. From there, it's wise to factor in course fit, recent play, injury news and elevated play in majors.
A more comprehensive model will account for those — more on that next week — but, again, this can help you spot guys you want to research more right off the bat.
Let's talk about the elevated play in majors angle. I actually messaged a coworker to make sure the data in our FantasyLabs models was correct, as we have Webb Simpson and Brooks Koepka with the same LT Adj Rd Score currently: 68.3.
Looking at the raw data, Webb has actually had a lower average strokes per round over the last 75 weeks, but when adjusting for difficulty of the course and field strength, Brooks catches up.
I'm not saying Brooks and Webb should be the same in terms of odds to win; Koepka has won each of the last two U.S. Opens and PGA Championships. He has elevated his play in majors vs. other tournaments perhaps more than any player in golf history. A long-term metric won't account for that, and it brings up an interesting question worthy of a large study at some point.
Is elevating play at a major an actual predictable skill? For Brooks, it's hard to deny. But for golfers as a whole, is that a trend for the best of the bunch? Or are golfers who they are over a large sample and we're biased by players like Brooks over the last two years?
If you're in the former camp, then it's worth looking at Brooks, Dustin Johnson and Rory McIlroy at every major, even if they're overpriced compared to their long-term marks. But if you're in the latter, then the data suggests that there's not a huge difference between Rory McIlroy and Rickie Fowler, for example, or Jason Day and Hideki Matsuyama. At least not as much as their odds to win indicate, which means there's value in those underpriced golfers.
Best DFS Values for the 2019 U.S. Open
No surprise, since odds to win and DraftKings salaries are so highly correlated, a lot of the best bets are also the best DFS values:
Based solely on his LT Adj Rd Score, Webb, the winner of the 2012 U.S. Open, should be priced at around $10,000. At just $7,700, he's quite a value and could be quite popular in cash games, especially given his history at this event.
Justin Thomas was the world's No. 1 golfer as recently as last year, and now he's down to $9,300 on DraftKings due to an up-and-down last month or so. He withdrew from the PGA Championship with a wrist injury, and coming back last week he shot a Friday 80 to miss the cut. He's playing this week in Canada, though, and if he looks healthier and back to himself, he could be an intriguing underpriced GPP play.
Other underpriced golfers according to their long-term form include Keegan Bradley ($7,000), Byeong Hun An ($6,900), Charles Howell ($6,900), Bryson DeChambeau ($8,100), and Henrik Stenson ($7,600).
Some of those golfers aren't perfect fits for U.S. Opens, but Bryson and Stenson specifically definitely have the top-end talent and ball-striking to compete at their discounted salaries.
The guys most overpriced are, again, the guys who have a reputation (earned or not) for elevating their play in majors: Brooks Koepka and Jordan Spieth.
The latter is the fifth-most expensive golfer in the field, but his form over the last 75 weeks suggests he should be priced in the $8,000 range — more in line with guys like Patrick Reed, Louis Oosthuizen and Sergio Garcia than up with Rory, Justin Rose, and Tiger Woods like he currently is.
But again, this piece is designed to just be an early look and starting point for researching the U.S. Open. We'll have a ton more content, some based off models that will take into account event history, recent form, etc. Stay tuned!
How would you rate this article?