No. 1 Ranking Could Provide Extra Motivation for 4 Golfers This Week
Credit:
Jerome Miron-USA TODAY Sports. Pictured: Justin Rose
The Highlights
The No. 1 ranking matters to players, so when handicapping this week's Memorial Tournament, you should factor it in, as well.
Four players have the chance to be ranked No. 1 on Sunday: Justin Thomas, Dustin Johnson, Justin Rose and Jordan Spieth.
---
DUBLIN, Ohio — Last week in this space, I suggested a potential Justin Rose fade at Colonial.
Well, my apologies for that. I left out an important bit of fine print.
What I obviously meant to write was: You might want to fade Rose if offered an over/under of 20.5-under par.
I mean, of course that's what I meant. He finished at "only" 20-under.
Anyway, the purpose of telling this story isn't to dredge up bad memories from last week. It's because I again want to talk Rose entering this week's Memorial Tournament.
Following his victory on Sunday, the Englishman climbed to third in the Official World Golf Ranking, which means he now has at least an opportunity to claim the No. 1 spot for the first time in his lengthy career.
In fact, four different players have a chance of being No. 1 by Sunday night.
There's Justin Thomas (+1300), the current No. 1, who just claimed the spot for the first time two weeks ago. There's Dustin Johnson (+1150), who held it for 15 months before losing it to Thomas. There's Rose (+1200), who at third has matched his career-high ranking. And there's Jordan Spieth (+1500), who despite a disappointing season still has a chance to leapfrog the others from his fifth-ranked position. (Jon Rahm, the current No. 4, isn't playing this week.)
Anytime I write about the No. 1 ranking, it's often met by a cacophony of criticism from the cheap seats, notably one retort in particular: Who cares?
My response is always the same: The players, that's who cares — and shouldn't we care about what they care about?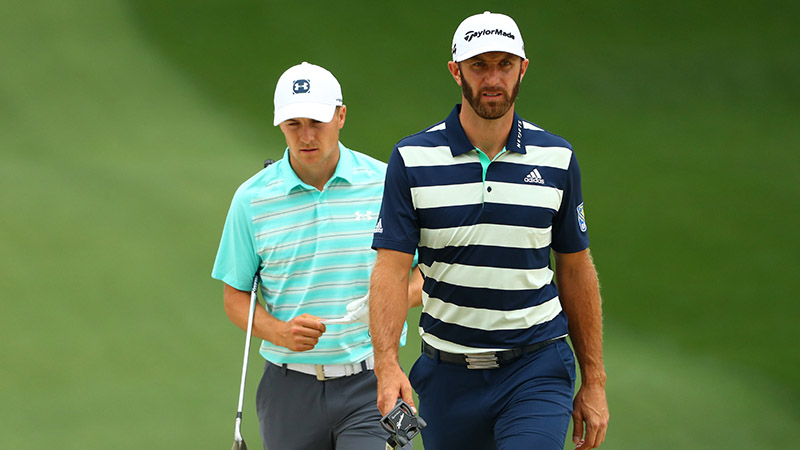 Pictured: Jordan Spieth and Dustin Johnson. Rob Schumacher-USA TODAY Sports
Check out what Thomas had to say about becoming No. 1 for the first time.
"I think I was in the middle of flying home [from The Players] when DJ finished and I had been told," he explained. "I ended up staying up late enough to where I waited to refresh [the OWGR website] and saw it. It was pretty cool. Seeing every other golfer in the world behind my name is a pretty fun thing."
This has been a common refrain for each of the players who has risen to atop the ranking over the past few years. It's been similarly just as common for them to downplay the top spot once they've been there already.
Or so I believed.
I asked Johnson on Wednesday whether it was still as important for him to regain the No. 1 spot as it was for him to get there in the first place.
"I definitely would like to get back there, just as much as I wanted to get there in the first place," he insisted, rejecting my idea that the second time around paled in comparison.
With that in mind, we'll have a foursome of extra-motivated players competing at Muirfield Village this week — one who is trying to retain his newfound No. 1 status, one who is trying to reach that spot for the first time and two who are trying to get back there again.
Knowing that every wayward shot, every missed putt could hurt their impending ranking, expect these four players to enter this week knowing the importance of what's at stake.
Who cares about the No. 1 ranking? The guys trying to own it — and that's why we should similarly be paying attention this week.