CJ Cup Round 4 Buys & Fades: Finding Value Using Strokes Gained Data
Credit:
Gregory Shamus/Getty Images. Pictured: Xander Schauffele.
The story of longtime TOUR players seeking their first win in years will continue on Sunday, as Russell Henley seeks his first victory since 2017 and enters the final round at +150 to do so. This would be another great headline for the new season as Stewart Cink, Sergio Garcia, and Martin Laird also found their first wins in a long time this fall.
Henley made his move up the board on Saturday as playing partners Xander Schauffele and Tyrrell Hatton struggled to get anything going. He will take a three-shot lead into the final round on Sunday over four players at 12-under including Schauffele. Hatton, Justin Thomas, and Jason Day are two more shots behind that group in a tie for sixth, leaving a pretty spread out leaderboard to start Round 4.
There will be a lot of nerves in the final threesome on Sunday afternoon as Lanto Griffin and Talor Gooch will join Henley with one TOUR win between the two of them. The pressure of being in the last group off in the final round is always difficult, and that may be enough to bring more of the chasers into play.
As we look at the strokes gained data from Saturday, let's see if we can find some guys that may be able to put pressure on that final group.
(Click here to skip to the analysis section.)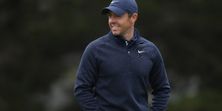 Strokes Gained Explanation
Strokes Gained can give golf bettors, DFS players and fans way more detail on how a golfer is truly playing by measuring each shot in relation to the rest of the field.
Using the millions of data points it collects, the TOUR calculates how many shots on average it takes a player to get the ball in the hole from every distance and situation. If a player beats those averages, he's gaining strokes on the field.
Every situation in golf is different — Strokes Gained measures how players perform relative to the situation.
In this piece, we'll touch on a variety of Strokes Gained metrics…
Strokes Gained: Off-the-Tee
Strokes Gained: Approach
Strokes Gained: Around-the-Green
Strokes Gained: Putting
Strokes Gained: Ball-Striking (which is Off-the-Tee + Approach)
Strokes Gained: Tee-to-Green (which is Ball-Striking + Around-the-Green)
In general, ball-striking and tee to green are the most stable long term, while putting is more prone to volatility.
You can often find live-betting advantages by identifying golfers who are hitting the ball well, but just not getting putts to drop. Likewise, players with high SG: Putting numbers may regress moving forward.
Read more about Strokes Gained here.
3 Golfers to Buy in Round 4
I am going into Sunday with the thought that there will be a player in the Top 10 who will shoot 7- or 8-under and steal this thing. My first buy is on a bounce-back from Schauffele. He was simply off on Saturday and couldn't get much going, but he's still just three shots back and gets the added benefit of avoiding the final group.
Schauffele lost more than three strokes tee-to-green in Round 3, including 1.84 strokes lost on approach. Despite the poor round, he's still 12th in strokes gained tee-to-green on the week and is gaining strokes in all metrics. I'll buy the historical numbers that see Schauffele bounce back more often than not and peg him as my pick to win at +300 on Sunday.
Have I talked at all about Day this week? Every. Single. Day. In my defense, it's been fully warranted and if I'm picking a player outside of the top 5 to make an impact on Sunday, everything is still pointing to the Australian.
Day shot a 6-under 66, during which he gained nearly five strokes tee-to-green. His irons remained hot on Saturday gaining a 3.19 strokes on the field with his approach, and he still left some out there with his putter. If Day continues to hit it like he has all week and he turns back into the great putter we are used to, he could lift the trophy on Sunday. BetMGM lists him at a nice looking +2500 going into the final round, and he will also be a quality buy in all other betting markets.
Quick note: Thomas is also still very intriguing in the same situation as Day.
Bubba Watson was one of the biggest movers up the leaderboard on Saturday as he shot a 7-under 65 with birdies on five of his final six holes to move into a tie for ninth. For the second round in a row, the former Masters champion was on fire with his ball striking.
Bubba led the way in strokes gained tee-to-green on Saturday, gaining more than six strokes on the field. He was on fire in both aspects of his ball striking as he gained more than two strokes on the field off-the-tee and three more with his irons. As I mentioned, this was the second straight day of good ball striking, which makes things even a bit more comfortable for the buy going into Sunday. Add to it that Bubba shot 7-under while still losing strokes to the field on the greens, but has also improved with the putter each round and he becomes someone of interest.
It wouldn't be entirely crazy for Bubba to jump the eight guys in front of him and find a victory on Sunday, but a starting seven shot deficit is definitely a tough ask. The +20000 odds to win at BetMGM reflect a big longshot, but its a number worth a sprinkle, while also focusing on buying Watson in matchups and DFS.
3 Golfers to Fade in Round 4
I don't think Henley gets it done on Sunday. He had a great round on Saturday as he shot a 5-under 67, but he has leaned heavily on the putter all week. His ball striking is where I have concern.
As we saw today with Schauffele, if you don't hold strong ball striking you will start to struggle around Shadow Creek. Henley is playing very average with his irons over the last two rounds, gaining just .13 strokes on approach in Round 3. He was able to gather his off-the-tee game on Saturday, which helped to keep the ball in good position heading into the greens, and then he stayed hot with the flat stick.
I'm fading the putting variance for a guy that hasn't won in 3 years, and now has all of the pressure of a multi-shot lead overnight and into a late Sunday tee time.
I started to write up Griffin here, but my homer-ism wouldn't allow me to fade my local VCU product. He has also been steady this week, so despite some big putting numbers, his ball striking says he may be able to hang around under the pressure. Instead, I will put my fade in on Gooch. He will be seeking his first victory on TOUR and that type of pressure can do odd things to a players game in the final group.
Gooch gained strokes in all categories on Saturday, but was really just close to field average in all of them. He was able to work his way to a 3-under 69 to keep himself in shouting distance of Henley. That play was good enough today, but I don't think he will be able to play that way on Sunday and stay in contention. Ultimately, I'm fading the entire final threesome in the final round of this week's CJ Cup.
All the credit in the world to Hatton for being in position to contend this week. He won in England last Sunday and then hopped in a plane at some point early this week, likely after a couple of celebratory beverages, to fly across the pond and most of the U.S. to Las Vegas of all places. I wouldn't blame him one bit if he celebrated a bit more when he got to Sin City, and yet there he was as the first-round leader.
Hatton remained near the top of the leaderboard after Saturday, despite making his only birdie on his final hole of Round 3. He managed to do that with an elite day on approach, gaining 2.66 strokes on the field, but losing strokes in every other category including 2.27 strokes putting.
My fade for Hatton is that as I saw the majority of his game stumble on Saturday, it appeared that everything from the week was beginning to understandably catch up with him. As I look closer at the week as a whole, he really has slowly regressed and I believe that will continue on Sunday.
Strokes Gained Data for All Players in Round 3
How would you rate this article?