Sobel: Don't Expect Phil Mickelson to Be Overly Motivated at the Greenbrier
Credit:
Dennis Schneidler-USA TODAY Sports. Pictured: Phil Mickelson
The Highlights
Phil Mickelson, a paid spokesperson for the Greenbrier, will be teeing it up in West Virginia as part of his endorsement obligations.
In his first tournament appearance since his boneheaded gaffe at the U.S. Open, I don't expect Phil to be on top of his game, especially since he already cashed a paycheck this week.
---
Five years ago this week, I walked out to the second tee box during the Wednesday pro-am at the Greenbrier and waited for Phil Mickelson.
This was just 17 days after his latest and, according to Mickelson himself in that moment of reflection, greatest failure at the U.S. Open, his most recent of six runner-up finishes, this one after holding the 54-hole lead.
He proceeded to put on his best happy face. He told me about the few days of doldrums immediately afterward, then the family vacation to Montana that completely got him out of that funk.
What he said next is prescient in retrospect.
"It happens," he explained. "Golf is a game that you end up losing so much more than you win. You have to deal with losing a lot more. Even the highest-percentage winners of all time lose more than they win. It's like batting in baseball. The best hitters still fail a majority of the time. It happens. But it's time to move on, you know?"
No, he didn't win at the Greenbrier that week. In fact, he didn't even make the cut.
A few weeks later, though, Mickelson claimed the other One That Got Away, earning the claret jug for the first time in his career.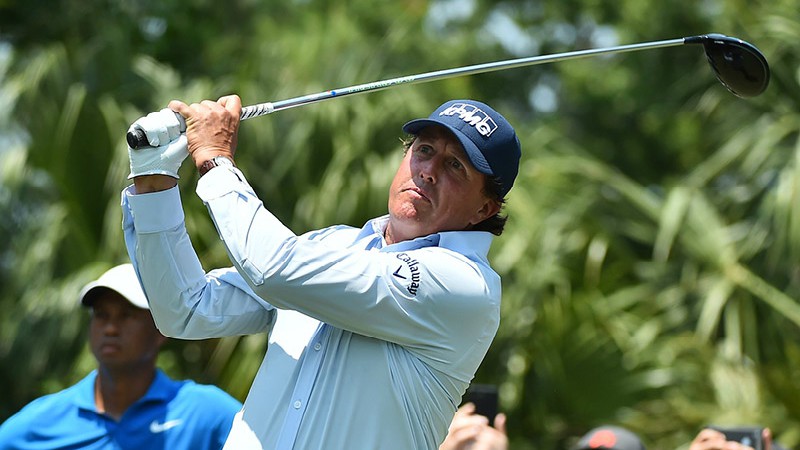 Jasen Vinlove – USA TODAY Sports. Pictured: Phil Mickelson
---
This could serve as a lesson, as the lefthander returns for his first start since the latest edition of the U.S. Open, one that featured a more boneheaded move than simply losing a Sunday lead.
Immediately after raking a putt mid-roll during the third round at Shinnecock, Mickelson tried to explain that he was simply using the rule to his advantage, an admission that didn't play too well to observers in the aftermath.
What he should have said was: "I turned 48 today and had my first senior moment. I don't know what I was doing out there, but I hope I didn't lose the respect of these great New York fans who have always supported me, and if the USGA will allow me to play in the final round, I'll try my best to put on a great show for them."
Instead, Mickelson attempted to do some damage control in the days afterward, texting a handful of golf writers to explain his regret over the situation.
Expect him to continue that remorse during interviews this week, but if the past has proven anything, don't expect it to serve as motivation.
As mentioned earlier, even when Mickelson was playing terrific golf, in between contending for the U.S. Open and winning The Open Championship, he missed the cut here.
That was his third consecutive MC to start his Greenbrier career, followed by, finally, a T-20 last year, the first time he's cashed a paycheck in the West Virginia foothills — you know, other than the endorsement deal, which is the reason he continues to play this event in the first place.
It's no secret that, especially in this late stage of his career, Mickelson is entirely more focused on major championships than other tournaments.
Considering the Open is coming up and Mickelson is already collecting a check this week, don't expect a reversal of fortune for him at this tourney.
At +1600 to win, he's currently tied for the third-shortest odds overall. It's a weak field and he's surely capable of a top finish, but I expect Mickelson's mind to be elsewhere. We've seen this movie before.
How would you rate this article?