'Hey, No Running!' One Man's Story of Sneaking into the Masters
Credit:
Rob Schumacher-USA TODAY Sports
Trevor Kraus has snuck into more than 20 major sporting events, and wrote about it in his book Ticketless: How Sneaking Into The Super Bowl And Everything Else (Almost) Held My Life Together.
---
Paranoia set in as I drove alone, in the wee hours of Sunday morning, toward The Masters.
"Augusta: 30 miles."
Jeez, Trevor: Can you really pull this one off?
"Augusta: 20 miles."
It's called The Country Club of No for a reason.
"Augusta: 10 miles."
You've got a laminated piece of paper on a string of yarn. You can barely walk. Turn the fuck around.
I had forged my way into the Super Bowl, blown past security at Game 7 of the World Series, walked right into a Wimbledon Final, and infiltrated more than 20 other major sporting events — without tickets, and without having doubted myself. But Augusta National Golf Club doesn't allow cell phones or pinecones — let alone gatecrashers.
I took a deep breath, then took the exit ramp for Augusta. I needed a golf tournament sneak for my résumé. This would be my Master(s)piece.
I pulled into the parking lot outside Gate 6A and eased the driver's seat back. It was 4:30 a.m. The gates were to open at 8.
Before I fell asleep, I jabbed at my car's dome light, and held my "badge" up to it. Two days earlier, a quick Google search had turned up images of that year's badges, outlined in purple, displaying the 12th green. I had marched straight to the library, loaded the tournament telecast on one computer and Photoshop on another, and printed a fake badge on cardstock. Then I laminated it, hole-punched the top, and bought a ball of yarn. It looked decent, or so I thought.
Around 7:45, scampering feet woke me. Patrons were streaming toward the course. I threw a green polo shirt over the blue one I was wearing. I slipped the "badge" around my neck and tucked it beneath my shirts. I stuffed a white hat into my left pocket. My wallet was in my right. I carried nothing else.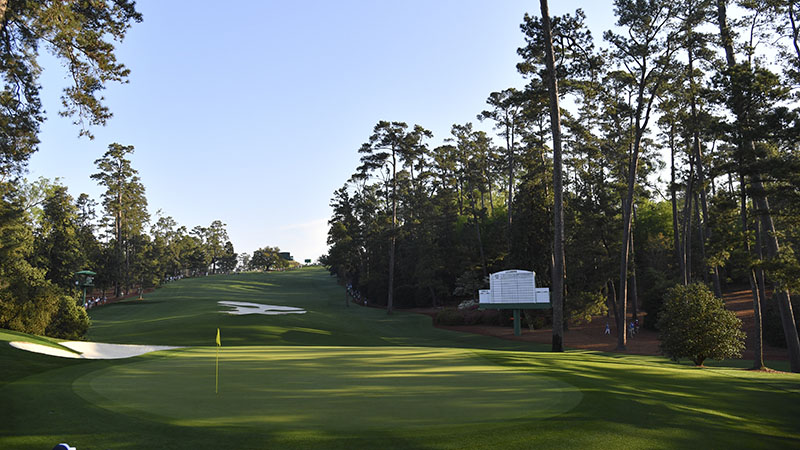 Patrons were divided into about 15 lines, each with a metal detector, followed by a badge scanner. Ushers with walkie-talkies strolled through the lines, making announcements on bullhorns: "Take your badges out and have them in your hands. As a reminder: There is absolutely no running within Augusta National Golf Club."
Those words almost killed me. The strategy — I called it a "spin-move," and I explain why in my book — that had worked so well at the World Series, college football's Game of the Century, and just three months earlier, an NFL playoff game, consisted of sprinting past ticket takers and getting lost in the crowd. If security guards were checking tickets before the ticket-takers, and if I couldn't run, I was in big trouble.
Worse, when I looked at other patrons' badges, it became clear: My counterfeit was way too thin, way too shiny, and way too blurry.
Ahead of me in line, a man who stood with his family turned around. "Hey, they only allow one chair per person. You mind taking one so my 8-year-old here doesn't have to carry it through security?"
A chair might help me blend in.
"Sure thing."
The gates opened. The first layer of security consisted of two temporary security guards standing at tables in front of the metal detectors. As I'd learned throughout my career, rent-a-cops are even less competent at securing events than police officers and permanent security guards.
As the family whose chair I carried elbowed each other to show the rent-a-cops their badges, I crept around them. One of the guards saw me. He looked me right in the eye, and I quickly looked away. He didn't say a word. He was either too busy, too dense, or simply didn't care enough to say anything. I kept moving. I was past the first layer.
The metal detectors were next. I handed the chair to a guard, dumped my wallet and hat into the designated white box, and walked through. I gathered my belongings and looked up. About 30 feet away were the ticket takers, who sat behind desks and were reaching over them to scan badges. I looked for indications of another layer of security behind them. I saw nothing.
Chair Guy was handing his badge to the ticket taker in our lane, a middle-aged woman. She was on our right. Behind her and to the left, a path wound away from the entrance. Patrons were on that path, racewalking toward the course. It was chaos, and chaos was exactly what I needed.
I walked past Chair Guy, turned toward him, and thrust the chair into his hands. I was ready to run. But as he took it, he stuck out a hand to shake mine. I think he introduced himself as Paul, but it could've been Peter or Patrick. He was from Minnesota. I shook his hand and blurted, "Trevor from St. Louis." I turned toward the winding path.
I thought I was free. Then, Paul-Peter-Patrick called out, "Hey wait, you need to have your ticket scanned!" His tone was so innocent. He actually thought it had slipped my mind to have my badge scanned. I love when people assume I don't know what I'm doing.
I turned around and looked at him for a second, then at the ticket taker. I took three small, backward steps, almost into the crowd that was compressed on the path. Then a deeper, more authoritative voice shouted, "Get the kid in the green shirt!"
I turned and ran, weaving among the patrons on the walkway. I had to step off the concrete and onto the lawn to avoid running people over.
Behind me, a sharp, female voice: "Hey, no running!"
"That's a great way to get kicked out," a man hissed.
"The rest of us are following the rules," someone else said.
The quote from the movie Eight Men Out, when White Sox infielder Swede Risberg tries to convince Buck Weaver to throw the World Series, and Buck says, "You just play your ballgame and I'll play mine, and we'll see how it comes out" flashed through my mind, but I had no time for pleasantries.
I slowed to a fast walk. I heard nothing but footsteps from every direction. Keys jangled … or were they handcuffs on a policeman's waist? I could not look back. I heard more footsteps, but no more voices yelled out. No hands seized me.
I removed the green polo and put on my hat. I couldn't breathe. I reached the course and kept speed-walking away from the entrance. I walked across the first fairway, then the ninth. When I reached the eighth tee, I knew I was home free. A tear came to my eye as I looked upon Yellow Jasmine. It was 570 yards of the greenest grass and smoothest sand I'd ever seen. It was 570 yards of perfection.
I called my brother from the courtesy phones on the course and left a three-word message: "Con. I'm in."
How would you rate this article?
This site contains commercial content. We may be compensated for the links provided on this page. The content on this page is for informational purposes only. Action Network makes no representation or warranty as to the accuracy of the information given or the outcome of any game or event.