Episode 13 of our sports betting show "I'll Take That Bet" is live just in time for Friday's NBA Free Agency, NFC North, World Cup, MLB, and much more.
Watch the full episode on ESPN+ here.
If you missed the last episode, here's the gist of the show: Two analysts — in today's case, Geoff Schwartz and Matt Moore — draft their favorite picks of the day from a board of 10 bets, plus a bonus side action bet. These are real wagers you can make across the gambling universe.
Here's Friday's board: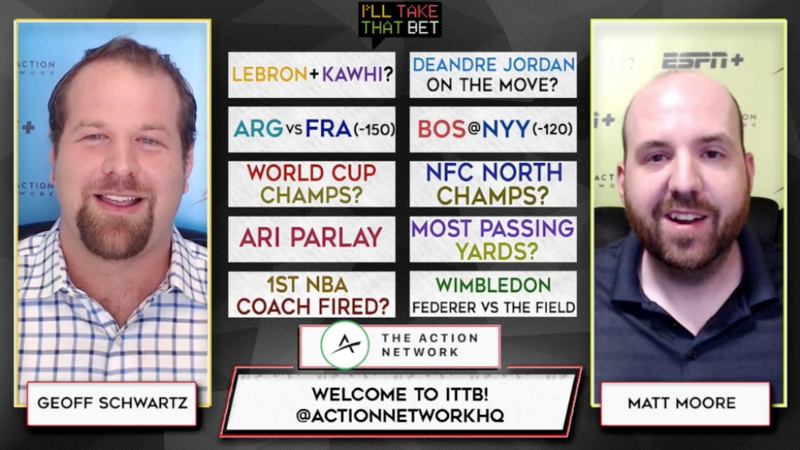 Here's how the picks played out in today's show. You can watch the full episode exclusively on ESPN+. You'll want to stick around to the end for Geoff and Matt's side bet on Kawhi Leonard and LeBron James joining forces and going to the Los Angeles Lakers.
PICK NO. 1 (MOORE): LeBron James and Kawhi Leonard will play together for the Los Angeles Lakers in 2018-19 (+250)
PICK NO. 2 (SCHWARTZ): Green Bay Packers to win the NFC North in 2018 (+180)
PICK NO. 3 (MOORE): DeAndre Jordan will play for the Los Angeles Clippers in 2018-19 (+500)
PICK NO. 4 (SCHWARTZ): Lions QB Matthew Stafford to have the most passing yards in 2018 (+1600)
PICK NO. 5 (MOORE): Sacramento Kings coach Dave Joerger will be the first NBA coach fired in 2018-19 (+600)
PICK NO. 6 (SCHWARTZ): Arizona Cardinals to win NFC West and Josh Rosen to win Offensive Rookie of the Year in 2018 (+2000)
PICK NO. 7 (MOORE): France over Argentina (-150)
PICK NO. 8 (SCHWARTZ): Boston Red Sox over New York Yankees (+110)
PICK NO. 9 (MOORE): Roger Federer to win Wimbledon (+200)
PICK NO. 10 (SCHWARTZ): Belgium to win 2018 World Cup (+500)