Watch "I'll Take That Bet" – Episode 15: NBA Win Totals, World Cup, NBA MVP, NFL Props, More
Episode 15 of our sports betting show "I'll Take That Bet" is live discussing topics like Golden State Warriors, World Cup and MLB action, NFL props, NBA MVP and much more.
Watch the full episode on ESPN+ here.
If you missed the last episode, here's the gist of the show: Two analysts — in today's case, Chad Millman and Paul Lo Duca — draft their favorite picks of the day from a board of 10 bets, plus a bonus side action bet. These are real wagers you can make across the gambling universe.
Here's Friday's board: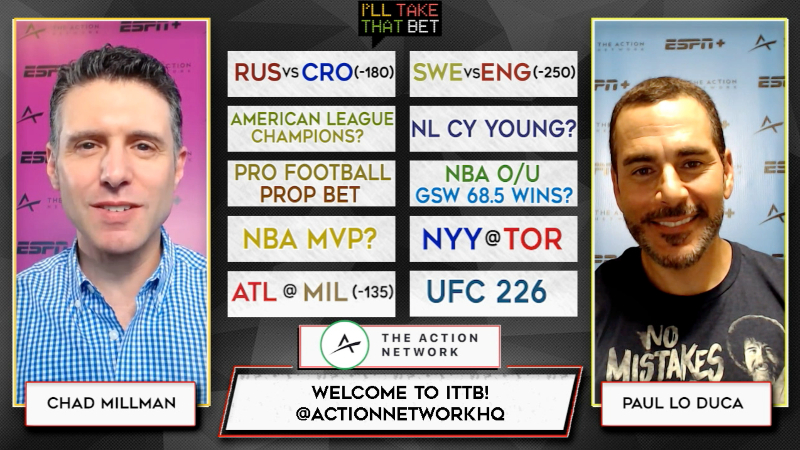 Here's how the picks played out in today's show. You can watch the full episode exclusively on ESPN+. You'll want to stick around to the end for Chad and Paul's side bet on the Gambling Olympics.
PICK NO. 1 (LO DUCA): Kevin Durant to win 2018 NBA MVP (+1000)
PICK NO. 2 (MILLMAN): Golden State Warriors to win less than 68.5 games in 2018-19 (-110)
PICK NO. 3 (LO DUCA): Aaron Nola to win 2018 NL Cy Young (+1400)
PICK NO. 4 (MILLMAN): England over Sweden (-250)
PICK NO. 5 (LO DUCA): Russia over Croatia (+150)
PICK NO. 6 (MILLMAN): Houston Astros to win the American League Pennant (+200)
PICK NO. 7 (LO DUCA): Milwaukee Brewers over Atlanta Braves (-135)
PICK NO. 8 (MILLMAN): Minnesota Vikings to win Super Bowl LIII and Kirk Cousins to win NFL MVP (+5000)
PICK NO. 9 (LO DUCA): New York Yankees and Toronto Blue Jays under 9.5 runs (-110)
PICK NO. 10 (MILLMAN): Stipe Miocic over Daniel Cormier (-250)