Watch 'I'll Take That Bet' — Episode 111: NBA Wednesday, NFL Conference Championships, Kyrie Irving Props
Episode 111 of our sports betting show "I'll Take That Bet" is live, covering Wednesday night in the NBA, talking NFL Conference Championship games, waxing poetic about Kyrie Irving, and so much more!
Watch the full episode on ESPN+ here.
If you missed the last episode, here's the gist of the show: Two analysts — in today's case, Matt Moore and Rob Perez — draft their favorite picks of the day from a board of 10 bets. These are real wagers you can make across the gambling universe.
Here's Wednesday's board: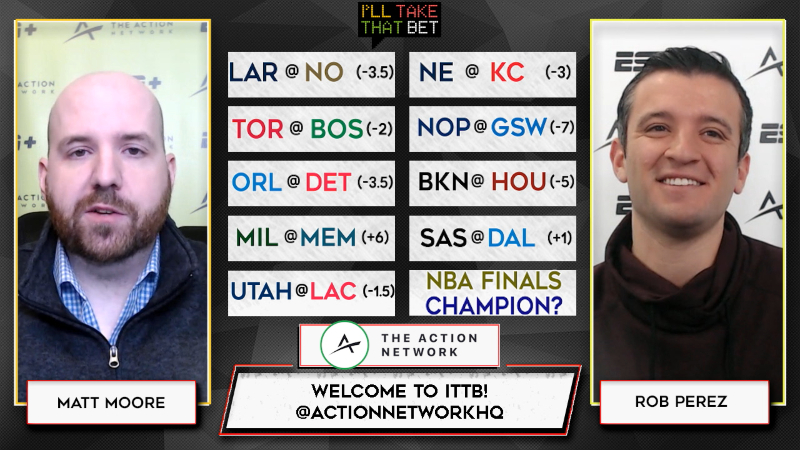 Here's how the picks played out in the show. You'll want to stick around to the end to see Wob try not to get his hopes up on Kyrie Irving joining the Knicks. You can watch the full episode exclusively on ESPN+.
PICK NO. 1 (ROB): Los Angeles Clippers (-1.5) over Utah Jazz (-110)
PICK NO. 2 (MATT): Boston Celtics (-2) over Toronto Raptors (-110)
PICK NO. 3 (ROB): Golden State Warriors will not win the 2018/19 NBA Title (+152)
PICK NO. 4 (MATT): New Orleans Saints (-3.5) over Los Angeles Rams (-110)
PICK NO. 5 (ROB): Brooklyn Nets (+5) over Houston Rockets (-110)
PICK NO. 6 (MATT): Orlando Magic (+3.5) over Detroit Pistons (-110)
PICK NO. 7 (ROB): Milwaukee Bucks (-6) over Memphis Grizzlies (-110)
PICK NO. 8 (MATT): New England Patriots (+3) over Kansas City Chiefs (-110)
PICK NO. 9 (ROB): Over 240.5 between New Orleans Pelicans and Golden State Warriors (-110)
PICK NO. 10 (MATT): Dallas Mavericks (+1) over San Antonio Spurs (-110)