Watch 'I'll Take That Bet' — Episode 114: Patriots-Rams Super Bowl, Monday Night Basketball, Super Bowl Props
Episode 114 of our sports betting show "I'll Take That Bet" is live, looking ahead to Super Bowl LIII, talking you through an evening of professional and college basketball, hitting on some early Super Bowl props, and so much more!
Watch the full episode on ESPN+ here.
If you missed the last episode, here's the gist of the show: Two analysts — in today's case, Blackjack Fletcher and Paul lo Duca — draft their favorite picks of the day from a board of 10 bets. These are real wagers you can make across the gambling universe.
Here's Monday's board: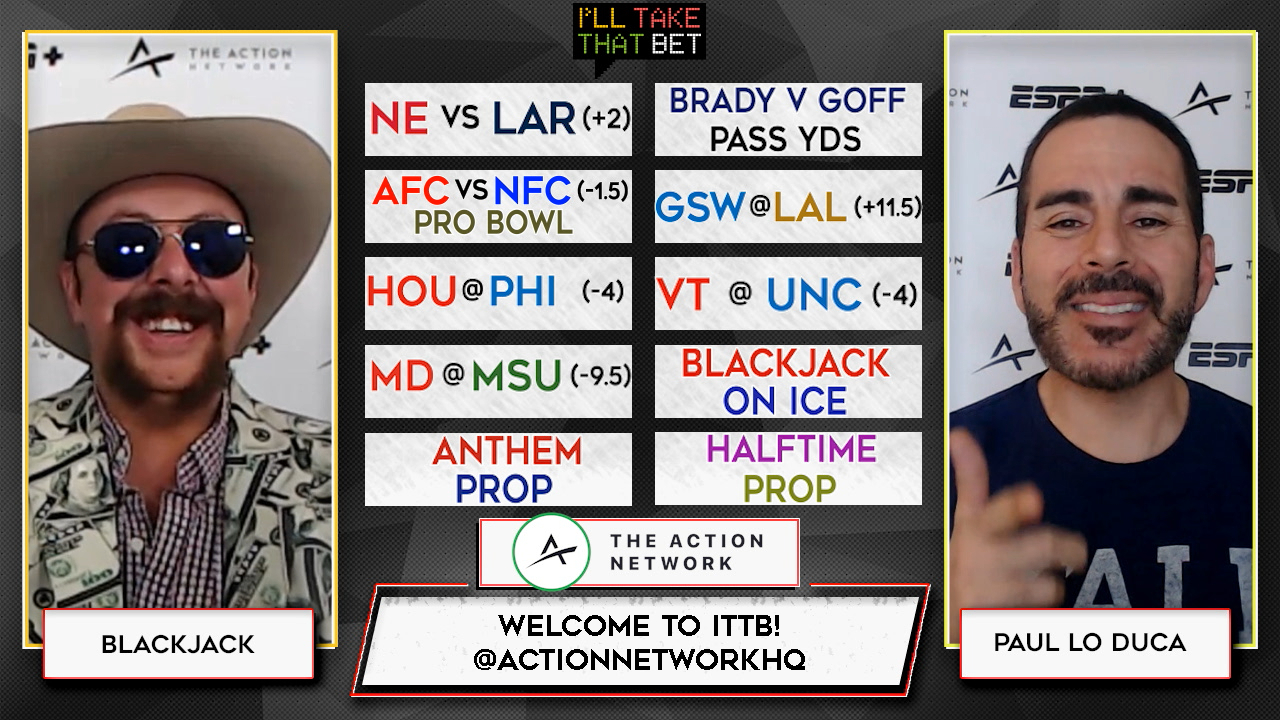 Here's how the picks played out in the show. You can watch the full episode exclusively on ESPN+.
PICK NO. 1 (PAUL): New England Patriots (-2) over Los Angeles Rams (-110)
PICK NO. 2 (BLACKJACK): Los Angeles Rams quarterback Jared Goff to throw for more passing yards than New England Patriots quarterback Tom Brady in Super Bowl LIII (+130)
PICK NO. 3 (PAUL): North Carolina Tar Heels (-4) over Virginia Tech Hokies (-110)
PICK NO. 4 (BLACKJACK): Vegas Golden Knights moneyline over Minnesota Wild (-165)
PICK NO. 5 (PAUL): Gladys Knight's rendition of the National Anthem at Super Bowl LIII to be Under 1 minute 50 seconds (-140)
PICK NO. 6 (BLACKJACK): Maroon 5's first song during the Super Bowl LIII Halftime Show to be Payphone (+1200)
PICK NO. 7 (PAUL): Maryland Terrapins (+9.5) over Michigan State Spartans (-110)
PICK NO. 8 (BLACKJACK): Houston Rockets (+4) over Philadelphia 76ers (-110)
PICK NO. 9 (PAUL): Los Angeles Lakers (+11.5) over Golden State Warriors (-110)
PICK NO. 10 (BLACKJACK): Over 58.5 points between the AFC All Stars and NFC All Stars in the Pro Bowl (-110)