Chelsea vs. Arsenal: Will Motivation Determine Who Wins the Europa League Final?
Europa League Final Odds: Chelsea vs. Arsenal
Arsenal odds: +190
Chelsea odds: +140
Draw: +215
To Lift the Trophy: Arsenal +110 | Chelsea -130
Over/Under: 2.5 (-112/-108)
Kick-off: Wednesday, 3 p.m. ET
How to watch: TNT
---
>> All odds as of 6 p.m. ET on Tuesday. Download The Action Network App to get real-time Soccer odds and track your bets
---
For the first time in modern soccer history, all four European Cup finalists (Champions League and Europa League) hail from the same country. But before we can get to the main event between Liverpool and Tottenham on Saturday, Chelsea and Arsenal will meet for the Europa League title on Wednesday in Baku, Azerbaijan.
To say these two teams know each other well would be a hilarious understatement; since 2017 they've met in an FA Cup Final, a two-legged League Cup semifinal, and a Community Shield final. And, of course, they play each other twice a season in the English Premier League.
That's a level of familiarity that is exceedingly rare for a European Cup final. But it also means that there's a treasure trove of recent data and information we can use to handicap this game:
Injury News
For Chelsea, young starlets Callum Hudson-Odoi and Ruben Loftus-Cheek are both confirmed out for the final with Achilles injuries, which is a damn shame for two promising players who had finally strung together a run of games. Midfield engine N'Golo Kante is 50-50 to play, per manager Maurizio Sarri, and his status will loom large on this fixture.
On the other side, Arsenal are running on fumes. Denis Suarez and Danny Welbeck are both confirmed to miss the final, as are long-term outs Rob Holding and Hector Bellerin. Aaron Ramsey, too, has been ruled out, having picked up a hamstring injury and already secured a lucrative move to Juventus.
Cruelly, Henrikh Mkhitaryan, who has chipped in with 3 assists in the competition, will miss the final as well. Not through injury, but through geopolitical reasons — this year's final is held in Baku, Azerbaijan, and Mkhitaryan is Armenian. The two countries have no diplomatic relationship to speak of, and Armenian nationals are banned from entering Azerbaijan.
August 18, 2018: Chelsea 3, Arsenal 2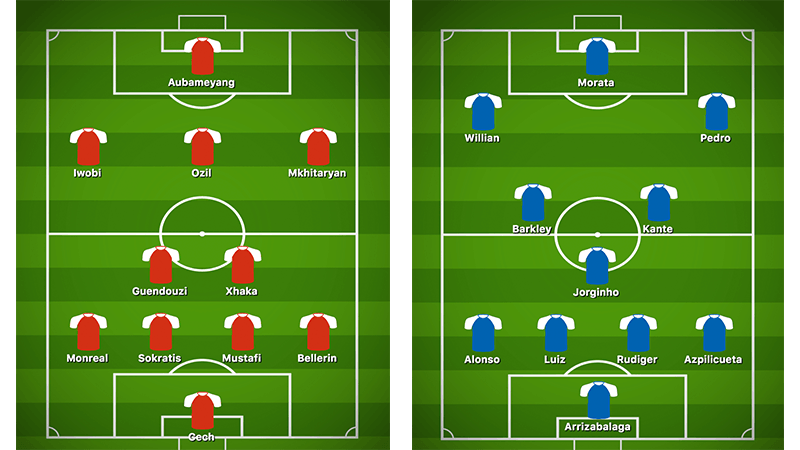 It's important to note that both Chelsea and Arsenal hired new managers over the summer and this match took place only a few weeks after Unai Emery and Maurizio Sarri took over at Arsenal and Chelsea, respectively.
Chelsea scored two goals in the first twenty minutes on direct balls over the top, ignoring and avoiding an ambitious high press from Arsenal.
Summer-signing Jorginho, who flourished under Sarri at Napoli and was brought to London at the new manager's request, reprised his ball-playing role to great effect, providing a hockey-assist for Pedro's opener with a measured through ball to leftback Marcos Alonso.
But as the game wore on, Arsenal created plenty of chances of their own, and clawed things back to 2-2 before halftime. In truth, it could have been 5 or 6 for the Gunners.
Arsenal created tons of chances with crosses and cutbacks toward the penalty spot. In another system, that's where N'golo Kante would be — but under Sarri, Jorginho plays at the base of the midfield, and the Gunners found it easy to circumvent him. I can't even describe with words how little this guy defends:
With Kante possibly out for the final, Chelsea will need to play with Jorginho as the deepest-lying midfielder, responsible (in part) for shepherding Arsenal's potent attacking force away from the goal. I'm skeptical that he's any more up for the task than he was back in August.
Marcos Alonso, who supplied the assist for the opener, eventually scored the winner late in an open, even second half, and Chelsea won the game 3-2.
January 19, 2019: Arsenal 2, Chelsea 0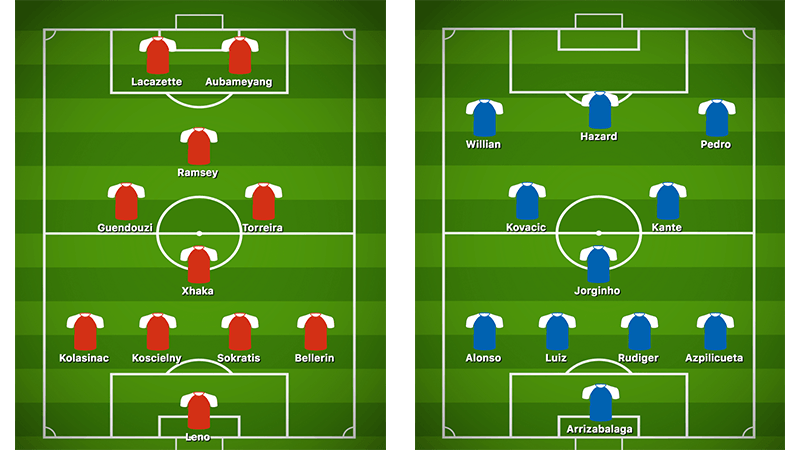 Chelsea opened this game with Hazard up top as a false 9; Arsenal ran with both Alexandre Lacazette and Pierre-Emerick Aubameyang up top and Aaron Ramsey behind them at the tip of a midfield diamond. Arsenal started on the front foot, took an early lead off a Lacazette goal, and never really looked back.
Up 2-0 at the half, the Gunners sat back in the second period and dared Chelsea to break them down. The Blues had 70% possession and built basically nothing in the way of a meaningful attack, generating 0.3 expected goals (xG).
Similarly to their first meeting, Arsenal must have felt after the game that they should have scored more than just the two goals. And yet Chelsea were unable to punish them — with Hazard leading the attacking line, the Blues found it tough to find balls out of the back, and the Belgian was frequently gaining possession with his back to goal in the middle of the pitch, which is hardly ideal for a man of his dribbling talents.
Tactical Breakdown
So what do we make of all this? I'll be waiting on lineups to come out before locking in any wagers, but there are a few things I feel quite certain will come into play in Baku:
Arsenal's forwards vs. Jorginho
As previously mentioned, N'Golo Kante's injury for Chelsea is a massive blow to the Blues chances. Without the dynamic Kante to drive Chelsea forward in attack and shield the back line in defense, Chelsea could be in trouble.
That's doubly true for Jorginho, who possesses a wand of a right foot, but very little in the way of foot speed or defensive nous. Against the lightning pace of Lacazette and Aubameyang, Arsenal try to turn every match into a foot race, which is probably the last physical challenge you would want Jorginho to compete in.
And it's worked a charm for Arsenal in this competition to date: Aubameyang is joint-third in the Europa League with 8 goals, and Lacazette is right behind him with 5.
Where Will Eden Hazard Play?
Chelsea will surely line up in the same 4-3-3 Sarri has structured them to play all season. Who plays on that forward line is anyone's guess: Hudson-Odoi is out with an Achilles injury, Pedro and Willian are both old, and Gonzalo Higuain is old and out of shape.
The only forward certain to start is Eden Hazard, who is likely wearing the blue shirt of Chelsea for the final time. The Belgian has had another superstar year from the left wing, generating ten-plus expected goals and assists in all competitions.
Hazard is a terrifying dribbler and an adept passer of the ball… when he plays on the wing. But without a reliable goal scorer up top, Sarri has deployed Hazard as a "false 9" center forward on a number of occasions, including in Chelsea's 2-0 loss at Arsenal in January
Simply put, Hazard is a completely different beast playing from the wing than he is playing through the middle. As a winger, he has the freedom to find the ball, run at defenders, pick a killer pass — basically, generate danger however he sees fit. Without much in the way of reliable striking options, Sarri might feel his best option is to stick Hazard up top and hope Pedro and Willian can get on the end of something the Belgian creates.
But I don't see it as a viable tactical option, unless the plan is to play for a draw and win the cup on penalties.
The Motivation Factor
The biggest prize for winning the Europa League is an automatic berth in the group stage of the Champions League, the most lucrative tournament in the world.
Chelsea aren't playing for those glories — they already booked their spot in next season's competition by virtue of their third-place finish in the English Premier League. But Arsenal, who finished fifth, have these 90 minutes (plus stoppage time) to turn this whole season into a success.
The financial boon that qualifying for the Champions League provides cannot be understated — even for a team the size of Arsenal, a UCL berth could double their summer transfer budget. And playing for a club in the Champions League is a much more tantalizing proposal for those prospective transfer targets than playing for a club in the Europa League.
That's not to say Chelsea are playing for nothing — there's still a trophy on the line after all. In fact, Chelsea might be playing for even more than Arsenal, at least if you believe Sarri's comments in his pre-match press conference.
In his first year at the club, the Italian has overseen a year-over-year increase in points, goals, and underlying stats like expected goals, all while implementing his particularly intricate tactical style.
He's clinched Champions League football for next season, and has his team in an European cup final. And yet, according to what Sarri himself has said, this match will decide if he keeps his job.
Handicapping motivation is tricky, but it's hard to be confident that Chelsea "will be more up for it" than Arsenal.
Not only do Arsenal need to win this match to get into the Champions League, but they also will be playing for Mkhitaryan, who is effectively barred from the country for geopolitical reasons.
This will be a tight game — when you handicap games like this, you have to sweat the small stuff.
I like the advantage Arsenal has with their forwards running at, around, and through the Chelsea midfield, especially if Kante is out.
I like the off-the-field motivation for the Gunners that make this contest even bigger for them. And I love that I can still get them at plus money.