How To Bet on Soccer: 8 Different Bet Types, Explained
Credit:
Brad Rempel – USA Today Sports – Sporting Kansas City goalie Tim Melia (29) makes a save in the second half against Minnesota United forward Abu Danladi (9).
Soccer is the most widely-bet sport worldwide, and there are now thousands of different ways to bet an individual game. It can be a bit daunting.
There are also different types of competitions with different rules, like domestic leagues vs. tournament settings in which games can go to extra time.
We'll explain eight different types of bets and how they work below.
If you're looking to bet on soccer and are in a legal United States market, check out FanDuel, Bet365 and BetMGM, among many other books.
How to Bet on Soccer
Click the links to jump to each section.
1. The 3-Way Moneyline
As the name entails, there are three options when betting the three-way moneyline:
Team A wins
Team B wins
Draw
Three-way moneyline results are graded solely on 90 minutes of play, also known as "Regular Time." So if you bet a team to win and
This includes any injury or stoppage time added by the referee's discretion, but does not include overtimes or penalty shootouts.
For example, Argentina played Germany in the 2014 World Cup Final and the closing three-way moneyline was:
Germany: +130
Argentina: +255
Draw: +230
Argentina and Germany were tied, 0-0 after 90 minutes of regulation, meaning the Draw +230 cashed. Betting on Germany (+130) or Argentina (+255) lost, even though the Germans ended up winning in extra time.
2. The 2-Way Moneyline
Another way of betting soccer is taking the two-way moneyline, which is offered in two simple ways: Double Chance and Draw No Bet. Both are graded solely on 90 minutes of regulation.
Double Chance means you're betting on a specific team to win/draw, or either team to win. The three possible results are:
Team A wins or draws
Team B wins or draws
Team A wins or Team B wins
Here's an example:
Germany wins or it's a draw -215
Argentina wins or it's a draw -165
Germany or Argentina wins -200
For each bet, you're essentially just eliminating one of the results.
Draw No Bet is a wager that eliminates the prospect of the draw completely and refunds bets if it ends in a draw, so the only two potential results are:
Team A wins
Team B wins
Since the draw is taken out of the equation and bets will result in a push, these odds are inflated on the favorite, and you'll get a worse price on the underdog.
For example:
Germany -200
Argentina +150
If the game ends in a draw in regulation, then all bets are refunded and considered "No Action". This was the case in the 2020 Euro final between England and Italy, because it was tied after 90 minutes.
3. Goal Lines (aka Spreads)
Goal lines or spreads are similar to puck lines in hockey and point spreads in football or basketball.
A goal line or spread can be any number, depending on the quality of each team. In the World Cup, you'll mostly see -0.5 and +0.5 when the teams are evenly-matched, or -1.5 and +1.5 when there's a big mismatch. In the Women's World Cup, where there's a huge gap in talent between the top and bottom teams, you can see a goal line of -3.5 or higher.
Let's look at USA vs. Wales. The goal line is priced at United States -0.5 (+150) and Wales +0.5 (-200).
To cover this spread, the U.S. needs to win by 1 goal or more. And if you bet it, you'll be paid $1.5 for every $1 wagered. If you bet Wales, they can either draw or win, but you'll have to risk $2 for every $1 you want to win.
Now take a look at a more lopsided match between Argentina and Saudi Arabia in the 2022 World Cup:
Argentina -1.5 (-185)
Saudi Arabia +1.5 (+145)
This means bookmakers expect Argentina to win by 2+ goals (covering the -1.5 spread) because that's priced at -185. To back Argentina by 2+, you need to risk $1.85 to win $1. If you bet Saudi Arabia at +1.5, you believe they'll either lose by one, draw, or win. And you'll be paid out $1.45 for every $1 risked.
When dealing with goal lines or spreads, there's always juice associated, just like an NFL spread or NBA spread.
4. Totals & Over/Unders
Conceptually, totals are the same in soccer as other sports. But because there's such little scoring, sportsbooks have to move the juice around just a few numbers.
Let's look at two examples where the total is 2.5, but the scoring environment is expected to be much different, so the juice is much different.
USA vs. Wales
For USA vs. Wales the total at 2.5 is priced at +155/-205 — meaning you have to pay a lot more to bet the under than the over. That's because there are expected to be way fewer than 2.5 goals.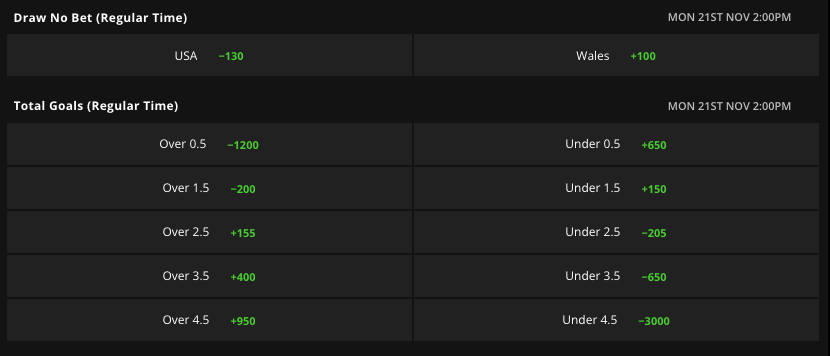 Brazil vs. Serbia
Brazil vs. Serbia is projected to be a much more high-scoring match, so over 2.5 is priced at -135/+100. That means you have to risk more to bet the over than the under. The implied total based on the juice says there will be more than 2.5 goals.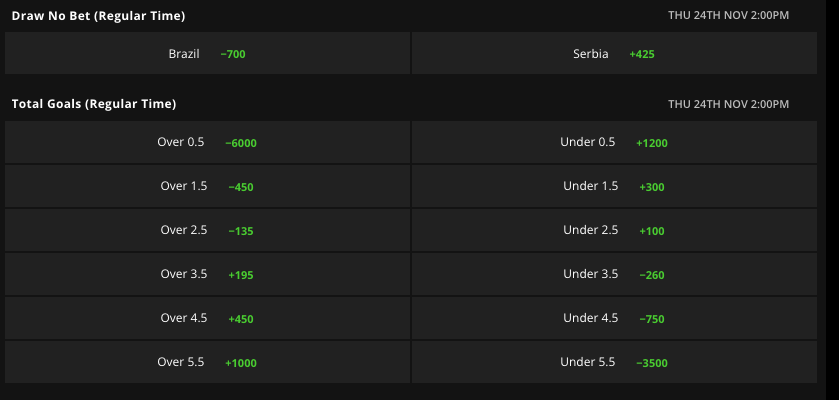 5. Asian Handicaps
At some sportsbooks, you'll see things like +1.25 or -1.75. How is that possible, since you can't have a fractional goal?
This is called the Asian Handicap, and it's just a way to split your bet into two.
If you're betting the U.S. +0.75 against England, you're betting half your stake on the US +0.5 and half on the US +1.
If the US wins, you win both sides.
If the US draws, you win both.
If the US loses by 1, you push the +1 and lose the +0.5, so you'll lose half your bet amount.
This concept can also apply to totals — if you bet over 2.25, you're betting half your stake on over 2 and half on over 2.5.
6. Exotics & Parlays Based on Spreads & Totals
Sportsbooks love to offer 1,000 different bet types, but they're all really derived from the main moneyline and totals, and then priced accordingly.
Things like:
Exact winning margin (Brazil by exactly 1 goal over Serbia is +210)
Exact score (Brazil beating Serbia 2-1 pays +800)
Team winning at halftime and at full-time
The list goes on and on. Whatever derivative of the final score you can think of, you can probably bet.
7. Both Teams to Score
One of the most popular game props in soccer is both teams to score — yes or no.
If you believe the teams are evenly matched and have some offensive upside, it's a good way to bet it.
For USA vs. Wales, BTTS is listed at yes +100, no -130 at FanDuel. The book is saying its more likely that both teams don't score than it is that both teams do.
For Serbia-Brazil, one of the projected highest-scoring games of the first wave of group stage matches, yes is -105 and no is -120. It's so close to the USA-Wales match despite the difference in projected scoring because Brazil is the much stronger side.
For Portugal-Ghana, yes is +135 and no is -175.
8. Other Popular Props
There are tons of other prop types, especially for the World Cup.
Things like:
Over/under corners
Over/under yellow cards or bookings
Over/under
Anytime goalscorer (pick the individual player)
First goalscorer (individual player)
Team to win in a shutout
Team to win after trailing
How would you rate this article?
This site contains commercial content. We may be compensated for the links provided on this page. The content on this page is for informational purposes only. Action Network makes no representation or warranty as to the accuracy of the information given or the outcome of any game or event.