EPL Week 29 Betting Preview: Finding Value in Monday's Man U-Crystal Palace Match
Week 29 in the Premier League is headlined by Chelsea-Manchester City, but the relegation battle at the bottom of the table is worth keeping an eye on. After small gains (+0.10 units) with last week's value plays, I've picked out three for this week with a potential for big payouts.
Here's a look at the most recent results, season trends, biggest payouts, title odds and relegation odds, along with three value plays and market analysis for Week 29.
Week 28 Results:
Home 4 of 10 (-1.89 units)
Away 3 of 10 (-1.91 units)
Draw 3 of 10 (+0.68 units)
Road teams fared a little bit better in Week 28, but still not profitable. Draws had modest gains and keep on adding to their season tally.
Season Results:
Home 127 of 280 (+10.32 units)
Away 76 of 280 (-57.54 units)
Draw 77 of 280 (+25.02 units)
It's hard to believe how poor road teams have been this season, as they're now down 57.54 units.
Season's Biggest Payouts:
Burnley (+1125) at Chelsea in Week 1
Swansea (+1078) vs. Liverpool in Week 24
Bournemouth (+911) at Chelsea in Week 25
Huddersfield (+875) vs. Man Utd in Week 9
Crystal Palace (+695) vs. Chelsea in Week 8
Five of the top 9 Premier League payouts have been outright wins against Chelsea: Burnley +1125, Bournemouth +911, Crystal Palace +695, West Ham +655, Watford +595.
Fading Chelsea on the moneyline this year has now gone 7-21 for +22.10 units earned.
Title Odds via 5Dimes:
Manchester City -20000 (75 points)
Manchester United +15000 (59 points)
Liverpool +20000 (57 points)
Tottenham +50000 (55 points)
Chelsea +100000 (53 points)
Relegation Odds via 5Dimes: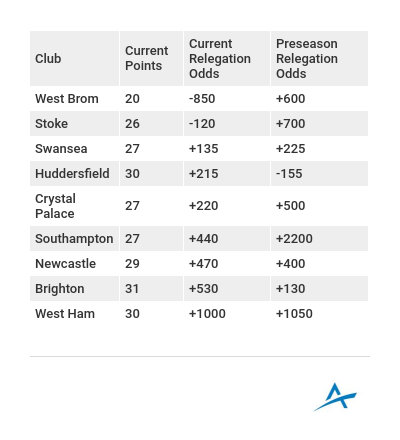 Season Point Totals:
Teams that have gone Over their Season Point Total
Huddersfield (28.5)
Burnley (35.5)
Teams close to sealing the Under
West Brom (42.5)
Southampton (54.5)
Arsenal (70.5)
West Brom are still stuck in the cellar of the Premier League, and that won't change even with a couple victories in a row. Before the season, they were offered at +600 to be relegated, but are now huge favorites at -850. Swansea's loss at Brighton last weekend was significant, as it puts them right back into the relegation zone after a strong run of performances. Now onto the value plays…
Everton at Burnley (Saturday 7:30 a.m. ET)
Moneyline odds: Burnley +150, Everton +235, Draw +210
The first value play comes in the first match of the weekend and Burnley and Everton are two of the tougher teams to figure out in the EPL. Burnley sit on 37 points in 7th place but have scored just 22 goals this season (failing to score in 11 matches). Their defense has kept them in nearly every contest, keeping a clean sheet 10 times (25 goals overall), but the metrics say this club is exceeding expectations.
Everton could equal Burnley's season point total with a victory this weekend, but they've struggled defensively conceding 47 goals, and also don't score as often as they should (just over 1 per game). It's always hard to trust Everton to come out with a victory, and the betting public is a bit heavy on them as well. Saturday's matchup features a low total of just 2 goals, so you can guess where I'm looking: the draw. With the public heavy on both the home (56%) and road (32%) sides and a low total of just 2 goals, you know where I'm going: Draw +210.
Stoke City at Southampton (Saturday 10 a.m. ET)
Moneyline odds: Southampton -140, Stoke +450, Draw +275
This is a match where you could take the "buy-low" angle on both clubs. Southampton are the second-worst at home this season while Stoke are tied for the worst on the road. Only one point separates the two clubs but there's a big disparity in the odds, and I'm not really buying into it. The public, however, seems to love the home side as more than 90% of bettors at both Bookmaker and Sportsbook are taking Southampton to win. This is a great spot to fade the home favorite and grab a really good price of +450 on Stoke City.
Manchester United at Crystal Palace (Monday 2:45 p.m. ET)
Moneyline odds: Crystal Palace +600, Man Utd -180, Draw +310
The last value play of the week involves Monday's encounter between Crystal Palace and Manchester United. The Red Devils are coming off a 2-1 comeback victory at home over Chelsea, a result that has led a flurry of bettors to bet on United (>85% of bets), though that's basically par for the course. Public bettors love to flock to clubs like Manchester United as big favorites, and they'll likely be a part of many parlays.
However, our Bet Labs software tracks EPL data the last five seasons and we've found a great angle on home underdogs on Monday. If you don't follow EPL, that may sound too specific or backfitted, but makes sense when looking at the routine schedule— the Monday matches are the last ones of the matchweek, and home teams benefit from the weekend at home and prolonged rest. How profitable have these Monday home dogs been? In 40 matches since 2012, the home dog has won 12 times for +27.15 units earned overall. Sometimes these "situational" spots come naturally in sports, and I wouldn't be surprised to see Crystal Palace pull off the home shocker at +600 odds over United.
Chelsea at Manchester City (Sunday 9 a.m. ET)
Moneyline odds: Man City -170, Chelsea +460, Draw +325
Manchester City are coming off consecutive 3-0 wins over Arsenal (league and EFL Cup), while Chelsea squandered a lead in a 2-1 loss at Manchester United. However, I was impressed with how Chelsea played against Barcelona despite only drawing 1-1 at home, so there should be some optimism surrounding the Blues. The bad news is that Man City seem to be on another level, and -170 is a fair price on Man City to win at home. My early inclination would be to lean toward the draw at +335 odds, but a case could be made for all three moneylines in this one.
Most Lopsided Moneyline Tickets Around the Market
86% on Southampton (-140) vs. Stoke
85% on Arsenal (-101) at Brighton
70% on Swansea (+161) vs. West Ham
Biggest Line Moves Since Opening
Brighton (+447 to +298) vs. Arsenal
West Ham (+231 to +208) at Swansea
Burnley (+173 to +150) vs. Everton
Value Plays (32-39 season record, +27.15 units), All plays risk 1 unit
Everton/Burnley Draw +210
Stoke City +450 at Southampton
Crystal Palace +600 vs. Manchester United
As always, you can track all the latest Premier League line moves, betting percentages, market data and more with a Sports Insights Pro membership.