WNBA Odds & Picks: Connecticut Sun vs. Los Angeles Sparks (Thursday, Sept. 17)
Credit:
Ned Dishman/NBAE via Getty Images. Pictured: Alyssa Thomas, Candace Parker
WNBA Odds: Sun vs. Sparks
The Los Angeles Sparks will look to avenge last season's three-game sweep at the hands of the Connecticut Sun. Unlike then, though, this won't be a best-of-five series. Instead these teams will face off in a single-elimination contest down at the Wubble in Bradenton, Florida.
The Sparks actually swept the season series with an 81-76 win in their first meeting followed by an 80-76 victory four weeks later. Taking those games into context, bookmakers opened with the Sparks as 4.5-point favorites.
However, it's the total that opened at 160.5 that has caught my attention — both meetings between these teams failed to crack a combined score of 160 points, and the reason could unlock a potential play in Thursday night's game.
Sparks Can Be More Aggressive
Los Angeles clinched its ninth consecutive playoff berth with a 84-79 win over Atlanta on Aug. 30 with seven games remaining on the schedule, finishing 3-4 the rest of the way. The Sparks did finish the season with a 15-7 record, the third-best in the league and good enough to earn a first-round bye.
Los Angeles has a pretty balanced offense with five players averaging in double-figures. The Sparks led by AP Defensive Player of the Year Candace Parker, who almost averaged a double-double for the season. Parker poured in 14.7 points per game while grabbing 9.7 rebounds. She's also pretty good with the ball in her hands as evidenced by her 4.6 assists per game, which was second overall on the Sparks.
Parker does so much for L.A.m but she can almost be too deferential — I'm not sure how she's not scoring 19-20 points in this league on a nightly basis. And it's not because she's focusing more on her passing game because in 2015, she averaged even more with 6.3 assists per game while also pouring in 19.4 points per game and grabbing 10.1 rebounds per game.
Compared to her 2015 season, Parker's field goal attempts are down from 14.8 to just 11.0 per game. This is a problem for the Sparks because they actually have the second-highest field goal percentage in the WNBA at 48.1, but they're in the bottom-half with only 67 field goal attempts per game.
Figure this: The Sparks also lead the league with a 39.8 percentage on 3-point shots, yet they're 10th with only 18.1 attempts per game.
We'll learn that these stats are even more relevant, particularly against an opponent like the Connecticut Sun.
Expect A Battle In the Paint
Connecticut won its first-round matchup against Chicago, 94-81, as a 2-point underdog. The Sun did their damage by going to work on the inside with Alyssa Thomas, who matched her season high with 28 points. Her 28 points were also a game high, but DeWanna Bonner also chipped in with 23 points of her own.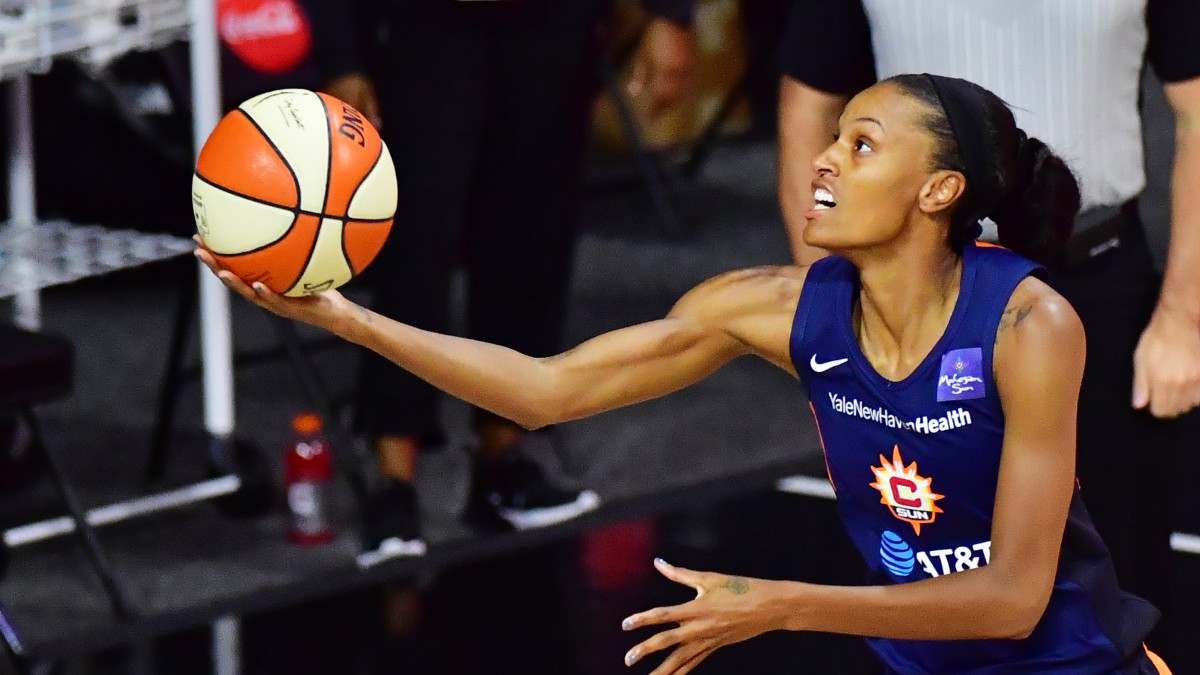 Despite Bonner not leading the team in scoring, she was still the difference in my book — she got fouled multiple times in the game and was a perfect 13-of-13 from the free-throw line. Coincidentally, the Sun won by 13 points.
The key to containing the Sun is to prevent both Thomas and Bonner from going off at the same time. The Sparks have been able to do that this season, which is why I believe they were able to win both games against the Sun. In the teams' first meeting, Bonner went off with 34 points but Thomas was limited to just 10 points, while in their second meeting Thomas had 19 points but Bonner could manage only 13.
This is where the importance and versatility of Parker comes into play.
At 6-foot-4, Parker can matchup against the 6-foot-4 Bonner, but often would relish shooting over shorter opponents. If Parker switches on to the 6-foot-2 Thomas, Parker would have the height advantage, and with her experience, she should be able to keep Thomas from getting to her favorite position down in the low blocks.
Sun-Sparks Betting Pick
In these teams' first meeting this season, the total opened at 167 and closed at 165.5 with the game finishing 81-76 and under the number with 8.5 points to spare. The oddsmakers adjusted in the second game and opened the total at 160.5 and it closed at 159, with the final score being 80-76 and again coming in under the number, this time by three points.
Given their efficiency, the Sparks would be better served if they took more shots, and Thursday night's matchup features two teams in the bottom-half of the league in terms of pace.
In my preview of the Sun's matchup with the Sky, I mentioned the importance of handicapping the 3-point shot in basketball. It turns out that's actually a key piece to this game and likely why the total is set at 160.5.
If we analyze the 3-point shooting of both teams, we find that the Sparks are actually eighth in the league with 7.2 shots made per game while the Sun are 10th in the league with 5.9 shots made per game. And when it comes to 3-point attempts per game, the Sun are ninth in the league with 19 shots per game while the Sparks are tenth in the league with 18.1 shots per game.
Both teams are shooting below the league average of 21 3-point attempts per game. These two are very similar in that respect, and if there aren't a lot of 3-pointers being hoisted, it's no wonder that the total has stayed under the number the last six times they faced each other.
I think we'll get another competitive matchup on Thursday night, and if that's the case, we shouldn't see any team looking to foul down the stretch.
FanDuel is offering the total at 160.5 and I'm willing to risk a half-unit of my bankroll that this one stays under the total again. I'll also risk another half-unit by doing a 4.5-point teaser of the Sun up to +9 and the total to 165 to take the under.
The Pick: Under 160.5 (down to 159) (0.5 unit)
4.5-Point Teaser: Sun +9/Under 165 (0.5 unit)
How would you rate this article?