Who Will Be The Top Rookie In Fantasy? Our Experts Debate
Credit:
Getty Images. Pictured: Clyde Edwards-Helaire, Joe Burrow, Cam Akers
The 2020 NFL Draft class was loaded with talent at wide receiver, but our experts don't think a WR will be the top rookie in fantasy football this season.
Our trio of rankers Chris Raybon, Matthew Freedman and Sean Koerner make the case for the first-year players they think will emerge as the most productive in fantasy. (Spoiler: They all made different picks.)
Sean Koerner: Clyde Edwards-Helaire, RB, Chiefs
Entering the draft, Edwards-Helaire was a potential top 3-5 rookie in fantasy. However, after being the only RB selected in the Round 1, he is the clear No. 1 rookie to draft this year.
Being selected in the first round is usually a clear sign that a team intends to use a running back heavily right out of the gate. Here's a breakdown of how many touches, on average, rookie RBs have seen since 2010 by round:
Round 1: 228
Round 2: 145
Round 3: 124
Round 4: 82
Round 5: 61
Round 6: 38
Round 7: 24
As you can see, there is reason to believe the Chiefs will use their first-round back heavily this season.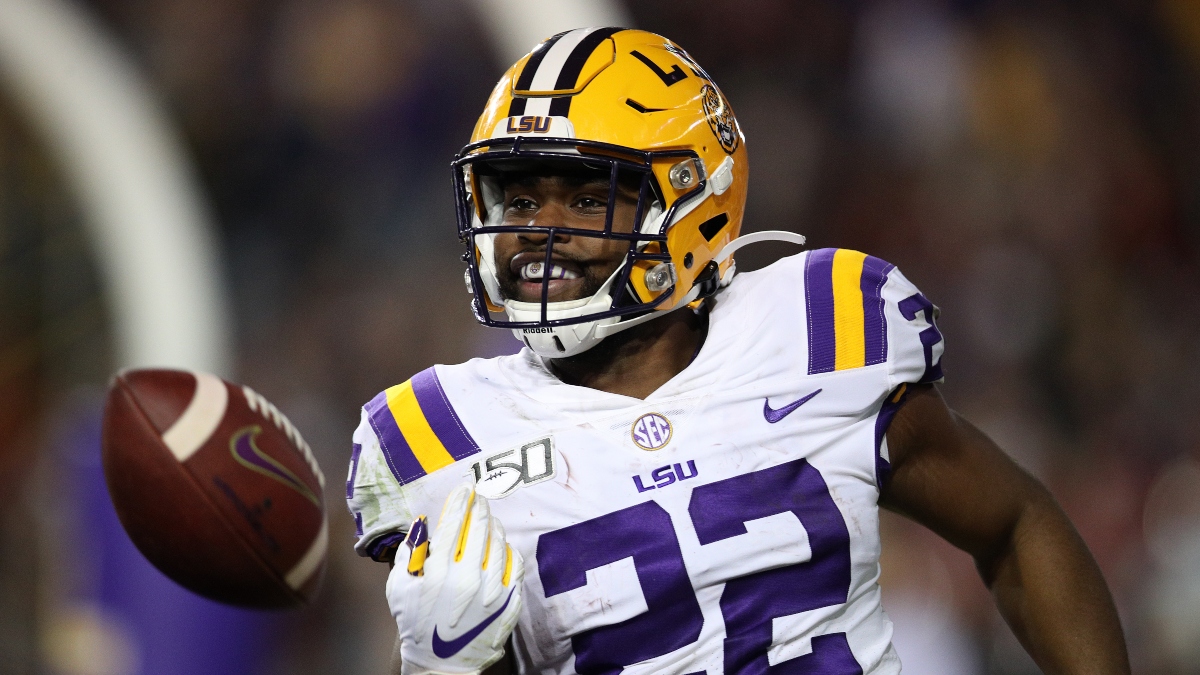 I have received this question a few times already: "But what about Damien Williams?" But every single rookie RB has landed on a team with built-in competition for snaps, so I do not think the presence of Williams is enough to draft any other rookie RB ahead of CEH.
The Dolphins selected Williams as an undrafted free agent in 2014, and he was nothing more than a change-of-pace back in Miami. He became a borderline RB1 (when healthy) in his first two seasons in Kansas City, but that says more about the Chiefs offense than it does about Williams.
CEH is a way more talented back and should get every chance to dominate touches this year.
The Chiefs offense is so explosive that even if this does become a RB committee, CEH won't need 20 or more touches a game to put up RB2 value — that's what makes his 2020 floor/ceiling combo both the highest of this class.
The sky is the limit for Edwards-Helaire.
If we're talking about the best rookie in fantasy for dynasty, my pick is Clyde Edwards-Helaire. As Sean points out, CEH has a lot going for him as early as this year.
But if you're talking about the best rookie for fantasy in 2020, then I'm going with Cam Akers.
First of all, I think he's talented.
If you check out the RotoViz Combine Explorer, you'll see that a high percentage of the 20 players to whom Akers is most physically comparable as a prospect — 50% of the backs, in fact — averaged at least 10 fantasy points per game in their first three seasons. Included in that list are Hall-of-Famers LaDainian Tomlinson and Marshawn Lynch and 2019 top-three pick Miles Sanders.
And the RV Combine Explorer looks only at physical profile: It doesn't even take into account Akers' age, production, recruitment grade or draft position.
Akers entered college as a top-five overall recruit and a five-star all-purpose championship-winning quarterback who passed for 3,128 yards and 31 touchdowns and rushed for 2,105 yards and 34 touchdowns as a high-school senior, and in his three years as a starting running back in college, he did nothing to suggest that the evaluation people had of him as a recruit was wrong or that he won't be able to play in the NFL.
In college, Akers ran behind the fourth-worst Power Five run-blocking unit (Pro Football Focus). That's not good. Even so, he was productive.
He never had a full-on in-your-face campaign, but in 2017 Akers broke Dalvin Cook's FSU rushing record for a freshman, and in 2019 he returned to form after a down sophomore campaign.
2017: 194-1,015-7 rushing, 16-116-1 receiving in 13 games
2018: 161-706-6 rushing, 23-145-2 receiving in 12 games
2019: 132-1,144-14 rushing, 30-225-4 receiving in 11 games
And, in 2019, Akers averaged more than 100 yards rushing per game "while facing contact at or behind the line of scrimmage at the highest rate of any FBS back in the country" (per PFF).
Akers is big (5-foot-10 and 217 pounds), fast (4.47-second 40-yard dash), young (21 years old) and a Day 2 pick (2.52). There's so much to like about him.
Over the past 25 years, there have been six 21-year-old second- and third-round rookie running backs to play at 210-plus pounds and have multiple 1,000-yard seasons in college.
Here's how they've done in the NFL.
Ahman Green (1998, 3.76): Six 1,000-yard seasons
Bernard Pierce (2012, 3.84): Nada
Le'Veon Bell (2013, 2.48): Five 1,000-yard seasons
Joe Mixon (2017, 2.48): Two 1,000-yard seasons
Alexander Mattison (2019, 3.102): Waiting
Akers might be Pierce 2.0, but I think its likelier that he's a premium version of Green.
So he's talented. On top of that, he's likely to have opportunity.
With the departure of running back Todd Gurley, the Rams entered the draft with a league-high 216.5 vacated expected points at the position. In terms of opportunity, Akers might have landed in the best spot possible.
The Rams will need to give the ball to someone in the backfield, and Akers is a prime candidate.
The Rams have been a top-12 scoring team in each year of head coach Sean McVay's tenure, and in Gurley's two pre-2019 seasons with head coach Sean McVay — before he developed his stuck-in-molasses running style — he was an All-Pro producer.
2017 (15 games): 279-1,305-13 rushing, 64-788-6 receiving on 87 targets
2018 (14 games): 256-1,251-17 rushing, 59-580-4 receiving on 81 targets
Even if Akers isn't a great receiver, he still seems likely to get a decent number of targets if he's the lead back — and even though the Rams drafted Darrell Henderson last year with the No. 70 pick — it's hard to imagine that Akers won't dominate touches given his draft capital and overall talent.
If the Rams had wanted to give the ball to Henderson, then they wouldn't have drafted Akers. Starting in Week 1, Akers could get 15-plus touches per game, and I think that's more than we can say for any of the other rookie backs.
Chris Raybon: Joe Burrow, QB, Bengals
Burrow's championship-winning season at LSU in 2019 was one for the ages: He set the all-time single-season record for TD passes (60) and passer rating (202.0). His 76.3% completion percentage stands second-best all-time; his 5,671 passing yards, third-best. And with the Bengals showing longtime starter Andy Dalton the door, Burrow is on track to start all 16 games.
There have been five quarterbacks picked No. 1 overall in the past decade who have gone on to start all 16 games in Year 1, and four of the five have been starter-worthy in fantasy:
Kyler Murray (2019): QB8; 285.3 FP
Jameis Winston (2015): QB13; 275.0 FP
Andrew Luck (2012): QB10; 276.5 FP
Cam Newton (2011): QB4; 323.5 FP
Sam Bradford (2010): QB20; 194.8 FP
Burrow doesn't have wheels on the level of Newton or Murray, and thus is most reminiscent of Luck, who, ironically, represents the median outcome of that group with a QB10 finish in his rookie season. In fact, Burrow's 27.4 yards 0.43 touchdowns per game rushing in his two years at LSU compare favorably to Luck's numbers on the ground in his final two years at Stanford (23.2 yards, 0.19 TDs). And just as Luck inherited an aging All-Pro wide receiver in 34-year-old Reggie Wayne and a promising Day 2 pick in T.Y. Hilton, Burrow will get 32-year-old A.J. Green and second-round Clemson star, Tee Higgins.
The rest of Burrow's supporting cast at pass catcher is sneaky good.
Tyler Boyd has become one of the best slot receivers in the NFL, averaging 5.5 receptions per game over his past two seasons. John Ross, 2017 first-rounder, overcame a disastrous start to his career to average 18.1 yards per reception last season and has quietly registered a TD on a whopping 20.4% of his career catches (10-of-49). Even Auden Tate and Alex Erickson — the projected No. 5 and 6 wideouts — put up starter-quality production when called upon in 2019, combining for 10 games of 50-plus yards receiving.
Out of the backfield, Joe Mixon and Giovani Bernard are plus pass-catchers, so Burrow's backs and receivers are shaping up similarly to the arsenal he had with wideouts Ja'Marr Chase, Justin Jefferson, Terrace Marshall Jr. and Clyde Edwards-Helaire in Burrow's record-setting season at LSU. Only four of Burrow's 60 TD passes last season went to tight ends, so the underwhelming duo of C.J. Uzomah and Drew Sample shouldn't be too much of a detriment (and Sample does have some upside as a 6-foot-4, 258-pound second-rounder entering Year 2).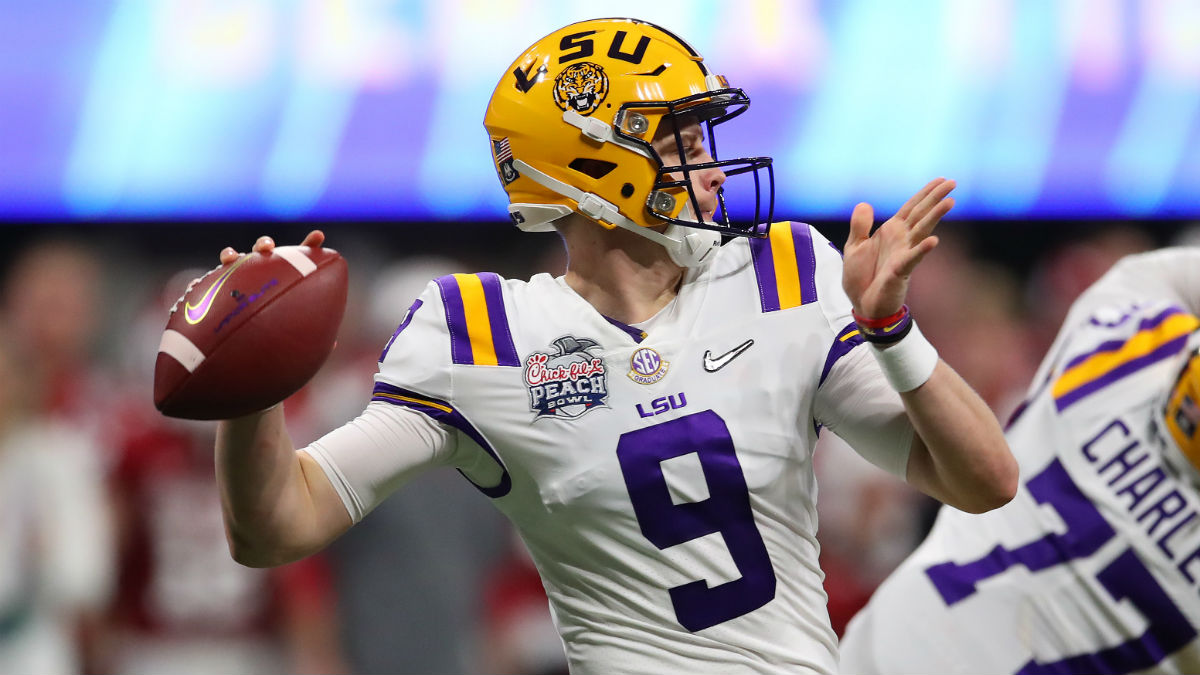 The biggest concern for Burrow will be the Bengals' offensive line that allowed 48 sacks, tied for ninth-most in the league. But even if he ends up taking his fair share of licks, he should make up for it with sheer volume: Head coach Zac Taylor dialed up the sixth-most pass attempts (616) even with Dalton and Ryan Finley behind center, and the Bengals defense projects to be below average after finishing 30th in Football Outsiders' DVOA a year ago.
Ultimately, what sets Burrow apart as my top rookie in fantasy is his opportunity relative to the top running backs such as Edwards-Helaire and Cam Akers and wide receivers such as Henry Ruggs III, Jerry Jeudy and CeeDee Lamb — none of whom project as a locked-in touch or target leader on their teams in the same way Burrow can be expected to take every dropback for the Bengals. And since Burrow will likely be drafted outside the top 12 quarterbacks, he has just as good of a chance as any of providing massive value relative to his average draft position.
How would you rate this article?