2019 Mayakoba Classic Betting Preview: Back Kuchar in Return To El Camaleon?
Credit:
Credit: Rob Schumacher, USA Today Sports. Pictured: Aaron Wise
Apparently, some of my co-workers enjoy offering, ahem, outlandish gambling propositions, so in the spirit of fairness, I'd like to present my own guarantee for this week's Mayakoba Golf Classic: If the following picks aren't winners, I'm still not stripping down to my skivvies. I'm not singing on video. In fact, I'm not even going anywhere near Times Square.
You're welcome, guys.
There's an intrinsic characteristic to golf betting – on outrights, at least – which often renders us losers more than winners. When we win, though, that taste of success is so much sweeter because of the riches it affords.
---
Check out PointsBet, where Action Network users can access an exclusive promotion to get a 200% deposit match (deposit $50, bet with $150). No strings attached. No rollover required.
---
One of the qualities which makes it enticing is the fact that it so closely mirrors golf itself. As one PGA Tour player likes to remind me, if you win just 2% of the tournaments you enter, you'll be a Hall of Famer someday. His math might be a bit skewed, but his idea is impeccable.
This is a game which rewards brief moments of prosperity more than prolonged bouts of consistency. Those who bet on golf can easily recognize this sequence. You might want to hit more than 2% of the time, but the success rate doesn't need to be as high as other sports in order to turn a profit.
All of which is a long-winded way of explaining why we don't guarantee anything in this game. There are no guarantees in golf. We're never sure enough of anything that we'd offer to sing in our skivvies in Times Square if we didn't pick a winner.
Speaking of money and percentages, the defending champion at this week's Mayakoba event is Matt Kuchar.
[Pause for laughter.]
Yes, this is the tourney where Kuchar made a verbal contract with caddie David "El Tucan" Ortiz, paid him the agreed-upon amount, was publicly shamed when it was revealed how little that amount was for a winning caddie, was called out by said caddie in the media, then finally obliged and bit the bullet by paying him the going rate for a man who totes a victorious bag.
I feel badly for Ortiz, who got caught in this maelstrom of trash-talking a player who'd previously provided a lifetime highlight by winning while he was caddying. I feel badly for Kuchar, who became Public Enemy No. 1 in the aftermath, carrying the weight of being called a cheapskate by everyone who heard the story.
Even with the resolution more than six months old, the story will undoubtedly surface again this week, with Kuchar back in the field, though presumably not with El Tucan on the bag this time.
But, hey: Unlike fall events like the Sanderson Farms or Shriners, at least everyone remembers who the defending champion is at this one.
With that, let's get to the picks, where once again Kuchar could bury this old news and contend again.
No guarantees, though.
Outright Winner
One player to win the tournament.
Aaron Wise (+3300)
At the beginning of the fall schedule, I wrote about Wise in one column as a player who could prosper at impending events, then I mentioned him a few more times.
Prior to the Bermuda Championship, though, I missed him. Call it an oversight. I forgot to take my own advice. He finished T-3 that week, but I still think better results are coming. They could happen this week, as he was T-10 at this one last year, with closing rounds of 65-63-69. He's my favorite play on the board.
Other OADers
Potential selections for one-and-done options.
Abraham Ancer (+3000)
Once again, for those of you playing OAD pools that also include the early part of the schedule, I love you. You're the true heroes. I respect and admire such dedication.
There might be too much pressure on Ancer this week, playing in his home country of Mexico just a month before his first Presidents Cup appearance, but this is a course which should suit his game. I've been saying since early-2019 that Ancer is going to win soon – and while any interpretation of "soon" is running out of time, he's proven himself to be a worthy option.
Top-Five
One player to finish top-five.
Matt Kuchar (+375 for top-five)
Here's a little trivia question for you: When Kuchar was first confronted with the news that his payment to El Tucan had gone public, how did he wind up finishing that week? The answer: He closed with a pair of 66s to win the Sony Open.
One more: How did he fare on the week when he announced he'd increase that original payment of $5,000 to $50,000? The answer: A mere T-26, but with a pair of 69s on the weekend. The point is, Kuchar seems pretty impervious to any impact from this story. Even if he's constantly reminded of it this week, don't presume that it'll affect him this time, either.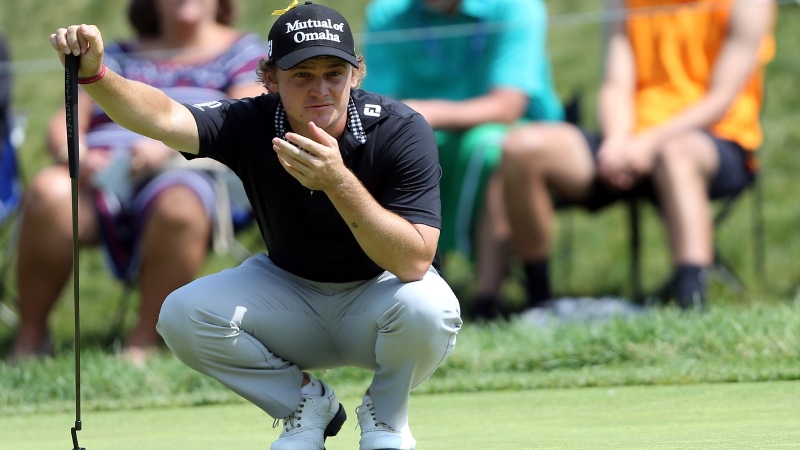 Top-10
One player to finish top-10.
Emiliano Grillo (+325 for top-10)
I've believed for a few years now that Grillo can potentially become a breakout star, but it just hasn't happened for him yet – and it's not difficult to understand why.
So far this season, he's posted three top-40 results in five starts, but his putting remains atrocious, ranking 226th out of 231 eligible players. Top-10 might be a lofty goal for a guy who struggles so much on the greens, but a 15th-place finish here last year has me thinking some good vibes could be just what he needs to get that putter a bit warmer.
Top-20
One player to finish top-20.
Brian Gay (+240 for top-20)
Anytime ball-striking and short game takes a priority over length off the tee, Gay should be licking his chops. Fresh off a T-3 two weeks ago, he owns a record here that isn't great, but is hardly horrible.
He hasn't finished top-20 in his past five appearances, however I'm banking on recent form and course fit resulting in a slightly better performance this time around.
DFS Free Bingo Square
A safe plug-and-play option for DFS.
Charles Howell III (DK $9,600; FD $11,000)
What, like you expected something different? On his tombstone someday, it will read: "RIP Charles Howell III, a safe plug-and-play option for DFS." Here's the deal, in case you've missed the last two decades of his career: He's probably not going to win, because he just doesn't tend to win that much.
He's also probably not going to MC, because he just doesn't tend to MC much. Howell is the perfect safe option, a guy who usually won't hurt you if he makes the final lineup.
DFS 'Dog
A lower-priced option for DFS.
Brice Garnett (DK $7,600; FD $9,300)
I wanted to go with Calum Hill, the young Scotsman who took the Challenge Tour by storm this year, but Garnett's peripherals were too impressive to ignore.
Though he hasn't played in a month, Garnett does love this event, finishing seventh-or-better in three of his last four starts here. He's a guy who's better than most casual fans realize and should continue improving. Based on the track record at this one, he could wind up being a smash play.
First-Round Leader
One player to post the low score Thursday.
Rory Sabbatini (+5500 for FRL)
In three starts this season, Sabbatini has yet to break 70 in an opening round, which should serve as a newsworthy statistic. That's because in 26 starts last season, he broke 70 on 17 occasions, including ending his campaign with scores of 63-68-67 in his final three openers.
Sabbo has been a popular FRL pick over the past year and while it hasn't paid off recently, there's reason to believe he'll incur some progression this week.
Matchup Man
One player who should beat comparable players.
Brian Stuard
When it comes to sexy selections and popular picks, well, Stuard doesn't exactly fit the bill. He's not a guy who gets too many mentions in pre-tourney previews, but he owns two career runner-up finishes at this event and could be just the kind of guy to hang around under the radar.
I like plays on Stuard as a top-20 and low-cost DFS option, too, but especially as a guy who should be able to beat some similar players.
The Big Fade
One top player to avoid at this tournament.
Jason Day (+1600)
It should speak volumes about the quality of this field — which isn't terrible, but is hardly anything close to elite — that Day has accrued exactly one top-20 result since the Masters (!!) and yet, he still ranks as the pre-tourney favorite this week. Some world-class players need these events to gain a little confidence and beat up on the proletariat.
Day has often been the type who seems a bit bored when his major champion-winning buddies aren't competing alongside him. I'm not sure about his logic for choosing to play this one, but I am sure that there's very little logic in picking a struggling player with the lowest odds in the field.
Off Tour
My favorite non-PGA Tour play of the week.<
Nedbank Golf Challenge
This event used to be a 12-man money-grab, which was – as you might imagine – a bit easier to handicap. It became a 30-player event in 2013, then a 72-player event in 2016, part of the late-season European Tour swing which now brings a bevy of big names to Gary Player CC in Sun City, South Africa.
Louis Oosthuizen (+900) is the favorite on the board, despite never having won or placed at this event, which is a damn shame, because he might be my favorite, as well. I'd been hoping there was some value in taking Louis, but no such luck – even against a strong field.
Of the next tier, give me Erik Van Rooyen (+1800), who is fresh off a co-runner-up finish last week, then a couple of big-hitting Belgians in Thomas Pieters (+3000) and Thomas Detry (+4500).
A bit further down the board, Justin Harding (+5000) and Chris Paisley (+7000) each present some intriguing options, as does Jason Scrivener (+9000).
And if you want to go completely off the map and try to hit the jackpot, Alvaro Quiros (+30000) closed with a 68 in Turkey last week and, well, if you can't get excited about at least thinking of a 300/1 payout, then you've just wasted time reading this entire column.
How would you rate this article?