2021 Genesis Invitational Betting Picks: Our Favorite Matchups and Prop Bets at Riviera
Credit:
Harry How/Getty Images. Pictured: James Hahn
The 2021 Genesis Invitational is absolutely stacked. Twelve of the top 15 golfers in the world have made the trip to Riviera, meaning we've basically got a Major-level field to bet on this week.
Dustin Johnson, who has four wins and three second-place finishes in his last 10 starts, is the clear favorite at +550. Nobody is arguing that DJ shouldn't be the favorite, but that is a ridiculously low price when you see names like Jon Rahm, Rory McIlroy, Justin Thomas, Xander Schauffele and Brooks Koepka right behind him.
A field like this makes for a lot of fun betting, so we picked out our favorite props and matchups for the 2021 Genesis Invitational:
Props
Jason Sobel
Max Homa Top-20 Finish (+200)
Clearly playing some of the best golf of his career, Homa returns to his hometown, where he finished T-5 last year. This comes fresh on the heels of a T-7 at Pebble Beach, after which he admitted his swing didn't feel great during the week.
"I guess maybe a sign of good things that I didn't panic," he said, "and I trusted what I'm doing and kind of change the game plan up a little and then played some really good golf."
That should be a very good sign. On a week that's tough to predict, this is one of my favorite plays.
Josh Perry
Kyoung-Hoon Lee Top-40 Finish (+200)
I'm looking for a way to get some money down on Lee this week and this looks like the best option. The 29-year-old South Korean has finished inside the top-40 in three of his four starts in 2021 and he's also ended up inside that mark in both of his starts at Riviera, so this line seems generous.
This seems like one of those combo situations where a guy is in a good run of form and heading to a course where he's had success.
Chris Murphy
James Hahn Top-20 Finish (+410)
Death, taxes, and James Hahn at Riviera. The guy simply loves the place and it never seems to matter how he is playing coming into the event. Hahn got the first of his two career wins at Riviera in 2015, and has three Top-20 finishes in seven appearances.
Hahn has flashed some form recently as he took the lead into the back nine on Sunday at the Waste Management two weeks ago, before faltering down the stretch.
I'll give him a pass on the badly missed cut last week at Pebble off of that disappointing finish in Phoenix, and jump back in as I'm expecting another solid performance from Hahn this week in LA.
Matt Vincenzi
Marc Leishman Top-5 Finish (+1100)
Leishman has been playing some excellent golf of late with a fourth-place finish in Hawaii and a 21st at Torrey Pines in his title defense. He has gained at least 2.5 strokes with his approach in his past three starts proving that his iron game is in great shape.
I also think there is something to Australians playing well at Riviera due to the similar Kikuya fairways and rough that are common Down Under. Adam Scott has won twice at this course and Leishman has two top-5 finishes in his past five trips here. Torrey Pines also features Kikuya and both Leishman and the other Aussie's have had great success there as well.
I see Leishman keeping his hot streak going at Riviera.
Landon Silinsky
Talor Gooch Top-20 Finish (+500)
Gooch has played Riviera two times and finished 20th and 10th respectively, so getting 5/1 in this spot is super enticing. He's not been hitting the ball very well of late, but we've seen him pop in big time fields before and this number on him is well worth the risk. He's also a better putter on Poa than other surfaces, gaining .13 strokes more per round.
Gooch finished 21st at the Amex, fourth in Houston and fifth at the CJ Cup, so it's not like we're that far removed from seeing him play good golf. I'll take my chances here and hope the course familiarity is enough to get him going.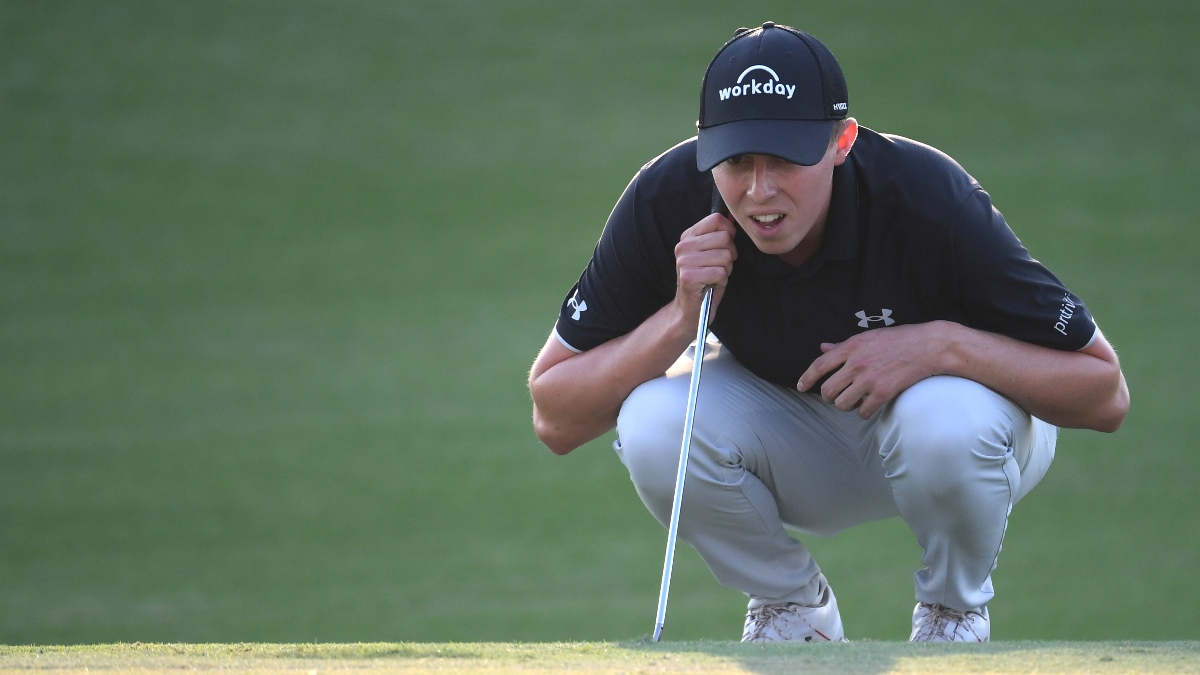 Matchups
Jason Sobel
Tony Finau (+100) over Bryson DeChambeau
Why do I like this matchup? Well, for starters, only five players have beaten Finau head-to-head over four rounds in his last three starts. We all understand his modest win equity, but we similarly need to understand that he's really talented and keeps coming close.
I especially like this play, considering something hasn't quite seemed right with Bryson over the past few months. He's spoken about trying to get leaner and cutting back on the protein shakes and ditching the idea of a longer driver, but for a guy who's forever tinkering it doesn't feel like he's figured out a combo of things that is working for him right now.
Anytime I can get a player I like better at higher odds than the one I like less, well, that's pretty much the ideal formula for a matchup bet.
Chris Murphy
Jon Rahm (-112) over Rory McIlroy
The more I dive into the week, the more I like Jon Rahm. While I like the number better on Patrick Cantlay as an outright play, Rahm is a 1B for me this week.
I think the Spaniard is on the cusp of a big year, and I wouldn't be surprised if it starts at Riviera. We get him in a toss up with Rory, who has had some notable issues on Sunday when in the hunt and that is just enough of an edge for me to bite on this matchup.
If you dare, you can get some decent plus money on Rahm against DJ too.
Matt Vincenzi
Carlos Ortiz (-106) over Cameron Tringale
While Tringale had a nice week at Pebble Beach, I can't fathom why Carlos Ortiz would be an underdog in this matchup. In his past six starts, Ortiz has four top-15 finishes including a win at The Houston Open.
Carlos rode a hot putter to a fourth-place finish in Phoenix when we saw him last, but POA is by far his best putting surface so I don't see why that can't continue at Riviera. Ortiz is also very good around the greens gaining 2.0 and 3.0 shots on the field in his past two starts. With tricky green complexes at this classic setup, strong short game and putting may prove to be the key this week.
Tringale has lost strokes around the green in four of his past five starts; which is something that just won't get it done at Riviera. I'll take the consistency and short game of Ortiz in this matchup.
Landon Silinsky
Matthew Fitzpatrick (-106) over Jordan Spieth
I, like the rest of the golf community, am very happy to see Spieth playing well again. However, I certainly am not ready to start betting him as a favorite yet.
Fitzy has not been playing that great which is why he's a dog here, but he did finish 17th the last time we saw him in Dubai his last time out. He's still the No. 20 player in the world and I will gladly bet on his long term form in this spot as an underdog. He finished 30th last year in his debut at Riviera and unlike Spieth I trust him to avoid the big number.
I'm expecting big things from Fitz this year and it's likely we look back and laugh in a few months that he was a dog in this spot.
How would you rate this article?