Sobel: Justin Thomas Leads Brooks Koepka in Season-Long Head-to-Head Wager
Credit:
USA TODAY Sports. Pictured: (left) Justin Thomas, (right) Brooks Koepka.
Brooks Koepka and Justin Thomas made a friendly wager in 2018 that has been playing out all season on the PGA Tour.
Now Thomas is on the cusp of collecting on that wager ahead of the 2019 Tour Championship.
ATLANTA — Last Saturday, in the midst of posting a third-round 61 that would eventually lead to the BMW Championship title, Justin Thomas holed out for eagle from 180 yards on the par-4 16th hole and immediately referenced a fellow competitor.
"I got some of that Brooks Koepka money," he exclaimed to caddie Jimmy Johnson.

Back in October, while playing together at the CJ Cup in South Korea, Koepka and Thomas started talking about holing out — and more specifically, how neither one of them tends to do it very often.
A bet was born on the spot, as they turned it into a season-long competition that ends this week.
The terms: It has to be during a competitive PGA Tour round and from at least 50 yards out.
The wager: It's been reported at $1,000 per hole-out.
"It's just a little thing we have between us two, just kind of a hole-out bet and the monetary value doesn't matter," Thomas said, though his immediate roar last Saturday contradicts that point. "Just something a little fun between us that we've done."
The PGA Tour — believe it or not — actually keeps track of a "hole-out" statistic. Sungjae Im leads with 25 this season, followed by Dylan Frittelli, Brandt Snedeker, Adam Long and Rory Sabbatini.
Officially, Koepka is listed with 15 and Thomas has 11, but because these numbers account for any shot made from off the green — it could be a 10-foot putt from the fringe — they don't meet the terms of their deal.
According to the 50-yard designation, Thomas jarred his third wager-winner last week, while Koepka's odometer is stuck on zero.
"I don't really hole out much," Koepka admitted, "so that was a stupid bet on my part."
With $15 million at stake for the winner of this week's Tour Championship, and with Thomas in the front-runner position by three strokes over Koepka, you might think this bet would be a mere blip on a much bigger radar screen for both players.
Maybe it is, but that doesn't mean they both aren't thinking about it.
"Money has never driven me. I hope it never will. I play to win trophies and win championships and be the best player to ever walk the planet, and that's all I play for," Thomas explained. "Whereas I go play a money game at home where this putt is $200 for the last hole and I have to physically give my friend $200, that makes me nervous. When you have to physically give the money over and you lose to somebody, that's — I'm not saying I don't have a rush out here, but that's fun. This is fun too, but it's different. You know what I mean?"
Anyone who's won or lost money on the 18th hole of a match knows exactly what he means.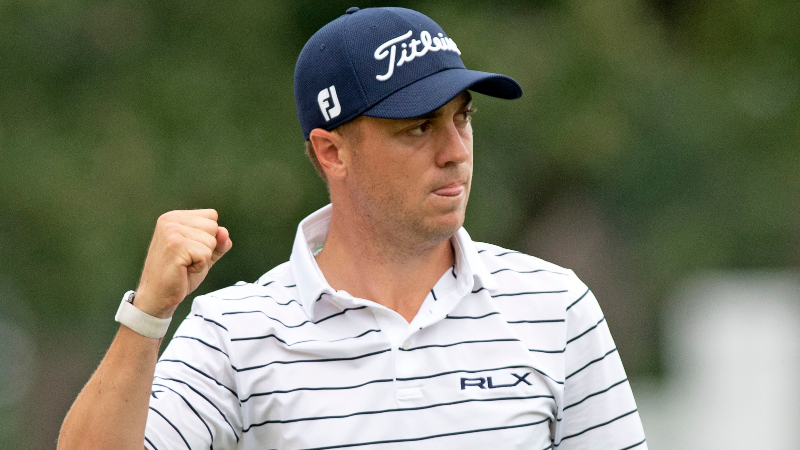 Even though Koepka and Thomas rank 34th and 36th, respectively, on the PGA Tour's all-time money list — and will move up again this week — it wasn't so long ago for either that earning some cash in a professional tournament was a big deal.
"I'll never forget," Thomas said, "I got an exemption into the Memorial when I was on the Web [Tour]. I was playing pretty well. I was in probably 18th, something like that, going into 18 on Sunday, and I made double. I remember like, wow, that cost me. I didn't look it up. It cost me a lot. But I'll never forget, I got a text from my mom the next day: 'That double-bogey on 18 yesterday cost you $42,000.' I was like, 'Mom, if you ever send me a text like this again, I will delete your number. Don't ever text me something like this.'"
Similarly, Koepka toiled on Europe's Challenge Tour after college and recalls some of his first paychecks.
"I didn't have any money; I didn't have anything," he offered. "You're trying to pay for the flight for next week. You're trying to pay for the hotel room. When I started, I really didn't have any funds to kind of keep going through the year. It was more of, I need to go out there and go make some cash so I can go play."
They're each playing for millions of dollars this week, a long way from those early days as pros, trying to make that extra cash.
Even so, they won't forget about that season-long wager.
When asked whether having to pay Thomas will be a little additional motivation for him to cash the $15 million check this week, Koepka simply shook his head and smiled.
"I've got the cash," he said. "I can go pay him. That's fine. I've got it here with me. I've got enough."
How would you rate this article?
This site contains commercial content. We may be compensated for the links provided on this page. The content on this page is for informational purposes only. Action Network makes no representation or warranty as to the accuracy of the information given or the outcome of any game or event.