Sobel: Ranking the Tour Championship Field, from 1-30
Credit:
USA TODAY Sports. Pictured: Rory McIlroy, Justin Thomas and Tiger Woods
Dustin Johnson and Justin Rose (8-1 betting odds) are co-favorites to win the 2018 Tour Championship (Sept. 20-23).
Tiger Woods' odds (12-1) aren't too far off the favorites, and he's riding lots of momentum headed in to East Lake.
Jason Sobel ranks the entire field, from 1-30, for the 2018 Tour Championship, with some big names failing to crack the top 10.
ATLANTA — We say this every year.
We said it last year and the year before and each of the 20 years before that.
This year's Tour Championship field is stacked.
Well, yeah. That's the nature of the year-end money-grab. Only the best of the best even qualify and thus, in a bubble, we look at the field each year and believe it's as strong as it's ever been.
But really, though … this one? It might be the strongest.
Just check out the list of all 30 competitors in the Tour Championship below.
You like Dustin Johnson this week? Me too — and he couldn't even crack my top 10.
Bryson DeChambeau, the winner of two playoff events so far? Same thing.
Hideki Matsuyama? Tommy Fleetwood? Jon Freakin' Rahm?!? Ditto.
Take nothing away from the legends of previous generations, but if you ever need to state the case that current fields are much deeper than those of 40 or 50 years ago, just copy and paste this week's entry list as Exhibit A for the defense.
All of which makes trying to analyze and predict this small-field event an act of utter difficulty … but that's not going to stop me from trying.
Let's take a look at my top 30 — that's all of 'em — for this week's tourney, starting with a guy who has a reason to be motivated here.
1. Justin Thomas
Odds: 11-1
Not only does he have some unfinished business at East Lake, winning last year's FedEx Cup while finishing second in the tourney, but he's looked ready to grab another trophy, with four straight top 25s since his win at Firestone.
2. Tiger Woods
Odds: 12-1
Small field … on a course where he's won … and he looks like he's gaining steam while others are running on fumes. Could this finally be the week for Tiger? A win would bring plenty of momentum to the sport leading into the Ryder Cup and next season.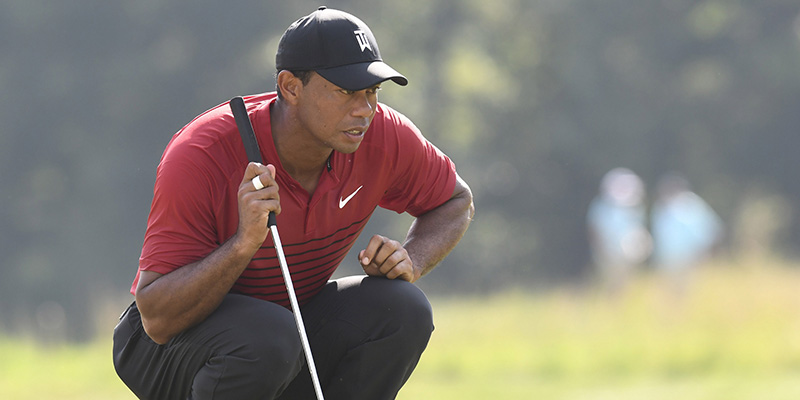 3. Justin Rose
Odds: 8-1
The new world No. 1 is a terrific course fit at East Lake, where he finished 2-6-4-2 in the years 2012-15. He won't be hanging his head after the BMW playoff loss, either, especially considering it vaulted him to that top spot for the first time.
4. Rory McIlroy
Odds: 9-1
Yet another guy who appeared destined to make a strong late-summer run, but it never quite happened for McIlroy. He'll have one last chance this week as he looks to recreate the magic of his victory from two years ago.
5. Tony Finau
Odds: 18-1
As one player told me recently, "I used to just think he was a guy who mashed the ball, but he's turned himself into a really good player." This track might not be the best fit for Finau, who finished T-7 in his first start here last here, but he's good enough to contend anywhere.
6. Billy Horschel
Odds: 28-1
As long as Golf Channel's Justin Ray keeps tweeting out his notes, I'll keep stealing and sourcing — and this is a good one: Since the PGA Championship, no player has a better scoring average than Billy Ho.
7. Rickie Fowler
Odds: 18-1
After missing the first two playoff events with a partially torn oblique muscle, Fowler hinted that it might have been a blessing in disguise, as he'll have a little more gas in the tank this week than many of his fellow competitors.
8. Jason Day
Odds: 22-1
Hasn't played his best golf as of late, but is still a candidate to contend any week, especially on a track that should play to his strengths. It's surprising that in seven career starts here, he owns just a single top-5 result.
9. Brooks Koepka
Odds: 12-1
Twice this year, Koepka has looked absolutely indefatigable, out-bombing the longest bombers and out-putting the craftiest putters. Luckily for him, each of those weeks were majors. We'll see how motivated he is this week.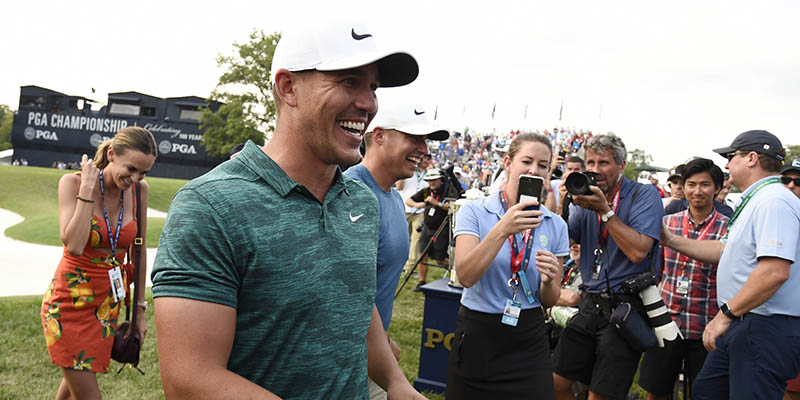 10. Webb Simpson
Odds: 28-1
He might win the award for the most underrated season. In addition to winning The Players Championship, he finished top 20 at all four majors. A big reason is that the former anchorer has embraced the traditional putting style.
11. Paul Casey
Odds: 40-1
Want to talk about nightmare scenarios for the PGA Tour? It wasn't long ago that Casey could've gone the entire season without a win, finished second at the finale and somehow clinched the FedEx Cup. True story.
12. Dustin Johnson
Odds: 8-1
Perhaps the world's most talented player, outside the top 10? The numbers show there isn't something quite right these days; all you have to do is check social media to understand what that might be.
13. Bryson DeChambeau
Odds: 20-1
First DJ, now a two-time playoff champion also outside the top 10? This is less about DeChambeau and more about the stacked field. The off week and extra rest might've served him better than anyone else here.
14. Hideki Matsuyama
Odds: 20-1
He tends to heat up late in the season and this one is no exception, as he's finished top 15 at each of the first three playoff events. Shame it took him so long to find his form this year. At 20th in the world right now, he'll be top 10 again next year.
15. Francesco Molinari
Odds: 25-1
Another player who should really enjoy East Lake, where distance off the tee won't be a deciding factor and precision ball-striking will have a major impact. That's a perfect description of Molinari's game.
16. Xander Schauffele
Odds: 30-1
All this guy has done was win the Tour Championship last year and post a T-3 finish at the BMW in his most recent start. He seems just fine being constantly overlooked and underrated; it tends to suit his personality.
17. Tommy Fleetwood
Odds: 22-1
An ever-improving player with a propensity for going low, expect him to post a sub-65 score on this course at some point, possibly on Saturday to make a serious run up the leaderboard. He's done it before.
18. Patrick Cantlay
Odds: 35-1
The PGA Tour's Mr. Consistency is actually coming off a T-55 in his last start at the BMW Championship. No doubt this has been a lot of golf lately for Cantlay, who eased his way back to the PGA Tour with a limited schedule until this season.
19. Jon Rahm
Odds: 25-1
The golf world is laughably deep when perhaps the best young talent of them all is nearly two-thirds of the way down this list. He finished T-7 in his first start at this tourney a year ago.
20. Kyle Stanley
Odds: 55-1
This has been a breakthrough campaign for Stanley, who is finally starting to realize his full potential. Expect him to contend more often next year, as he becomes more comfortable being a world-class player.
21. Marc Leishman
Odds: 55-1
The big Aussie just keeps plugging along, as his summer form has been a bit disappointing — lots of good, but nothing great. Tough to believe he'll put it all together this week.
22. Keegan Bradley
Odds: 50-1
Fresh off his first win in six years, he probably needed that off week just to erase that ear-to-ear smile that was on his face after claiming the BMW title in a playoff. Obviously in good form, but will be interesting to see how he backs up that W.
23. Phil Mickelson
Odds: 50-1
Make no mistake: Lefty's thoughts are squarely focused on winning the Ryder Cup on European soil for the first time next week. Along with a U.S. Open win, being No. 1 in the world and POY honors, it's one of the few holes still left on his legendary resume.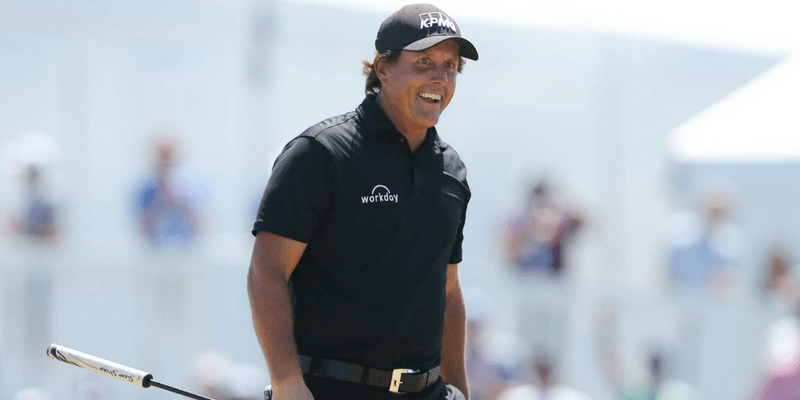 24. Patrick Reed
Odds: 40-1
It might've been predictable that he wouldn't back up his first Masters title with another win, just because of everything that comes with it. Even so, it hasn't been a wholly unproductive summer for Reed, who also might be looking ahead to next week.
25. Kevin Na
Odds: 80-1
He once played the final round of this tournament solo, in less than two hours. That's right — Kevin Na, in 1:59. As his caddie Kenny Harms said that day: "Everyone else has just been holding us up these past 10 years."
26. Cameron Smith
Odds: 50-1
One of the game's better wedge players from 100 yards and in, expect Smith to take an even bigger leap next year as he becomes more comfortable with these courses and the competition.
27. Bubba Watson
Odds: 40-1
It's about become a cliché at this point: If it's one of three or four courses on the annual schedule, Bubba might be the favorite — anywhere else, it feels like he's already out of the mix before he even starts.
28. Aaron Wise
Odds: 66-1
Terrific freshman campaign for the former NCAA champion, who should be honored as the Rookie of the Year soon. This will be the first of many trips to East Lake for him in what should be a lengthy career.
29. Gary Woodland
Odds: 50-1
Game is inching toward improvement as he continues to try to make advancements. Woodland finished each of the past five years ranked between 48th and 63rd in the world; he's currently No. 41.
30. Patton Kizzire
Odds: 250-1
Following a pair of early season wins, it was undoubtedly difficult for Kizzire to keep his foot on the gas pedal, but he did just enough in the first three playoff events to claim the 30th and final spot in this week's field.