THE PLAYERS Championship Picks: Our Favorite Matchups & Prop Bets at TPC Sawgrass (March 11, 2021)
Credit:
Ben Jared/PGA TOUR via Getty Images. Pictured: Sergio Garcia
Perhaps no course typifies the randomness and volatility of golf (and betting on golf) better than TPC Sawgrass. There's trouble everywhere (I mean one of the greens is a literal island), so one poor swing of the spoon and poof, you could tumble down a leaderboard.
While that kind of zaniness may drive bettors nuts, it also makes THE PLAYERS Championship one of the most fun events on the PGA TOUR schedule to bet. Bring on the bedlam.
Here are our favorite props and matchup bets for the 2021 PLAYERS Championship:
Props
Jason Sobel
Will Zalatoris Top-20 Finish (+300)
If you need to ask why this wunderkind should be considered for top-20 props, then you clearly haven't been paying attention.
Fresh off promoting himself from the Korn Ferry Tour, Zalatoris has played in a dozen PGA TOUR events starting with last year's U.S. Open and has cashed top-20s in eight of them. This week's event should suit him better than most, too, as he's been one of the game's better ball-strikers recently.
He's gotten to the point where if he putts at anything near the field average, he could/should contend on any given week.
Josh Perry
Hideki Matsuyama Top-20 Finish (+188)
I'm liking the course history and form combination with Hideki this week.
The approach game was good at the API and he's finished inside the top 20 in back-to-back events. He's also finished inside the top 20 here in three of six starts. Two of those misses weren't far off either, taking 22nd and 23rd. And last year, he opened with a 63 before the event was called off.
It's hard to find many players with any kind of consistency at TPC Sawgrass, but Hideki has been fairly solid for someone this far down in the odds.
Chris Murphy
Cameron Davis Top-20 Finish (+600)
Cameron Davis has started the year as a bit of a DFS darling, but that momentum may have faded a bit after he missed the cut last week at Bay Hill. He now comes in to his first PLAYERS Championship and to me, he should have the same shine if not more.
Davis is a player that, while long off the tee, has shown to be more successful at shorter courses early in his career. TPC Sawgrass is known for bringing the field in together and not favoring one style of player over another because it plays just 7,168 yards, which is short by TOUR standards for a Par 72.
This will favor a player like Davis who can score in bunches when he is on, and even with the missed cut last week, he still gained more than two strokes on approach.
I'll be betting Davis up through the Top 10 as he has the skillset to compete at this event and has shown an affinity for Pete Dye courses.
Matt Vincenzi
Sergio Garcia Top-10 Finish (+700)
While backing Sergio can be a frustrating experience, his PLAYERS resume simply can't be ignored. A winner in 2008, he also has a total of five top-5 finishes at the event and has never missed a cut at TPC Sawgrass in 20 starts.
He also comes into the week in great form. He gained 6.7 strokes on approach at The Concession and still finished in 32nd despite losing 6.4 strokes on the greens. While that's not entirely uncommon for Sergio, he tends to putt a lot better in Florida throughout his career. In fact, seven of the top-15 putting performances of his career have come in the state of Florida.
If there is ever a time and place to bet on Sergio Garcia, it's THE PLAYERS Championship at TPC Sawgrass.
Landon Silinsky
Christiaan Bezuidenhout Top-20 Finish (+350)
Piggybacking off last week's performance we will stick with the South African this week and hope his recent strong play continues. He seems to only play in strong field events and he almost always handles himself adequately.
The current World No. 34 boasts one of the best short games in this field and is by far the best bermuda putter in the world, averaging .22 strokes per round more on bermuda than the No. 2 ranked guy, Matthew Fitzpatrick.
Last year he fired an opening round 65 which was good for T-2 before they suspended play. Getting almost 4/1 in this spot is solid value.
Rob Bolton
Make the Cut Parlay: Corey Conners/Cam Smith/Will Zalatoris/Jason Kokrak (+458)
Given the harsh penalties at TPC Sawgrass, I fully expected to pick a notable to miss the cut, but none of the lines were enticing enough. I suppose that makes sense with the strength of the field. So, I'm giving this parlay a go.
I've endorsed each in my preview material, and for different reasons. Current form for each serves as the bait for this grouping, but this is where my experience should pay off.
I've heard stories of how gamers and bettors have cashed in big with my recommendations, so it's time to see how I do using my own process. (Finau and Schauffele both to finish in the top 10 at +800 also is tasty.)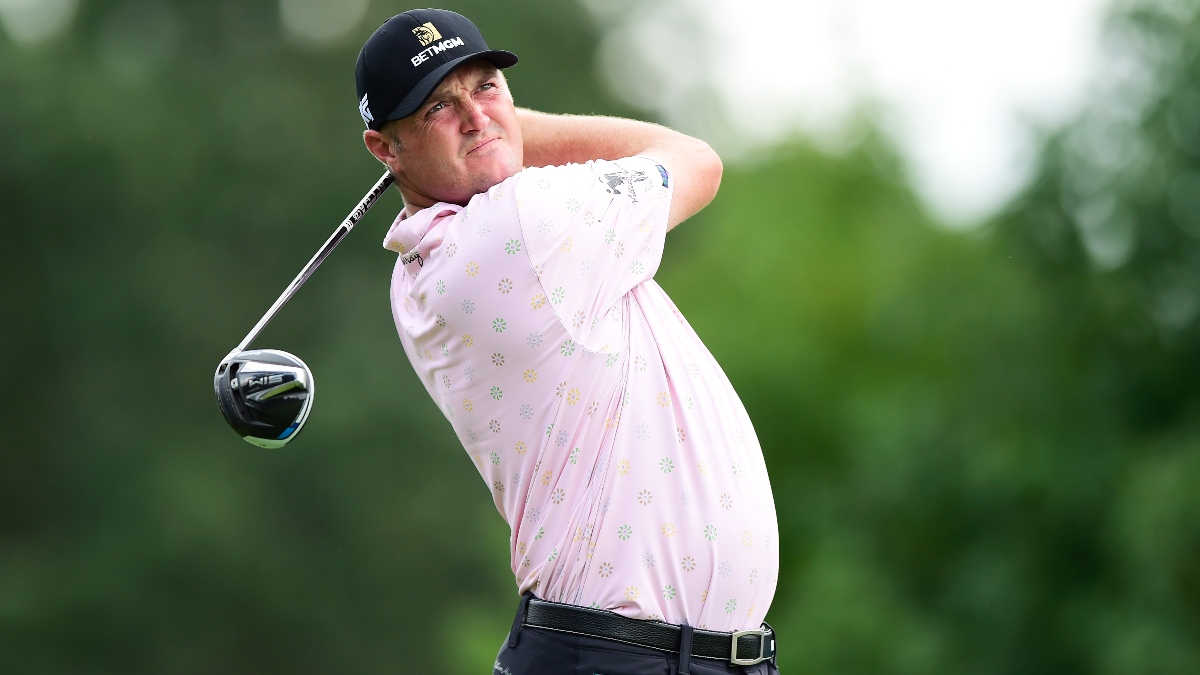 Matchups
Josh Perry
Lee Westwood (+108) over Max Homa
Homa has been riding a hot streak the past couple months, but I'll back the vet here at plus money.
Westwood has a good track record at Sawgrass and obviously played well last week. Homa has been playing well, but may be running on fumes at this point after eight straight events. His ball-striking took a noticeable dip last week, but he gained about eight strokes putting at the API, so the result was still there, but it could be a sign that the grind is starting to wear on him.
Chris Murphy
Tommy Fleetwood (+120) over Patrick Reed
I'm a bit jaded after Reed burned me in all different directions with his missed cut last week at Bay Hill. He was my favorite play of the week, but I'm not really looking to chase that down, I just genuinely like Fleetwood better than the former Masters champion this week.
I am trending towards the guys that are known for their ball striking this week, and Fleetwood fits that bill better for me than Reed. I'd have them closer to a toss up in a matchup at TPC Sawgrass, so I'll happily run with plus money on the Englishman.
Matt Vincenzi
Jason Kokrak (+100) over Corey Conners
I really like the big man this week. Kokrak was outstanding tee to green last week gaining 10 strokes on the field. He wasn't great on the greens losing 1.8 strokes putting in contrast to Conners who gained 3.8.
Conners is simply not a good putter and it will be a lot to ask of him to gain strokes putting in two consecutive events. Kokrak has top-10 finishes in consecutive weeks on the Florida swing and was excellent in Florida as recently as the 2019 season when he finished 9th at Honda, 10th at API and 2nd at Valspar.
Conners was impressive last week but I trust Kokrak's success in the sunshine state more so than Conners who can be quite unpredictable.
Landon Silinsky
Will Zalatoris (+105) over Sungjae Im
Zalatoris has been one of the best ball-strikers on TOUR since he graduated from the KFT back in September. He ranks eighth in this field in SG:Tee-to-Green across his past 16 rounds and has yet to miss a cut in his 12 career starts. Im on the other hand has been struggling with his ball striking, ranking 141st in SG: Approach over his previous 12 rounds in this field.
Sawgrass is a second-shot course and there's something off right now with Im, so I'll gladly side with the young phenom Zalatoris and hope he can drain a few putts.
Rob Bolton
Tommy Fleetwood (+120) over Patrick Reed
I'm 0-for-1 after Harris English (T26) bettered Rickie Fowler (72nd) at Bay Hill, so I'm doubly motivated to reverse course. You already know that I'm all over Fleetwood as my Outright, but I'll add that I'm fading Patrick Reed in my Fantasy Insider.
Fleetwood's bag is more balanced and he can hold his own with Reed on and around greens. Fleetwood's course history also is much better and he's more consistent week after week.
How would you rate this article?