Fantasy Free Agency Losers: QBs, RBs, WRs & TEs Whose Stock Is Down
Credit:
Getty Images. Pictured: Josh Jacobs, Kenny Golladay
The height of NFL free agency is behind us. With signings and trades shifting the league as a result, our analysts are here to break down which players' fantasy football outlooks worsened from movement.
Below they highlight the biggest fantasy "losers" of the offseason (so far).
Fantasy Free Agency Losers
---
Skip to: QB | RB | WR | TE
---
Quarterbacks
Jared Goff, Lions
Jameis Winston, Saints
Mitchell Trubisky, Bears
Jared Goff, Lions
Samantha Previte: Technically not a free agency signing, but I am going with Jared Goff.
The former Rams' signal-caller was traded ahead of free agency to the Lions in exchange for Matthew Stafford and a third-round pick. Goff goes from having two top-tier wide receivers in Robert Woods and Cooper Kupp — along with some talented others including Josh Reynolds and Van Jefferson — at his disposal to a WR corps that's been gutted during free agency.
The Lions lost star wideout Kenny Golladay as well as Marvin Jones during free agency. Jones stepped up with Golladay sidelined for 11 games last season and finished as WR29 in half PPR. He joined the Jaguars on a two-year, $12.5 million deal while Golladay joined the Giants on a four-year, $72 million deal.
Goff's top weapon heading into the 2021 NFL Draft will be T.J. Hockenson, the Lions' third-year tight end who caught 67 passes for 723 yards and six touchdowns in 2020. Next up on the receiver depth chart are Tyrell Williams, Breshad Perriman, Tom Kennedy, Quintez Cephus and Kalif Raymond, among others.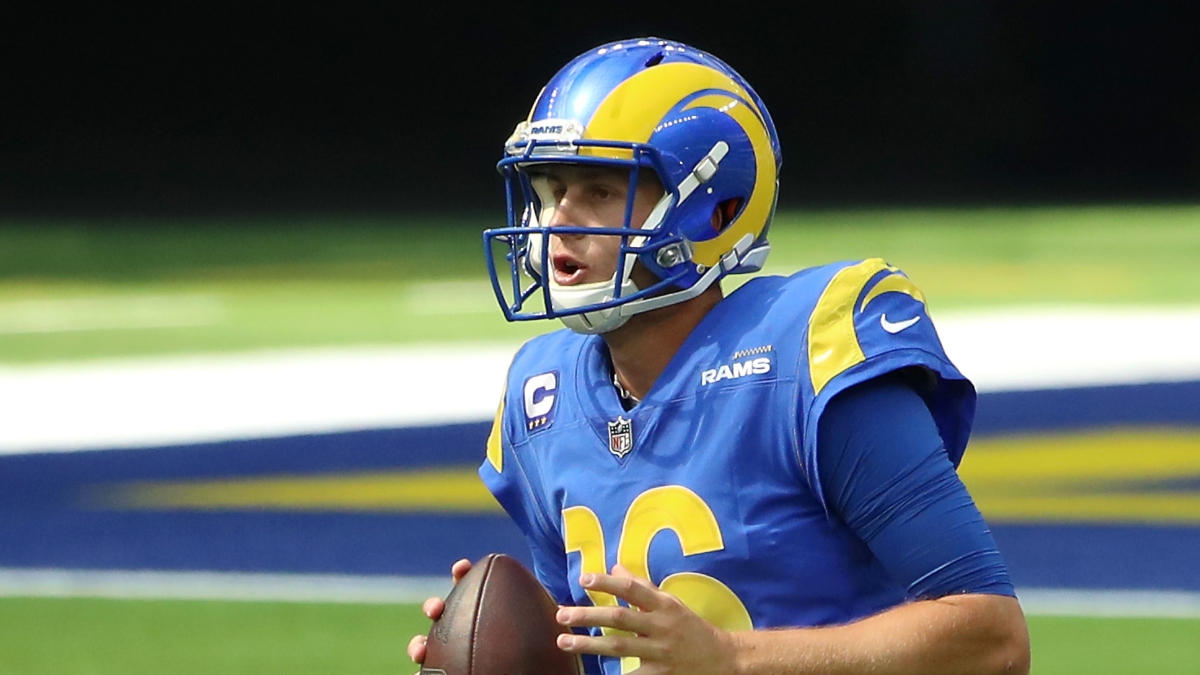 Goff is also entering a system that's overhauled after the firings of head coach Matt Patricia and general manager Bob Quinn. Former Chargers head coach Anthony Lynn will take over as offensive coordinator.
None of this bodes well for Goff's fantasy value. He struggled in 2020 and finished as QB15 through 16 weeks surrounded by significantly more talent and in an established system that he had been a part of since he was drafted in 2016. There's a good chance the Lions add a top receiver from this year's draft class, but Goff will likely end up in the high-end QB2 range and go undrafted in shallower leagues.
Chris Raybon: Goff's fantasy stock has cratered over the past three seasons. He went from QB7 in 2018, to QB13 in 2019, to QB20 last year.
Whereas he used to have the likes of Woods and Kupp at wide receiver, he now resides on a Lions team that enters the draft with journeyman like Breshad Perriman and Tyrell Williams atop the depth chart. And whereas he used to have wunderkind passing-game schemer Sean McVay calling the shots, Goff now will be coordinated by former running back and disgraced Chargers head coach Anthony Lynn known for questionable decision-making — when Lynn calls shots, they don't pick up.
The only plus for Goff is the Lions defense could still be a mess, which would lead to a high volume of pass attempts. Still, that won't be enough to offset Goff's lack of rushing ability — he averages 4.6 yards per game for his career — and will lead to another finish in the QB20 range.
Jameis Winston, Saints
Sean Koerner: It's still a bit of a mystery how the Saints plan on using the quarterback combo of Jameis Winston and Taysom Hill. Either one of them could generate QB1 numbers, but we could end up seeing our first true quarterback by committee.
Considering just how different their playing styles are, it's going to make it tricky to project this offense in 2021.
Mitchell Trubisky, Bills
Matthew Freedman: Mitchell Trubisky is Carson Wentz without the excuses or a coach who loves him. By signing with the Bills to back up Josh Allen, Trubisky is officially entering the Blake Bortles-esque path of the journeyman. But hey, someone has to hold the clipboard and wear the baseball hat on the sidelines in Buffalo, and at least Trubisky is used to cold weather.
RIP anyone who invested in Trubisky years ago in dynasty leagues. He seems highly unlikely ever to be an NFL starter again.
---
» Return to the table of contents «
---
Running Backs
Josh Jacobs, Raiders
Kenyan Drake, Raiders
Davis Johnson, Texans
Josh Jacobs, Raiders
Samantha Previte: Mike Mayock is apparently determined to make this the season that I get off the Josh Jacobs hype train.
In addition to letting half of their offensive line go this offseason, the Raiders signed former Cardinals running back Kenyan Drake to a head-scratching two-year, $11 million deal.
Acquiring another running back while Jacobs — a 2019 first-round pick — is rostered and while your offensive line is in shambles does not sound like a recipe for success and is a nightmare for fantasy. The 23-year-old Jacobs finished as RB9 in half PPR while Drake, 27, finished as RB14.
It sounds like the Raiders plan to use the veteran more in the passing game while Jacobs will remain the lead rusher, but it's difficult to envision a scenario in which both coexist as low-end RB1s in the same system. Las Vegas posted 1,916 total rushing yards last season, of which 1,065 (56%) were from Jacobs.
While their fantasy values have certainly taken a hit with this move, both are talented RBs and should not be avoided outright on draft day. Jacobs could end up as a higher end RB2, while Drake probably slips into the RB3 territory.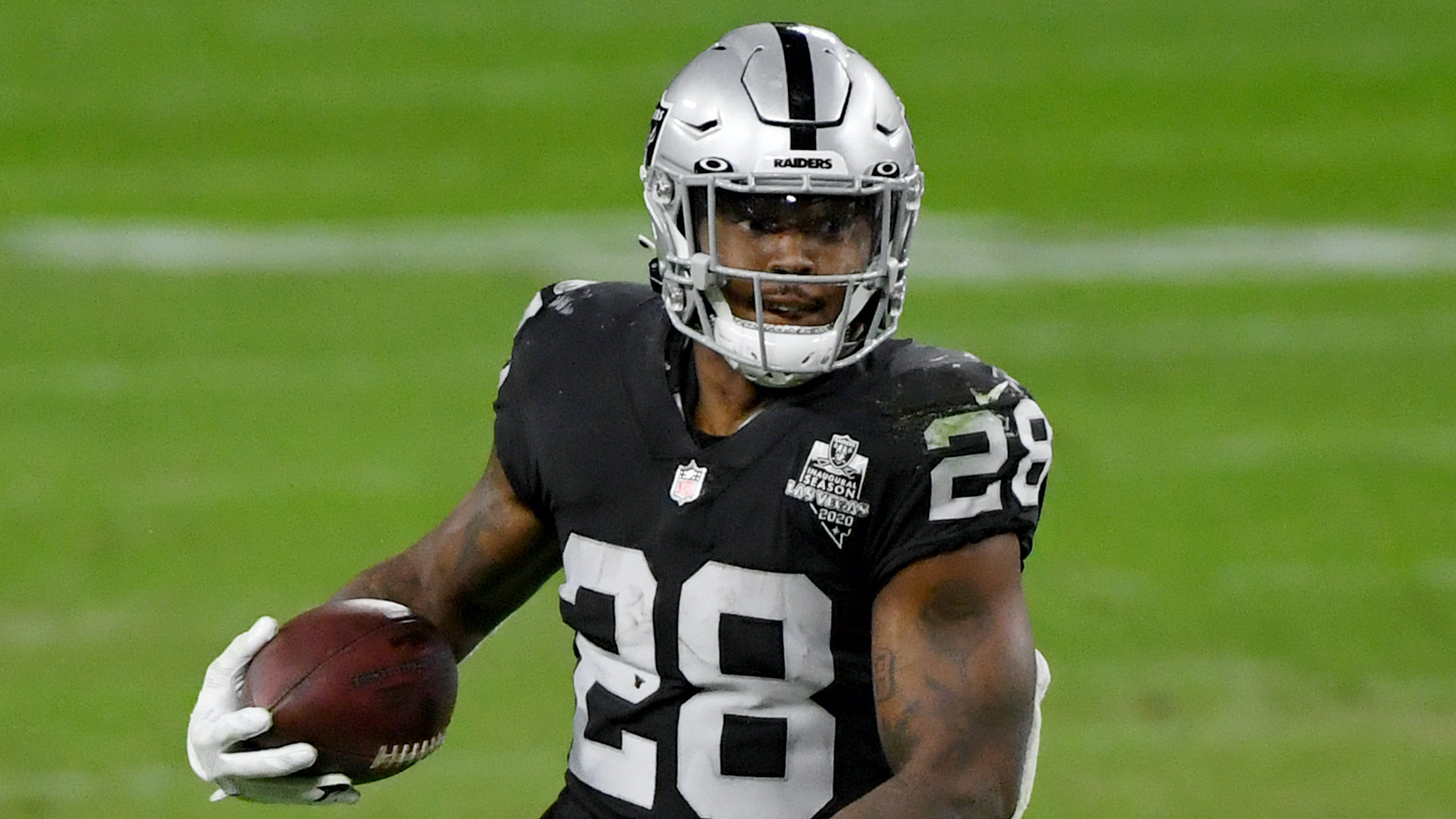 Kenyan Drake, Raiders
Chris Raybon:  While Drake's signing looks bad for Jacobs, it's a lot worse for Drake himself. Jacobs, after all, still finished as the RB8 in PPR last season despite catching only 2.2 passes per game. Jacobs averaged 18.6 carries per game in his rookie year and 18.2 last year. He will get his carries, and he will be fine.
But Drake, somewhat quietly, has finished as a top-20 fantasy RB in each of the past three seasons. As a member of the Cardinals, he was a borderline fantasy RB1 for most of his tenure off the strength of 15.7 carries per game. With Jacobs on the roster, he most certainly will not get anywhere near that volume. In the 15 games Jacobs was active last season, Raiders backup tailbacks combined to average 9.0 touches per game, which is a realistic projection for Drake.
In a high-volume satellite back role, Drake could still finish in the top 30 a la Chase Edmonds behind Drake last year, but Drake's days as a top 15-20 fantasy RB are likely behind him barring serious injury to Jacobs.
All Raiders RBs
Matthew Freedman: Drake has signed with the Raiders … and this is horrible. With a two-year deal that comes with $11 million fully guaranteed, Drake is being paid backup-plus money, and that's unfortunate for Jacobs, who will once again struggle to emerge as a locked-in high-volume producer.
But the Raiders also resigned receiving back Theo Riddick — and he might limit the receiving opportunities that Drake gets. So Jacobs is likely to underwhelm because of Drake, who in turn might disappoint because of Riddick.
In dynasty leagues, Jacobs might still be investable on the cheap in the wake of the Drake signing, since he is a big-bodied first-rounder who is only 23 years old and entering his third season — but 2021 is unlikely to be his year.
David Johnson, Texans
Sean Koerner: The Texans decided to bring in Mark Ingram and Phillip Lindsay to form a potential three-way committee. We are still waiting to find out how the Deshaun Watson situation will unfold, but the Texans will likely be one of the worst teams in 2021. I will be avoiding their backfield.
---
» Return to the table of contents «
---
Wide Receivers
Kenny Golladay, Giants
Corey Davis, Jets
Allen Robinson, Bears
JuJu Smith-Schuster, Steelers
Allen Robinson, Bears
Matthew Freedman: Allen Robinson will once again be with the Chicago Bears this season.
Ouch.
I know he's supposed to be a quarterback-proof receiver … but how many seasons of subpar quarterbacking must this man endure?
2012 (Penn State): Matt McGloin
2013 (Penn State): Christian Hackenberg
2014-17 (Jacksonville): Blake Bortles
2018-20 (Chicago): Mitchell Trubisky, Nick Foles
2021 (Chicago): Andy Dalton
As long as this guy is stuck in Chicago, his fantasy upside will be significantly capped, despite his high target volume.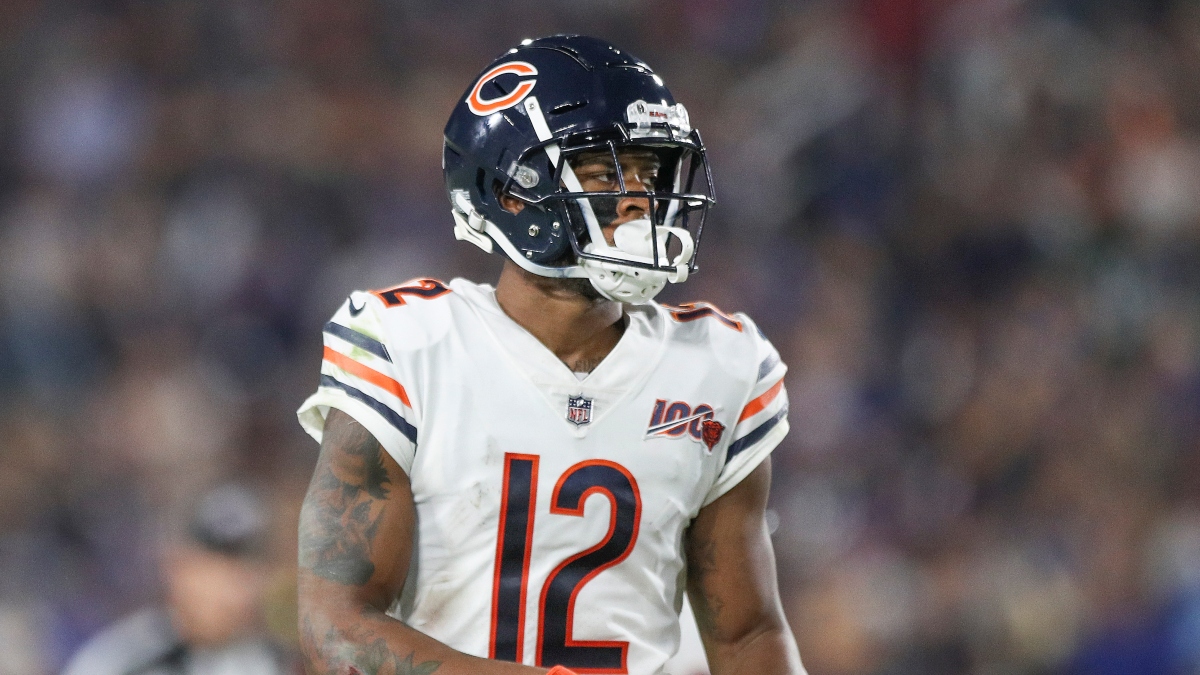 JuJu Smith-Schuster, Steelers
Sean Koerner: Smith-Schuster remaining on the Steelers hurts his fantasy value.
He turned down an offer to play in Kansas City, which would have sent his stock way up. Instead, he will continue to compete with Diontae Johnson, Chase Claypool and James Washington for targets. Smith-Schuster's return also caps the ceilings of Johnson, Claypool and Washington.
Kenny Golladay, Giants
Samantha Previte: Probably the lowest-hanging fruit here, but I am picking Kenny Golladay.
Golladay, 27, was one of the most sought-after free agents this cycle in spite of missing 11 games due to injury in 2020. He finished as the NFL leader in receiving touchdowns in 2019 and posted back-to-back 1,000-yard seasons in 2018 and 2019.
If healthy, the Pro Bowl receiver has a chance of replicating that success, but he'll face an uphill battle with a number of factors working against him in New York.
For one, Giants quarterback Daniel Jones is a significant downgrade from former Lions QB Matthew Stafford. Jones had an extremely underwhelming sophomore season and averaged 210.2 yards per game, which slightly edged out Nick Foles, Dwayne Haskins and Mitch Trubisky.
The Giants' porous offensive line undoubtedly contributed to Jones' Year 2 struggles. The unit allowed 3.1 sacks per game in 2020, which ranked second-worst in the NFL.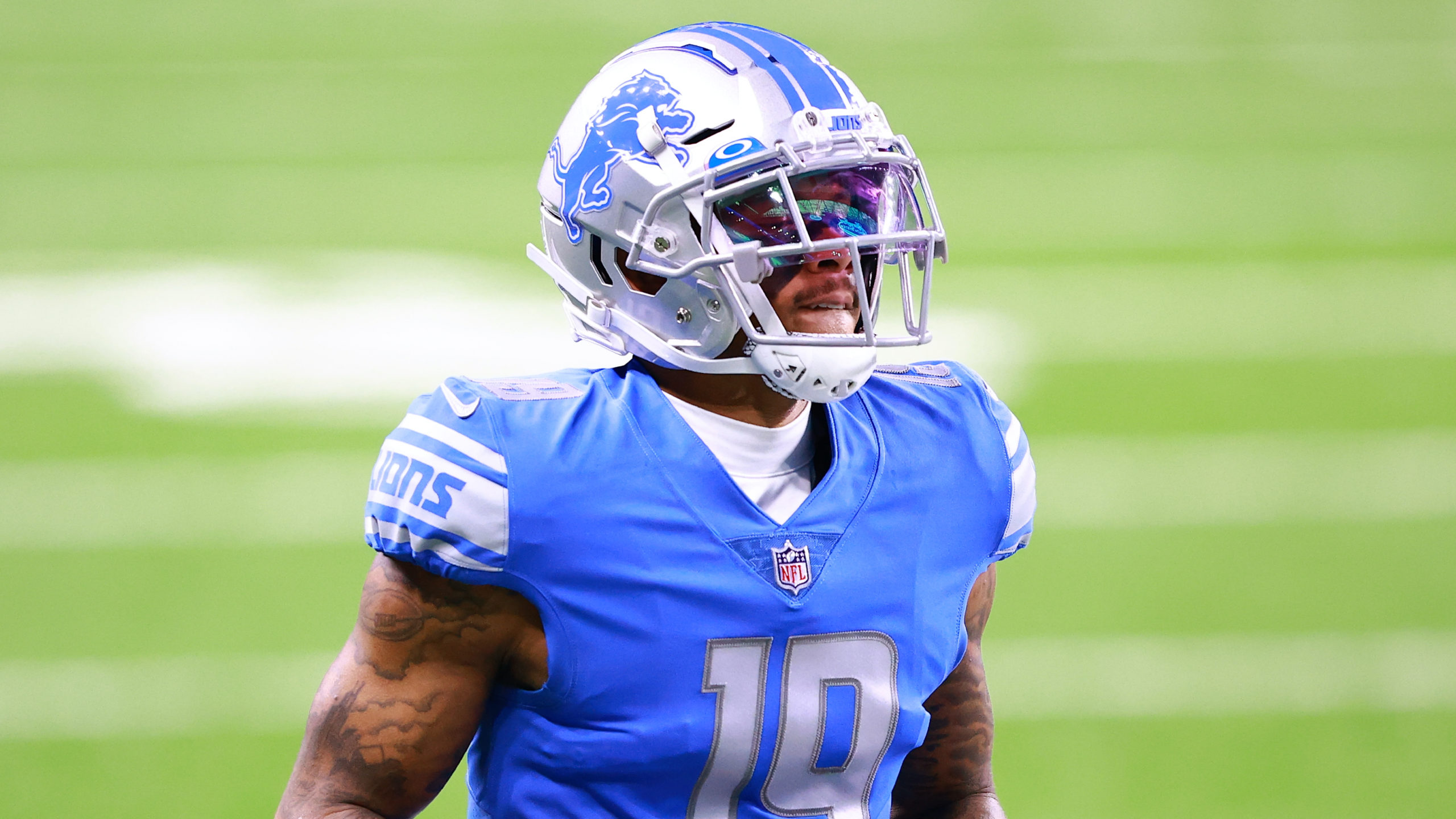 Golladay joins a crowded receiver room consisting of Sterling Shepard, Darius Slayton, John Ross III — who signed during free agency — and Dante Pettis (among others). Tight ends Evan Engram and Kyle Rudolph, another offseason addition, will also be competing for targets from Jones.
Shepard, 28, is under contract until 2024 while Slayton, 24, is under contract until 2023.
None of this bodes well for Golladay's fantasy value. He goes from being a lower-end WR1 to a WR2 with significant downside.
Corey Davis, Jets
Chris Raybon: The good news is that Corey Davis has quietly increased his per catch and per target efficiency in each of his four seasons as a pro:
2017: 52.3% catch, 5.8 YPT, 11.0 YPR
2018: 58.0% catch, 8.0 YPT, 13.7 YPR
2019: 62.3% catch, 8.7 YPT, 14.0 YPR
2020: 70.7% catch, 10.7 YPT, 15.1 YPR
The bad news is that going to the Jets means no more Arthur Smith-Ryan Tannehill playaction, with which Davis thrived the past two seasons (data via Pro Football Reference):
Playaction: 12.7 YPT, 19.8 YPR, 4.7% TD%
No playaction: 8.0 YPT, 11.5 YPR, 4.1% TD%
Even if the Jets nab BYU's Zach Wilson — who has the coveted Chris Simms stamp of approval — it's difficult to expect him to live up to the efficiency with which the Titans operated over the past two seasons with Ryan Tannehill, who averaged 8.6 yards per attempt and threw 55 touchdown passes in 26 starts.
Davis has been a completely different receiver with Tannehill:
With Tannehill: 68.8% catch rate, 14.6 yards per reception, 10.0 yards per target, 4.3% TD rate
Without Tannehill: 56.0% catch rate, 13.1 yards per reception, 7.3 yards per target, 2.5% TD rate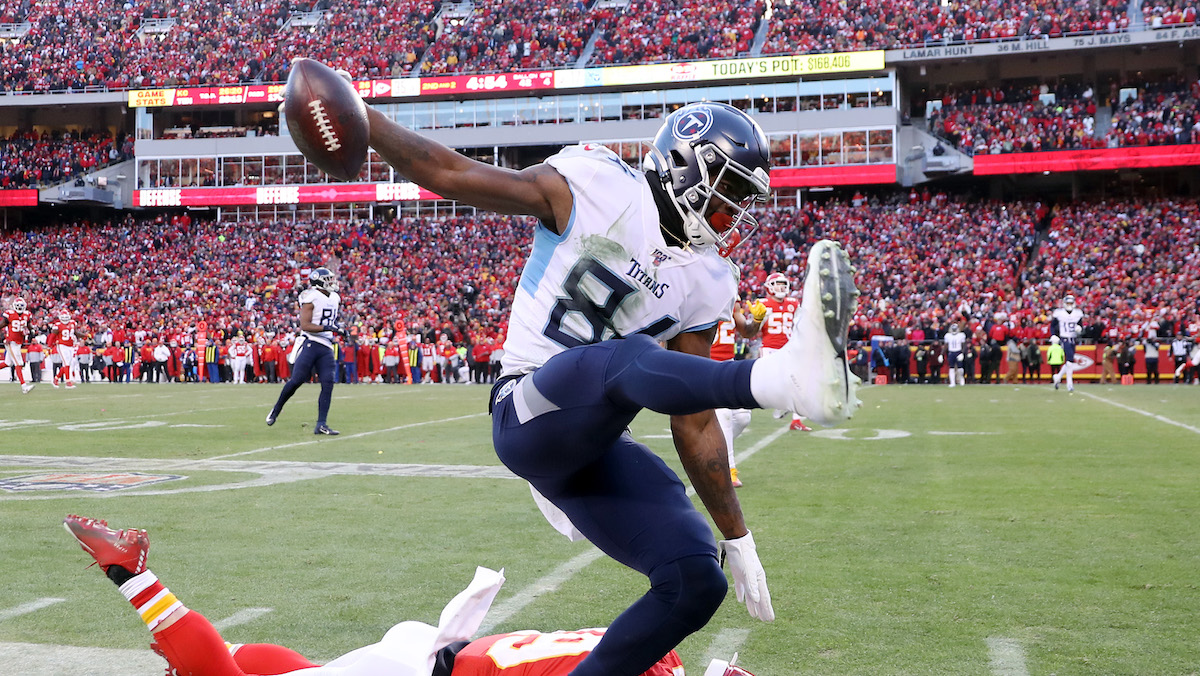 Whereas Davis was previously locked into the No. 2 role on one of the league's most efficient offenses, he now enters a situation fraught with uncertainty. Could he end up being the No. 1? Sure. But he could also fall as low as No. 3 on the pecking order if Jamison Crowder retains his target-hogging role and Denzel Mims makes the customary Year 2 leap.
The ideal scenario for Davis would be if Crowder becomes a cap casualty (the Jets could save $10.4 million by cutting him), thereby locking in Davis' volume floor and helping to offset what is nearly certain to be a steep decline in efficiency.
Despite posting a top-30 fantasy season last year, Davis deserves to be ranked no higher than the mid-40s unless (until?) Crowder is axed.
---
» Return to the table of contents «
---
Tight Ends
Jonnu Smith, Patriots
Hunter Henry, Patriots
Jonnu Smith, Patriots
Chris Raybon: When looking to get a sense of how a new target competition will play out, comparing each player's targets per route per route run is a good place to start: Hunter Henry's career targets per route run rate is 19.2% while Smith's is 17.2%, which makes Henry the favorite for targets among the two.
(While comparing target data for players coming from different situations may seem counterintuitive, it turns out that targets per route run is a very reliable metric for projecting future targets because it is able to capture a variety of skill components both directly and indirectly, such as a receiver's ability to get open, how often he is designated as a primary or secondary read, and how well he is able to capitalize on decreased defensive attention or overcome increased defensive attention.)
Henry is also the lesser of the two from a blocking perspective, and is thus less likely to be called upon as a pass-blocker/chipper. (Henry has been used as a pass blocker on only 10% of career pass snaps compared to 20% for Smith, per Pro Football Focus.)
Julian Edelman is not a lock to be ready for the season after suffering a knee injury last year, and his absence would increase Smith's upside of being a consistent top-two option. But even without Edelman, the Patriots still have a plethora of options to spread the ball around to (wide receivers Nelson Agholor and Kendrick Bourne also were signed, and pass-catching back James White was brought back).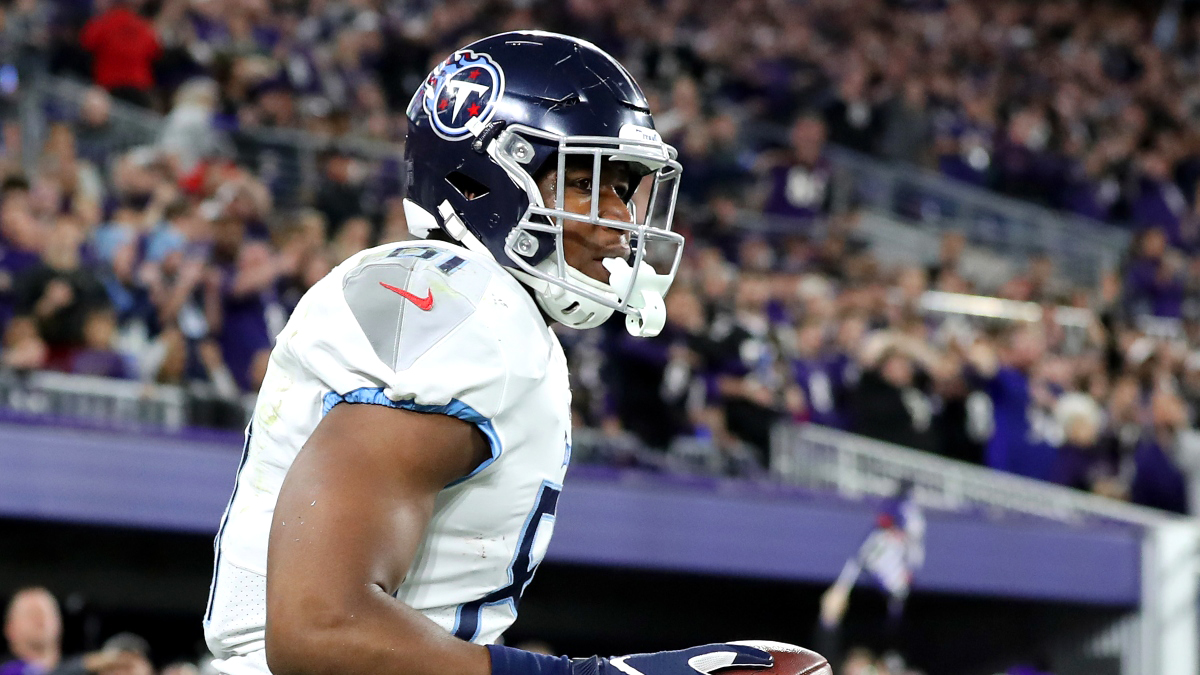 As arguably the most explosive member of that supporting cast, Smith is sure to command defensive attention, which works in favor of the Patriots, but not Smith's fantasy owners.
I wouldn't draft Smith as a fantasy starter unless Edelman is going to miss the season or a large chunk of it, and even then, Smith is likely to struggle for consistency on a team with a strong defense and Cam Newton atop the depth chart.
Matthew Freedman: Over the past three years, Smith has averaged 8.2 yards per target while chipping in 6-82-1 rushing. He's one of the most explosive tight ends in the league, especially after the catch.
Entering free agency, I was excited to see where Smith would land, thinking that almost any location would be better than Tennessee. I now regret my enthusiasm.
In New England — in a low-volume passing offense quarterbacked by Cam Newton and shared with fellow tight end Hunter Henry — Smith is likely to be nothing more than a TE1/2 producer.
The Patriots did well to sign a high-ceiling player, but the limitations they place on him will likely keep him closer to his floor.
Hunter Henry, Patriots
Sean Koerner: Henry would have been a potential TE1 if he signed with any other team. However, the Patriots decided to sign both Smith and Henry. I realize that Newton has a history of producing a TE1 in fantasy (Greg Olsen), but it's going to be challenging to make two of them.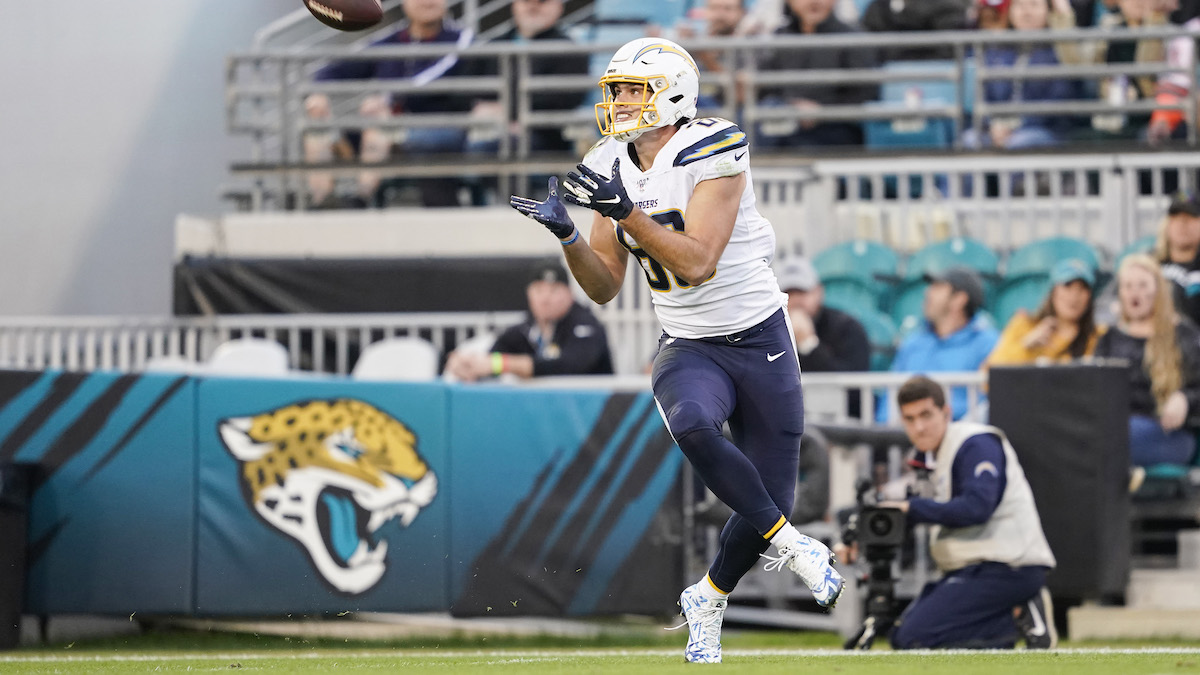 Patriots TEs
Samantha Previte: The Patriots made a splash this free agency by signing the former Titans' tight end and the former Chargers' tight end. Both Smith and Henry finished inside the top 12 at the position in half PPR last season, with Smith having the slight edge. Either one could have been productive in New England's system on their own, but signing the pair significantly impacts their respective values for fantasy purposes.
Even if the Patriots were to deploy the 12-personnel frequently, their ceilings are capped by the limitations of Newton. Barring a quarterback change this offseason, Newton is the Patriots' presumed starter heading into 2021. The 2015 NFL MVP threw for just 2,657 and eight touchdowns in his first season in New England.
Smith and Henry will also have to compete with Bill Belichick's other free agency additions, Nelson Agholor and Kendrick Bourne. The culmination of these factors will likely knock both out of the TE1 conversation.
---
» Return to the table of contents «
---
How would you rate this article?