Fantasy Free Agency Winners: QBs, RBs, WRs & TEs Whose Stock Is Up
Credit:
Getty Images. Pictured: John Brown, Chase Edmonds
The height of NFL free agency is behind us. With signings and trades shifting the league as a result, our analysts are here to break down which players' fantasy football outlooks benefited the most from movement.
Below they highlight the biggest fantasy "winners" of the offseason (so far).
Fantasy Free Agency Winners
---
Skip to:QB | RB | WR | TE
---
Quarterbacks
Jalen Hurts, Eagles
Cam Newton, Patriots
Ryan Fitzpatrick, Washington
Jalen Hurts, Eagles
Sean Koerner: Hurts' stock went way up this offseason after the Eagles traded away Carson Wentz to the Colts.
All signs point to the Eagles giving Hurts the 2021 season to prove himself. It also seems likely that the Eagles will use their sixth overall pick to land a wide receiver such as DeVonta Smith or Ja'Marr Chase, or a generational talent in tight end Kyle Pitts.
Hurts produced overall fantasy QB3 numbers in his three starts last season. His rushing upside alone will make him a QB1 heading into 2021 drafts.
Chris Raybon: By flipping their maligned $128 million franchise passer to the Colts and then bringing in a 36-year-old who couldn't even beat out Sam Darnold last season, the Eagles have paved the way for Hurts to be their starter — and potential fantasy league winner.
In the three games Hurts started and finished last year, he averaged 282.3 yards and 1.67 touchdowns passing while adding another 79.3 yards and 0.33 touchdowns with his wheels.
Here are how his numbers as a starter would look when extrapolated over a 16-game season as well as where they would have ranked among QBs in 2020:
4,517 passing yards (sixth)
26.7 passing TDs (12th)
1,269 rushing yards (first)
5.3 rushing TDs (seventh)
Not too shabby.
Though Hurts struggled as a passer in his inaugural campaign, earning a Pro Football Focus passing grade of just 57.5 — 37th of 41 quarterbacks with at least 150 dropbacks — there's reason for optimism.
For one, Hurts' Year 1 passing proficiency profiles similarly to the rookie years of Lamar Jackson (59.3, 32nd of 39) and Josh Allen (58.0, 33rd of 39). Both turned into top-tier fantasy options in Year 2, with Jackson finishing as the overall QB1 and winning MVP while Allen clocked in at QB7.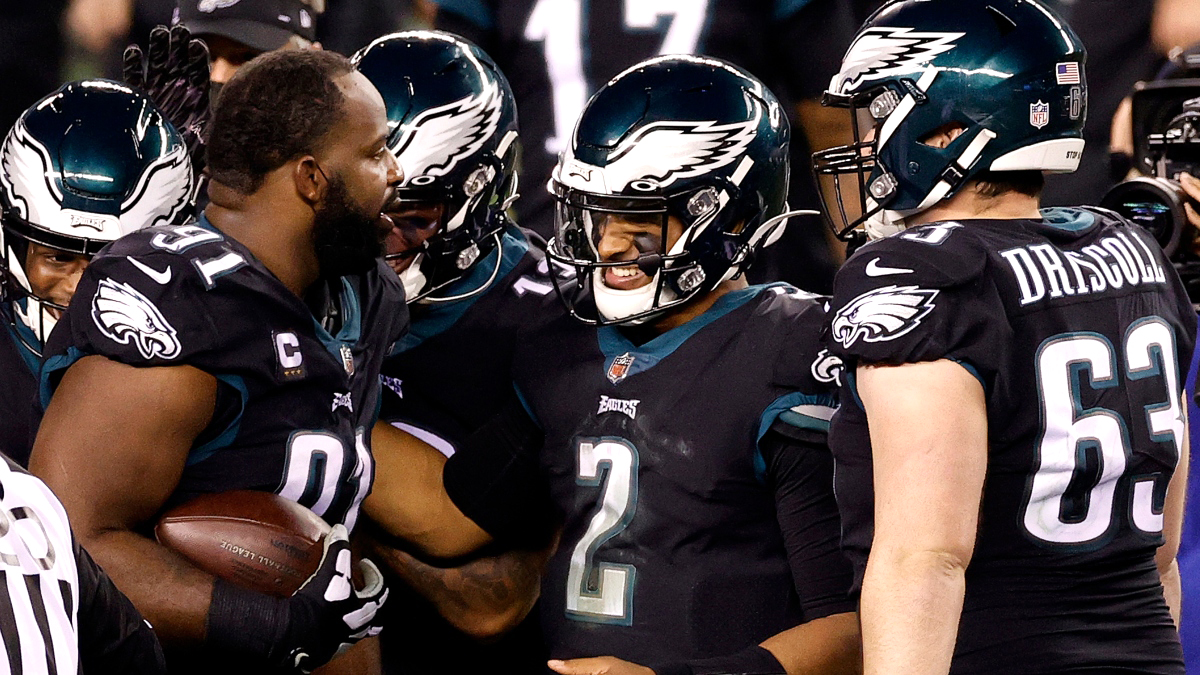 Secondly, Hurts' supporting cast and scheme cannot possibly be any worse than last season, when Doug Pederson employed a stale scheme with a bunch of stale receivers. Regardless of the degree of truth to the reports that team owner Jeffery Lurie instructed his front office to prioritize building around Hurts, the bottom line is that the Eagles have 11 draft picks, including four in the top 84. With Alshon Jeffery already gone and Zach Ertz's foot out the door, the Eagles should be able to field a much more explosive group of skill players around Hurts.
Yes, his fantasy floor is still suffering in-game benchings for Joe Flacco, but Hurts' fantasy ceiling is the overall QB1 — worth it for a guy who is going outside the top-12 based on early Average Draft Position (ADP) data and will be hard-pressed to crack the top 10.
Cam Newton, Patriots
Samantha Previte: Newton's status has improved drastically since the beginning of March.
The 2015 NFL MVP wasn't even expected to return to New England on the heels of a disappointing 2020 season. He completed 65.8% of his passes for just 2,657 yards, eight touchdowns and 10 interceptions in his first season as a member of the Patriots. He tacked on 592 rushing yards and scored an impressive 12 rushing touchdowns — his second-most ever.
However, the 31-year-old Newton was just one line item on a hefty free agency tab de facto general manager Bill Belichick has racked up already.
The team made numerous high-profile signings and added tight ends Jonnu Smith and Hunter Henry as well as wide receivers Nelson Agholor and Kendrick Bourne. The group still lacks some star power, but it's a palpable upgrade from the pass-catchers Newton had at his disposal last season.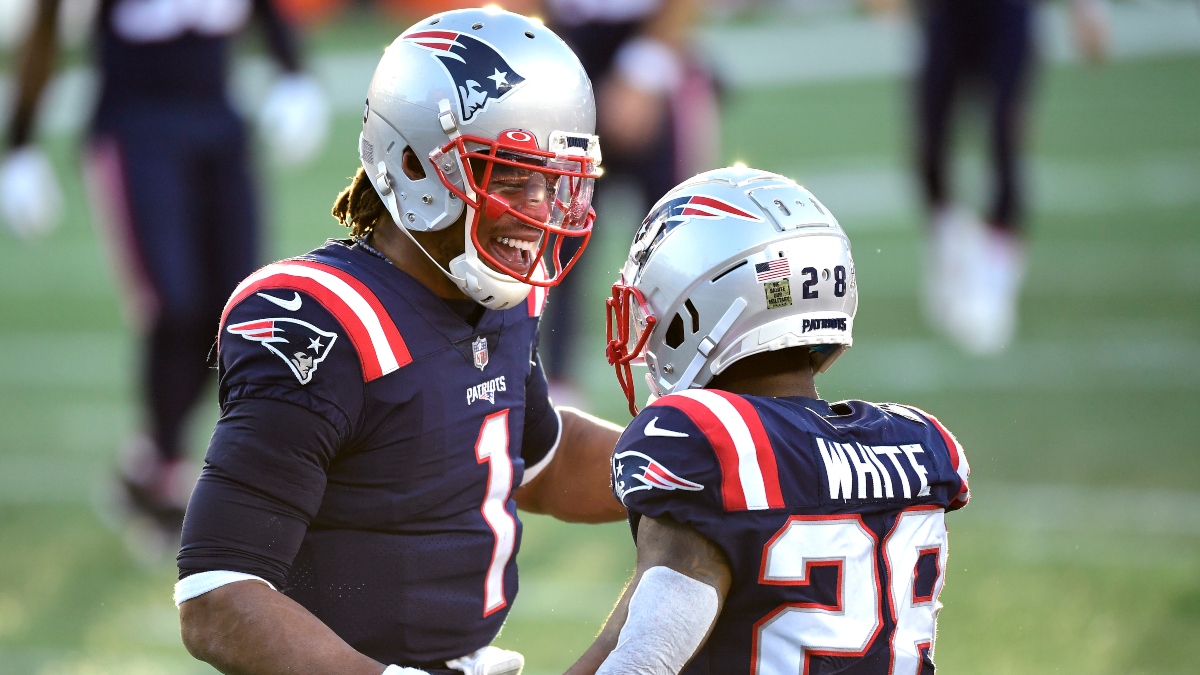 All of this bodes well for Newton's fantasy value heading into 2021. He finished as QB20 last season with Jakobi Meyers — who reeled in a lackluster 729 receiving yards — as the team's top pass catcher. Newton's rushing prowess will continue to provide a safe floor and offset his passing game, which should improve with the Patriots' other free agency additions.
Newton is worthy of consideration in two-quarterback leagues or as a high-end backup in standard leagues.
Ryan Fitzpatrick, Washington
Matthew Freedman: A few weeks ago, Fitzpatrick was going undrafted in high-stakes and best ball leagues, but now — as the presumed starter for the Washington Football Team — he is going off the board around pick 120-60.
That range makes sense, but at his average draft position, he provides significant upside and not much downside. That means he's someone I will be fine selecting as a late-round option — especially in two-quarterback leagues.
Fitz has a YOLO style that heightens his ceiling, and he has little competition for snaps in Washington: He has a reasonable chance to start for the entire season.
And his receiving options are some of the best he's had over the past decade: Wide receivers Terry McLaurin and Curtis Samuel, running back Antonio Gibson and tight end Logan Thomas can all turn short attempts into long gains.
With his projected opportunity and supporting skill-position teammates, Fitz feels a little like free money.

---
» Return to the table of contents «
---
Running Backs
Aaron Jones, Packers
Chris Carson, Seahawks
Chase Edmonds, Cardinals
Mike Boone, Broncos
Aaron Jones, Packers
Samantha Previte: I'm going with the rather obvious choice here: Aaron Jones.
The 26-year-old Packers' star inked a four-year, $48 million contract extension before the legal tampering period opened, which will keep him in Green Bay until 2025.
In 2020, Jones rushed for a career-high 1,104 yards and scored 11 total touchdowns over 14 regular-season starts. He finished as RB5 in half PPR from Weeks 1-16 despite missing two games and sharing some of the workload with versatile backup Jamaal Williams.
Williams, 25, hit the free agency market and signed a two-year deal with the Lions. He was utilized in both the rushing and passing game, which should open up some additional touches for Jones. A.J. Dillon, the Packers' 2020 second-round pick, is expected to take over as their backup.
Jones is in an ideal offense and fairly unrivaled backfield — a situation that has become increasingly rare of late. He is a locked-in RB1 and should finish inside the top five once again assuming he stays healthy.
Chris Carson, Seahawks
Sean Koerner: Carson re-signing with Seattle is great news for his fantasy value — he'll continue to be the team's workhorse for the next one to two seasons.
It's unclear what the pass/run ratio will be under new offensive coordinator Shane Waldron, but it likely won't impact Carson's fantasy value either way. He would thrive in either extreme, although he was able to post overall fantasy RB5 numbers in Weeks 1-5 of 2020 when the Seahawks #LetRussCook.
Chase Edmonds, Cardinals
Chris Raybon: The Cardinals lost Drake — who logged a 54.3% snap rate and averaged 17.6 touches per game last season — to the Raiders this offseason, leaving Edmonds in the driver's seat to become an even bigger part of the game plan.
In 2020, Edmonds parlayed a 46.4% snap share and 9.4 touches per game into a top-30 fantasy finish in all formats, finishing with 850 yards from scrimmage and five total touchdowns.
That should be considered the floor for Edmonds in 2020 — any back the Cardinals draft is unlikely to top Drake's 17.6 touches per game from last year — but the ceiling is much higher when taking into account rumblings out of the Arizona front office.
Weeks before Drake signed with Las Vegas, head coach Kliff Kingsbury randomly talked up Edmonds as a bell cow in early March. And after Drake's departure was official, general manager Steve Keim lavished praise on Edmonds while throwing cold water on making a splash at the position.
Coachspeak should always be taken with a grain of salt, especially at this time of year, but it's worth noting that Kingsbury's actions in the one game that Drake missed last season back up the coach's words: He deployed Edmonds on 96% of the snaps and fed him 28 touches in a Week 9 loss to the Dolphins. And the year before, Kingsbury flat out benched David Johnson for Edmonds.
Employing Edmonds as the lead back would also be a savvy move for Keim, as Edmonds carries a cap hit of roughly $1 million this season, according to Over The Cap.
I love Edmonds' floor/ceiling combo heading into 2021.
Mike Boone, Broncos
Matthew Freedman: Jones was the obvious, so instead I'll highlight a guy who is far off the radar for most people: Mike Boone.
A longtime favorite of preseason DFS players, Boone spent the first three years of his career trapped on the Vikings as a seldom-used undrafted third-stringer behind Dalvin Cook, Latavius Murray and Alexander Mattison.
But in Boone's limited action, he has produced since entering the NFL, averaging 5.3 yards per carry since 2018. He especially flashed at the end of 2019, when he served as the lead back for the final three games of the season with 41-232-3 rushing.
Now he has an opportunity to carve out a role with the Broncos, who have parted ways with former backup Phillip Lindsay and shown remarkably little interest in fourth-year committee back Royce Freeman. If Boone can beat out Freeman for the backup job — and I think he can — then Boone will likely see serviceable usage as a supplementary back to starter Melvin Gordon and will be just one Gordon injury away from the No. 1 role.
Boone is a longshot, but he's free in drafts and his latent upside is massively under-appreciated.

---
» Return to the table of contents «
---
Wide Receivers
Curtis Samuel, Washington
John Brown, Raiders
Tee Higgins, Bengals
Curtis Samuel, Washington
Sean Koerner: I love this landing spot for a few reasons.
The Football Team signing Ryan Fitzpatrick gives the entire offense a boost.
The Football Team lacked a true No. 2 WR across from Terry McLaurin. Now Samuel should be the clear-cut No. 2 in this offense and see a higher target share as a result.

New WFT offensive coordinator Scott Turner was the quarterbacks coach for Samuel's last team, the Panthers, in 2020 and should know how to maximize Samuel's skill set within the offense.
Samantha Previte: Samuel has been one of the more intriguing signings of the offseason.
The former Buckeye inked a three-year, $34.5 million contract with the Washington Football Team as one of the first major WR dominoes to fall.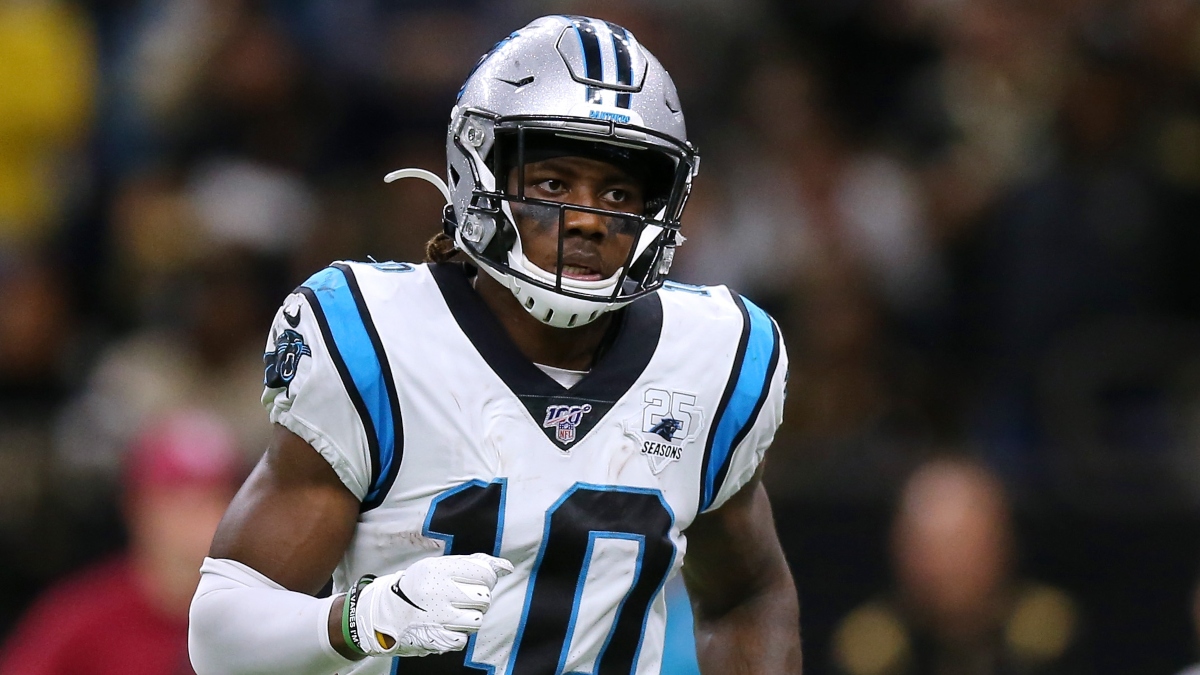 Samuel, 24, was selected in the second round of the 2017 NFL Draft and had spent his first four seasons as a member of the Panthers. The speedy wideout — who ran a 4.31 40-yard dash at the combine — is coming off his best season to date in which he caught 77 passes for 851 yards and three touchdowns across 15 games.
In spite of his strong 2020 showing, Samuel finished as the Panthers' third-best receiver behind D.J. Moore and Robby Anderson. Now Samuel should have less competition on the Washington depth chart, of which fellow Ohio State product Terry McLaurin is the lone threat.
Ryan Fitzpatrick — whom the Football Team also signed in free agency — should be an upgrade from Teddy Bridgewater in Carolina. The 38-year-old journeyman passed for 2,091 yards in seven starts last year and should provide higher upside for Samuel than Bridgewater, who has never been a particularly prolific passer.
The fantasy outlook is overall positive for Samuel, who finished as WR27 last season and could easily flirt with WR2 numbers this year.
John Brown, Raiders
Matthew Freedman: I am THE original truther for John Brown, so it's almost mandatory for me to highlight him here.
In a vacuum, his landing spot is not great: Brown is a downfield receiver, and quarterback Derek Carr has historically targeted teammates closer to the line of scrimmage. On top of that, the Raiders could have serious offensive line struggles after parting with multiple starters this offseason.
But Carr is coming off the best two seasons of his career (8.1 adjusted yards per attempt) under head coach Jon Gruden and offensive coordinator Greg Olson, and last year Carr was dynamic enough as a passer to revitalize the then-moribund professional existence of wide receiver Nelson Agholor, who came from nowhere to have a career- and position-best 48-896-8 receiving.
If Agholor could do that last year, then Brown — who has two 1,000-yard seasons to his name — can do it this year.
Tight end Darren Waller is highly likely to lead the Raiders in targets, but after him, there is little competition for aerial opportunity. Wide receivers Henry Ruggs III and Bryan Edwards are both unproven, and slot receiver Hunter Renfrow has been steadily mediocre for two seasons.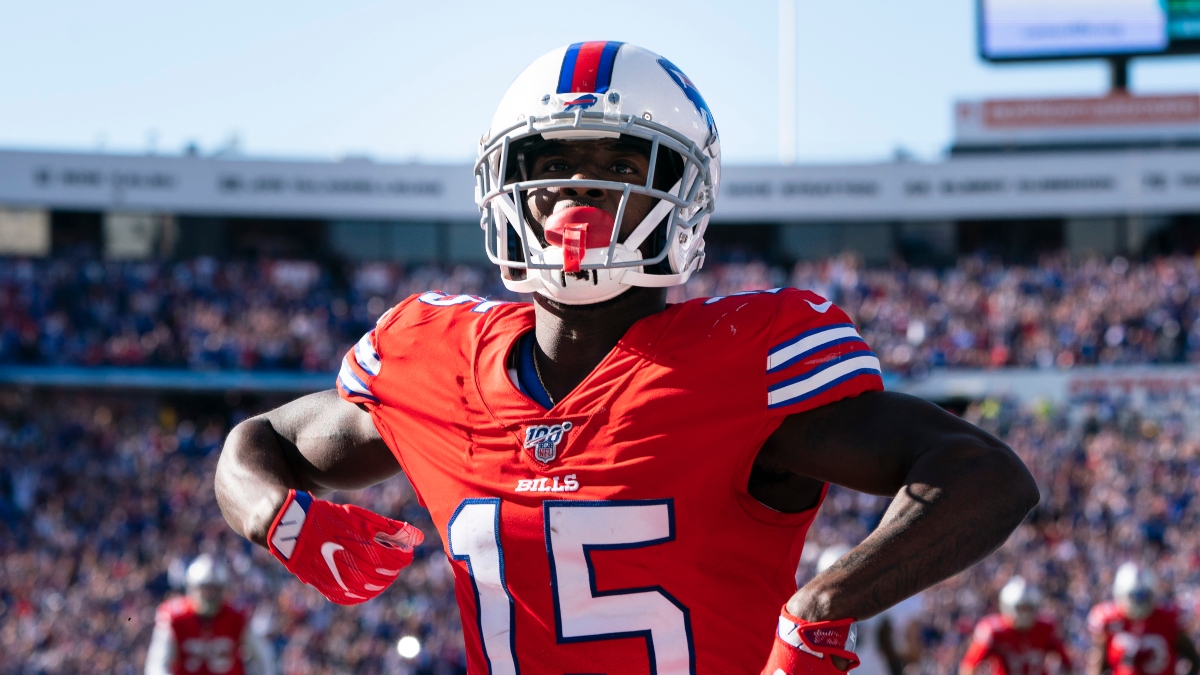 With his combination of speed, experience and skill, Brown has a reasonable chance to beat out Ruggs, Edwards and Renfrow for targets and emerge as the No. 2 receiving option within the offense.
Going after Round 20 in most leagues, Brown offers outsized upside.
Tee Higgins, Bengals
Chris Raybon: A.J. Green, bless his soul, played like a dude who was all the way washed last year: He caught just 45.2% of his passes for 5.0 yards per target. The issue was that Joe Burrow — being the rookie he was — was not going to disrespect the longtime franchise great, and so Green ended up leading the Bengals with a whopping 32% air-yard share.
By all measures, Higgins had an excellent rookie year, posting 67 grabs for 908 yards and six scores on 108 targets. But Green's withering skill-set was the only thing standing between Higgins and an absolute monster year.
Higgins finished second on the Bengals with a 27% air-yard share last season and should easily clear 30% this year. Year 2 is when wide receivers tend to take the biggest leaps, and Burrow has massive upside as well, putting Higgins' upside squarely in top-five territory.
Higgins posted a top-30 fantasy season last year despite the presence of Green. With the veteran out of the picture, Higgins has already ascended to WR20 in Average Draft Position and is deserving of every bit of that climb — with upside for more.

---
» Return to the table of contents «
---
Tight Ends
Irv Smith Jr., Vikings
Gerald Everett, Seahawks
Tyler Higbee, Rams
Dan Arnold, Panthers
Irv Smith Jr., Vikings
Chris Raybon: This was between Smith and Tyler Higbee, both of whom lost their platoon mates this offseason. I'm going with Smith because, unlike the Rams with second-year man Brycen Hopkins, the Vikings don't have another pass-catching specialist waiting in the wings at the position.
While Hopkins could conceivably slide right into Everett's role and leave Higbee with a similar role to the one he had in 2020, Rudolph's departure is likely to result in a jump in snaps for Smith, as Rudolph was on the field for 72.0% of Minnesota's offensive snaps when active.
Smith posted four four-catch, 50-plus-yard games last season and two multi-touchdown games, and as a heralded former second-round pick out of Alabama who doesn't turn 23 until August, he's dripping with upside.
Smith could be a surprise top-10 finisher on what has become a crapshoot fantasy position outside the top studs.
Gerald Everett, Seahawks
Samantha Previte: My answer would probably have been different if the Patriots had not taken both of the top tight ends off the market during their spending frenzy, but I'm going with Gerald Everett.
Assuming Hunter Henry and Jonnu Smith were No. 1 and 2 in terms of available tight ends, Everett probably would have been No. 3. He signed a one-year, $6 million deal with the Seahawks after spending his first four seasons as a member of the Rams.
The 2017 second-round pick shared playing time with Tyler Higbee throughout his career and took a backseat to Higbee over the last two seasons. In 2020, Everett caught 41 passes for 417 yards and scored two touchdowns (one rushing, one receiving) over 16 regular-season appearances.
The Southern Alabama product finished as TE25 through 16 weeks. He should face less competition on the Seattle depth chart, however, which otherwise consists of Will Dissly, Luke Willson and Colby Parkinson.
While Everett's situation has improved, it may not be quite enough to vault him into the TE1 conversation. He will probably end up on the cusp and possibly a value in the later rounds of deep leagues.
Tyler Higbee, Rams
Sean Koerner: Higbee saw his stock shoot up during the offseason. The Rams upgraded at quarterback after the blockbuster trade sending Jared Goff to Detroit for Matthew Stafford.
Higbee's disappointing 2020 season was mainly due to splitting time with Gerald Everett. Now with Everett off to the Seahawks, there's a chance we could see Higbee return to his 2019 level of production.
He's a TE who may be worth taking a flier on in the later rounds.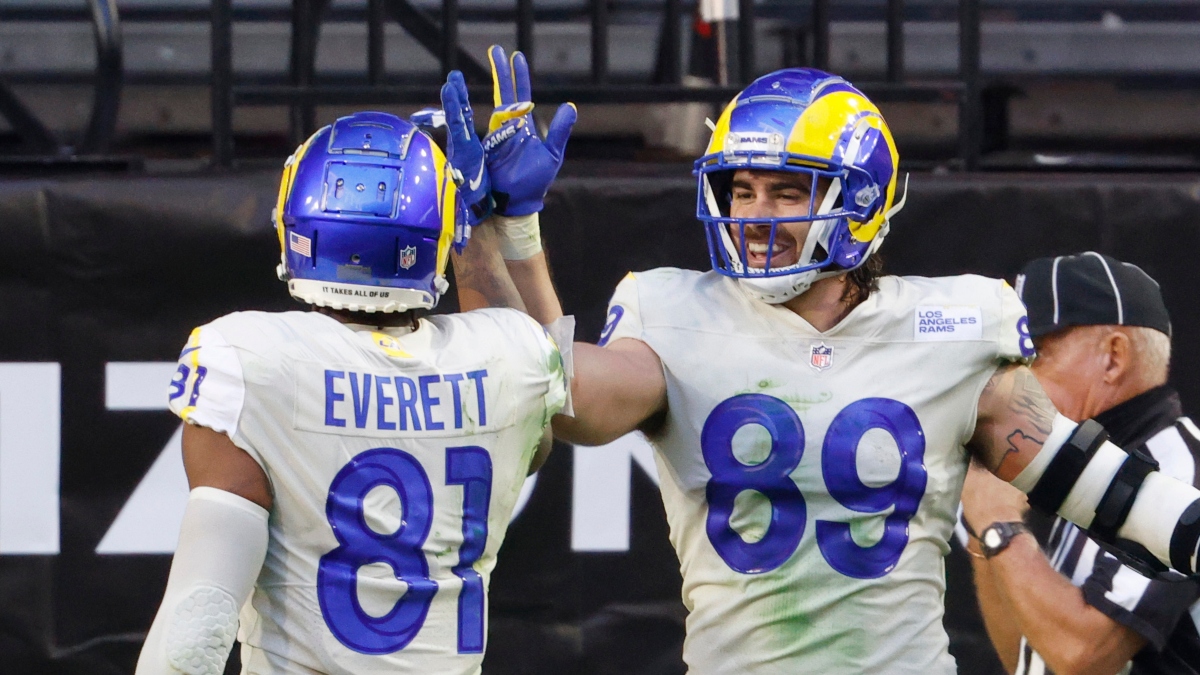 Dan Arnold, Panthers
Matthew Freedman: I'm not enamored with many of the tight end moves we've seen this offseason, but one that maybe is worth keeping in mind is Dan Arnold's signing with the Panthers.
Whether they upgrade the quarterback position via a trade or the draft or they simply get better play from starter Teddy Bridgewater in his second year under head coach Matt Rhule and offensive coordinator Joe Brady, the Panthers are likely to be better on offense this season.
In 2020, the Panthers got almost nothing out of starter Ian Thomas, who seems certain to be replaced this year, and that gives Arnold an opening. An athletic move tight end who converted from wide receiver upon entering the league, Arnold will be no better than the No. 4 option in the pass offense behind wide receivers D.J. Moore and Robby Anderson and running back Christian McCaffrey, but he could still see enough targets on a regular basis to emerge as a low-cost fantasy TE2.
At his draft position, that's value.
---
» Return to the table of contents «
---
How would you rate this article?
This site contains commercial content. We may be compensated for the links provided on this page. The content on this page is for informational purposes only. Action Network makes no representation or warranty as to the accuracy of the information given or the outcome of any game or event.